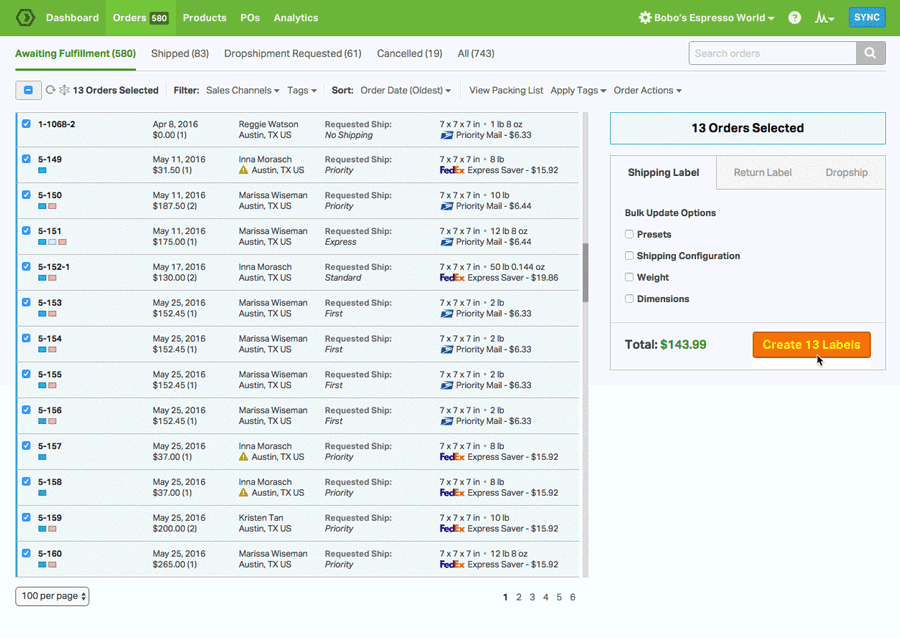 Discover FedEx Ground Shipping Time And Procedures
The All-In-One Ecommerce Logistics Platform
Equip yourself with a comprehensive solution
Inventory Management
Stock, sync, and scan.
Automatically track and sync your inventory levels
Create and send out Purchase Orders when it's time to restock
Bundle multiple SKUs into one unit for sale
Use Barcode Scanning to reduce fulfillment errors
Multi-Carrier Shipping
Your workflow, minus the work.
Enjoy heavily-discounted shipping rates via USPS
Ship via any of our integrated shipping carriers like USPS, UPS, FedEx, DHL and Canada Post
Set up your own Automation Rules and Shipping Presets
Print shipping labels in triple-digit batches or individually
Dropshipping
Truly hands-off dropshipping.
Launch a dropshipping operation in a matter of clicks
Tag any product as drop shipped and assign it to a vendor
Choose between automated or manual routing
Activate a Vendor Portal between you and your supplier
Multichannel
We're your operations hub.
Integrate and view all of your sales and supplier channels in one spot
Use our open API to hook up any third-party or custom apps
Manage every aspect of your orders
Establish Supplier Feeds for real-time, back-end communication
Barcode Generation and Scanning
Raise the bar for stocking and packing.
Create UPC barcodes for your products
Scan, set, and search UPC codes for SKUs within Ordoro
Reduce fulfillment errors with our pack and pack barcode scanning workflow
Scan received POs to automatically adjust stock levels
Don't take our word for it
Our awesome customers have shipped some really great compliments our way:
"I spent about a month thoroughly searching for the right backend fulfillment software for my eCommerce business. There were definitely some big name guys out there that I considered, but at the end of the day, I went with Ordoro and I'm so glad I did!"

Tina Yarandi
Founder/CEO of Nature's Artisan
"Ordoro continues to add immensely valuable features to an already awesome sales/warehousing/shipping platform. Using Ordoro continues to save us time and money."

Anthony Krize,
VP of GE Holiday Lighting
FedEx Ground Shipping Time
Logistics plays a huge role in any ecommerce business. As a merchant, it is always a good idea to familiarize yourself with the various carriers and the different options they have available. For example, FedEx Ground shipping time and procedures.
Why is this important? When you know the time it takes for a package to ship from your warehouse to a specific location, you can help keep shoppers updated on how long they can expect to wait for arrival.
With a quick peek at a FedEx transit time calculator or FedEx Ground shipping time map, you can spot whether a package will take a few days or up to over a week to arrive at your customer's doorstep.
And understanding how to find FedEx delivery times by zip code or the price difference between two regions is incredibly helpful when quoting pricing for your customers. Even if you offer free shipping, knowing how to determine the actual cost of shipping on your end ensures you're not cutting into your profits or harming your bottom line.
Thankfully, that's one area where Ordoro can really help. With our innovative dashboard, you can streamline your shipping workflows to ensure better efficiency, consistency, pricing, and customer communication.
There is also the option to use Ordoro for kitting and bundling, which can greatly decrease the amount paid for shipping via FedEx Ground. When you're able to package multiple items together within the same shipment, your overall logistics process becomes much more efficient.
But that isn't where the benefits of Ordoro end, either. There are additional elements like dropshipping capabilities, multichannel integration, warehouse inventory tracking, and many other benefits. Think of it as your best all-in-one solution for all selling online, offering the ability to automatically print shipping labels, save FedEx tracking numbers, and so much more.
Can FedEx Deliver on Sunday?
One question a lot of people want to know is: can FedEx deliver on Sunday? The answer is yes, but only for a few of the company's key services.
Luckily, FedEx Ground does offer delivery seven days per week. This is a good thing if you're looking to get orders to customers as soon as possible without any delays.
So, what time does FedEx deliver on Sunday? This is a difficult question to answer, as it largely depends on volume and driver availability for the regional center in which the package is being delivered. Like any other logistics method, trying to pinpoint an exact time for Sunday delivery really depends on too many factors to attempt to guess. However, FedEx does state on their website that most weekend deliveries happen before 8:00 PM.
It is also important to realize that there are many rural areas throughout the country that do not have Sunday delivery with FedEx Ground. According to the company, about 95% of the populated cities in the nation offer this service, however. This means the vast majority of your customers should be able to receive their packages over the weekend.
Likewise, business addresses and post office boxes cannot receive Sunday shipping with FedEx Ground. Why? This service is strictly limited to residential deliveries.
If you're concerned about whether an order can be delivered on Sunday via FedEx, it is a good idea to contact the carrier directly. They will be able to give you an anticipated delivery time to determine any estimated time of arrival and final shipping costs.
And what's the reason why an ecommerce brand might be concerned about weekend shipping? Well, when you can be upfront with your customers about when a package will arrive, they're more likely to be satisfied with your customer service and overall product experience.
FedEx Tracking
Your customers want to know when their order will arrive. These days, it is almost expected that ecommerce stores offer a tracking number via email when a shipment is sent out. The good news? Ordoro makes it simple to send FedEx tracking number information via email as soon as one is populated.
With our intuitive shipping software, you can use automation controls to ensure this number always goes out when an order is picked and packed. This makes it much easier for the customer to track where their item is at all times and determine if there's a delay.
You can even add the FedEx customer service phone number to the message to make it easier to contact if there's a problem en route. Best of all, the process works with both FedEx Ground Tracking and FedEx International Tracking.
Need something a little more interactive? FedEx also offers the ability to send tracking information to customers via text message, especially if they've signed up with the company's free shipment management service. Most people enjoy this feature, as it gives them a good idea of when an item is picked up from your warehouse and how soon they can expect it to be out for delivery.
Combining the best of Ordoro's robust dashboard with FedEx Ground shipment tracking is a good way to ensure you always know where an order is at and that your customers have immediate access to the same information. This leaves more time for your team to focus on other important tasks, like order accuracy and providing only the best customer service.
FedEx Shipping Rates
Knowing the current FedEx shipping rates from your location is a vital part of any good ecommerce logistics strategy. After all, you'll want to be able to compare this number to decide when to offer free shipping bonuses and when you'll need to pass that cost onto the consumer.
Do you sell to customers in other countries? Then you'll want to know how to look up FedEx international shipping rates for the regions where your shoppers reside. With each country having a different set of shipping guidelines and costs, understanding how you can view these costs is super important.
The first place to look when you're looking up exact shipping costs for customer orders? This FedEx shipping rates chart is updated frequently and provides the most up-to-date figures directly from the company itself. If you don't already have it bookmarked in your browser to refer back to as you need it, now is a good chance to do so.
Ordoro also offers tons of resources to help online merchants with a wide range of shipping options. Need a few examples? Our features include everything from checking FedEx Ground shipping rates to printing shipping labels, packing lists, automation features, and more.
If you're concerned about how much you're spending on shipping and how it affects your customers, then using Ordoro is the best option for keeping everything in one place. Not only can you keep track of items available on multiple sales channels, but it also allows you to automatically send FedEx shipping tags to customers via email.
Best of all, Ordoro offers lifetime support, extensive onboard training, and a whole host of other features to ensure your online business is as successful as possible. Think of it as your all-in-one tool for everything related to inventory management and logistics—including always getting the best FedEx shipping rates possible.
What is a FedEx Door Tag?
If you've ever worried about whether an item sent to a customer is truly lost or that they've become the victim of porch pirates, you will be happy to know that FedEx has many protocols in place to help issues from occurring.
As a start, you can request that a package includes FedEx Signature Required. This is a simple protocol that means someone at the residence has to physically be there to sign for the item when it arrives. If not, the item is held at a fulfillment center and a FedEx door tag is left at the delivery location.
Are you wondering what a FedEx door tag is? FedEx door tags are simply a special piece of paper that delivery drivers leave at a customer's location if they're not home to receive a specific shipment in person.
Those who received a FedEx door tag then need to follow the directions listed on the paper to reschedule delivery. They can also opt to login to FedEx Delivery Manager. This free service allows individuals to manage deliveries, get alerts on the shipment status, hold packages, or reschedule items when they need to. Not only is it incredibly simple to register for this service, but it makes it possible to keep track of numerous shipments at once—such as those coming through during a holiday rush or any other time when someone might order multiple different items from various sellers around the world.
Sadly, as an online brand, you can't assume that every customer has access to FedEx Delivery Manager. However, you can encourage them to sign up by including wording in your automated tracking emails or in order confirmation messages. This is a great way to share that it even exists and help entice more people to take part.
What's even better is this is something you can configure this level of encouragement as part of your automated settings in Ordoro. Additionally, you can also opt to send items out with the FedEx Signature Required stipulation.
This is an especially good idea if the items your brand sells online are oversized, have a high price point, or are one-of-a-kind. And you can even use Ordoro to set certain stipulations that automatically add this important shipping guideline each time a specific item is sold or the total order cost exceeds a specific amount. Think of it as one more way Ordoro is the best possible shipping and automation software for ecommerce businesses.