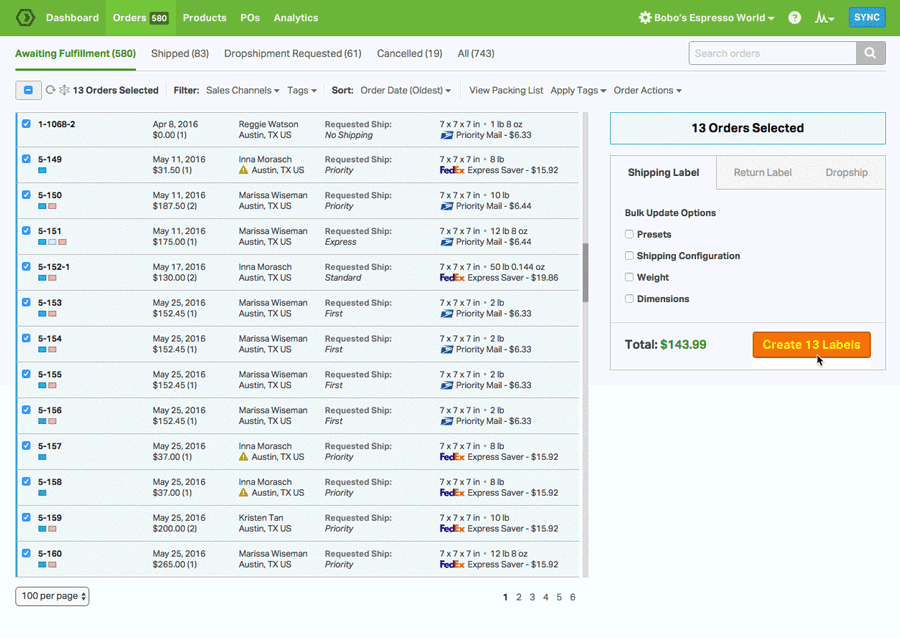 Fulfill Orders Faster With Our UPS Shipping Method Solution
The All-In-One Ecommerce Logistics Platform
Equip yourself with a comprehensive solution
Inventory Management
Stock, sync, and scan.
Automatically track and sync your inventory levels
Create and send out Purchase Orders when it's time to restock
Bundle multiple SKUs into one unit for sale
Use Barcode Scanning to reduce fulfillment errors
Multi-Carrier Shipping
Your workflow, minus the work.
Enjoy heavily-discounted shipping rates via USPS
Ship via any of our integrated shipping carriers like USPS, UPS, FedEx, DHL and Canada Post
Set up your own Automation Rules and Shipping Presets
Print shipping labels in triple-digit batches or individually
Dropshipping
Truly hands-off dropshipping.
Launch a dropshipping operation in a matter of clicks
Tag any product as drop shipped and assign it to a vendor
Choose between automated or manual routing
Activate a Vendor Portal between you and your supplier
Multichannel
We're your operations hub.
Integrate and view all of your sales and supplier channels in one spot
Use our open API to hook up any third-party or custom apps
Manage every aspect of your orders
Establish Supplier Feeds for real-time, back-end communication
Barcode Generation and Scanning
Raise the bar for stocking and packing.
Create UPC barcodes for your products
Scan, set, and search UPC codes for SKUs within Ordoro
Reduce fulfillment errors with our pack and pack barcode scanning workflow
Scan received POs to automatically adjust stock levels
Don't take our word for it
Our awesome customers have shipped some really great compliments our way:
"I spent about a month thoroughly searching for the right backend fulfillment software for my eCommerce business. There were definitely some big name guys out there that I considered, but at the end of the day, I went with Ordoro and I'm so glad I did!"

Tina Yarandi
Founder/CEO of Nature's Artisan
"Ordoro continues to add immensely valuable features to an already awesome sales/warehousing/shipping platform. Using Ordoro continues to save us time and money."

Anthony Krize,
VP of GE Holiday Lighting
UPS Shipping Method
They say that necessity is the mother of invention, but you wouldn't want to have to re-invent the wheel every time you buy a new car. Similarly, when you start a new business, you want to take advantage of every existing resource that's already been researched, tested and improved over time, and UPS fits that category. With over 540,000 employees in 220 countries, delivering an average of 24.7 million packages a day, let's just say they've learned a little something about effective shipping methods. Their well-developed, time-tested UPS shipping method earned them $84.6 billion dollars in 2020 alone. They describe their business strategy as aiming for "better, not bigger". Yet, today, they own a fleet of 272 aircraft, and they charter 294 more, which just goes to show that when your goal is quality, quantity takes care of itself. With those kinds of resources, they're able to incorporate new technology as it's developed in order to keep their UPS fastest shipping times competitive with those of other companies. To some extent, the shipping company's profit is your loss. Depending on what kinds of items you're selling, that loss can be substantial. Shipping costs are determined by a number of factors, including actual weight, dimensional weight, postal zone, country regulations, and speed. If you have international customers, your shipping costs are going to be substantially higher. The same is true if the items you sell are large, because dimensional weight is determined by how much space your item requires during shipping. You might find other companies' prices or services more competitive in some areas. That's why it's important for your business to have software tools that allow you to integrate both multiple shipping carriers and multiple sales channels. The best integrated systems let you view and ship orders from all your channels from a single hub. While you don't want to have to reinvent the wheel, you don't want to be chained to a single shipping option, either.
UPS Shipping Speeds
Having a fleet of aircraft really helps increase UPS shipping speeds. It also helps reduce UPS worldwide expedited delivery time to one of the fastest in the world. UPS currently offers twelve different levels of service, and that doesn't even count Saturday pickup and delivery. A UPS ground estimate is likely to be the least expensive because UPS ground shipping time is significantly slower than UPS express shipping, UPS expedited shipping or UPS next-day shipping.The phrase "time is money" may have originated in the shipping business, because time makes all the difference when it comes to shipping costs. The UPS worldwide express saver guarantees afternoon delivery within 3 business days for international shipments. UPS Worldwide Express service guarantees delivery between 10:30 A.M. to 12:00 P.M., with next business day delivery to Canada for all packages, and Mexico for document packages, 2 business day delivery to Europe and Latin America and 3 business day delivery to Asia for all packages. Compare that to UPS WorldWide Express Plus, which offers next day delivery by 8:30 a.m to Canada, 2 business day delivery by 9:00 a.m. to Europe and 3 business day delivery by 9:00 a.m to Asia. UPS Worldwide Expedited is a bit less expensive for less urgent packages. Having access to all twelve levels of service makes it possible for you to make even your international customers happy. You can also make your customers feel special and reduce overstocked items at the same time by occasionally offering them free or reduced next-day shipping on sale items. It's important to note that not all levels of service are available in all countries. For example, UPS Worldwide Express service only supports delivery to 60 destination countries, while supporting deliveries originating from 185 countries. That means it might be necessary for you to use another carrier for part of the delivery route. It's a good idea to have shipping software that allows you to integrate more than one carrier.
UPS Tracking
Your automated shipping software should work as hard as you do. While you're processing orders, it should be busy writing the shipping status and issuing tracking number updates to keep your customers informed about the status of their orders. The UPS track my package feature is one of their most popular. Customers love being able to type in a number and see exactly where in the world their highly anticipated item is at any given moment. For some, being able to see it getting closer each day is part of the fun. Some people use the UPS tracking phone number instead of going online when they're on the go. Even though technology has almost succeeded in making delayed gratification a thing of the past, deliveries still take time. That UPS tracking number serves to remind your customers that you've kept your word and sent their package. Giving them choices for different speeds of delivery at different prices allows them to control when their items arrive. That leaves you free to focus on creating shipping labels and branding packing lists. Ordoro allows you to do both, either individually or in triple-digit batches. It even has a direct-to-printer option. You can control every aspect of how the software works for you by pre-configuring your shipping presets and establishing automation rules that are triggered the second an order arrives. The app documents every action and shows a timeline for each one. You'll have all the information you need about any order at your fingertips, and be able to control your entire operation from a single dashboard. The software integrates with all major shipping and postage providers, which gives you access to all the services your business needs, as well as a USPS industry discount of up to 67%. Automating your processes gives you more time to create ways to find and capture the elusive and highly valuable return customer.
UPS Shipping Calculator
Achieving success in the highly competitive field of e-commerce is almost impossible without utilizing every technological advantage you possibly can. The technological advances made in 2020 alone are staggering. Several of them, like Satellite Mega-Constellations, which will eliminate weak Wi-Fi signals and provide high-speed internet to every corner of the planet, will result in an even more rapid expansion of e-commerce. Technological change is happening so fast that it's difficult for even regulatory agencies to keep up, much less individual entrepreneurs. That's why it's a good idea to invest in a software service for your business that keeps up with technology for you. The Ordoro platform's automation capabilities can do a lot of other things for you, too, like making complex processes as easy as clicking a mouse. It isn't just that you can integrate multiple carriers and have the choice of using USPS, UPS, FedEx, DHL or Canada Post, depending on which one is the best value for each particular order or group of orders. Automating your processes reduces fulfillment errors and saves you time and money. It gives you the power to decide exactly what quantity of an item should be left in stock before an order to restock that item is triggered. You can decide whether to ship orders individually or in batches, the same way you can decide how to print your shipping labels. From creating UPC bar codes to scanning POs to automatically adjust stock levels, every aspect of your order processes can be managed within Odoro. Activating vendor portals between you and your suppliers allows you to integrate and view all of your sales and supplier channels from one location. Ordoro even provides an open API that enables you to utilize third party apps or even create and customize your own. In short, it helps you harness the power of technology while retaining your own power of choice.
UPS Shipping Calculator By Weight
When you're deciding what kind of products you want to offer your customers, the size and weight of those items are an important consideration. In fact, it's helpful to use a UPS shipping cost calculator to determine whether offering certain products is cost-efficient. While large-scale items can result in large-scale profits, they can also require large-scale upfront shipping costs. Using the UPS shipping rates by weight chart can help you estimate more accurately how much it will cost for you to send a particular order from one place to another. With Ordoro, you're able to compare costs from multiple shipping suppliers from a single dashboard. That's one reason it's best to have an integrated system in place from the very beginning, rather than piecing one together from various free services. Making the right decisions about merchandise requires you to have the most up-to-date information from as many sources as possible. You may decide that it's more cost effective to use different companies for different items and/or destinations. With Ordoro's kitting and bundling abilities, you might also decide to save money by sending multiple orders to the same place together as a single shipment. Estimating shipping costs by using a UPS shipping calculator by weight is helpful, but it doesn't take into account other factors such as foreign duties and taxes or multiple postal zones. When all factors are considered, including distance, sometimes sending multiple lightweight packages can be more expensive than sending a single heavier package. A factor that can never be left out of the equation is getting the merchandise to your customers on time. Saving on shipping costs isn't actually saving money if it causes you to lose a potential repeat customer. Helping your business provide customers with the best and most cost effective service humanly and technologically possible is what Ordoro is all about.