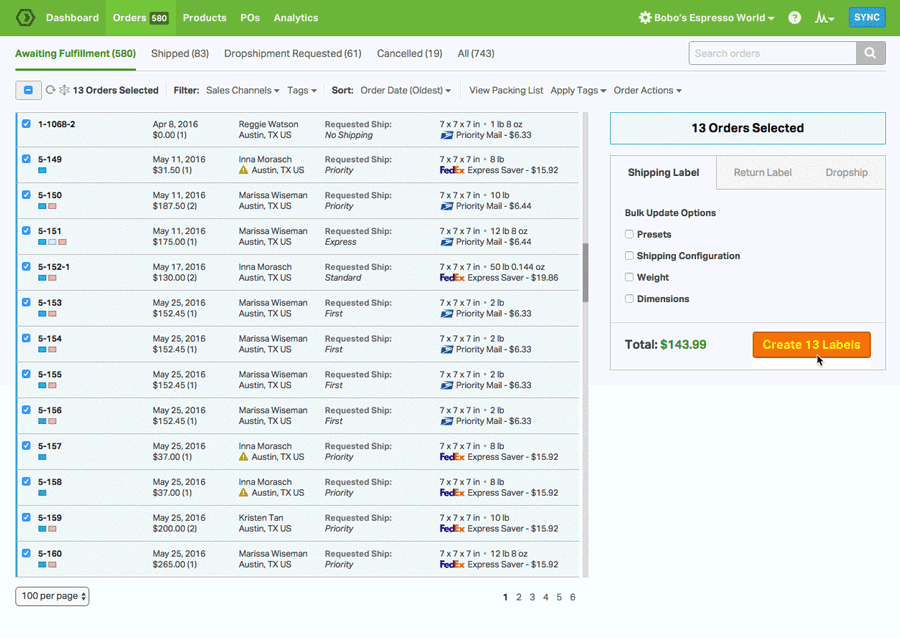 Fulfill orders faster with our USPS shipping solution for Amazon.
The All-In-One Ecommerce Logistics Platform
Equip yourself with a comprehensive solution
Inventory Management
Stock, sync, and scan.
Automatically track and sync your inventory levels
Create and send out Purchase Orders when it's time to restock
Bundle multiple SKUs into one unit for sale
Use Barcode Scanning to reduce fulfillment errors
Multi-Carrier Shipping
Your workflow, minus the work.
Enjoy heavily-discounted shipping rates via USPS
Ship via any of our integrated shipping carriers like USPS, UPS, FedEx, DHL and Canada Post
Set up your own Automation Rules and Shipping Presets
Print shipping labels in triple-digit batches or individually
Dropshipping
Truly hands-off dropshipping.
Launch a dropshipping operation in a matter of clicks
Tag any product as drop shipped and assign it to a vendor
Choose between automated or manual routing
Activate a Vendor Portal between you and your supplier
Multichannel
We're your operations hub.
Integrate and view all of your sales and supplier channels in one spot
Use our open API to hook up any third-party or custom apps
Manage every aspect of your orders
Establish Supplier Feeds for real-time, back-end communication
Barcode Generation and Scanning
Raise the bar for stocking and packing.
Create UPC barcodes for your products
Scan, set, and search UPC codes for SKUs within Ordoro
Reduce fulfillment errors with our pack and pack barcode scanning workflow
Scan received POs to automatically adjust stock levels
Don't take our word for it
Our awesome customers have shipped some really great compliments our way:
"I spent about a month thoroughly searching for the right backend fulfillment software for my eCommerce business. There were definitely some big name guys out there that I considered, but at the end of the day, I went with Ordoro and I'm so glad I did!"

Tina Yarandi
Founder/CEO of Nature's Artisan
"Ordoro continues to add immensely valuable features to an already awesome sales/warehousing/shipping platform. Using Ordoro continues to save us time and money."

Anthony Krize,
VP of GE Holiday Lighting
USPS Shipping Amazon
Are you looking for ways to grow your online business? If so, then you need to think carefully about how you will be getting orders to your customers. Even if the rest of your business is online, once your customers place an order, it is entirely your responsibility to make sure that it reaches them safely and in a timely manner. If you do this well, then you will be able to convince them to return for future purchases too.
This may be where you start thinking about USPS shipping Amazon. When it comes to Amazon USPS, there is a very tight relationship between these two organizations, and USPS Amazon delivery takes place on a regular basis. At the same time, it is also important to take a closer look at several Amazon shipping methods. By knowing what is available, you can ensure that you're making the best decision for your company.
Shipping from an online store has its own specific drawbacks. For one thing, even though it is great for you to access a potentially unlimited number of customers online, it is also important to take a closer look at how much money you might be spending on shipping their purchases to these customers. You usually have two options available when it comes to shipping. First, you can ask the customer to pay for it, footing the costs for each order. Or, you can build an estimated cost into the total price of each order.
There are benefits and drawbacks to each option, which is why it is important to take a closer look at the shipping carriers available to you and what services and costs come with each one.
Finally, remember that you may be able to invest in dropshipping as well. If you can, then this is a great way for you to save time and money on your shipping expenses. There are also plenty of options available when it comes to dropshipping, and the one that's right for another company may not be the right option for yours. So, what do you need to know when it comes to shipping something on Amazon? Take a look at a few key points below, so that you can make the best decision possible for your particular business.
Amazon Shipping Preferences
For starters, you should take a close look at your Amazon shipping preferences from time to time. That way, Amazon understands just how you prefer to ship your orders.
For example, do you want to get your orders to your customers as fast as possible? If so, then this may lead to slightly higher costs on either their end or yours, since it costs more money to get items to their destination faster. Or, are you interested in getting your items to your customers as cheaply as possible? If that is the case, then you may end up annoying some of your customers who have to wait a long time to receive their orders.
Or, if you are wondering how to change shipping speed on Amazon in the first place, then you can start by logging into your account and navigating to your settings page. From there, you need to scroll down and find the area reserved for shipping. Once there, you should then be able to change your shipping preferences to match your expectations.
It's worth checking on these settings from time to time, just to make sure you're still subscribed to the one that's best for your business and its needs. That way, you can rest assured knowing that your shipping needs are being met.
Remember too that you can reach out to either Amazon customer support or shipping management professionals if you are unsure of how to change your shipping preferences. You need to do what is best for your business.
How To Make Amazon Not Ship USPS
If you are taking a look at your Amazon UPS shipping, then you may want to have more options when it comes to your Amazon shipping carrier. This is because, even though there are situations where UPS and USPS can be helpful, there may also be times where you would like to go with someone else. If that is the case, then you may be wondering how to make Amazon not ship USPS.
When it comes to shipping something on Amazon, the customer usually does not get to select how the order gets shipped. This stands in stark contrast to options from other companies, such as eBay. Therefore, it is important for businesses that sell on Amazon to communicate with their customers to let them know that they do have options available. Otherwise, some customers might message you, asking you to ship the order using a carrier other than USPS. There are many reasons for this: perhaps the customer has had a bad experience with USPS, or maybe USPS has had trouble finding the address. If that is the case, though, then businesses need to make sure they take a look at other options. That way, they can meet the expectations of their customers.
This is a brief overview of how to make Amazon not ship USPS, but overall, just keep in mind that you have options available when it comes to shipping. You need to find the best choice for both your customers and your company.
Amazon Shipping Service
If you are interested in taking advantage of an Amazon shipping service, then it is also important to take a closer look at Amazon postage rates. While some businesses may advertise that they offer free shipping, this doesn't mean that there were no costs at all: instead, it means that the company is paying for those costs, instead of customers. Given that shipping services always have costs, it is important for you to take a closer look at all shipping postage options. The more options you have available, the better you can handle your shipping needs and shipping costs.
Likewise, there are a lot of factors that will impact Amazon postage rates. For example, the farther your order has to travel, the more expensive it will be to ship. Another factor that will change the cost is that, the faster you want to have your order delivered, the more expensive it is going to be. And third, you may also have to pay more money if you are shipping certain items internationally.
It is important to consider these potential expenses well. You also need to make sure you stay up-to-date on international regulations, since you may have to follow certain guidelines if you are shipping items overseas. Because this can all become complicated, keep in mind that this is not something you need to handle entirely on your own. There are many certified third-party organizations, including dropshipping companies, that may be able to help you with this process from start to finish.
Keeping up to date on your shipping options can be a great way for you to save time, money, and stress when it comes to your shipping concerns, particularly if you are shipping orders internationally.
How Much Does Amazon Pay USPS
Because Amazon frequently uses USPS, many business leaders may also be wondering about the USPS Amazon Deal. For instance, what is included in the Amazon USPS contract? Likewise, even though there are some people who are waiting for Amazon to end contract with USPS, the USPS Amazon contract end date is currently unknown. This means that the USPS Amazon contract expiration date is not public knowledge. The reason for this is that there is no formal partnership between Amazon and USPS, which makes informal partnerships difficult to dissolve. So, with this in mind, what do businesses and customers need to know about the relationship between Amazon and USPS?
First of all, it is important to know that Amazon has always worked with USPS. However, over the past few years, Amazon has also been making moves to handle more of its own shipping in an effort to cut costs. For example, Amazon has realized that it can save money if it handles all of its own shipping needs, and as a result, Amazon may not be using USPS as often in the future.
Right now, though, Amazon still generates billions of dollars in revenue every year for USPS. The two do have separate business contracts that do get renewed from time to time; however, Amazon does not contract solely with USPS. Amazon does contract with other shipping providers as well. While this is probably going to become less frequent in the future with Amazon handling all of its own shipping concerns, it is still important for business owners to make sure they understand all the options available to them. This way, they can find the best shipping provider to help them meet their needs. This can go a long way toward helping business owners keep customers happy when it comes to receiving their orders on time.
How To Choose Shipping Carrier on Amazon
At this point, many business leaders may be wondering how to get Amazon to ship UPS or how to choose shipping carrier on Amazon. Likewise, when it comes to the UPS and Amazon partnership specifically, many people are probably wondering about the Amazon contract with UPS.
With all of this in mind, it is certainly possible for sellers to select their own shipping carrier on Amazon. Unlike eBay, though, buyers are not able to select a shipping carrier. Sellers can get around this by choosing a preferred shipping carrier through Amazon.
It is also important to note that these options may be changing significantly over the next few years. For example, FedEx no longer handles air shipping for Amazon and is also working to end ground shipping for Amazon as well. Because Amazon is planning on doing a significant proportion of its own shipping, it is possible that other carriers may follow FedEx's lead in the future. Or, if these companies are not receiving the large orders from Amazon that they were in the past, then they may decide not to offer to ship on Amazon at all. Right now, there are multiple options available. Therefore, sellers need to understand how to choose their own shipping carrier on Amazon.
Just as a reminder: in order for sellers to control shipping, they need to navigate to their account page, from which they can take a look at their shipping preferences. From this page, sellers have the option to use Amazon FBA, which is where Amazon handles all shipping, or they can take a look at all the other shipping options that are available. Either way, it is important for Amazon business owners to review all the shipping options they have available. From there, they can then compare the benefits and drawbacks of every shipping carrier for each order. It's also worth keeping in mind that the best shipping carrier for one type of order may not be the best shipping carrier for another.