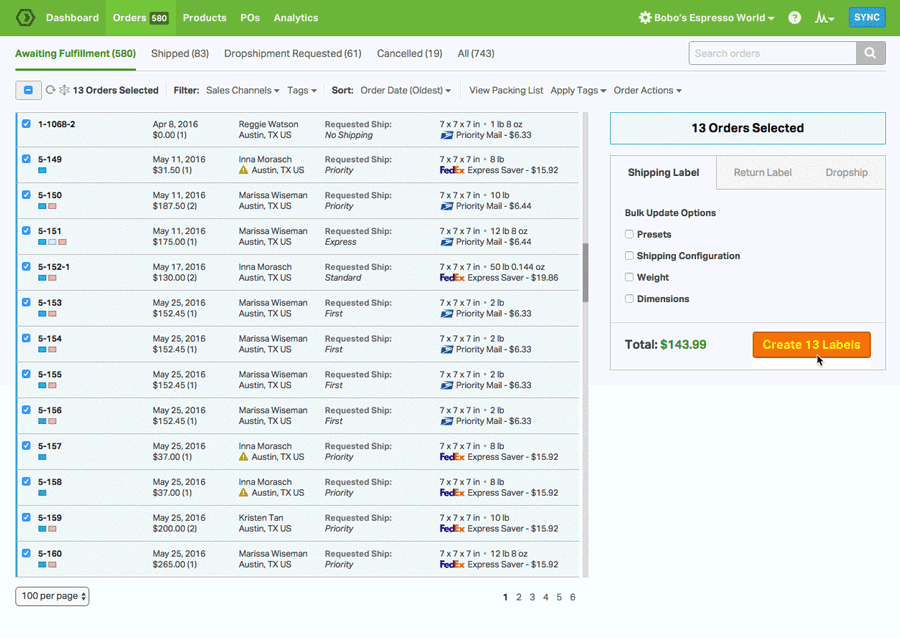 Improve Your Inventory Control Process With Ordoro
The All-In-One Ecommerce Logistics Platform
Equip yourself with a comprehensive solution
Inventory Management
Stock, sync, and scan.
Automatically track and sync your inventory levels
Create and send out Purchase Orders when it's time to restock
Bundle multiple SKUs into one unit for sale
Use Barcode Scanning to reduce fulfillment errors
Multi-Carrier Shipping
Your workflow, minus the work.
Enjoy heavily-discounted shipping rates via USPS
Ship via any of our integrated shipping carriers like USPS, UPS, FedEx, DHL and Canada Post
Set up your own Automation Rules and Shipping Presets
Print shipping labels in triple-digit batches or individually
Dropshipping
Truly hands-off dropshipping.
Launch a dropshipping operation in a matter of clicks
Tag any product as drop shipped and assign it to a vendor
Choose between automated or manual routing
Activate a Vendor Portal between you and your supplier
Multichannel
We're your operations hub.
Integrate and view all of your sales and supplier channels in one spot
Use our open API to hook up any third-party or custom apps
Manage every aspect of your orders
Establish Supplier Feeds for real-time, back-end communication
Barcode Generation and Scanning
Raise the bar for stocking and packing.
Create UPC barcodes for your products
Scan, set, and search UPC codes for SKUs within Ordoro
Reduce fulfillment errors with our pack and pack barcode scanning workflow
Scan received POs to automatically adjust stock levels
Don't take our word for it
Our awesome customers have shipped some really great compliments our way:
"I spent about a month thoroughly searching for the right backend fulfillment software for my eCommerce business. There were definitely some big name guys out there that I considered, but at the end of the day, I went with Ordoro and I'm so glad I did!"

Tina Yarandi
Founder/CEO of Nature's Artisan
"Ordoro continues to add immensely valuable features to an already awesome sales/warehousing/shipping platform. Using Ordoro continues to save us time and money."

Anthony Krize,
VP of GE Holiday Lighting
Inventory Control Process
If you're new to the world of ecommerce, maybe you don't have an official definition of inventory control yet. You just know that you need some kind of system to make sure you don't end up having to pay storage costs for 2,000 trendy items that didn't sell because something else started trending the day they were delivered to you. To avoid that ever happening, or happening again, it's worth your time to learn a little bit about the different types of inventory control methods. You can even mix and match some of the different techniques to create your own step-by-step inventory process. Whatever method you choose, there are some important abilities it should give you. Ideally, they should enable you to:
Store and track the exact location of every item in your stock, even in multiple warehouses
Ensure that none of your stock ever reaches its expiration date before it's sold
Locate, pull, and ship any item in stock quickly and efficiently to fill customer orders
Those are just some of the things methods of inventory control should accomplish. There are so many different methods that to learn about all of them, you would need to take a whole slew of inventory control techniques notes. However, the following three concepts serve as a foundation for most of them. The first-in, first-out method, also known as FIFO, is useful for making sure that no stock gets too old to sell. When a customer orders an item, they receive the first one that you received. This method is especially suitable for perishable items. Similarly, for items that have an expiration date, first expiring, first out, aka FEFO, is a sensible method to adopt. Last in, first out, aka LIFO, is just the opposite and is great for trending items like fashions. Popular, trending items go out the door first, while other stock lies in wait for the fashion wheel to turn and come around again.
Types Of Inventory Control
The previous three well-known methods are just a start. To learn more about other types of inventory control, you can download an inventory control pdf. With new types being developed to accommodate new technology all the time, it would be hard to narrow it down to just four types of inventory control. There are plenty of inventory control methods out there, including EOQ (economic order quantity), JIT (just-in-time), MRP (materials requirement planning), and ABC analysis—and those are just the acronyms! Besides those, other methods include batch tracking, back ordering, consignment, drop-shipping, and cycle counting. An inventory control system example would be a perpetual inventory control system. A perpetual system uses barcode scanning and automation to automatically update inventory with every purchase or sale. Perpetual systems are best for businesses that have multiple warehouses and/or suppliers. The periodic system relies on conducting manual inventories, so it's best for smaller businesses with limited inventory. Barcode systems use SKUs (Stock Keeping Units) or UPCs (Universal Product Codes that contain information that identifies specific products. That information can include the weight, the amount of time the product has been in stock, the location, and the manufacturer. With a comprehensive system like Ordoro, the data gathered from the barcode system is integrated directly into the shipping software program and the data analytics software program. That means that you can see at a glance from a single dashboard exactly how many of a particular item you have in stock at any given time, where it is stored, and how many have been sold within a particular time frame. Access to that kind of specific data is what enables business owners to make the smartest possible decisions about what merchandise to order, how much, and when.
Importance Of Inventory Control
It would be impossible to overestimate the importance of inventory control. Many an ecommerce entrepreneur has gone out of business as a result of underestimating it, though. When you're deciding on what software system to invest in, it's a good idea to make a list. Here's an example of a list of common objectives of inventory control. You can customize this list for your own specific business.
See inventory levels in real-time — setting effective reorder points can eliminate both running out of stock and excess inventory
Streamline your processes — track products every step of the way with barcode scanning that automatically adjusts your inventory with every purchase or sale
Save money — reduce storage costs by utilizing smart storage and retrieval strategies
Reduce labor costs and human error — automating your processes with technology is like having employees working around the clock, without overtime pay
Elevate customer satisfaction — the less time you have to spend on tasks that can be automated, the more time you'll have to actually engage with your customers
Inventory management systems are also built to integrate with other types of software systems commonly used in ecommerce. Two examples would be shipping software and point of sale for payment. Because software companies compete, it's important to make sure your inventory management software is compatible with other software that's essential for your business. One of the benefits of a complete system is not having to worry that software upgrades will make one part of your system incompatible with another. Ordoro's inventory management software works seamlessly with its shipping software and data analytics software. Whether you need to bundle sale items for quick inventory reduction, or print labels individually or in bulk to save on shipping costs, Ordoro can automate the process for you. Automation is what gives you the time to come up with your next brilliant sales campaign.
Even though they have similar objectives, there is a difference between inventory control and inventory management. Inventory control is a subset of the inventory management process. An example of inventory control might be the software technology system you use to track your inventory. Inventory management, on the other hand, encompasses the entire process of data analysis, forecasting, and developing strategies to ensure that you always have enough stock on hand to fill customer orders. If you were to read every inventory management pdf you could get your hands on, you might end up more confused than educated. You might not even understand everything you read about the different types of inventory management. Watching videos or finding powerpoint presentations just by typing "the importance of inventory management ppt" into your search engine is another option. However, even once you understand the methods, it's difficult to decide which strategies to implement—and how. Luckily, the engineers at Ordoro did all that research, and more. They asked ecommerce small business owners what software features they needed most to succeed. Then they created a system that incorporated every one of those features and added a few more. That's because technology is advancing so fast that some of it is already outdated by the time people learn to use it. The beauty of Ordoro is that it incorporates, tests, and upgrades behind the scenes, ensuring that all the bugs are worked out and that the integration is seamless. Their goal remains to streamline all the steps of inventory management from beginning to end. If you want to see one of the best inventory management system examples in existence today, just schedule a demo. The professionals at Ordoro love showing small businesses how to use new tools to become medium-sized businesses.
Inventory Management Software
The best inventory management system is one that's part of a fully integrated software system—and scalable so that it can grow right along with you. Multi-channel ecommerce inventory management has never been more important. That's because your customers come to you through so many different social media channels. If you're like most ecommerce entrepreneurs, you also sell through more than one channel. Ordoro's multi-channel capability is one of the reasons it was voted the best inventory management software for ecommerce in 2021 by Neil Patel. Multiple channels and multiple storefronts are no problem when you have an automated online inventory system like Ordoro's in place. You'll have no problem tracking products, restocking automatically, bundling bulk orders or offering product kitting with Ordoro, either. Besides all that, their inventory management software integrates seamlessly with all the big names in ecommerce, like Amazon, eBay, and Shopify. You can take it for a test drive to see for yourself how harnessing the power of technology can take your business to the next level. Data analytics gives you the power to see at a glance which items are your top performers, where, and when. You can also see which items are costing you money rather than generating a profit and adjust your orders accordingly. Information is power, and you can't get much more powerful than having a direct connection between your inventory management system and your data analytics. Accurate real-time data and multi-carrier shipping capability also allow you to make smarter shipping choices. Sometimes, the smartest choice is drop-shipping, and Ordoro has you covered for that choice, too. They offer a free 30-day onboarding to show you how to customize every feature for your specific business for maximum benefit. It's not just a software system, it's an investment in your own success.