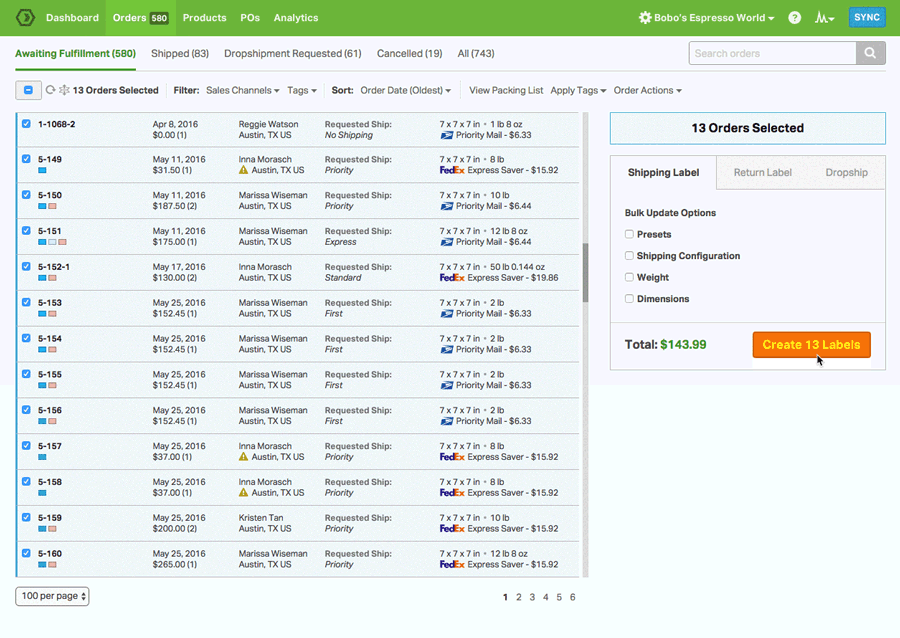 The All-In-One Ecommerce Software Solution
The All-In-One Ecommerce Logistics Platform
Equip yourself with a comprehensive solution
Inventory Management
Stock, sync, and scan.
Automatically track and sync your inventory levels
Create and send out Purchase Orders when it's time to restock
Bundle multiple SKUs into one unit for sale
Use Barcode Scanning to reduce fulfillment errors
Multi-Carrier Shipping
Your workflow, minus the work.
Enjoy heavily-discounted shipping rates via USPS
Ship via any of our integrated shipping carriers like USPS, UPS, FedEx, DHL and Canada Post
Set up your own Automation Rules and Shipping Presets
Print shipping labels in triple-digit batches or individually
Dropshipping
Truly hands-off dropshipping.
Launch a dropshipping operation in a matter of clicks
Tag any product as drop shipped and assign it to a vendor
Choose between automated or manual routing
Activate a Vendor Portal between you and your supplier
Multichannel
We're your operations hub.
Integrate and view all of your sales and supplier channels in one spot
Use our open API to hook up any third-party or custom apps
Manage every aspect of your orders
Establish Supplier Feeds for real-time, back-end communication
Barcode Generation and Scanning
Raise the bar for stocking and packing.
Create UPC barcodes for your products
Scan, set, and search UPC codes for SKUs within Ordoro
Reduce fulfillment errors with our pack and pack barcode scanning workflow
Scan received POs to automatically adjust stock levels
Don't take our word for it
Our awesome customers have shipped some really great compliments our way:
"I spent about a month thoroughly searching for the right backend fulfillment software for my eCommerce business. There were definitely some big name guys out there that I considered, but at the end of the day, I went with Ordoro and I'm so glad I did!"

Tina Yarandi
Founder/CEO of Nature's Artisan
"Ordoro continues to add immensely valuable features to an already awesome sales/warehousing/shipping platform. Using Ordoro continues to save us time and money."

Anthony Krize,
VP of GE Holiday Lighting
Ecommerce Software Solution
Right now, many companies are looking for ways to generate more revenue. One of the best ways of accomplishing this, of course, is by creating an online store. After all, the vast majority of prospective customers are using the internet when looking for the latest products and services they require. This is why there are so many companies looking for ecommerce software solutions.
Similar to other programs you might already use at your company, there are lots of ecommerce platforms available today. In particular, many ecommerce companies have developed user-friendly or public-facing ecommerce tools over the past few years. With this rising popularity in mind, though, you still need to find the best ecommerce software tools to meet the specific business needs of your unique company.
If you are venturing into this area for the first time, though, then you might not be sure exactly what you are looking for. That is okay! There are also plenty of professionals who can help you find the best ecommerce software tools to meet your company's needs. This is important because if you focus on finding the best ecommerce software to help your company grow, then you can find software programs that will scale with your company. By doing this, you will not have to worry about changing software programs again when your company has grown and your operations need to expand. By finding the right solution early on, you will already have the tools you need to keep your business on the right track.
So, what do you need to know about ecommerce software?
Ecommerce Software List
Of course, you will want to find the best ecommerce software to meet your needs. This is why the first thing you should be doing is taking a look at the ecommerce software list and reviewing the ecommerce software applications available to you there.
As you go looking at a list of ecommerce platforms, though, also keep in mind that there is no single "best" solution out there. Instead, while you are looking for ecommerce software, you should focus more on finding the best tool to meet your needs. Keep in mind, too, that the best ecommerce software for one company might not be the same as the best ecommerce software for another, including yours.
There are a few more factors to consider when looking at an ecommerce software list. While the first thing you might think about is the price of ecommerce software, keep in mind that this is not the only factor to consider. In addition, you need to be thinking about the features you will receive access to in exchange for that price you pay. For example, a free version might be a good way to learn about some of the features available in a software program; however, if you really want to get the most out of that ecommerce software program, then you should be ready to upgrade from the free version when the time is right.
Ecommerce Software Free
Are you venturing into the ecommerce software area for the first time? If so, then you might have started out by looking for ecommerce software free. There are benefits to starting out this way, but starting out should be about the limit. While there are certainly free ecommerce software options available, you also need to think about what you are getting if you are downloading free ecommerce software. For example, there are ways that you can find free ecommerce website templates that can help you build a free ecommerce website unlimited products. You can even set up a free ecommerce website UK.
However, most free ecommerce software programs or tools will only give you a free trial or a limited set of features. Eventually, you will need to pay for the whole thing in order to access the full features menu, 24/7 customer support, or other premium content. This is why you should be cautious about using a free trial ecommerce software program to try and meet all your needs. Here, the most important thing to remember is that you can use this opportunity to figure out what you need and can pay for, and what you don't. That way, when it is time to upgrade, you will know exactly how you should be spending your budget for ecommerce software.
Best Ecommerce Software
If you really want to grow the online arm of your business, then you need to find the best ecommerce software to meet the specific needs of your company as it expands in this direction. The first place you might look could be a list of "best ecommerce platform 2021" or even also searching for the best ecommerce platform for medium business. However, while you might be looking for the best shopping cart software or the best free ecommerce website builder, keep in mind too that all of these are different products. What this means is that the best program on a "best of" list might not necessarily be the best program for your company. Instead, you might want to start with the programs that have the best reviews. Even then, though, you still need to think about what these companies do and compare them with what your company actually needs.
For example, if you are looking for the best ecommerce software, then you need to think about the scalability of your company. Do you think your company is going to grow in the near future? If so, then you need to find an ecommerce software program that will grow with you. That way, you do not have to worry about upgrading your software program again just to keep up with your growing business.
Keeping these considerations in mind can help you save significant time and money further down the road.
Ecommerce Software Examples
As you get more involved in the search process, you will quickly find that there are lots of ecommerce software examples to consider. As you look through e-commerce platform examples, though, keep in mind that every program is different. Likewise, you need to think about the features of each individual program so you know what your business needs. For example, some examples of ecommerce software might be better for larger corporations while other programs might be better for small businesses. More specifically, some functions of ecommerce software are specific to clothing companies while others might be designed for companies that deliver food and beverages.
If you think carefully about these kinds of examples, you can find the best program to meet the needs of your specific company. Also, do not hesitate to ask professionals about particular offerings if you have questions about finding the right one for your business. This kind of due diligence can go a long way toward placing your business in the best position possible with the right ecommerce software.
Ecommerce Software Companies
As you learn more about the ecommerce software options that are available, you also need to think about the actual ecommerce software companies that create and offer these programs. After all, what will happen if you need help with the ecommerce software program you eventually buy? You will want to be able to reach out to the developers of that program and get expert help quickly. Well, this also holds true for ecommerce SaaS companies that might specialize in the type of software you are using.
Also, remember that there are many moving parts in play when it comes to ecommerce software development. This also means that ecommerce software development moves differently in different industries. So, if you are looking for a specific feature in your ecommerce software program, you might want to reach out to one of these companies to learn more. They might be able to point you in the right direction when it comes to your ecommerce software.
Types Of Ecommerce Software
Similar to other areas, there are many types of ecommerce software and ecommerce platforms out there. There are even many enterprise ecommerce platforms that can carry out the basic functions of ecommerce software. These range from linking the products on your ecommerce software platform with the inventory in your database to automating the checkout process when someone orders a product from you. These functions could also include automatically sending performance metrics as data in a report you can review, all so that you can take advantage of these analytics when planning future SEO, marketing, or digital marketing campaigns.
There are also numerous components that go into the various kinds of ecommerce software. That is why you need to take the time to evaluate the features of any ecommerce software program before you invest in it fully. That way, you can compare the benefits and drawbacks of each option before deciding which one might best meet the needs of your company. If you are able to explore the types of ecommerce software, then you can figure out what you want for your business, don't want, and need for your business as you continue growing and moving forward.
Ecommerce Software For Small Business
In the end, it is important to consider all aspects of ecommerce software for small business. The world of ecommerce for small business is growing quickly, and this is why you need to stay up to date on options like the best ecommerce platform for small business 2020 if you want to keep up with the competition. Your competitors are probably busy looking for the best free ecommerce platform for small business, and one of the most effective ways you can keep ahead of them is to look for the best ecommerce platform for small business 2021. Likewise, if you are willing to invest in your ecommerce software, then you will be able to maximize the return you get on your digital marketing investment.
Also, when you get to setting up your online store on this ecommerce software platform, you need to ensure that you're prioritizing your customers' user experience. In other words, what do your users expect, want, and need when they visit your store? If you make it easy for prospective customers to locate what they are looking for, then you will be able to reduce your cart abandonment rate and maximize the throughput of individual orders.
Though all of these ecommerce software solutions questions are critically important, you are also a business leader with a lot to manage on a daily basis already. Because of this fact, you might not have time to think about all of these processes and issues all the time. This makes for a compelling reason you should reach out to trained, experienced professionals who can help you with this process. That way, you can focus on other areas of your company while the pros handle your ecommerce software in ways that will maximize your success moving forward.