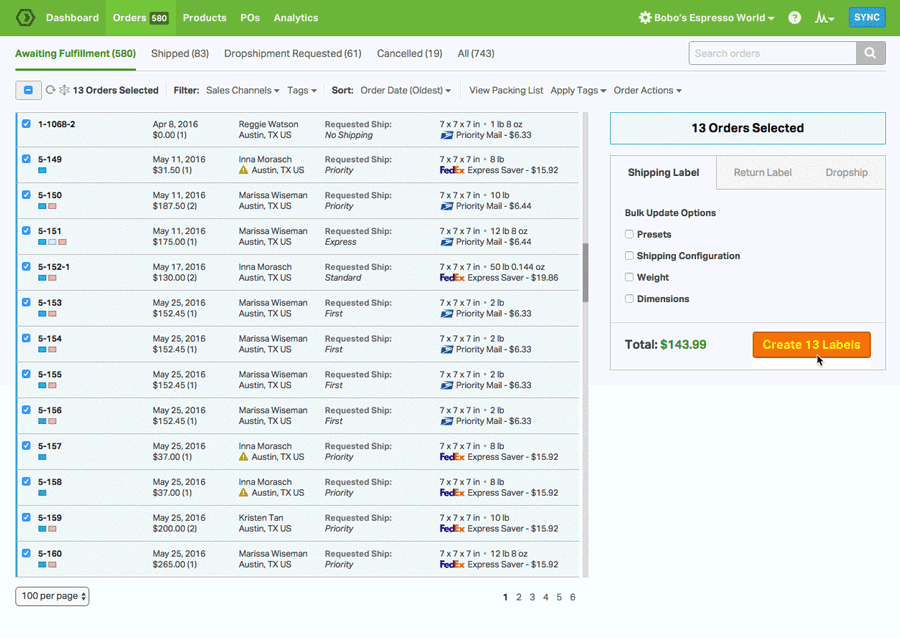 Discover The Best Order Tracking Software On The Market
The All-In-One Ecommerce Logistics Platform
Equip yourself with a comprehensive solution
Inventory Management
Stock, sync, and scan.
Automatically track and sync your inventory levels
Create and send out Purchase Orders when it's time to restock
Bundle multiple SKUs into one unit for sale
Use Barcode Scanning to reduce fulfillment errors
Multi-Carrier Shipping
Your workflow, minus the work.
Enjoy heavily-discounted shipping rates via USPS
Ship via any of our integrated shipping carriers like USPS, UPS, FedEx, DHL and Canada Post
Set up your own Automation Rules and Shipping Presets
Print shipping labels in triple-digit batches or individually
Dropshipping
Truly hands-off dropshipping.
Launch a dropshipping operation in a matter of clicks
Tag any product as drop shipped and assign it to a vendor
Choose between automated or manual routing
Activate a Vendor Portal between you and your supplier
Multichannel
We're your operations hub.
Integrate and view all of your sales and supplier channels in one spot
Use our open API to hook up any third-party or custom apps
Manage every aspect of your orders
Establish Supplier Feeds for real-time, back-end communication
Barcode Generation and Scanning
Raise the bar for stocking and packing.
Create UPC barcodes for your products
Scan, set, and search UPC codes for SKUs within Ordoro
Reduce fulfillment errors with our pack and pack barcode scanning workflow
Scan received POs to automatically adjust stock levels
Don't take our word for it
Our awesome customers have shipped some really great compliments our way:
"I spent about a month thoroughly searching for the right backend fulfillment software for my eCommerce business. There were definitely some big name guys out there that I considered, but at the end of the day, I went with Ordoro and I'm so glad I did!"

Tina Yarandi
Founder/CEO of Nature's Artisan
"Ordoro continues to add immensely valuable features to an already awesome sales/warehousing/shipping platform. Using Ordoro continues to save us time and money."

Anthony Krize,
VP of GE Holiday Lighting
Order Tracking Software
Is it necessary to utilize order tracking software in ecommerce? If you sell anything online (or even if you have a traditional brick-and-mortar store) once you've shipped an order, you need some way to track its progress, as well as confirm final delivery to the customer.
The difference between B2B and B2C is that a B2B enterprise sells its products to other businesses through an online sales portal, such as a manufacturer of auto parts or tires, whose customers are car manufacturers or auto repair facilities. A B2C operation could be a retailer on a Shopify platform who buys goods from manufacturers or other suppliers and sells directly to consumer end users. B2B order management software usually needs to be industry-specific (especially for certain manufacturers), and able to encompass inventory availability, bulk order capability, warehouse, shipping/ carrier management, and, of course, tracking.
Good order management software (OMS) manages multichannel sales strategies as well as coordinates a business's supply chain operations, from initial order acceptance through final shipment as well as inventory control, product cataloging, and dispatch management.
It goes without saying that most spreadsheet formats aren't up to many of those critical tasks, even with add-ons, templates, and other features, to be discussed further.
According to the 2021 Capterra Shortlist, some of the best order management systems including ShipStation, ShipEasy, Katana, Zoho Inventory, as well as QuickBooks Desktop Enterprise are included among the top order management system vendors.
What are some of the best options for order tracking? If you don't ship very often, you can probably use the tracking apps offered through the USPS website and other carriers, including UPS and FedEx.
However, if you plan to do a lot of shipping, as well as need to coordinate other ecommerce functions, you'll need to be able to tie it all in with your larger order fulfillment operations as well as manage inventory. To be able to successfully juggle all of those tasks, you'll want to look into using more robust software, such as from industry leader Ordoro.
Order Tracking Software Free
A good tracking system enables not only the sender to view in real-time the progress of the package in transit but allows the buyer to do so as well. While most carriers offer some sort of free order management app, or a free app to keep track of customer orders, nothing beats having a single integrated system.
Downloading a work order management system open source as well as other forms of an open source order management system takes time and IT knowledge to configure.
Most free order management software for small business really isn't: it's either limited, as is Zoho Inventory, or a limited-time trial version.
When it comes to software, as with anything else, you get what you pay for, including order tracking software free of charge, open source order management system, OMS software free download (a.k.a. order management system software free download), or other types of free order tracking software for small business. Each has shortcomings, however. For example, open source usually requires knowledge of coding to successfully configure it to a particular business's needs and these codes can be accidentally changed after the fact.
While spreadsheets may be fine in the beginning for tracking inventory, it's much harder to coordinate it with order fulfillment, selecting the right carrier, and tracking dozens of orders, with different destinations, carriers, and so on.
Ordoro's focus is on the backend operations of ecommerce businesses, with a wide array of tools for effectively tracking the movement of stock, barcoding and shipping tasks, integrating carriers, warehouse management, and interfacing with multichannels, as well as reordering stock before it falls below required levels.
Ordoro's plug-ins and other handy tools are among the easiest in the industry. Your warehouse staffers and packing department employees don't have to be IT gurus to use Ordoro's applications, which are versatile enough for dropshipping enterprises as well as other forms of ecommerce.
Online Order Tracking System
A comprehensive online order management system free of charge, whether downloadable open source or one of the spreadsheet programs available, maybe workable for a short time in the beginning, but as your business grows, you'll need software that can be more versatile and capable of the "heavy lifting" required to coordinate, track and otherwise fully manage all phases of your ecommerce business.
Good order tracking system design should include:
Centralizing order operations, including inventory management and tracking, to move order information into the right departments
Providing seamless integration with inventory, fulfillment, and shipping tasks as well as choosing carriers
Increasing order processing speeds and choosing the fastest and best method of fulfillment.
Automate email for milestones such as order confirmation, shipping and tracking, delivery and post-delivery customer feedback
Unfortunately, an order tracking system Excel or other order tracking system free spreadsheet-based can't handle all of those diverse but critical tasks through a single program. You'd have to patch together various programs or other apps and hope that they somehow come together without losing critical customer data.
Ordoro is your one-stop app for tackling your online order tracking and shipping operations of all your channels, from marketplaces like Amazon and eBay to carts like Shopify and BigCommerce.
As you import orders into Ordoro through a customer order tracker, you can either automatically or manually assign tags as well as perform searches to view the status and activity of every shipment, within a single interface. The app also automatically audits your orders, while documenting actions and showing each order's timeline.
Whether originating from an Ordoro-supported sales channel, an API custom integration, or CSV uploads, you can import your orders into the app and ship them out the door. You're in control sd you connect your supply-side channels or warehouses as well to route orders to 3PLs and dropshippers while choosing which warehouse to ship from.
Simple Order Management Software
There's some decent simple order management software available, such as Excel or Google Sheets spreadsheets, Square for Retail, PartKeepr, or cloud-based programs geared toward your business specialty. These are fine if you have a smaller inventory, don't have a lot of online sales, or are just getting started.
Every ecommerce business needs a robust online order management system. However, if you have a program that only handles inventory and possibly purchase orders, but that needs separate apps or software to link up with multiple carriers, multichannels, not to mention being unable to track or generate reports, you're missing the bigger picture.
A good sales order management system enables you to dump those spreadsheets that leave inventory management subject to errors. Instead, the best order management software for small business should let you automatically track orders while preventing running out of stock with preset alert thresholds for products.
Plug in all sales channels, suppliers, and markets into the Ordoro app to centralize your inventory into a multichannel business. You can add warehouses in multiple locations as well as enter dropshipping information, and add vendor portals as well.
Assign your products to the correct suppliers on Ordoro, after which you can issue purchase orders (POs) to restock with just a few clicks. A goods receipt is generated with each PO, so that you receive the correct stock ordered. The order won't be considered "complete" until all of the quantity ordered and received is actually entered.
Ordoro is a leader among the companies developing the best ecommerce order management software on the market today. Geared toward the small and medium ecommerce enterprise, Ordoro's handy plug-ins and other tools can take your business from a newbie startup to a major ecommerce contender. With its scalability, our software has the flexibility to help you stay competitive at any stage of your business's growth.
Best Order Management Software
So, are you still looking for the best order management software on the market? Here are a few considerations to look for:
Scalability – The ability to adjust inventory to highs and lows in volume demand, without causing disruption to your OMS operations, as well as the ability to grow with you as your business grows
For seamless integration with inventory, fulfillment, including warehouses, and multichannel sales, Ordoro is your go-to app for tackling the shipping operations of all your channels, from marketplaces like Amazon through carts like BigCommerce or Shopify
Integration with multiple warehouse or distribution locations
A few order management system examples as part of a good order management system ecommerce would include order entry and validation of the customer's input into the system. These should also include credit verification to ensure that the customer is qualified to buy before the order is fully placed and payments are processed while integrating data into subscribing systems, with billing and invoicing generated once the order is set up.
There's no single solution for order management software free of charge that can meet everyone's needs for every task.
One of the biggest drawbacks of using an open source order management system is the need for specialized IT knowledge to adjust the code to make it usable for your own business's purposes. There's also the possibility of someone accidentally (or deliberately) changing the code, leaving it unusable until the problem is identified and fixed.
We might be a little biased (ahem) but we do believe that the very best order management software for small business is offered by industry leader Ordoro. We do it all: manage inventory, coordinate fulfillment with carriers and shipping, track orders, and generate reports. Contact us now to learn more about our comprehensive full-spectrum ecommerce management products.