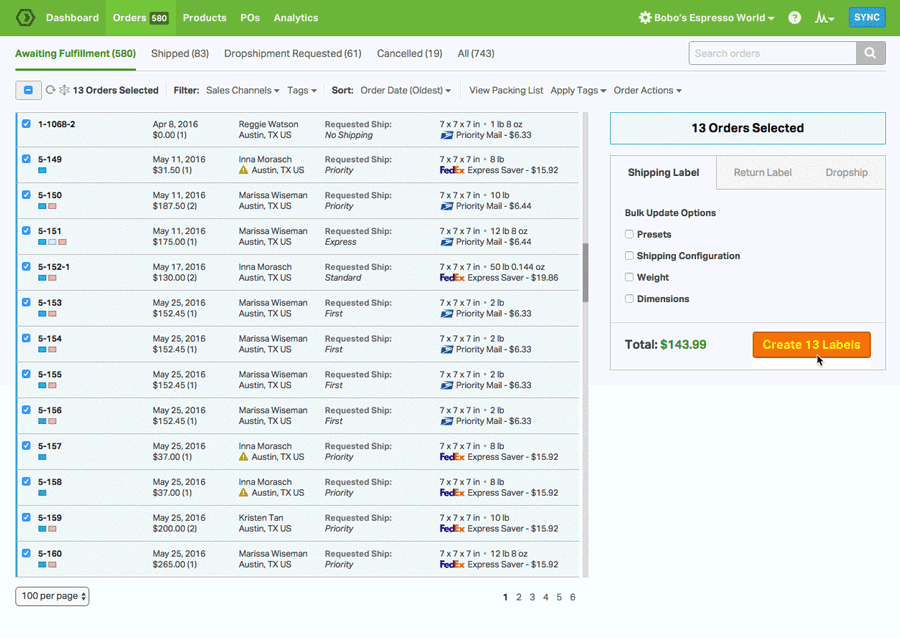 Fulfill Orders Faster And Keep Your Stock Levels In Sync With Our Ecommerce Solutions
The All-In-One Ecommerce Logistics Platform
Equip yourself with a comprehensive solution
Inventory Management
Stock, sync, and scan.
Automatically track and sync your inventory levels
Create and send out Purchase Orders when it's time to restock
Bundle multiple SKUs into one unit for sale
Use Barcode Scanning to reduce fulfillment errors
Multi-Carrier Shipping
Your workflow, minus the work.
Enjoy heavily-discounted shipping rates via USPS
Ship via any of our integrated shipping carriers like USPS, UPS, FedEx, DHL and Canada Post
Set up your own Automation Rules and Shipping Presets
Print shipping labels in triple-digit batches or individually
Dropshipping
Truly hands-off dropshipping.
Launch a dropshipping operation in a matter of clicks
Tag any product as drop shipped and assign it to a vendor
Choose between automated or manual routing
Activate a Vendor Portal between you and your supplier
Multichannel
We're your operations hub.
Integrate and view all of your sales and supplier channels in one spot
Use our open API to hook up any third-party or custom apps
Manage every aspect of your orders
Establish Supplier Feeds for real-time, back-end communication
Barcode Generation and Scanning
Raise the bar for stocking and packing.
Create UPC barcodes for your products
Scan, set, and search UPC codes for SKUs within Ordoro
Reduce fulfillment errors with our pack and pack barcode scanning workflow
Scan received POs to automatically adjust stock levels
Don't take our word for it
Our awesome customers have shipped some really great compliments our way:
"I spent about a month thoroughly searching for the right backend fulfillment software for my eCommerce business. There were definitely some big name guys out there that I considered, but at the end of the day, I went with Ordoro and I'm so glad I did!"

Tina Yarandi
Founder/CEO of Nature's Artisan
"Ordoro continues to add immensely valuable features to an already awesome sales/warehousing/shipping platform. Using Ordoro continues to save us time and money."

Anthony Krize,
VP of GE Holiday Lighting
Ecommerce Solutions
Simply put, e commerce solutions services provide small businesses with easily-used ecommerce software that lets them manage inventory, accept payments, calculate taxes, as well as fulfill orders online.
An ecommerce solutions company, such as Shopify, which has become one of the most popular platforms for retailers and dropshippers, offers a wide range of services and options that can be kept simpler in the beginning when both owner experience, as well as financial resources, are lower, while versatile enough to allow for the growth of the ecommerce business as experience, time and resources increase.
Ecommerce solutions services can include any of the following traditional types of business models: those with a focus on business-to-business (B2B), business-to-consumer (B2C), consumer to consumer (consumer makes or sells a product to another consumer), and consumer-to-business, (products or services sold to businesses).
If you have a product to offer, how will you get it to your customers? Here are a few approaches are taken by innovative industry leaders:
Numerous ecommerce companies, such as Warby Parker and Casper are doing away with the middleman altogether and using the direct-to-consumer (D2C) approach, developing a loyal following in the process while enjoying rapid growth.
Then there's "white label" and private label – where you apply your own brand name to what would normally be a generic product purchased from a distributor.
With true private labeling, a retailer teams up with a manufacturer to create unique products to be sold exclusively. One advantage of these is that it lets you stay leaner on investments in design and production, as well as looking to build an edge in technology and marketing.
Which solution you decide to use depends largely on the type of products (or services) you offer as well as the business model you choose. A retailer of upscale women's casual clothing will obviously have entirely different ecommerce needs than a manufacturer of auto parts looking to increase its global market.
Types of Ecommerce Solutions
There are several types of e commerce solutions depending on what sort of business you operate. Companies such as Adobe as well as those offered by e-commerce solutions services, such as Ordoro, create various types of e-commerce software along with other e-commerce software applications.
Some types of e-commerce with examples will be discussed below in more detail, but among them are platforms, which provide a forum or marketplace for bringing sellers and buyers together. Regardless of which software solutions you choose, you need to consider the following common to an effective ecommerce platform:
The ability to allow customers to easily search for products
A shopping cart to store purchases while shopping and before checking out
A payment gateway to take customer payments – and we can't emphasize a secure site enough, so merchants need to fully compliant with regulations concerning security standards
Some common mistakes made by many ecommerce entrepreneurs include not focusing enough on the importance of SEO (search engine optimization), choosing the wrong platform for their type of products or services – often choosing a faster or cheaper product instead of one more geared to their current needs, as well as having an ineffective product catalog.
WordPress is often cited as useful for building an ecommerce website due to plenty of pre-made themes and plugins, adding to its functionality. One of these plugins, WooCommerce, is a legitimate add-on option. However, unlike actual ecommerce websites it isn't designed to be readily customizable, limiting its usefulness.
It's important to remember that no single platform can offer everything to all customers, and even one that's fine for your startup business now may not meet your customers and your needs a year or so down the road.
Ecommerce Platform Examples
Assuming you know what types of products (or services) to offer, what considerations should you use when deciding which type of ecommerce platform to use? There are basically three types of ecommerce platform examples such as SaaS (software-as-a-service), like Shopify, which is software only. Once a hardware element is introduced, it becomes a PaaS (platform-as-a-service). On-premises platforms are hosted locally by the retailer and managed by an IT staff instead of another provider.
Types of e-commerce business models include hosted platforms, such as Shopify, WooCommerce, BigCommerce, and Squarespace. Of course, no discussion of platforms would be complete without mentioning the leader: Amazon. Since launching in 1994, it is by far the leader in ecommerce, with more than 564 products in the US alone, as it continues to innovate and grow.
Several types of ecommerce websites include Magento Open Source, which is owned by Adobe and, while free to download, does require hosting elsewhere. One reason for its popularity is its ease of customization, making it a good choice for existing businesses that may have outgrown a one-size-fits-all software approach. It should be noted that, unfortunately, there are no free ecommerce platforms. Unlike some shipping and inventory programs, any hosting platform is going to charge users for the various services and features offered by each. Open source platforms may be free to download but they cost money to customize as well as host and other development.
Others are Shopify, WooCommerce, Big Commerce, and Wix, which are the three most commonly-used platforms for small businesses, especially Shopify, as that is its target market, and is notable for its shopping cart tool.
Which platform to choose depends on a number of factors: will you be an online retailer, a dropshipper or are you a manufacturer looking to expand your markets? If dropshipping, you'll probably find that Shopify is best for dropshipping, due to its tools, plugins, and apps for sourcing merchandise to dropship, as well as excellent training and support videos for those getting started.
Ecommerce Solutions for Small Business
When looking for the best ecommerce platform for startups, new owners often find that there's so much to have to worry about at the beginning: selecting the right products to sell, finding reliable suppliers, choosing which methods of inventory to use, how to handle the storage and fulfillment processes, which carriers to work with, deciding on the right sales platform…the list goes on and on. Wouldn't it be great to be able to consolidate all of those necessary but often tedious tasks with a single fully-integrated software system instead of trying to hook into several different systems and programs?
The Internet has been enormously successful in bringing even the smallest startup to the attention of millions of prospective customers, and with that, comes the need for the right kinds of platforms and other ecommerce solutions.
If you're looking for ecommerce solutions for small business consolidating and handling all of your ecommerce operations' tasks, you should know that the top choice of thousands of ecommerce owners is Ordoro. As a leader in ecommerce inventory and shipping management software, Ordroro offers a subscription-based solution to meeting all of your ecommerce business's needs from controlling inventory, creating pick and pack lists, as well as shipping labels and tracking shipments once out for delivery right to the customer's doorstep.
Having grown by leaps and bounds over the past 20-plus years, ecommerce has become the perfect forum for small businesses of all kinds to successfully find the markets needed to thrive in today's competitive marketplaces. Many of the benefits of ecommerce for small business are enhanced with the right kind of software, apps and plugins, such as that offered through Ordoro. Take charge of inventory, tracking products from purchase order to arrival in your facility, as well as storage and order fulfillment.
Ecommerce Software Companies
Among the top e-commerce companies are Amazon, Shopify, BigCommerce, WooCommerce, Wix, Square, Magento, Ecwid, and Nexcess. As to which is the "best", the answer is: "it depends." Different platforms and websites are designed to meet differing needs within the vast world of ecommerce, so for most companies, there isn't a one-size-fits-all approach.
Overall, Shopify was voted the best ecommerce platform 2021 for selling purposes by a survey reported by Codeless.com. A downside is that if you rely on SEO, it may not be such a good choice, nor for those running a larger store with many products. On the other hand, its app store and extensibility help make it so powerful and its drag-and-drop interface makes it easy to set up an online store, even for those lacking website experience.
BigCommerce was voted best overall due to flexible multi-channel selling, strong SEO performance, as well as scalability. Some downsides: there's no one-click selling, loading speeds are inconsistent and high-volume sites pay more.
Studying successful e commerce software companies can inspire new merchants and other owners to try some of the same tactics but on a smaller scale. One of these is choosing a good platform and a top-notch software company to help manage every facet of your growing business. When evaluating ecommerce software companies for business management solutions, ask yourself the following questions:
Is the best e-commerce software scalable – can it grow with your business or will you have to ditch it sooner than later and start over with a new company or platform?
Is it affordable for new ecommerce businesses?
Is it versatile and offers the features you need not just in the beginning, but will need further down the road?
Ordoro was voted best ecommerce software overall by surveys of dozens of ecommerce businesses of all sizes and types for its versatility and ability to be easily customized to meet the needs of ecommerce businesses, from start-ups to established thriving organizations.
Ordoro offers the best e-commerce software due to the numerous features that ecommerce owners ask for, as well as affordability, scalability, and ease of use.