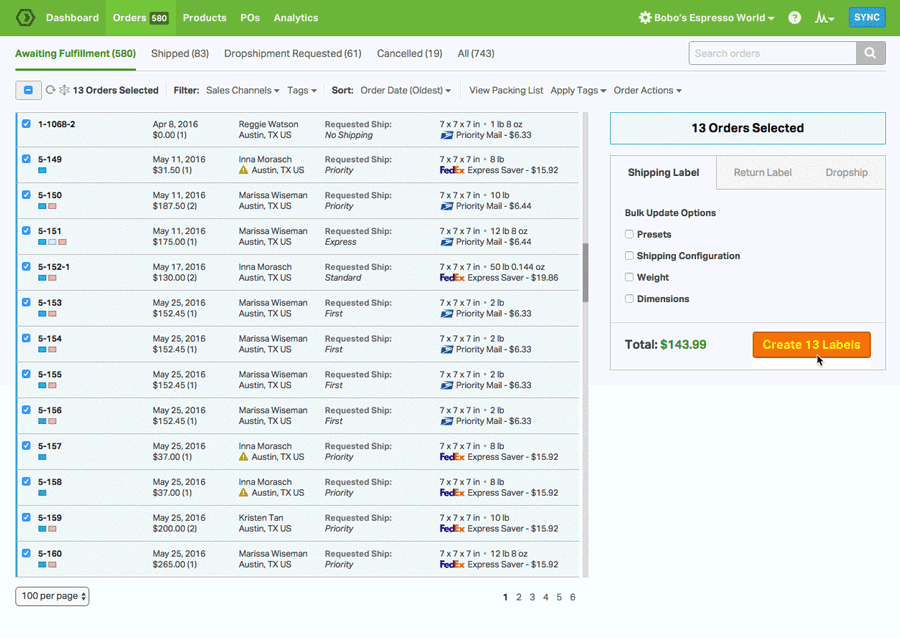 Shipping management software that saves you time and money
The All-In-One Ecommerce Logistics Platform
Equip yourself with a comprehensive solution
Multi-Carrier Shipping
Your workflow, minus the work.
Enjoy heavily-discounted shipping rates via USPS
Ship via any of our integrated shipping carriers like USPS, UPS, FedEx, DHL and Canada Post
Set up your own Automation Rules and Shipping Presets
Print shipping labels in triple-digit batches or individually
Inventory Management
Stock, sync, and scan.
Automatically track and sync your inventory levels
Create and send out Purchase Orders when it's time to restock
Bundle multiple SKUs into one unit for sale
Use Barcode Scanning to reduce fulfillment errors
Multichannel
We're your operations hub.
Integrate and view all of your sales and supplier channels in one spot
Use our open API to hook up any third-party or custom apps
Manage every aspect of your orders
Establish Supplier Feeds for real-time, back-end communication
Dropshipping
Truly hands-off dropshipping.
Launch a dropshipping operation in a matter of clicks
Tag any product as dropshipped and assign it to a vendor
Choose between automated or manual routing
Activate a Vendor Portal between you and your supplier
Don't take our word for it
Our awesome customers have shipped some really great compliments our way:
"I spent about a month thoroughly searching for the right backend fulfillment software for my eCommerce business. There were definitely some big name guys out there that I considered, but at the end of the day, I went with Ordoro and I'm so glad I did!"

Tina Yarandi
Founder/CEO of Nature's Artisan
"Ordoro continues to add immensely valuable features to an already awesome sales/warehousing/shipping platform. Using Ordoro continues to save us time and money."

Anthony Krize,
VP of GE Holiday Lighting
Shipping Management Software
Shipping is a complex task, as noted by Ordoro, and that's probably an understatement, especially for anyone new to ecommerce. Shipping management software isn't an option anymore, not when the majority of purchases are now done online, making access to top-flight shipping software a requirement for any ecommerce business hoping to be competitive and succeed.
Shipping software can be cloud-based, a flexible plug-in or as with many larger organizations, an enterprise setup in the hardware itself. For newer business owners with a lot of other start-up expenses, going with a subscription service with adaptable plug-ins, such as provided by Ordoro is one very good option when you're not sure just what you'll need in the short term but know that you'll need to have enough flexibility of your software to be able to grow with your business.
Enterprise shipping software is geared toward more established organizations, such as schools, social groups, or governments and is usually more complex and specialized, compared to the needs of those just starting out. Most good enterprise software products offer not only scalable, adaptable and configurable shipping as well as documentation automation into the shipping process. As a result, order fulfillment is more streamlined and your business is in a better position to process multi-carrier orders and shipments in one location.
These are among the best shipping websites as of this writing:
Shippo is multi-carrier shipping software designed for ecommerce to help businesses save on carrier rates for UPS, DHL Express, USPS and more, making it easier to ship smarter and faster. When it interfaces with your ecommerce platform Shippo syncs order information, creates and prints shipping labels, documents and other essential materials. Customer service is improved through tracking pages, batch printing and branded emails.
Shopify Shipping, as the shipping arm of the Shopify platform, has become a force to be reckoned with as an ecommerce industry leader. Besides its popular ecommerce sales platform, Shopify Shipping now helps users improve their customer service with real-time tracking updates, as well as offer them the best rates with trusted carriers, shipping insurance and return labels. While it's not the cheapest software out there, since it's under the well-known Shopify brand you'll be getting a reliable, innovative platform with which to work.
Ordoro is gaining in branded shipping and inventory solutions for businesses of all sizes, but with a special focus on ecommerce. This is a company that does it all and does it well: whether through Ordoro-supported sales channels, integrating a custom API, importing orders into their handy app (and quickly shipping them out), as well as helping you stay connected to your supply side and carrier/ sales channels, Ordoro comes out a winner.
Shipping Easy differs from other shipping software on the market by offering tools for the usual suspects of inventory, shipping and tracking but in addition aids in creating marketing campaigns and inventory automation. Its popularity is attested to by its use in stores, organizations and other kinds of sellers on Amazon, Magento, eBay, Shopify and Etsy. Another nice feature of Shipping Easy is the money you save on shipping with the discounted USPS rates they offer and a free US postage account. Shipping Easy is probably the less expensive option on the list, aside from the carriers mentioned below, although most providers are becoming pretty competitive.
The websites below, while those of major carriers rather than primarily software sites, are included due to the wealth of shipping information and tools and user support they offer, especially for newer businesses, whether ecommerce or traditional brick-and-mortar.
USPS maintains a Business Customer Gateway (BCG) is their hub for businesses of all sizes to manage volume shipping and mailing. They allow API integration by web developers and technicians and provide an array of free USPS Web Tools® for use in websites, customer service centers or shipping operations.
FedEx utilizes state-of-the art GPS tracking devices to monitor a package's in-transit status from start to finish, an online rate calculator and small business-assist pages similar to those of USPS's shipping pages.
FedEx Express offers users Standard, Priority, Overnight, Next Day or 2-Day /3-Day Delivery, giving customers more options, for those needing a fast delivery. Account holders also have access to the other perks and discounts offered by FedEx.
Best shipping software for ecommerce
The biggest differences between ecommerce/ brick-and-mortar stores are inventory management and shipping needs and capabilities. An ecommerce website can reach millions, compared to the relatively small customer base true of most physical stores. This larger audience requires a larger storage space for order fulfillment, such as access to warehouses, which in turn demands a shipping platform able to interface with dozens of carriers, each with their various shipping rates and logistics requirements.
Selecting the best shipping management software can be a daunting job, what with so many choices. Knowing your business's current shipping needs and being realistic about your budget when balanced against your future growth can help you avoid spending more on unnecessary features that you may not need right now. Having shipping management software that's flexible, scalable and easily-used by all of your employees (or just you) is the perfect solution.
Online shipping software, as opposed to installed software, is a good bet for smaller businesses and/or newbies who need flexible, scalable software able to grow as their business grows and needs change.
Multi-carrier shipping software is a necessity when using more than one carrier for shipping – and is almost impossible to do without if you intend to grow your business. Among its virtues are:
The software's ability to create shipping labels and packing slips and other documents
Shop around for best rates and methods on shipping, giving your customers more value
Ability to integrate with ecommerce platforms, such as Amazon. Etsy, Shopify, eBay and WooCommerce
The ability to interface with and sync your site's order information and tracking tools
For larger companies that do a lot of shipping, including overseas, an enhanced multi-carrier software shipping systems offer additional shipping methods, such as LTL freight, air, ocean, air as well as parcel shipping
Best shipping software for small businesses
The best shipping software for small businesses, especially if you're new in the game, should absolutely have the following tools and capabilities:
Order management – sort, prioritize based on filters as well as tracking shipped packages
Shipping rate calculators
Bulk order selection
Batch label printing
Shipping label software printing as well as documentation
Multi-carrier shipping integration
Drop shipping options to manage this specialized selling niche
Reporting and analytics
USPS shipping software is easy to use as offers several helpful guides and videos for small businesses. There is also an option for web developers and other techs to integrate APIs into a seller's own site. USPS offers discounts for bulk shipping and frequent shippers, so this is something worth considering as your business grows.
FedEx is another site that provides special help for new and small business owners, both ecommerce and traditional retailers alike, as well as offers shipping tutorials and discounts.
Shipping calculator software is a must-have for any shipping department, no matter how small. It must be easy to use as well as have up-to-the-minute updates of rate changes, as well as any state, local or federal rules affecting shipping rates. Without it, you'll be wasting a lot of time looking up rates with every carrier you use.
Ordoro provides you with plenty of the above tools and know-how you'll need to succeed: inventory management focused on your ecommerce store, bulk selection, pick and pack lists, multi-carrier software, kitting products, automation, analytics and more.
The best shipping software
The best shipping software is the one which meets your particular needs wherever you and your ecommerce business are at the moment. If you're a start-up, estimating your future shipping needs may be tricky at first, but as you sales start to grow, you'll want to begin with a software that is scalable (flexible and grows with the business) as well as offers the tools to get the job done.
Eventually you'll need access to more than one local carrier, as well as the means to quickly create shipping labels and documentation, handle bulk selections, interface with all of those multi-carrier connections and more.
"There's an app for that!" Meet Ordoro – the one-stop place for your inventory, shipping and related ecommerce needs in one place.
To keep your fulfillment centers humming along, Ordoro offers automation rules as well as presets for help with bulk selection, bar code scanning and label printing. There's no need for further cutting and pasting after printing as Ordoro quickly relays tracking numbers and shipping status to your sales channels to keep your customers updated on their package's movement.
Ordoro connects seamlessly to all of your supply-side channels, fulfillment centers and warehouses, efficiently routing orders to 3PLs and others, as it selects the best ship-from location. Ordoro can handle shipping operations marketplaces like eBay and Amazon to carts and other platforms like BigCommerce and Shopify, keeping your shipping and tracking operations and sales channels running smoothly.
Need multi-carrier capabilities as your grow your ecommerce business? Ordoro has you covered, whether it's with the USPS, UPS, DHL International, Canada Post or FedEx. Pick and pack lists? Consider it done. You can kit and bundle your branded products - all with amazing discounted rates through the USPS of up to 67%, which is a huge savings as your business grows and your shipping needs increase.
Unlike some shipping software companies, Ordoro also offers you a free 30-day onboarding as well as lifetime support. Can't beat that!