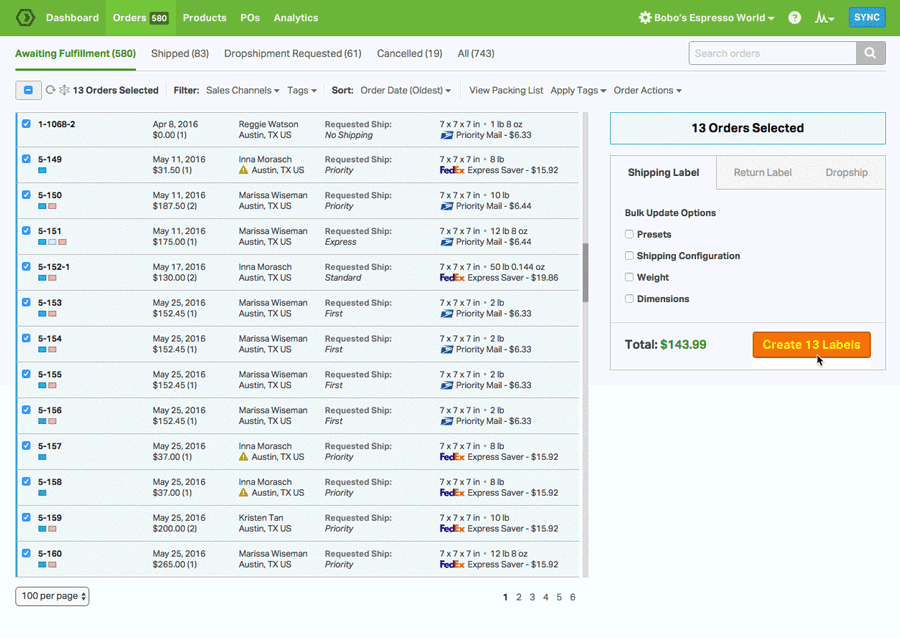 Multi-Carrier Shipping for Small Business
The All-In-One Ecommerce Logistics Platform
Equip yourself with a comprehensive solution
Inventory Management
Stock, sync, and scan.
Automatically track and sync your inventory levels
Create and send out Purchase Orders when it's time to restock
Bundle multiple SKUs into one unit for sale
Use Barcode Scanning to reduce fulfillment errors
Multi-Carrier Shipping
Your workflow, minus the work.
Enjoy heavily-discounted shipping rates via USPS
Ship via any of our integrated shipping carriers like USPS, UPS, FedEx, DHL and Canada Post
Set up your own Automation Rules and Shipping Presets
Print shipping labels in triple-digit batches or individually
Dropshipping
Truly hands-off dropshipping.
Launch a dropshipping operation in a matter of clicks
Tag any product as drop shipped and assign it to a vendor
Choose between automated or manual routing
Activate a Vendor Portal between you and your supplier
Multichannel
We're your operations hub.
Integrate and view all of your sales and supplier channels in one spot
Use our open API to hook up any third-party or custom apps
Manage every aspect of your orders
Establish Supplier Feeds for real-time, back-end communication
Barcode Generation and Scanning
Raise the bar for stocking and packing.
Create UPC barcodes for your products
Scan, set, and search UPC codes for SKUs within Ordoro
Reduce fulfillment errors with our pack and pack barcode scanning workflow
Scan received POs to automatically adjust stock levels
Don't take our word for it
Our awesome customers have shipped some really great compliments our way:
"I spent about a month thoroughly searching for the right backend fulfillment software for my eCommerce business. There were definitely some big name guys out there that I considered, but at the end of the day, I went with Ordoro and I'm so glad I did!"

Tina Yarandi
Founder/CEO of Nature's Artisan
"Ordoro continues to add immensely valuable features to an already awesome sales/warehousing/shipping platform. Using Ordoro continues to save us time and money."

Anthony Krize,
VP of GE Holiday Lighting
Shipping for Small Business
Today's consumers start with the internet when looking for products and services. Studies have even shown that online sales are poised to pass brick and mortar sales in the near future—and this is largely because the reality is that it's simply more convenient for people to browse and purchase online.Therefore, anyone who is looking to run a successful business today needs to make sure that they have a strong online presence. . Businesses need to make sure they're able to meet all customers' needs online, whether these are needs for information or needs for the actual products and services. Because of this, shipping for small businesses is of critical importance.
When it comes to small business shipping solutions and small business shipping services, there are a lot of factors for the savvy business owner to keep in mind. For example, many companies are looking for the cheapest shipping for small business; however, this might not be the best way to meet customers' needs, even if it saves some money up front. For example, some customers might be expecting to get their orders more quickly, but fragile or heavy goods need to be shipped in a particular way. In this manner, looking at small business shipping rates can be helpful. Shipping needs to balance speed, cost, and quality. By taking all of these factors into account, it is possible for businesses to meet the needs of their customers without letting overhead costs get out of control.
Small business shipping tips can also be very helpful. Of course, business owners will want to make sure that they have a reliable solution to address their shipping needs. For example, starting with shipping softwarefree is a great way to explore some of the options available; however, it is also a good idea to use shipping apps for small business as well. When it comes to how to reduce shipping costs for small business, companies will need to make sure that they shop around and look at various options, in order to learn which one will work best.
USPS Trackinng
When it comes to shipping options, one of the most popular options is the United States Postal Service, or USPS. Many companies appreciate USPS tracking because this service allows both the business and their customers to monitor orders while they are in transit. Furthermore, USPS shipping rates are competitive in the industry. As a result, USPS can help companies save money on their shipping expenses. At the same time, though, it is important for business owners to make sure they understand how to use USPS to ship orders.
First, it is important to take a closer look at the options of a USPS business account vs. personal account. The vast majority of people who use USPS have a personal account, meaning that they are individuals who are simply using USPS to send something to a family member or friend. On the other hand, there is also a USPS business account option, which provides different benefits that will be useful for small businesses, such as access to USPS business rates. In general, USPS business rates are going to be less expensive for large orders and shipments. By using a USPS business account, a small business has access to reduced rates for larger orders. This can help business owners keep their business costs lower.
It is also important to take a look at the USPS options for domestic shipping vs. international shipping. USPS international shipping rates are still competitive in the industry; however, they are significantly more expensive than USPS domestic rates. The reality is that the farther something is being mailed, the more expensive it is going to be. Therefore, it is important for business owners to take a look at all of their options when it comes to international shipping. This could end up saving them a significant amount of overhead expenses.
UPS Tracking
Another option when it comes to shipping for small businesses is United Parcel Service, orUPS. UPS tracking is another popular option for small business owners, and UPS shipping rates are also competitive in the industry. Thus, when it comes to UPS small business options, there are several key points to keep in mind.
First, there are multiple pricing options available through UPS. For example, those who are sending a flat rate package will be paying a certain cost depending on the national zones through which the package travels. UPS divides the country into multiple zones, and the more zones through which a package travels, then the more expensive it will be to mail. Therefore, anyone sending a package usingUPS should take a look at the map and figure out how many zones the package will be traveling through.
In addition, there are also situations in which UPS might price something based on its weight. In general, the heavier something is, the more expensive it is going to be to ship. Therefore, it is critical to consider what products are being included in a package, check how much the final package weighs, and then consider the various shipping options available. In some cases, a non-weight-based option could be less expensive.
Finally, it is also important to consider business options for UPS. Those who have a business account with UPS might be able to apply for discounts on bulk orders, which would make UPS a little bit less expensive and provide additional options for business shipments. This way, small business owners can reduce their overhead costs and increase their revenue, and then pass those savings on to their customers.
FedEx Tracking
Another shipping option that small business owners might want to consider is FedEx. FedEx has its own FedEx shipping rates, which are competitive within the industry. For those who wonder beforehand about how much it will cost to send something via FedEx, there is also a FedEx shipping calculator available. Through FedEx tracking, it is also possible to see when a package will reach the customer. There's even a FedEx small business grant that business owners can apply for.
Those who decide to create a FedEx business account will also have access to a number of additional benefits. Using a FedEx business login, it is possible to access FedEx business account customer service. This service includes troubleshooting for FedEx small business shipping issues. When someone creates a business account with FedEx, they might enjoy up to 30% off FedEx Express for US domestic, international, and return services. They could also receive up to 70% off FedEx freight services.
Anyone who has questions should know that FedEx small business support is also available. This service can help small business owners find answers to any questions they might have when it comes to FedEx. These are a few of the biggest reasons why FedEx is a popular shipping option among small business owners.
UPS Shipping
When it comes to shipping, UPS is almost always competitive for small business owners, as discussed above. UPS shipping is usually fast, reliable, convenient, and cost-effective. Therefore, savvy small business owners should consider UPS and compare their rates to some of the other options available.
UPS small business shipping can also provide people with access to a few important discounts. The good news here is that setting up a UPS small business account cost is actually free. Then, once a business owner has set this up, they can take a look at their options through UPS and see if this will be the best choice.
UPS also provides a variety of shipping services for online business owners. With the rise of e-commerce, it is important for all online business owners to make sure they have access to cost-effective, reliable shipping, and this is precisely what UPS provides. Therefore, those who are running an online business should definitely explore their options through UPS. UPS offers flat rate options, weight-based options, and special rates depending on where the package is being sent.
USPS Flat Rate Boxes
Though USPS has already been mentioned, they are worth revisiting for their flat rate boxes—a big money-saver! USPS flat rate boxes are convenient, all-in-one pricing options that are incredibly transparent regarding shipment costs. Anything that fits into a box of a certain size can be shipped for a "flat," or single, rate, no matter what it is or how much it weighs. There are also updated USPS postage rates 2020 for USPS flat rate envelope shipments.
For example, those who are sending a USPS small flat rate box should expect to pay about $8 for the shipment. Those who are sending a medium flat-rate box via USPS should expect to pay somewhere between $13 and $15. And for anything that might not fit in these boxes of limited sizes, there are USPS shipping rates by weight chart available in stores or online, and it is also possible to create a USPS shipping label for a USPS first-class package.
All in all, there are plenty of options available through USPS, and this is one of their strengths. The range of options available means that small business owners can customize their shipping options to meet their individual needs. In this manner, small business owners are in complete control over their shipping costs and can find ways to reduce the amount of money they spend on shipping. This will help small business owners increase their profit margins, which in turn will lead to business growth.
Thus, in terms of both fulfilling orders and saving costs, all savvy business owners should be thinking about shipping on an ongoing basis.
Shipping for Small Business
If you're a smaller business engaged in selling tangible goods to customers, at some point, you'll need to look for software and apps designed for managing your shipping for small business.
How you should go about getting the best shipping for small business depends on your budget, how many packages are shipped, their size/ weight, and how often, as well as whether you ship within the US or globally.
When you're first starting out, you'll probably wonder "how do small businesses afford shipping?" Start by looking for discounts among the major carriers, such as USPS, for savings of up to 67%, only when you team with Ordoro.
Regardless of what type or size of business you run, whether retail, wholesale, manufacturing, online or traditional brick-and-mortar, you need to ask the following questions of any partner company before signing up for shipping software and their apps:
How will you ship goods at the lowest cost to make a profit? High shipping costs are one of the biggest reasons shoppers abandon a cart when checking out, so pay attention to those charges – it really pays to compare costs.
How will you move goods faster and more efficiently than competitors?
Will this software be compatible with and integrate seamlessly with the current systems in place without having to make major changes or replacements to what is already there?
The good news is that Ordoro offers everything you need for the best shipping software on the market within an integrated ecommerce management platform to make your business a success from the start. No need to waste time, effort, and money on inadequate software, downloads, or spreadsheets – we'll have you up and running like a pro from the outset. We help your business not only accurately track incoming and outgoing inventory and reorder stock when necessary, but manage all fulfillment-related tasks such as picking, packing, label creation, finding the best shipping rates with multiple carriers, tracking, analytics, and more.
Small Business Shipping Rates
Even if you're shipping a smaller volume of goods, you may still qualify for small business shipping rates with some carriers. Several shipping companies, including Ordoro, working in partnership with UPS and USPS, offer substantial discounts. For example, Ordoro's partnership with USPS offers users discounts of up to 67%!
USPS business shipping accounts, including Small Business shipping, offer Loyalty Rewards, help with marketing and advertising, as well as ways to streamline shipping.
USPS small business shipping rate includes Priority Mail tracking and delivery in 1-3 business days. Priority Mail Flat Rate lets users send packages weighing up to 70 pounds to any state at the same price. Retail prices currently start around $8.95 for a Flat Rate envelope, with Flat Rate boxes starting at around $9.45.
UPS shipping rates currently range from UPS Ground shipping cost for 1- 5 business days at $12.53; Next-Day Select – 1- 3 days $28.46, for domestic (US) rates. For those shipping internationally, UPS also offers easy-to-use calculators on their website to accurately gauge shipping rates and delivery times.
If you plan to ship FedEx with multiple packages week after week, opening a FedEx account would be the best, most cost-effective option. FedEx small business shipping account holders have access to the other perks and discounts offered by FedEx. There are also special help and advice for new businesses scaling up and unsure of the shipping process. Rates are competitive with UPS and USPS: FedEx overnight rates 2021 were Express Saver - $9.50 for an envelope 3rd Day, by 4:0 pm., with Next Day - $29.55 by 3 pm. FedEx Pak was $10.10 for Express Saver, by 4:30 pm
Remember that Ordoro's ecommerce management software integrates perfectly with almost all major and local carriers, including UPS, USPS, and FedEx. You can easily coordinate your shipping needs as well as suppliers and sales channels from one central location with just a few clicks.
Shipping for Small Business UPS
When considering which carriers to use for shipping for small business, UPS should be on the list, with its discounts and ability to offer competitive rates, especially for larger items.
Setting up accounts with UPS business is a good idea for UPS small business USA-based sellers for those wanting to save money on shipping.
When comparing UPS business shipping rate to FedEx, 3-Day Air through UPS can be as much s 25% cheaper than FedEx. Both carriers are good for shipping larger, heavier packages, although in terms of speed and cost, UPS seems to have the edge over FedEx. Visit the USPS.com pages for the latest commercial price list for quantities and discounts.
USPS business offers a number of advantages for those who set up an account: discounts on shipping, marketing assistance, Loyalty Rewards, and much more. Just go to the USPS website and follow the prompts to set up an account based on the size of your shipments, the number of packages you expect to spend per week/ day, and whether you plan to ship domestically or internationally.
While several shipping companies such as EasyShip offer UPS small business account discounts, Ordoro has an exclusive partnership with UPS to offer businesses significant discounts with UPS. Ordoro offers versatile apps and plugins to ensure that your business runs smoothly at all times. Ordoro helps you keep UPS small business shipping costs lower and more affordable through partnerships and substantial discounts, especially for smaller businesses. (P.S. – Ordoro also offers substantial discounts through a partnership with the USPS!)
Ordoro is your small business go-to software for everything ecommerce: we can help manage incoming and outgoing inventory, automate purchase orders when stock runs low, and oversee fulfillment tasks from picking and packing orders to choosing the best rates for multiple carriers, track shipments, generate reports and more.
Cheapest Shipping for Small Business
The needs for small business shipping are similar to those of a larger enterprise but on a smaller scale. Smaller businesses usually don't ship as many packages nor as often as larger companies, so it's sometimes difficult to get the volume and other discounts enjoyed by the Big Guys.
Obviously, you don't want your customers to pay more than necessary for shipping. In fact, sometimes high shipping charges have cost businesses sales at checkout. When asked about some of the cheapest shipping for small business Reddit viewers reported that for packages under 1 pound, USPS First Class was the cheapest method. Between 1 and 5 pounds, USPS Priority Mail came in tops. For larger, heavier packages, FedEx Ground and UPS Ground would usually be the cheaper services.
Ordoro also offers significant discounts in partnership with UPS, so if you plan on using those carriers (and you should), Ordoro helps you keep small business shipping costs lower and more affordable. We offer cost-effective rates through every provider, including best-in-industry discounts of up to 67% through USPS! As you process orders, compare the cost to ship through every shipping carrier, and get the most for your shipping dollars at a glance.
All of Ordoro's monthly subscription plans are based on a billing model we call "Flex Pricing:" Instead of flat fees, you get charged for your actual usage of our platform (which saves you money when order volume is lower). Since almost all ecommerce businesses have seasonal ups and downs, we designed Flex Pricing to be more aligned with this reality.
Here are a few more tips to reduce shipping costs:
Reduce package weight when possible – choose lighter packaging over cardboard, for example.
Choose the right-sized packaging to reduce weight
Use flat-rate shipping when possible
Know when rates change
Offer local delivery or pickup
Best Shipping Company for Small Business
The best shipping company for packages depends on the size, destination and so on, as we pointed out earlier. USPS usually comes in on top for parcels weighing less than 5 pounds, but UPS is the winner for larger, heavier packages.
The best way to ship products for small business depends on what kind of products you ship, where you ship to, and whether you use an effective ecommerce software solution such as Ordoro to help manage shipping rates and carriers, as well as inventory.
Some of the best ecommerce shipping companies surveyed include Ordoro, EasyShip, Shippo, and ShipBob. These have been rated among the best shipping options for small business.
Ordoro, with its comprehensive ecommerce management software that does way more than efficiently handle shipping tasks, is clearly the winner. When comparing shipping apps for small business as well as the best shipping software company for small business, consider whether you're getting the following:
The ability to interface with and sync with your site's current order information and tracking tools
The ability to integrate with ecommerce platforms, such as Amazon. Etsy, Shopify, eBay, and WooCommerce
The app's ability to coordinate the creation of shipping labels, packing slips, and other necessary documents
Since sales orders are aligned with shipping, choosing the best ecommerce shipping app is critical, so do a comparison of not only cost but other necessary features before deciding which to use. Ordoro comes in on top with up-to-the-minute plugins and tools for managing all phases of your ecommerce business.
Ordoro gets along with all major shipping carriers — you can integrate and select any USPS, UPS, FedEx, DHL International, Canada Post, or Amazon Seller Fulfilled Prime account, and utilize the various domestic and international shipping methods of each provider.
With FREE 30-day onboarding, a 15-day free trial, lifetime customer support as well as versatile and user-friendly applications, our satisfied customers are the reason we rank at the top of ecommerce business management.