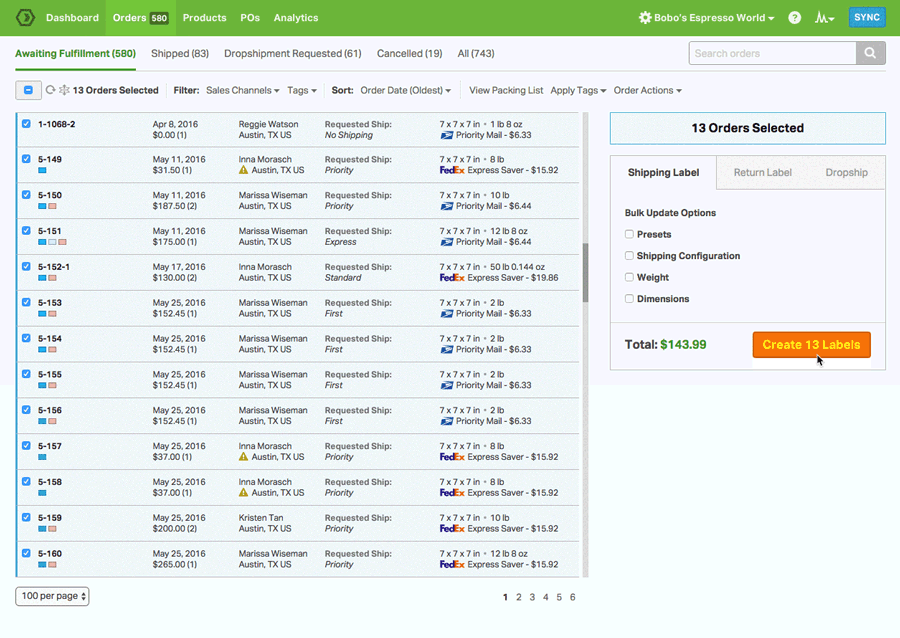 Fulfill orders faster and cheaper with our ecommerce shipping module
The All-In-One Ecommerce Logistics Platform
Equip yourself with a comprehensive solution
Multi-Carrier Shipping
Your workflow, minus the work.
Enjoy heavily-discounted shipping rates via USPS
Ship via any of our integrated shipping carriers like USPS, UPS, FedEx, DHL and Canada Post
Set up your own Automation Rules and Shipping Presets
Print shipping labels in triple-digit batches or individually
Inventory Management
Stock, sync, and scan.
Automatically track and sync your inventory levels
Create and send out Purchase Orders when it's time to restock
Bundle multiple SKUs into one unit for sale
Use Barcode Scanning to reduce fulfillment errors
Multichannel
We're your operations hub.
Integrate and view all of your sales and supplier channels in one spot
Use our open API to hook up any third-party or custom apps
Manage every aspect of your orders
Establish Supplier Feeds for real-time, back-end communication
Dropshipping
Truly hands-off dropshipping.
Launch a dropshipping operation in a matter of clicks
Tag any product as dropshipped and assign it to a vendor
Choose between automated or manual routing
Activate a Vendor Portal between you and your supplier
Don't take our word for it
Our awesome customers have shipped some really great compliments our way:
"I spent about a month thoroughly searching for the right backend fulfillment software for my eCommerce business. There were definitely some big name guys out there that I considered, but at the end of the day, I went with Ordoro and I'm so glad I did!"

Tina Yarandi
Founder/CEO of Nature's Artisan
"Ordoro continues to add immensely valuable features to an already awesome sales/warehousing/shipping platform. Using Ordoro continues to save us time and money."

Anthony Krize,
VP of GE Holiday Lighting
Ecommerce Shipping
Running online businesses, or ecommerce, is a popular venture today, particularly because the ecommerce space is growing quickly. Studies have even shown that ecommerce sales are poised to pass brick-and-mortar sales in the near future. Today, the vast majority of consumers prefer to do their shopping at home, since the ability to buy products and services online cuts out the time, energy, and effort it takes to shop in physical locations. At the same time, those who run an ecommerce business must also keep in mind that they will still need to offer shipping, and they should find effective ways of handling their shipping needs. There are a few important points to keep in mind when it comes to ecommerce shipping.
When it comes to ecommerce shipping companies, there are plenty of options to choose from and some key points to note about best practices.
First, one of the biggest issues that ecommerce companies have when it comes to online orders is cart abandonment. Too often, customers will simply leave their order behind when they realize that there is an extra fee tacked on for shipping. To avoid this problem, those who are looking to grow an online business may want to eliminate these shipping fees and even make shipping free for customers. This simply means that ecommerce store owners may have to raise their prices in order to account for what they spend on shipping. This way, however, customers are not surprised by an extra fee for shipping at the end of their orders, and the business will see less cart abandonment.
In addition, it is also important for ecommerce stores to offer customers the option of ecommerce shipping tracking. With this option, customers are always aware of when their orders are going to arrive. By keeping customers in the loop this way, small business owners will build customer loyalty, encouraging them to come back for future purchases.
Shipping Cost Calculator
For online businesses that do not want to offer free shipping, it is still important to provide transparency, since customers do not like to be surprised with an extra fee at the end of their orders. Therefore, it is also a good idea to try to offer something called a shipping cost calculator, which will help customers figure out how much they are going to pay for shipping on any particular order. This way, with the cost of shipping available upfront, customers will believe in the transparency of the business and are more likely to return for future orders.
In addition, ecommerce store owners should consider using a shipping cost formula option, which will help them see how much shipping could cost. For example, many online business owners decide to use a third party when it comes to shipping. Some of the most popular examples include FedEx, USPS, and UPS, and many of these shipping providers have shipping calculators or similar options on their websites too. When it comes to looking at how to calculate shipping cost for online store, business owners may want to take a closer look at the shipping calculators offered by UPS, the USPS, and FedEx, as well as other shipping providers.
Meanwhile, businesses that do not want to offer free shipping might be able to calculate how much it will cost for their average order. By doing this, they can get an idea of what these rates are going to be and will then be able to make more informed decisions deciding which of these shipping services they want to employ. When online business owners look at these options ahead of time, they will be prepared to go with the least expensive option when the time to ship actually arrives.
Small Business Shipping
Clearly, small business shipping is a major issue, both for brick-and-mortar stores as well as for online businesses. The reality is that, for small businesses, shipping is an incredibly important part of their overhead expenses. Therefore, small business owners need to do everything they can to minimize the amount of money they spend on shipping without sacrificing quality in the process.
This is where shipping software can be helpful. Shipping software includes all software solutions that integrate with a business's ecommerce platform to provide real-time shipping information, from calculations to shipping labels and more. Luckily for small businesses, there are plenty of options available when it comes to shipping software, and many business owners decide to go with free shipping software, at least at first. While these free options can be a good starting point, though, they will not be as effective as premium shipping options. Therefore, small business owners who really want to take control of their shipping costs and quality must be willing to invest in proper shipping software programs.
At the same time, it is worth noting that premium shipping software does not necessarily have to mean expensive. There are inexpensive options available as well, and business owners should consider the possibility of shipping apps for small businesses. These shipping apps are incredibly convenient because they can be accessed from just about anywhere with the push of a button from a mobile device. Furthermore, if customers download the same application that the ecommerce business uses, then they can receive updates and shipping notifications right to their phones.
Finally, it is also important to note that the cheapest shipping for small business owners is not necessarily the best. There might be some situations where small business owners are shipping something that needs to be heavily wrapped, protected from temperature changes or humidity, or shipped with added security. They will need to ensure that they have shipping options in place for these kinds of orders as well. In this manner, small business owners have to make sure they invest in effective shipping solutions that preserve the quality of their products and will keep their customers happy.
eCommerce Shipping Solutions
eCommerce shipping solutions are another key piece of the ecommerce shipping puzzle. For instance, online businesses should be upfront when it comes to their ecommerce shipping policy, because the reality is that customers appreciate transparency. The more transparent an online business is, the more loyal their customers will o be. When it comes to ecommerce shipping, cost and time to delivery are important factors to customers, so communicating this is one of the most important steps that online business owners can take when it comes to winning the respect of their customers.
When it comes to the best ecommerce shipping solutions, though, there is no single answer for this question. This is because the reality is that online business owners operate in different industries, so when it comes to ecommerce shipping solutions in the USA, everyone will have slightly different needs.
However, when it comes to looking at ecommerce shipping solutions, several factors may apply across multiple industries. These include the distance traveled, how quickly the package needs to get there, and whether the package needs any additional protection against temperature changes, humidity, or potential theft and tampering. After business owners sort through these issues, they will be better able to find the shipping solution that is right for their unique business needs.
Shipping Management Software
As an online business grows, the reality is that shipping its products will only become more complex. One way in which this happens is that it is harder to keep track of multiple packages in transit at the same time. This is where shipping management software can be helpful. Shipping management software is an important part of most shipping strategies because it can help automate and track several important shipping processes, plus alert business leaders if anything looks out of place. Given these possibilities, there are several benefits of retail shipping software that ecommerce business owners should be aware of.
One of the biggest benefits of shipping management software is that these solutions can be used to track packages with multiple carriers at the same time. In addition, multi-carrier shipping software can be used to compare rates across multiple shipping providers at the same time. In certain situations, shipping providers might change their rates in real time depending on the demand, so if small business owners can compare rates from multiple carriers, then they can also figure out which one will be their best bet. Furthermore, shipping management software can also be used to track multiple packages in transit at the same time. Advanced offerings can even automate notifications for customers, letting them know when their packages are about to arrive.
eCommerce Shipping Software
Clearly, when it comes to shipping for small businesses that handle sales and transactions online, ecommerce shipping software is incredibly important. One of the biggest benefits to be aware of in this space has to do with ecommerce shipping tracking. Both businesses and customers need to be in the loop regarding what is happening to their package as it travels from point A to point B. If a delivery date is going to change or if something happens to the package, then everyone involved in that order must be notified.
Ultimately, while small business owners might be looking for the best shipping software for ecommerce, the reality is that there is no single best solution that can manage everything for everyone. Instead, there are many options available when it comes to online business shipping software, so business owners need to take stock of their needs and find the right solutions to meet those needs. For example, a small business in one industry might have extra-large shipments that require overweight or oversized travel capabilities, while in other situations a small business might be shipping something perishable, meaning that they need to invest in specialized shipments. Given the range of possible differences, small business owners need to take a look at all of the ecommerce shipping options available and find the one that is right for them.