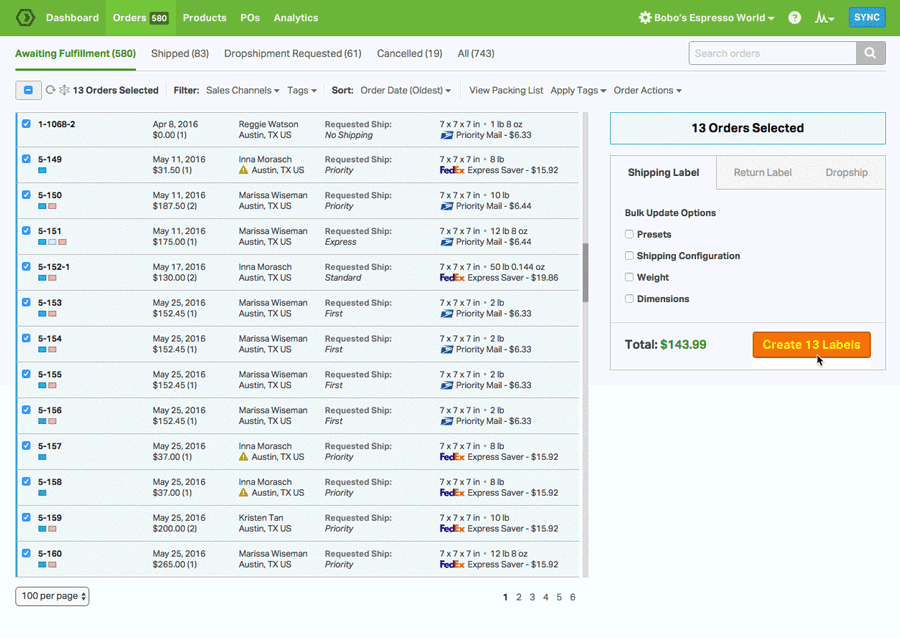 Streamline Your Shopify Dropshipping Workflows With Our Robust Software
The All-In-One Ecommerce Logistics Platform
Equip yourself with a comprehensive solution
Inventory Management
Stock, sync, and scan.
Automatically track and sync your inventory levels
Create and send out Purchase Orders when it's time to restock
Bundle multiple SKUs into one unit for sale
Use Barcode Scanning to reduce fulfillment errors
Multi-Carrier Shipping
Your workflow, minus the work.
Enjoy heavily-discounted shipping rates via USPS
Ship via any of our integrated shipping carriers like USPS, UPS, FedEx, DHL and Canada Post
Set up your own Automation Rules and Shipping Presets
Print shipping labels in triple-digit batches or individually
Dropshipping
Truly hands-off dropshipping.
Launch a dropshipping operation in a matter of clicks
Tag any product as drop shipped and assign it to a vendor
Choose between automated or manual routing
Activate a Vendor Portal between you and your supplier
Multichannel
We're your operations hub.
Integrate and view all of your sales and supplier channels in one spot
Use our open API to hook up any third-party or custom apps
Manage every aspect of your orders
Establish Supplier Feeds for real-time, back-end communication
Barcode Generation and Scanning
Raise the bar for stocking and packing.
Create UPC barcodes for your products
Scan, set, and search UPC codes for SKUs within Ordoro
Reduce fulfillment errors with our pack and pack barcode scanning workflow
Scan received POs to automatically adjust stock levels
Don't take our word for it
Our awesome customers have shipped some really great compliments our way:
"I spent about a month thoroughly searching for the right backend fulfillment software for my eCommerce business. There were definitely some big name guys out there that I considered, but at the end of the day, I went with Ordoro and I'm so glad I did!"

Tina Yarandi
Founder/CEO of Nature's Artisan
"Ordoro continues to add immensely valuable features to an already awesome sales/warehousing/shipping platform. Using Ordoro continues to save us time and money."

Anthony Krize,
VP of GE Holiday Lighting
Shopify Dropshipping
Shopify dropshipping, has grown into a side-specialty of the popular ecommerce platform Shopify, and since its inception has provided millions of dollars in primary as well as sideline incomes for thousands of online entrepreneurs.
Shopify dropshipping offers a complete dropshipping course on its website for those interested in starting their new venture, as well as additional training videos and support. Everything a business owner needs to start a successful ecommerce business is included, from how to find suppliers and products to sell on the Shopify platform, to creating an online store website to attract customers and boost ecommerce sales, as well as shipment tracking tools and report-generating analytics.
When you enter your Shopify login, you can not only access excellent training and support videos but information about finding suppliers, such as through AliExpress, and the most popular products currently in demand.
Shopify Dropshipping has turned out to be a good way to supplement income or even, if you put in the effort and time, become a great primary income.
With handy apps and other tools from Shopify as well as from other developers such as Ordoro, a leading ecommerce software innovator, even a budding ecommerce entrepreneur has everything at their fingertips to succeed in the competitive dropshipping business.
As with any prospective software, you'll need to evaluate an app's ability to compare real-time shipping costs, the app's price (free or premium), necessary security features to protect you and your customers' data, whether you plan to utilize third-party fulfillment, or whether you'll mix and match fulfillment models depending on products and shipping distance.
Ordoro's dropshipping apps and software help growing merchants operate like bigger companies at a fraction of the cost. Optimize workflows with omnichannel inventory management, bulk shipping label creation, automated dropshipping, and more in one platform. Ordoro offers some of the best Shopify plugins available to take your ecommerce business to the levels you dream of.
Dropshipping Suppliers
One of Shopify's strengths is its ability to help both new and experienced dropshippers locate products from qualified dropshipping suppliers. There are thousands of dropshipping suppliers clothing-based as well as accessories, electronics, and more.
The Oberlo app and others can guide users to finding reliable dropshipping suppliers for Shopify, with thousands of new and trending items as well as the reliable "old standbys" that customers always want. You can check out Shopify's Handshake and other platforms and dropshipping sites such as Spocket for finding dropshipping suppliers USA clothing, accessories, and more.
If you're looking for free dropshipping suppliers USA, try Shopify's Handshake – it's limited to US-based wholesalers, a number of which are willing to dropship, which offer quality, unique products from clothing, accessories, furnishings, and more. It's also a good way for smaller manufacturers with a Shopify sales platform to find new markets for their wares.
When choosing either free dropshipping suppliers or others, there are several factors to consider:
The first is responsiveness. If a manufacturer is interested in working with a dropshipping supplier, are they responsive to your questions and concerns? Do they get back to you quickly with answers to questions?
Second, where do the Shopify dropshipping suppliers ship: are they limited to local shippers or can they handle international orders? If you plan to sell overseas, this is an important factor.
One consideration in favor of using local suppliers is the recent supply chain difficulties, where overseas ships were stuck in harbors unable to unload cargoes due to insufficient ground transportation to unload and ship the products around the country.
Unlike some Shopify and other dropshipping apps, Ordoro doesn't limit you to just one or two suppliers' platforms but is compatible with sources worldwide to help you find the products you want from the sources you prefer. You can activate the Vendor Portal, which provides suppliers with an account, allowing them to log into Ordoro and view their active orders. Through the portal, they can print labels and create order tracking information, which the app relays back to your sales channels.
Oberlo App
As one of the most versatile ecommerce platforms available, you can be assured that ShopifyDropshipping offers dropshippers a large variety of mobile and other applications to choose from.
With the app, Oberlo Shopify dropshippers can locate thousands of suppliers and sources for popular best-selling products. Oberlo products are linked to AliExpress, a sub-company of ecommerce giant Alibaba and are mainly sourced from Chinese manufacturers and other global suppliers.
The Oberlo app allows dropshippers to access products from independent AliExpress suppliers, kind of like with eBay and was intended to showcase products primarily from Chinese manufacturers. Oberlo Shopify app reviews are overall positive but also a bit mixed:
Pros: The app does most of the "heavy lifting" according to some reviewers, who appreciated the app's editing features, although gave it mixed reviews on customer service.
Cons: Oberlo and AliExpress tracking can sometimes be unreliable when it comes to
speaking" to each other. While these are both meant to work together, sometimes communication glitches occur, which can be problematic as Oberlo is limited to just these two integrations: AliExpress and Shopify.
Another criticism was that Oberlo's terms and conditions can be random and inconsistent, raising the issue of competition as well as being a bit pricier than other apps.
With Ordoro, your supplier sources aren't limited, so setting up your products and vendors is as easy as filling in supplier information, importing products, assigning them to their designated vendors and you're ready to hit the ground running.
Once you're set-up, you then decide how you want to manage your workflow. Manually select which vendor an order is emailed to or flip a switch that auto-routes each assigned product to its correct dropshipper. Ordoro can split orders, giving you the option to take orders with multiple products, separate the dropshippable SKUs, and independently route them to vendors.
Shopify Stores For Sale
If time and technical resources are a challenge, you can look up premade dropshipping stores for sale on the Internet. The first place to look, of course, is right on Shopify's own Exchange, where there are ready made Shopify stores for sale, so if Shopify's platform is where you want to be, you can check them out.
Buying an existing ecommerce business "for sale by owner" if carefully chosen, creates a stream of income that you can own and grow without the hassles of starting an online business from scratch. With the Exchange, there's now a marketplace for merchants to buy and sell online stores. Using the Exchange app, which extracts information about traffic and revenue data, merchants can list their ecommerce business for sale. Sellers can't edit store data, which means that you can feel secure knowing that what you see is indeed what you get.
Prices can vary wildly, with starter Shopify stores for sale cheap, sometimes going for as little as $50, to established six-figure ecommerce "empires" which can command a price for over $1 million.
Why consider ready-made Shopify stores for sale?
Avoid procrastination, by having everything already in place awaiting your own products and sales.
Begin selling from the first day of business
Gain a professional website, often built by Shopify's own web design experts
Before committing to making an offer, be sure to read the precautionary information below as not all Shopify dropshipping stores for sale are the same.
Due your due diligence by asking questions about inventory, supplier and email lists, social media accounts, branding assets, such as logos, domain, photos of products, and anything else negotiable.
Vet the site's social media accounts, understand why they're selling, view it for yourself, and know exactly what's included before making an offer.
Shopify Dropshipping App
With so many choices, how do you select a good Shopify dropshipping app? Many of the apps listed are available on the Shopify app store, where you'll find a variety of useful apps compatible with Shopify for just about every task you could imagine.
When choosing the best dropshipping apps for Shopify 2021 (and 2022), you'll want to consider the app's ability to compare real-time shipping costs, its security features, the price of the app, whether or not you expect to outsource using third-party fulfillment, or if you decide to mix and match fulfillment models depending on the product and hipping distance.
A few of the best dropshipping apps include those from suppliers such as Oberlo's (basic) Explorer Plan and WholesaleB, which offers a free basic starter plan. For those preferring US products, there's MerchMixer's Basic Plan (US-based-only) dropshipping.
In a nutshell, the best dropshipping apps for Shopify are the ones that are versatile, scalable and offer the features you want and need – such as the kind of Ordoro's plugins and apps that help you coordinate and manage suppliers, inventory, carriers, track orders through warehouses and finally, to your customers, employees and more, all with just a few clicks. There's no either/or with our software – you can choose to do it all with just a few plugins and more.
Ordoro is the best dropshipping software for Shopify on the market for online merchants offering all types of ecommerce software products as well as being a great platform for any online store. From scaling start-ups to achieving a thriving ecommerce business, Ordoro does it all. We offer indispensable features such as multi-carrier shipping, multichannel integration, inventory management, dropshipping, kitting, pick and pack lists, automation, analytics, FREE 30-day onboarding, and lifetime customer support.
Industry-leader Odoro's ecommerce management software is designed to cover all of your needs from inventory, fulfillment, shipping, and beyond. Contact us today and "get with the program!"