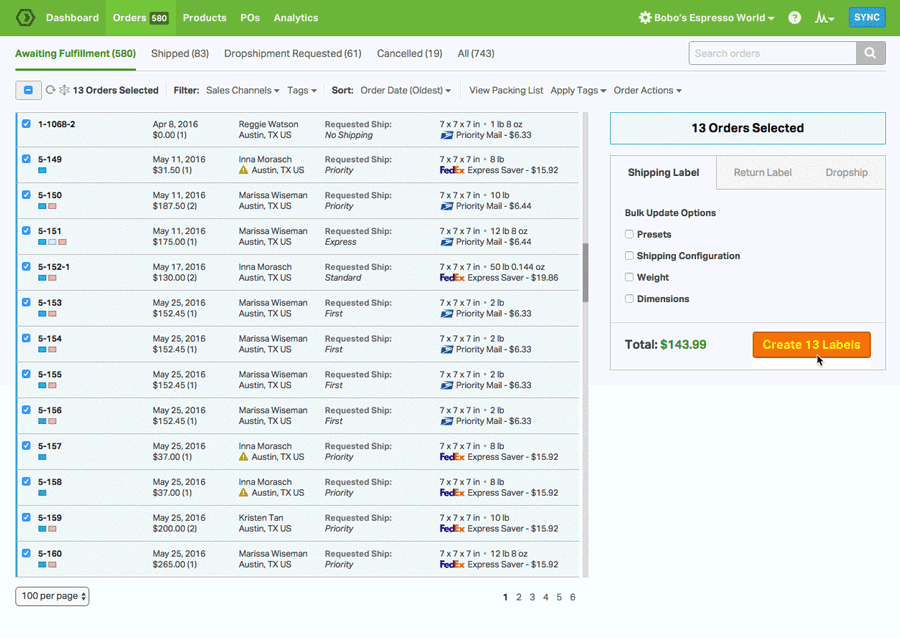 Streamline Your Squarespace Shipping Workflows with Our Robust Platform
The All-In-One Ecommerce Logistics Platform
Equip yourself with a comprehensive solution
Inventory Management
Stock, sync, and scan.
Automatically track and sync your inventory levels
Create and send out Purchase Orders when it's time to restock
Bundle multiple SKUs into one unit for sale
Use Barcode Scanning to reduce fulfillment errors
Multi-Carrier Shipping
Your workflow, minus the work.
Enjoy heavily-discounted shipping rates via USPS
Ship via any of our integrated shipping carriers like USPS, UPS, FedEx, DHL and Canada Post
Set up your own Automation Rules and Shipping Presets
Print shipping labels in triple-digit batches or individually
Dropshipping
Truly hands-off dropshipping.
Launch a dropshipping operation in a matter of clicks
Tag any product as drop shipped and assign it to a vendor
Choose between automated or manual routing
Activate a Vendor Portal between you and your supplier
Multichannel
We're your operations hub.
Integrate and view all of your sales and supplier channels in one spot
Use our open API to hook up any third-party or custom apps
Manage every aspect of your orders
Establish Supplier Feeds for real-time, back-end communication
Barcode Generation and Scanning
Raise the bar for stocking and packing.
Create UPC barcodes for your products
Scan, set, and search UPC codes for SKUs within Ordoro
Reduce fulfillment errors with our pack and pack barcode scanning workflow
Scan received POs to automatically adjust stock levels
Don't take our word for it
Our awesome customers have shipped some really great compliments our way:
"I spent about a month thoroughly searching for the right backend fulfillment software for my eCommerce business. There were definitely some big name guys out there that I considered, but at the end of the day, I went with Ordoro and I'm so glad I did!"

Tina Yarandi
Founder/CEO of Nature's Artisan
"Ordoro continues to add immensely valuable features to an already awesome sales/warehousing/shipping platform. Using Ordoro continues to save us time and money."

Anthony Krize,
VP of GE Holiday Lighting
Squarespace Shipping
If you want your business to be successful, then you probably already understand the importance of having a strong presence online. Because the majority of consumers today turn to the internet when looking for the products and services they need, you have to customize your online presence to meet those expectations. If you offer physical goods instead of digital ones, then one of those expectations is probably going to be fast, affordable shipping - and this is where an option like Squarespace shipping can be helpful.
There are a lot of advantages when it comes to Squarespace, which is a website building and management platform. For example, its image management options are exceptional, and it also offers a lot of import tools that users can utilize to post content on other platforms. There are also plenty of customization options, such as a wide range of web fonts, and as long as you have the right plan, there is a 0% transaction fee.
Because of the customizability that comes with Squarespace, a lot of ecommerce businesses have taken advantage of its numerous features. If you run an ambitious online store requiring powerful ecommerce tools, then you may want to take advantage of Squarespace. It is also more affordable than several of its competitor platforms. In addition, you can also think carefully about Squarespace shipping and how you can get the most out of it.
If you are looking for Squarespace check out without payment to the platform, then you may want to take advantage of the Commerce level plans. That way, you do not have to worry about paying a transaction fee every time a customer buys something from you. There is also a relatively simple Squarespace integration that you can use for your online business quickly and easily even if you don't have a lot of coding experience. For example, this Squarespace shipping plugin may even provide you with access to Squarespace carrier calculated shipping, which could even include international shipping Squarespace.
Ultimately, there are a lot of Squarespace delivery options - and the more options you provide to your customers, the easier it will be for you to meet their expectations. For all of these reasons, make sure you get the most out of Squarespace shipping.
However, there will also be some situations where you may need to rely on advanced software or trained professionals, so that you know you're placing your business in the best position possible to be successful when using Squarespace. So what else do you need to know about Squarespace and Squarespace shipping?
Squarespace Shipping Labels
Before you can take full advantage of Squarespace shipping, you need to have the right Squarespace shipping labels. For example, you may be looking for an advanced Squarespace label printer that can help you handle this process. Even though you may want to take advantage of an advanced printer, though, there is also an easier way for you to produce Squarespace shipping labels. This is where Squarespace extensions can come in handy.
There are numerous extensions to choose from, so you should take a look at all of the options available to your industry or online business and find the one that meets all of your specific needs. It is important to get your Squarespace shipping labels correct so that any products and services you ship will arrive at the correct destination. If you are not able to get your orders where they need to go, then your clients will be unhappy and take their money to the competition next time. This is just one reason why you need to use the right Squarespace shipping labels.
There are also a lot of factors that you'll need to think about in order to produce effective Squarespace shipping labels. For example, you need to make sure the image is legible. If the image is not well-defined, then the shipping carrier may not know where to take the product, particularly if using automated systems like barcodes or QR code scanners. Furthermore, you should also double-check the shipping address and make sure this is correct. Likewise, make sure the address has been formatted properly with the right postage. By being careful with all of these options, you can avoid running into problems with your Squarespace shipping.
Best Shipping Option for Squarespace
If you are looking for the best shipping option for Squarespace, then it's worth keeping in mind that there are numerous choices to choose from, depending on what you need to accomplish. Plus, if you take the time to find the best option for Squarespace now, then you can place your company in a position to be successful in the future when clients want things ready to ship now.
Also, keep in mind that there is no singular "best" option available. Instead, because different businesses have different shipping needs, there are many different shipping options available. Because of this, you need to evaluate your choices, look at the needs of your business, and find the option that best suits those specific requirements.
For example, you may be looking at Squarespace curbside pickup. One of the major advantages of this option is that it's less expensive than some of the other choices. At the same time, you will need to make sure that someone can come to your location to pick up your packages. Squarespace cannot always pick up in more remote locations.
You might be looking for the best shipping extension for Squarespace as well. When doing this, make sure that you consider the compatibility of your web browser and your operating system, or OS. By doing this, you can find an extension that is easy to use, will streamline your operations, and can update automatically.
Given this, you might also be looking for the best shipping integration for Squarespace. This makes sense, but if you are trying to find the best integration for Squarespace, then you need to find an option that will scale with your business. As your ecommerce line of business (or company!) grows, you will need the shipping integration to grow as well. That way, you can continue to meet the demands of your customers even as your product line and your customer base both expand.
Squarespace Local Delivery
You may also be looking for Squarespace local delivery options. This can be helpful because even when someone is ordering products and services from you online, they may actually be located relatively close to you. Therefore, you may want to explore and expand on the shipping options available in your local area.
For example, you might be looking for a pick up Squarespace option. If that is the case, you still need to figure out what your options are. There may be some situations where your customers may want to come and pick up their order in person, or there may be other situations where you may want to have a local carrier take care of the delivery. Either way, you should have an integration on your website that will post prices for various options.
When it comes to local delivery services, you may want to access shipping automation Squarespace as well. Automation is important because it can save you a significant amount of time that can then be spent in other areas of your business. There might even be some situations where you want to remove shipping from Squarespace.
Whatever your ultimate goals might be, you should invest in the right software program that will provide you with these customizable features. That way, you can stay in total control of how your business operates. There are a lot of local delivery choices when it comes to Squarespace, so consider carefully what will work best for your company.
Squarespace International Shipping
If you are interested in Squarespace international shipping, then you need to pay attention to the Squarespace delivery zone. International orders Squarespace come with a wide variety of locations. For example, you may be looking for Squarespace shipping Australia or a Squarespace shipping integration UK option. Wherever you anticipate shipping, if you streamline your shipping international Squarespace options, then you can avoid a significant number of issues in the future.
If you are trying to create international shipping options, though, Squarespace will usually prompt you to select shipping zones. There is a search bar you can use to take a look at various countries, and you'll find that there are two options available here. The first option is to ship everywhere. This option will exclude any country that you have already created a specific shipping rule for. The other option is to ship to specific countries. You can search for individual countries and add them to your shipping options. Within the United States in particular, you can even choose specific states, cities, and postal codes.
Once you have selected your country, then you need to create other shipping options. On the home menu, there is a section called "Commerce." There, you'll want to select the shipping selection. From there, you can take a look at your existing shipping zones and add additional options when it comes to shipping in specific circumstances.
Make sure you pay attention to this and update it regularly. That way, you can present accurate information to your customers, particularly as your brand visibility grows and you expand your catchment area. In general, Squarespace makes it relatively easy for you to ship all over the world, but you should still factor this into your strategic planning and your digital marketing budget.
Squarespace Shipping Discounts
Finally, if you are trying to run an online business, then you may be interested in Squarespace shipping discounts. Depending on the Squarespace pricing plan you subscribed to, you might be able to qualify for 0% transaction fees through the Squarespace platform. Since that's an option, you should take a closer look at your plan to see if it is included.
Or you might be interested in providing discounts to your customers as well. There are several options you should consider if you want to attract customers to your business. For example, you may want to provide Squarespace free shipping for orders over a particular amount. Depending on what this amount might be, you need to find the right plugin to help you calculate. Luckily, there are software programs that can help you set up this discount accordingly.
In addition, you might be looking for an option to add a discount to specific Squarespace orders. If certain customers have a discount code they want to use, you want to make sure your online business can handle it. There might even be situations where multiple discount codes Squarespace can be helpful.
Finally, if your customers will be paying for their shipping expenses, you may want to add an additional functionality so that Squarespace can add shipping costs automatically.
However you think you may be able to use the platform, consider how you are going to ship using Squarespace ahead of time. If you anticipate and plan for problems in advance, then you can ensure your business runs smoothly even when it does encounter those issues