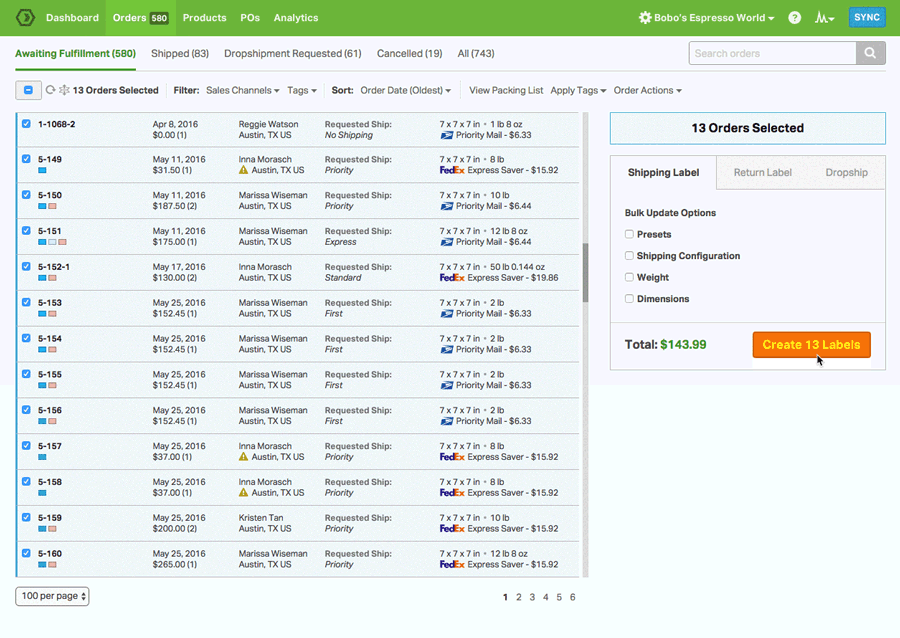 The Best TradeGecko Inventory Management Alternative
The All-In-One Ecommerce Logistics Platform
Equip yourself with a comprehensive solution
Inventory Management
Stock, sync, and scan.
Automatically track and sync your inventory levels
Create and send out Purchase Orders when it's time to restock
Bundle multiple SKUs into one unit for sale
Use Barcode Scanning to reduce fulfillment errors
Multi-Carrier Shipping
Your workflow, minus the work.
Enjoy heavily-discounted shipping rates via USPS
Ship via any of our integrated shipping carriers like USPS, UPS, FedEx, DHL and Canada Post
Set up your own Automation Rules and Shipping Presets
Print shipping labels in triple-digit batches or individually
Dropshipping
Truly hands-off dropshipping.
Launch a dropshipping operation in a matter of clicks
Tag any product as drop shipped and assign it to a vendor
Choose between automated or manual routing
Activate a Vendor Portal between you and your supplier
Multichannel
We're your operations hub.
Integrate and view all of your sales and supplier channels in one spot
Use our open API to hook up any third-party or custom apps
Manage every aspect of your orders
Establish Supplier Feeds for real-time, back-end communication
Barcode Generation and Scanning
Raise the bar for stocking and packing.
Create UPC barcodes for your products
Scan, set, and search UPC codes for SKUs within Ordoro
Reduce fulfillment errors with our pack and pack barcode scanning workflow
Scan received POs to automatically adjust stock levels
Don't take our word for it
Our awesome customers have shipped some really great compliments our way:
"I spent about a month thoroughly searching for the right backend fulfillment software for my eCommerce business. There were definitely some big name guys out there that I considered, but at the end of the day, I went with Ordoro and I'm so glad I did!"

Tina Yarandi
Founder/CEO of Nature's Artisan
"Ordoro continues to add immensely valuable features to an already awesome sales/warehousing/shipping platform. Using Ordoro continues to save us time and money."

Anthony Krize,
VP of GE Holiday Lighting
TradeGecko Inventory
It was important news in the industry when TradeGecko was acquired by Intuit. Why did this matter? It's big news for entrepreneurs and small businesses, as that's who both brands had served separately and now do combine.
Originally, TradeGecko was a software-as-a-service (SaaS) company that had software for small and medium businesses to manage their inventory and orders. It was based out of Singapore. So, vendors and ecommerce businesses may have chosen this software to help them keep track of their ordering and selling. If your business needs inventory management, it's no longer worth checking Tradegecko pricing or Tradegecko reviews. After the acquisition, which happened in 2020, the TradeGecko app transitioned to a new product: QuickBooks Commerce.
What happened was that Intuit acquired TradeGecko inventory and combined it with its own QuickBooks services under the standalone product QuickBooks Commerce. With TradeGecko inventory management and QuickBooks accounting together, the product was able to help with the management of more aspects of running a business, from bookkeeping to orders and inventory. Businesses could do more with a single platform rather than using several for different business processes.
However, close to a year after the acquisition, the company announced that this new combination standalone product would be retired. TradeGecko was giving a year for people to continue to use the product before they would need to make a decision about switching brands or transitioning along with Intuit's changes.
So, currently, businesses can no longer sign up for a Tradegecko login or a QuickBooks Commerce account. You can only continue using QuickBooks Commerce if you were already a customer. At this point, if you're interested in the services of QuickBooks Commerce, your only option is to sign up for QuickBooks Online, which has additional features for businesses and use QuickBooks Commerce as part of it. You'll learn more about this if you keep reading.
Quickbooks Commerce Inventory
After the TradeGecko integrations with Quickbooks, creating the standalone product Quickbooks Commerce, we are now seeing the sunset of Quickbooks Commerce. First, as a recap, Quickbooks Commerce is an inventory and order management platform. It's for ecommerce businesses that sell through wholesale or multichannel methods.
The company plans to retire on June 10, 2022, which is one year after the announcement was made about its retirement. This means that customers using it would have time to figure out their next move and transition. Product support will continue until the date of retirement to help these customers. So, if you're in that boat, it's good news that you have some transition time. If you're not currently using this product and you were wondering about it, be aware that it's not available for new customers and is going out of existence soon as a standalone product.
The retirement of the Tradegecko Quickbooks integration is probably disappointing to many businesses who liked TradeGecko and/or QuickBooks Commerce. Quickly after TradeGecko was acquired and turned into QuickBooks Commerce, they decided to get rid of it. No wonder customers never trust buyouts, changes, transitions, and acquisitions. They always sound good… until they're not. Anyway, Intuit says its reasoning is that it has put its focus into integrating QuickBooks Commerce with QuickBooks Online. The wording is that they are taking away the legacy product. So, this might be good news for your business if the QuickBooks Online platform seems good for your needs. If not, it's time to look into other options.
Now, those customers who want to keep using Quickbooks Commerce inventory can do so by bundling it with Quickbooks Online. This bundle helps you integrate your QuickBooks Commerce and QuickBooks Online capabilities and data so you have a comprehensive platform for managing many aspects of a business. You can continue to use your Quickbooks Commerce login for Quickbooks Online.
Tradegecko Alternative
QuickBooks Commerce integrated TradeGecko with QuickBooks to help businesses manage their inventory, sales, and accounting. It provided inventory and order management, whether a business was working in a wholesale or multichannel format. It helped small and medium businesses to track and manage stock, invoicing, and payments. It also allowed businesses to integrate with numerous sales platforms like Amazon, Shopify, or WooCommerce.
While there are some good features of QuickBooks Commerce, many customers have given it poor reviews. Comments have said that it is difficult to set up and tough to integrate with other applications, including QuickBooks Online.
Now that the standalone product is being retired after the TradeGecko acquisition and transition to QuickBooks Commerce, it's the perfect time to consider a TradeGecko alternative. Your business is not stuck with this brand or the sole option to keep using it, which is bundling it with QuickBooks online. You have other options available that could help a small or medium-sized business with inventory and that can grow with your business.
You could consider Zoho Inventory, Cin7, Dear Inventory, Skubana, or Unleashed Inventory. Check Skubana reviews or the reviews for whichever ones you are considering, as well as features, benefits, and cost of each. You might find that one of these is a better fit for your business needs and growth compared to what you could get with the transition to Quickbooks Online.
Another option is Ordoro. This software provides the inventory and sales management you're looking for if you were using or interested in Quickbooks Commerce. It provides capabilities for multichannel operations, dropshipping, shipping labels, and many other aspects of sales and shipping for small to medium businesses. It can also keep up as these businesses grow, allowing them to streamline their processes and conduct business like larger enterprises.
Inventory Management Software Free
You always have the option to use free inventory management software for your business. Of course, this is a tempting option, especially for fledgling or small businesses with a tight budget. Sure, inventory management software free versions make sense in some scenarios. It can give you a way to get started and is much better than having no system at all.
Many businesses start with inventory management software in Excel by creating spreadsheets that track sales and inventory. You can also find some inventory management software open source options online that you can use instead of reinventing the wheel. And you can search for the best free inventory management software through a Google search and check the reviews of real users.
However, keep in mind that there are negative aspects to using free inventory management software. In many cases, using this software for free is only an initial trial, and then you'll have to start paying to continue using it. In other cases, you're not getting enough features and benefits to thrive or grow as a business. Free software may get you started with managing your sales and inventory, but it will inevitably hold you back.
For example, you can create inventory management software in Excel using this common program that you probably already have, but you'll likely have to set it up yourself. You'll have to do many aspects of inventory management yourself, instead of having a program intuitively take over for you so you can focus on other parts of your business.
In time, you'll find you're missing features that would be beneficial. At a certain point, free software can hurt your business by requiring extra time and effort, by causing sales and inventory to fall through the cracks if someone fails to enter it manually, and by limiting your business from growing to its full potential.
Best Inventory Management Software
Whether your business is thinking about switching from Quickbooks Online after the many transitions the software has gone through or you're comparing inventory management software to fit your business needs, you have alternatives to Quickbooks Online to consider.
For the best inventory management software available for ecommerce businesses, include Ordoro within your comparison. Ordoro is at the top of the list for online merchants looking to manage their inventory. This is a great platform for any type of online store, both for those who are scaling a startup and those who already run a thriving ecommerce business.
Ordoro provides a variety of features that meet and exceed the goals of ecommerce businesses. It becomes a central hub for inventory, connecting different channels and warehouses within one convenient space. It removes the need for clunky spreadsheets, providing you with an inventory system that takes care of itself. It automatically tracks inventory and order fulfillment, letting you know when you need to restock. It can even handle multi orders, kitting, dropshipping, and other actions with ease. Overall, Ordoro manages inventory without headaches or even any effort on your part.
In addition, this online inventory management system can help streamline sales through the ability to scan, set and search UPC codes. It helps businesses cut down on fulfillment errors through barcode scanning. This is some of the best inventory management software for small businesses, not only because it gives you a streamlined inventory system, but also because it provides great service like the kind your small business offers. That means always talking to a real person instead of a bot when you need assistance or guidance.
Consider Ordoro for your business's inventory management system. Schedule a demo to get the best idea of how Ordoro can help with your specific business needs.