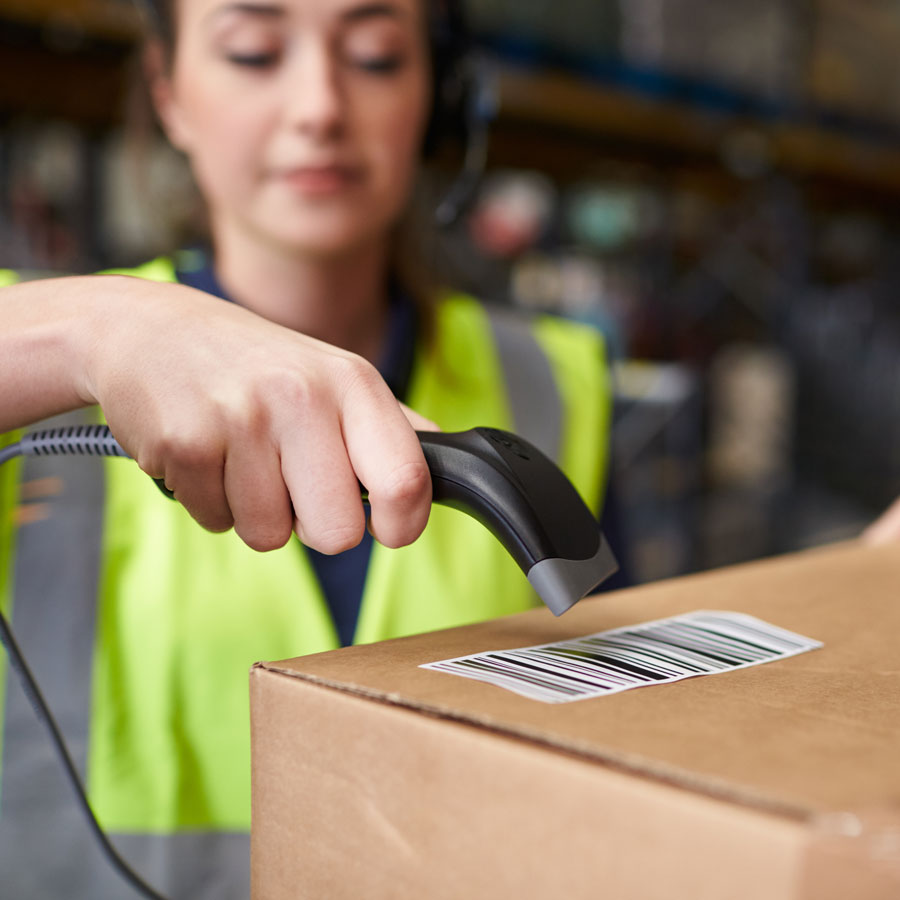 Automatically manage your stock levels with our barcode inventory system
The All-In-One Ecommerce Logistics Platform
Equip yourself with a comprehensive solution
Barcode Generation and Scanning
Raise the bar for stocking and packing
Create UPC barcodes for your products
Scan, set, and search UPC codes for SKUs within Ordoro
Reduce fulfillment errors with our pack and pack barcode scanning workflow
Scan received POs to automatically adjust stock levels
Inventory Management
Stock, sync, and scan.
Automatically track and sync your inventory levels
Create and send out Purchase Orders when it's time to restock
Bundle multiple SKUs into one unit for sale
Use Barcode Scanning to reduce fulfillment errors
Multi-Carrier Shipping
Your workflow, minus the work.
Enjoy heavily-discounted shipping rates via USPS
Ship via any of our integrated shipping carriers like USPS, UPS, FedEx, DHL and Canada Post
Set up your own Automation Rules and Shipping Presets
Print shipping labels in triple-digit batches or individually
Multichannel
We're your operations hub.
Integrate and view all of your sales and supplier channels in one spot
Use our open API to hook up any third-party or custom apps
Manage every aspect of your orders
Establish Supplier Feeds for real-time, back-end communication
Dropshipping
Truly hands-off dropshipping.
Launch a dropshipping operation in a matter of clicks
Tag any product as dropshipped and assign it to a vendor
Choose between automated or manual routing
Activate a Vendor Portal between you and your supplier
Don't take our word for it
Our awesome customers have shipped some really great compliments our way:
"I spent about a month thoroughly searching for the right backend fulfillment software for my eCommerce business. There were definitely some big name guys out there that I considered, but at the end of the day, I went with Ordoro and I'm so glad I did!"

Tina Yarandi
Founder/CEO of Nature's Artisan
"Ordoro continues to add immensely valuable features to an already awesome sales/warehousing/shipping platform. Using Ordoro continues to save us time and money."

Anthony Krize,
VP of GE Holiday Lighting
Barcode Inventory System
Managing inventory has always been an important part of a strong business, but this is more true today than ever before, as more businesses begin offering products and services online. Just because sales and operations are online, though, this does not mean that inventory is not important. In reality, it means that inventory management becomes even more important. Without a physical store, companies need to make sure that inventory is accurate and that it matches consumers' orders. In fact, many businesses are spending more on overhead expenses now, when it comes to inventory.This is because their inventory is often in a remote location and they need to find a way to manage it effectively. Given these circumstances, this is where a barcode inventory system can be effective.
Before barcodes, businesses had to manage their inventory by hand—though of course, manual inventory is painstaking labor that is prone to error. Therefore, a barcode inventory system for small businesses is much more efficient and effective.
Some of the benefits of using a barcode inventory system for businesses include minimizing error, improving safety and quality assurance, and increasing equipment control. Barcodes are tied to a unique identifier in an electronic system, so simply scanning a barcode is enough to make sure that the inventory is being counted accurately. With these benefits, it is critical for businesses to consider using a barcode inventory system rather than a manual one.
Luckily, there are plenty of options out there when it comes to barcode inventory management options. It is critical for businesses to find the option that works best for them, and given costs, of course it makes sense to first think about searching " barcode system for small business price." Free options are often the most cost-effective starting point, and this is no different. While there is nothing wrong with a free trial, though, no free option will be as effective as a premium system. Therefore, those who are looking for the best barcode inventory system for small business need to be willing to invest in these systems. Only by finding the right inventory management system and investing in it will companies be able to get the most out of this kind of software.
Barcode Generator Excel
Of course, a barcode system can only work well if there are plenty of barcodes to use. In this case, a barcode generator Excel is a great place to start, since many small business owners already track their inventory in this program. As many users already know, Excel offers a convenient spreadsheet with cells that are perfect for tracking various types of inventory, and this can be used as a barcode tracker too.
At the same time, though, it is important to try and make this process as painless as possible.This is where a barcode scanner to Excel app can be helpful. There are plenty of mobile applications like this that are incredibly useful when it comes to managing an inventory system. Simply using an app to scan a barcode is enough to transfer it into Excel, and from there, it is easier for small business owners to track their inventory in this system. By finding the right application, it is possible for business owners to reduce the amount of time they spend looking at barcodes in inventory, which would be better spent in other activities that will actually grow the business.
The right barcode inventory system will make it even easier to utilize an Excel spreadsheet in this way. Of course, many business owners will decide to use a free barcode inventory system first, but as the business scales or as inventory management needs become more complex, it will come time to think about investing in a premium program. For example, those who are trying to print barcode labels from Excel will only be able to do this if they invest in a program with this capability. Therefore, small business owners should carefully consider which inventory management system they are planning to use. This kind of careful planning and consideration can go a long way toward helping managers save time when it comes to barcode inventory.
Excel Inventory Management
Managing inventory in Microsoft Excel is a great place to start. Many small businesses start here because Excel comes in a program suite that they are using anyway. At the same time, though, Excel can only get a small business so far in terms of inventory management.
This is because Excel was not designed exclusively for inventory management. While this is a program that can help people lay out information in a convenient manner, free solutions such as Excel inventory management will rarely present a good final solution. Instead of using free inventory management software for small business, it is important to eventually branch out beyond Excel barcode inventory template options.
Once users have figured out how to create, use, and optimize a barcode inventory system in Excel, it is important to think about other solutions that might be more cost-effective. The reality is that small business owners are still spending too much time looking at inventory in Microsoft Excel. When people think about the amount of time they spend counting inventory with a barcode scanner Excel template, oftentimes they will realize that this time would be better spent elsewhere.
Instead, it is often a good idea for small businesses to invest in systems that are designed specifically for barcode-driven inventory management. Since there are plenty of barcode inventory management systems out there, it is important for small business owners to find the right one for the size of their business and the industry in which they operate. By taking the time to find the right barcode scanning system now, businesses will set themselves up for greater success in the future. As they grow and scale, they will not have to invest in a new program with each change to the business because the program in which they have already invested will be able to scale with their business operations.
Simple Inventory Software Free
For businesses that are in a bit of a pinch right now, it is certainly possible to look at simple inventory software free. It is true that inventory systems can require an upfront investment, so businesses that don't currently have the capital might be willing to check out free inventory management software download options. A simple stock management software free download can certainly help get a business started. At the same time, for those who are wondering how to set up a barcode database system, this process is much easier when business owners are willing to invest in more comprehensive solutions.
The reality is that a simple, free inventory software program is usually only a stopgap measure. Eventually, the free trial will run out, possibly in the middle of a busy season or some other inopportune time, and this could create a long-term headache, as business owners are forced to purchase a different program and train employees to use it all over again. Such shifts can cost valuable time and money, so companies that have the capital now might want to go ahead and invest in a premium option that will provide a long-term solution.
Inventory Control with Barcode Scanner
For companies looking for a long-term solution to address their inventory needs, it may be a good idea to invest in an inventory control solution with a barcode scanner.
At the same time, though, there are often questions that people have when it comes to creating barcodes. For example, some people might be wondering how to create barcodes for inventory, while others might be wondering how to implement a barcode system for inventory. The answer is that business owners need to find a program that is able to do three things: scan barcodes, use these barcodes to identify products, and automatically upload this information into an inventory control system.
It is important to keep in mind that a barcode system for inventory management is only effective if it saves time. Therefore, it is important for business owners to find a solution that automatically takes barcodes, scans them, and compares them to existing inventory. This will provide a number of benefits for businesses because owners will be able to collect, update, and reference accurate data on a large scale.
Simple Barcode Inventory System
When it comes to a simple barcode inventory system, this is only one of the options available. There are plenty of other solutions, including a barcode inventory system free, a barcode inventory system Excel, and a simple barcode inventory system. All of these may seem cost-effective, and they probably will be, at least for a little while as businesses first begin using them. However, the reality is that when looking at a barcode inventory system cost, these systems will eventually prove to be more costly in the future.
There are several reasons why this is the case. First of all, a free system for anything can only take a company so far, and inventory management is no different. Eventually, a company will outgrow the limited systems that are only meant to introduce the product, and businesses that are serious about growth and scalability will have to replace such systems entirely. Given the cost, time for implementation, and resources needed for re-training employees, not to mention potential operational slowdowns, it is better for businesses to go ahead and invest in a comprehensive system early on. That way, the inventory management system can scale with the company as it grows. This is a great way for companies to set themselves up for success in the future, providing them an edge over their competition.