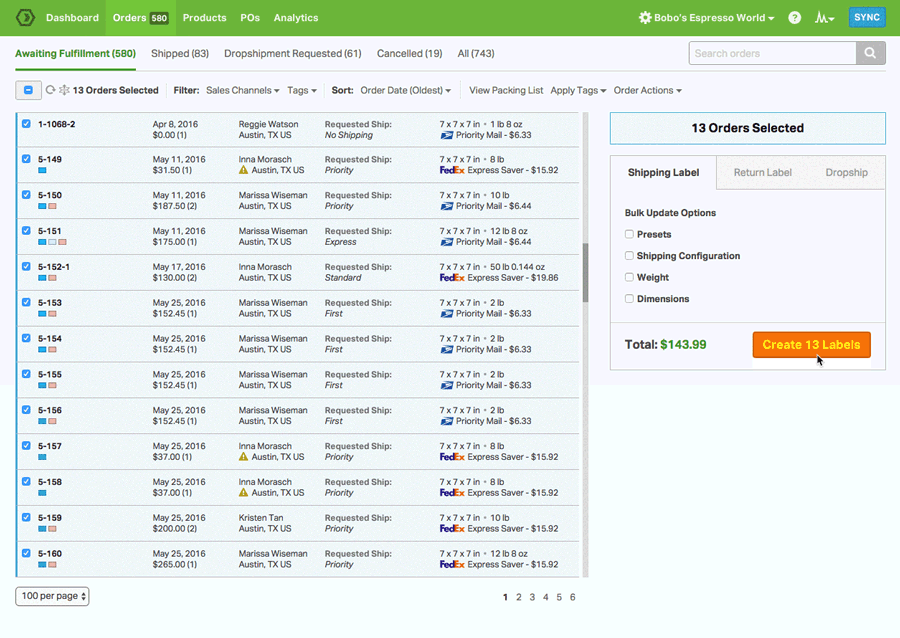 Discover The Best Alternative For The TradeGecko Sunset
The All-In-One Ecommerce Logistics Platform
Equip yourself with a comprehensive solution
Inventory Management
Stock, sync, and scan.
Automatically track and sync your inventory levels
Create and send out Purchase Orders when it's time to restock
Bundle multiple SKUs into one unit for sale
Use Barcode Scanning to reduce fulfillment errors
Multi-Carrier Shipping
Your workflow, minus the work.
Enjoy heavily-discounted shipping rates via USPS
Ship via any of our integrated shipping carriers like USPS, UPS, FedEx, DHL and Canada Post
Set up your own Automation Rules and Shipping Presets
Print shipping labels in triple-digit batches or individually
Dropshipping
Truly hands-off dropshipping.
Launch a dropshipping operation in a matter of clicks
Tag any product as drop shipped and assign it to a vendor
Choose between automated or manual routing
Activate a Vendor Portal between you and your supplier
Multichannel
We're your operations hub.
Integrate and view all of your sales and supplier channels in one spot
Use our open API to hook up any third-party or custom apps
Manage every aspect of your orders
Establish Supplier Feeds for real-time, back-end communication
Barcode Generation and Scanning
Raise the bar for stocking and packing.
Create UPC barcodes for your products
Scan, set, and search UPC codes for SKUs within Ordoro
Reduce fulfillment errors with our pack and pack barcode scanning workflow
Scan received POs to automatically adjust stock levels
Don't take our word for it
Our awesome customers have shipped some really great compliments our way:
"I spent about a month thoroughly searching for the right backend fulfillment software for my eCommerce business. There were definitely some big name guys out there that I considered, but at the end of the day, I went with Ordoro and I'm so glad I did!"

Tina Yarandi
Founder/CEO of Nature's Artisan
"Ordoro continues to add immensely valuable features to an already awesome sales/warehousing/shipping platform. Using Ordoro continues to save us time and money."

Anthony Krize,
VP of GE Holiday Lighting
TradeGecko Sunset
What an interesting couple of years for QuickBooks customers. Here is a quick history lesson about the software and company to bring you up to speed. QuickBooks was established by Intuit, which was founded in 1993 in California by Tom Proulx and Scott Cook. Along with Quicken, the company also started QuickBooks using In-House Accountant software. The move from the professional accountant's choice of Quicken to the more user-friendly QuickBooks resulted in a takeover of 74 percent of the US market in 2005.
You can easily say that QuickBooks is one of the most popular accounting and bookkeeping systems on the online market. This holds through even today with the release of many desktop editions including Quickbooks 2015, 2016, and all the way to QuickBooks 2021. There are also international versions of QuickBooks for Australians, Britons, and Canadians. The company continues to expand and offer more products thanks to the acquisitions of Credit Karma, TSheets, and Mailchimp in recent years.
Quickbooks Commerce platform offers a wealth of features for its customers. This includes several newer products like barcode scanning. At the same time, the platform is continuing to cut out services that are not working for customers. TradeGecko acquisition by QuickBooks as Intuit occurred in August 2020 and was renamed QuickBooks Commerce.
This led to the company deciding to shutter TradeGecko after June 2021 from retail markets, allowing only customers already with the product to continue to utilize some services. Then, in June 2022, the company will no longer offer TradeGecko QuickBooks Commerce in any capacity. This is in fact the end of that part of the company's service catalog — TradeGecko shutting down.
To help customers come up with a fast solution that is as comprehensive as QuickBooks Commerce (TradeGecko), Ordoro has the solution. Ordoro is the best option for cloud inventory management software and a viable TradeGecko alternative.
TradeGecko Customers
TradeGecko is no longer an option and QuickBooks Commerce will not integrate with APIs after June 2022. What are customers going to do that depends on this feature and its services? This is standalone software that was available only through QuickBooks Commerce since its acquisition of TradeGecko. The company will not offer the software outside of QuickBooks or Intuit, and customers using this system need to come up with a new method of accounting and bookkeeping.
That's a lot to take in. As you can imagine, customers formerly using TradeGecko QuickBooks Commerce are not going to be happy about this situation. What does it mean when a company makes software that is functioning for customers and removes it from the options? For starters, you have to find ways to tackle the areas being automated or otherwise done for you through the software. This includes TradeGecko API integrations to merchants that make it easy for businesses to conduct online sales fulfillment, including complicated processes like automated dropshipping.
But the truth? Customers were already frustrated. The reviews indicate that TradeGecko was struggling to provide key elements. Customers could not get data put into the system in the categories they wanted to, resulting in a lack of workflow and true analysis. This also translates to the way reports were tabulated and received. Numbers make no sense when half of them are missing or miscategorized. In order to actually get the real benefit of an inventory management system, every number and piece of information must be included. Otherwise, you are always going to have costly mistakes, ranging from pick and pack errors to dropping drop shipped orders.
TradeGecko customers in this situation who use the TradeGecko App, or TradeGecko Shopify services, cannot do the basic functions that they were doing with the software. This is especially frustrating, after using a piece of software for months or especially years. Having to find a new system and re-enter or transfer data is even more frustrating. Go for a new solution that works harder for you in Ordoro.
TradeGecko Customer Service
When you are searching for the next best product for inventory management software, make a list of the top demands for your business. Customer service should be number one on this list. The reason being, if you are able to reach a human to discuss an issue you have using the software, then it is going to help you 100 percent more than not getting that interaction. A lack of customer service is the biggest complaint of any failed software or cloud-based product. Since software and tech are already above a lot of people's heads, in a lot of ways, having this support is a hand-down requirement.
Ordoro provides exceptional customer service starting at the beginning. As soon as you sign up to be a customer with Ordoro, they provide you with onboarding support. This free onboarding support includes phone support with a live person. It is available to you for the first month–that's right, 30 days of free onboarding. After this, were you to have any questions or concerns about the Ordoro products or platform, the lifetime support will be there to help.
This support in the first month makes all the most sense. If you cannot transition to using Ordoro and its software as your inventory management solution, then what good is this going to do for your company? Yet getting all of the inventory and product codes updated and transferred is a huge battle for most new inventory management system customers.
What to look for in new inventory management software also includes a support team. Customer service is good, but having an entire team supporting your business is way better. This is how Ordoro works for its customers. That and by providing state-of-the-art software dedicated to business growth and best practices in inventory management. Let Ordoro show you how they compare to TradeGecko customer service today.
TradeGecko Reviews
The TradeGecko aka QuickBooks Commerce system was good, but it was not great. Otherwise, the TradeGecko sunset would not be taking place. So what are customers saying about TradeGecko exactly? Most are frustrated with the lack of services when it comes to assistance. If they are unable to run reports or use cataloging correctly, they need to have someone to go to. With TradeGecko there was support but not the onboarding that other services provide, including Ordoro.
Customers of QuickBooks Commerce state the software lacks many features, in general, the workflow is not conducive to all customers. One customer was struggling with a workflow that coordinates with real-life processes. This is important since everything needs to be up-to-date and on the same level for every person involved who is accessing information. Not getting instant updates with workflow in warehousing and inventory means someone is likely to receive misinformation about shipping fulfillment.
Considering the list of features by TradeGecko it is interesting that this software was not sunsetting done sooner. For starters, compare inFlow to QuickBooks Commerce (TradeGecko). Some of the key features in inFlow, which is also available with Ordoro, that you could not find with TradeGecko include:
Guided live onboarding
Customer service callback
Free trial for new customers
Windows and Android platforms
Asset tracking
The TradeGecko price was also a factor, at $150 a month. This is quite expensive for a small business owner to afford, especially just starting out. However, if the company is new, it is important to start out on the best path possible with software and services. That's why companies using QuickBooks Commerce platform were quick to turn to TradeGecko–they were getting a lot of the features they wanted and needed. Now that the platform is no longer available, customers can likely save a fortune on inventory management.
TradeGecko Alternative
If you want the best replacements for TradeGecko on the market, just take Neil Patel's word for it. Ordoro is ranked the top for inventory management software for ecommerce websites. In addition, the site was chosen by Business.org as the 14 Best Inventory Management Software for Small Businesses 2022. While there are other options on the market like Unleashed, Zoho Inventory, and Dear Inventory, Ordoro has a solution that surpasses the competition.
Ordoro is primed to manage those features and services customers from TradeGecko are missing. This also comes with a lot more modernized solutions that TradeGecko and QuickBooks lack for proper inventory management. As the customers state, TradeGecko QuickBooks Commerce was a sore spot for most when it came to dealing with inventory. That's a major problem considering that is the only reason this software exists. Automated dropshipping, omni-channel inventory management, and bulk shipping label creation are three big perks of going with Ordoro. Where TradeGecko was falling short of shipping, Ordoro comes in with a refreshed supply of more updated automated features for customers.
These features are also available at a fraction of the price you would pay to use QuickBooks Commerce. One hundred and fifty dollars a month just for inventory management is a lot of money to invest in one area and one piece of software. Over the course of 12 months, you are looking at spending $1,800 on inventory management software. When you go with Ordoro you save most of that and you still get the API integration that your business demands.
Allow Ordoro to take control of your shipping and warehousing with automated solutions for inventory control. This includes the use of kitting, linking, and marketing for customer-facing storefronts. Increase restocking of your inventory and analyze the cost of restocking with the Ordoro mobile app. Then, using that same app, review all of your inventory from a number of variables. This is everything you need to update your inventory management in 2022.