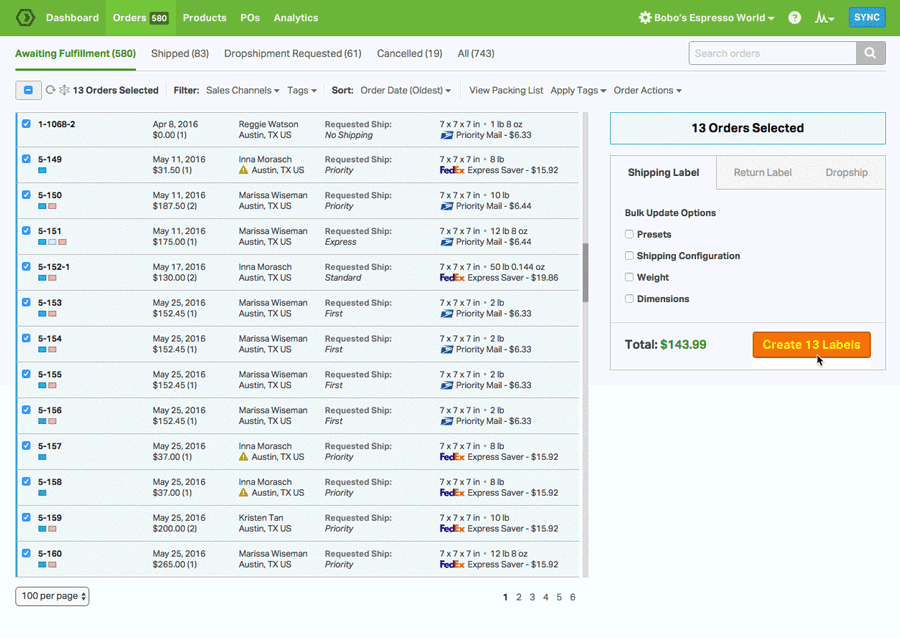 Keep Your Stock Levels In Sync With The Best Inventory Management Software
The All-In-One Ecommerce Logistics Platform
Equip yourself with a comprehensive solution
Inventory Management
Stock, sync, and scan.
Automatically track and sync your inventory levels
Create and send out Purchase Orders when it's time to restock
Bundle multiple SKUs into one unit for sale
Use Barcode Scanning to reduce fulfillment errors
Multi-Carrier Shipping
Your workflow, minus the work.
Enjoy heavily-discounted shipping rates via USPS
Ship via any of our integrated shipping carriers like USPS, UPS, FedEx, DHL and Canada Post
Set up your own Automation Rules and Shipping Presets
Print shipping labels in triple-digit batches or individually
Dropshipping
Truly hands-off dropshipping.
Launch a dropshipping operation in a matter of clicks
Tag any product as drop shipped and assign it to a vendor
Choose between automated or manual routing
Activate a Vendor Portal between you and your supplier
Multichannel
We're your operations hub.
Integrate and view all of your sales and supplier channels in one spot
Use our open API to hook up any third-party or custom apps
Manage every aspect of your orders
Establish Supplier Feeds for real-time, back-end communication
Barcode Generation and Scanning
Raise the bar for stocking and packing.
Create UPC barcodes for your products
Scan, set, and search UPC codes for SKUs within Ordoro
Reduce fulfillment errors with our pack and pack barcode scanning workflow
Scan received POs to automatically adjust stock levels
Don't take our word for it
Our awesome customers have shipped some really great compliments our way:
"I spent about a month thoroughly searching for the right backend fulfillment software for my eCommerce business. There were definitely some big name guys out there that I considered, but at the end of the day, I went with Ordoro and I'm so glad I did!"

Tina Yarandi
Founder/CEO of Nature's Artisan
"Ordoro continues to add immensely valuable features to an already awesome sales/warehousing/shipping platform. Using Ordoro continues to save us time and money."

Anthony Krize,
VP of GE Holiday Lighting
Best Inventory Management Software
When small business owners are discussing what options are available to them for taking their businesses to the next level with an automated system, they're likely to mention Zoho inventory management. Zoho is an India-based company that became famous for their free online office suite, one of the first to successfully compete against Microsoft Office—and to offer people a choice. They still offer a free version of their office suite, which is great for individuals, but doesn't really offer enough cloud storage for organizations and businesses. You have to upgrade to the paid version for that, as well as access to other features. The same will likely be true of zoho inventory. If you're going to invest in inventory management software, it's best to invest in one developed specifically for e-commerce. Ordoro software is just that, and it comes with lifetime support. When it's time to take your business from a small business to a medium sized business, your software should track and sync your inventory levels automatically, let you bundle multiple SKUs into a single unit and use barcode scanning to reduce fulfillment errors. It should also automate creating and sending out purchase orders when it's time to restock. If it doesn't make it possible to do in seconds what used to take days or weeks, can it really be called the best? With Ordoro, you'll have more time to give to the customers you worked so hard to attract, and keep them coming back.
Best Inventory Management Software Free
It pays to be cautious when you're trying to find the best inventory management software for your small business. The internet is full of ads offering the "best free inventory management software free" or "the benefits of inventory management software open source can provide". If you're still in the planning stages, it's not a bad idea to check a few of these out. Sampling free versions of e-commerce software can be like a crash course in familiarizing yourself with all the automated features that people need to succeed in business today. Countless people began their small businesses using the free inventory management software in Excel. I say began because it doesn't take long to learn how time-consuming it is to have to manually enter information into a spreadsheet— or how costly it can be when someone enters that information incorrectly. Imagine your customer's surprise when they receive item #978457224 instead of the item #978357224 that they ordered. The numbers might be almost identical, but if one is a pair of socks and the other is a mini-BBQ grill, your customer is bound to notice the difference. Another problem with your business relying on the manufacturing inventory management excel provides is security. Recently, research at Stanford concluded that even in 2021, 88% of all security breaches are still caused by human error. The more opportunities that you give yourself and your employees to make mistakes, the greater likelihood there is that you'll make them. That's why when it comes to entering long numbers in databases, it's best to let computers do what they do best—error-free data entry. You can learn a lot from open-source inventory management web-based software. Open-source means projects are contributed to by some of the best and brightest developers out there. That means that sometimes, open-source software introduces awesome new concepts and features. Unfortunately, it also means that anyone can contribute to the project at any time, and that some contributions result in bugs that can compromise your customers' personal information. Just when you're congratulating yourself on learning how to use it effectively, it can change overnight. The best use of both online and offline free inventory management software is for investigating and experimenting with all the features that are available out there. Experiments are best performed with hypothetical scenarios and customers, not the real ones you've worked so hard to cultivate. Both you and they deserve a stable, fully integrated system developed and supported by professional engineers specifically for e-commerce. Ordoro is that system. You'll be able to automate and control your entire operation, including bulk shipping, label creation, omni-channel inventory management, and automated drop-shipping, from a single dashboard.
Ecommerce Inventory Management Software
The software engineers at Ordoro did their research before developing their e-commerce inventory management software. They interviewed small business owners about what features would be the most beneficial for their businesses. One of their most common complaints was the frustration of having to rely on outdated spreadsheets and antiquated software. Another was being unpleasantly surprised by unexpected expenses when they exceeded the limits while using something advertised as "inventory management software for e-commerce free". Most agreed that it was the behind-the-scenes processes that were the most difficult to manage. Having the most popular, most well-designed website doesn't contribute much to customer satisfaction if the products they order there are either out of stock or don't get to them on time. It's hard to keep an online store open without repeat customers, and to have those, you need integrated, streamlined processes. With the goal of developing the best inventory management software for e-commerce, the software engineers at Ordoro addressed every issue and included every function their research subjects requested. That's why it's been voted the best multi-channel ecommerce inventory management software for small and medium sized businesses on the market today. They addressed every issue that business owners brought to their attention and included every feature that experienced small business owners told them would be necessary for them to be successful. With Ordoro, rather than being penalized for success, your system is fully scalable. Their multi-channel ecommerce inventory management system is as capable of handling half a dozen suppliers as one—and a thousand new customers as easily as a hundred. You'll be surprised how quickly those numbers rise once your systems are automated and you have more time to focus on attracting new customers.
Inventory Management Software Small Business
When it comes to a complete, seamlessly integrated inventory management system for small business, Ordoro really does have it all. When you start using inventory software for small business with scanner capabilities, your business is elevated to a whole new level. The best part is that automation gives you more time to spend giving your customers your own personal touch, while your software is working overtime behind the scenes taking care of all the details. Creating SKUs and using a scanning system makes it possible for you to automatically track and sync your inventory levels. Unlike humans typing item numbers by hand into a spreadsheet, scanners are instantaneous, and don't make typing errors. With every transaction recorded, you'll know exactly how many of each item you've sold, what supplier shipped it from which warehouse using which shipping company, and where. You can set the automation rules to create and send out purchase orders when the number of items in stock falls below whatever number you decide should be reached before that item should be re-ordered. according to its popularity. You can also bundle multiple SKUs for sale as a single unit. That's a feature that helped make it the best inventory management software small business has seen on the market this year. It can really help you reduce your stock of less popular items to make room for more of the popular ones. You also have the option to print shipping labels either individually for single orders, or in batches, which further speeds up the process and can also save you money on shipping costs. It's hard to believe that simple inventory software for small businesses can be so powerful and do so much. Small businesses are successfully competing with industry giants precisely because they are harnessing the power of technology, while still providing their customers with that personal touch that the mega-corporations just can't.
Best Inventory Management Software For Small Businesses
The e-commerce experts at Ordoro don't expect their customers to be computer programmers, security wonks, or tech wizards. You don't even have to know much about stock management software for small business.
They take care of writing the code, updating programs as new features are developed, testing and debugging, and ensuring that the whole system complies with the strictest security protocols to protect their customers' personal information. You'll be secure in the knowledge that your system is always at the highest industry standard. During the free 30-day onboarding they offer, their professionals will show you exactly how to utilize every one of the features they offer to the fullest advantage for your specific business. You'll use their multi-channel integration capabilities to plug in your chosen suppliers and shipping carriers. You'll be able to see for yourself how you are able to view and control information from your suppliers, your entire inventory, and your shipping carriers from a single dashboard.
Once you see the results of the seamless integration of their inventory and shipping management software, you'll be telling your friends that you've found the best inventory management software for small businesses. No matter how many technological advancements we make, word of mouth is still the most powerful form of advertising. Ordoro specializes in helping small businesses grow and medium-sized businesses remain successful and competitive. That's why they offer life-time support. They've done all the research and development to develop a multi-channel integrated system that streamlines your inventory and shipping processes smoothly and efficiently. That gives you time to research and develop your own personal brand— and those all-important relationships with your customers. Investing in Ordoro to stay on the cutting edge of technology and automation is the best investment you can make for the future success of your business.