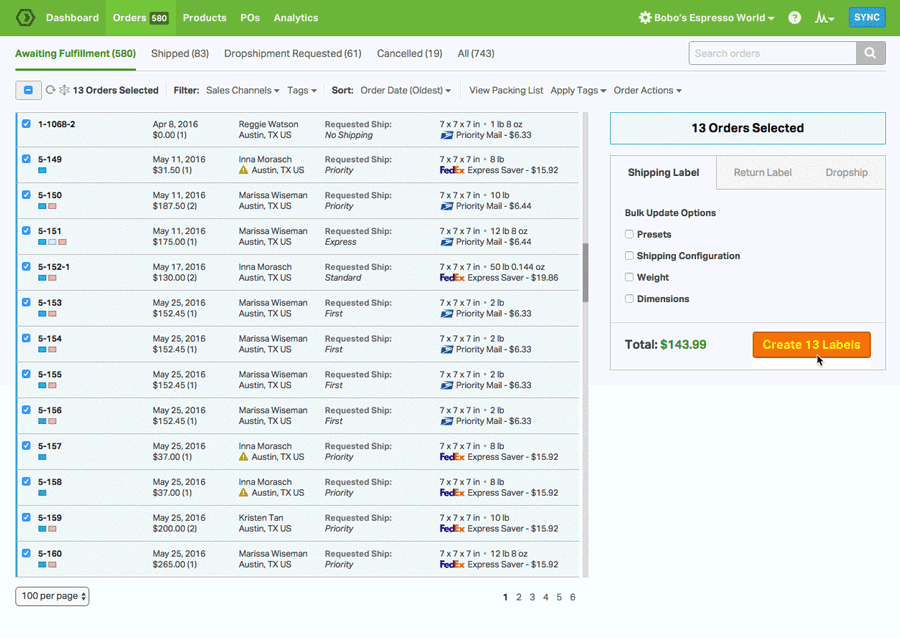 Fulfill Orders Faster With Our Inventory Management Software
The All-In-One Ecommerce Logistics Platform
Equip yourself with a comprehensive solution
Inventory Management
Stock, sync, and scan.
Automatically track and sync your inventory levels
Create and send out Purchase Orders when it's time to restock
Bundle multiple SKUs into one unit for sale
Use Barcode Scanning to reduce fulfillment errors
Multi-Carrier Shipping
Your workflow, minus the work.
Enjoy heavily-discounted shipping rates via USPS
Ship via any of our integrated shipping carriers like USPS, UPS, FedEx, DHL and Canada Post
Set up your own Automation Rules and Shipping Presets
Print shipping labels in triple-digit batches or individually
Dropshipping
Truly hands-off dropshipping.
Launch a dropshipping operation in a matter of clicks
Tag any product as drop shipped and assign it to a vendor
Choose between automated or manual routing
Activate a Vendor Portal between you and your supplier
Multichannel
We're your operations hub.
Integrate and view all of your sales and supplier channels in one spot
Use our open API to hook up any third-party or custom apps
Manage every aspect of your orders
Establish Supplier Feeds for real-time, back-end communication
Barcode Generation and Scanning
Raise the bar for stocking and packing.
Create UPC barcodes for your products
Scan, set, and search UPC codes for SKUs within Ordoro
Reduce fulfillment errors with our pack and pack barcode scanning workflow
Scan received POs to automatically adjust stock levels
Don't take our word for it
Our awesome customers have shipped some really great compliments our way:
"I spent about a month thoroughly searching for the right backend fulfillment software for my eCommerce business. There were definitely some big name guys out there that I considered, but at the end of the day, I went with Ordoro and I'm so glad I did!"

Tina Yarandi
Founder/CEO of Nature's Artisan
"Ordoro continues to add immensely valuable features to an already awesome sales/warehousing/shipping platform. Using Ordoro continues to save us time and money."

Anthony Krize,
VP of GE Holiday Lighting
Warehouse Inventory Management
If you're an ecommerce owner who's looking for help with warehouse inventory management, you've come to the right place. Ordoro is an acknowledged leader in ecommerce software for all of your inventory and shipping needs. Designed especially for ecommerce businesses, particularly meeting the challenges of managing a warehouse's inventory needs, Ordoro can help with tracking inventory stock on hand in real time, as orders come in and are shipped out, assist with shipping and fulfillment functions such as picking and packing, creating labels including bulk orders, and automatically reorder new products once stock levels reach a predetermined level.
Our easy-to-use warehouse inventory management app can help your company track inventory stock in real-time, track sales orders and incoming reordered products.
A good ecommerce inventory system should be able to perform these essential functions:
Help organize product categories
Track sales and purchase orders
Order new stock automatically, while also reducing inventory costs
Good inventory management software should be easy for your non-tech employees to learn and implement, without resorting to expensive, time-consuming training.
Your initial and predicted budgets, the size of your business, type of products and other factors are the determinations of what type of inventory management software to choose. Remember that while sales may be lower in the beginning, your business should be expected to grow and you'll want software that is scalable: one that grows with your business.
With Ordoro's comprehensive, user-friendly real-time ecommerce inventory management software the above tasks can be easily performed with a few easy-to-use plug-ins designed to handle your online sales and product management requirements.
Free Warehouse Management System
Of course, we all want to save money, especially in the beginning when cash flows may be tight and your business is just starting to get noticed online. What kind of free warehouse management system software is available to ecommerce businesses? Unlike brick-and-mortar enterprises, many of which are large enough to have specially-developed software that also needs periodic updating, an ecommerce business needs software that's more nimble, easily, and quickly scalable as the business grows, often at a faster rate than a standard brick-and-mortar concern.
Some companies offer a free warehouse management app, which can be good in the beginning, but many of these apps and plug-ins come up short in their functionality, and often lack the scalability of software such as that offered by ecommerce software leader Ordoro.
Using warehouse inventory management software free of charge can be tempting, but as noted, almost all free programs and plug-ins have some drawbacks which can cost you more money over time than you might be saving in the beginning, especially if limited capability holds your ecommerce business back from growing as quickly and efficiently as it should.
You should know that a number of reputable software companies offer you a warehouse management PDF free download to get started. Keep in mind that these free trials are just that – they weren't intended, nor can they offer, the multiple functions needed by a growing business to keep up with orders, automatically restocking, coordinating multi-channels and multiple carriers, as well as tracking sales orders and expedite fulfillment duties.
Warehouse Inventory Management Excel
Naturally, it's tempting to look into versions of free inventory management software in Excel, including the warehouse inventory management Excel template free of charge or related spreadsheet programs. Free or Open Source inventory management system Excel software exists, of course, in the form of commonly-used spreadsheets such as Excel. While spreadsheets do a respectable job of incoming and outgoing inventory, due to the constant need to enter and re-enter data, the chances of a mistake occurring are increased with each entry.
While these programs are easy to use, they are cumbersome and prone to errors when adding, subtracting or otherwise entering new data or updating existing material.
While there is an Excel inventory template with formulas, as with other forms of spreadsheets, when dealing with hundreds or thousands of diverse products with such an inventory management system Excel and others, capabilities tend to fall short.
One thing to keep in mind is that you may be trading important features to save a bit of money. Online (subscription) software is usually less expensive than installed plans, reducing hardware capacity requirements while offering more options and standard features than open source or free versions.
Ordoro's handy plug-ins allow you to tear up those spreadsheets and put an end to copying and pasting data, whether it's restocking products when you get down to pre-determined levels to prevent stock-outs or fulfilling customer orders with pick/ pack functions, integrating all of your multiple channels and more, all of your inventory is easily tracked in real time behind the scenes.
Inventory Management Software Free
Perhaps one of the biggest drawbacks to much open source inventory management system free software is its lack of ease of use and unreliability: it requires some coding knowledge of PHP to take advantage of its functionality. It's also possible that someone could change the code, either intentionally or accidentally, and render it useless. There are enough drawbacks that its users often complain about, making it unlikely to be a perfect fit for most ecommerce users.
If you're looking for the best free inventory management software, remember that well-designed warehouse inventory management software may be able to help you manage multiple products and services at the same time. Simple inventory software free of charge can be found in some downloadable programs such as Google spreadsheets or Excel. These programs, while useful for many businesses, often lack the flexibility and scalability of cloud-based or similar software setups. Subscription software, such as offered by Ordoro, with its versatile functions and ongoing scalability, is a better answer to handling the challenges of ecommerce warehouse inventory management than most inventory management software free of charge currently available.
Inventory management system open source can be a good choice for some businesses that have the capability to encode it into their systems, but as it can be unreliable if the coding could somehow become unintentionally altered. If you're looking for the best free inventory app for small business, there are some decent choices available but remember you get what you pay for. An inventory management app free of charge may handle some tasks, but will it be able to help with barcode scanning in order fulfillment, with picking and packing oversight, creating shipping labels along with tracking duties? Ordoro's apps can do that and more.
Inventory Management Software Small Business
If you're looking for an inventory management software small business-specific product that's customizable for increased versatility, Ordoro has the answer. Finding a good, reliable, and flexible inventory management system for your growing ecommerce business can be a real challenge, as you decide between using a free but ultimately limited spreadsheet or similar program, or taking things to the next level with a subscription-based system like Ordoro's.
Inventory management system for small business – related concerns, especially those in e-commerce can be tricky. Many good programs out there are geared more for larger businesses as well as brick-and-mortar concerns and so can't keep with the faster shipping and tracking needs of an ecommerce operation. You need a more flexible, nimble type of software to help keep up with the multitude of faster-paced tasks in ecommerce.
Ordoro is designed to be your central hub for all inventory-related matters. Plug each of your marketplaces, web stores, and supplier's channels into the app for a centralized multichannel business connected in real-time to the same inventory. You can add multiple warehouses as well, and choose which to ship orders from.
Ordoro's many satisfied users agree that Ordoro offers the best inventory app for small businesses, in terms of versatility of functions, customizable features, scalability, and overall value. Ordoro's inventory management software offers so much more: in addition to real-time tracking of inventory, you'll get multi-carrier shipping, multi-channel integration, as well as specialty dropshipping management, kitting, pick and pack lists, automation, analytics, FREE 30-day onboarding, and lifetime support.
Simple Warehouse Inventory Management Software
Online inventory management software is accessed directly through the internet, instead of through a program installed on your physical computers and servers. This greatly reduces your company's hardware requirements freeing up your drive and other peripherals for other tasks. In addition, the subscription-based pricing plans usually offered by these systems tend to be less expensive than traditional, desktop-based systems. This makes online inventory management software a more cost-effective option for small businesses, as well as being able to perform more tasks faster, increasing your business's efficiency.
Ordoro offers what many ecommerce owners consider to be the best inventory management app available. Affordable for just about every size and type of enterprise as well as being easy to install and navigate, our plug-ins help you to sync and track inventory levels in real-time, follow orders as well as handle shipping, and automatically reorder items as necessary, based on pre-set levels.
You can assign your products to their appropriate supplier in bulk. After you've matched a product with its vendor, issuing purchase orders to resupply is as easy as a few quick clicks with Ordoro. You can avoid overstocking more products than needed, or running out, leaving orders unfilled.
When you use Ordoro's inventory management software, you can let the software program optimize your inventory tasks while freeing you to focus on other, important areas of your business.
Ordoro offers more comprehensive, user-friendly simple warehouse inventory management software for small business, one that's subscription-based and easy for even the most non-tech users to install and utilize to take better control over inventory management.