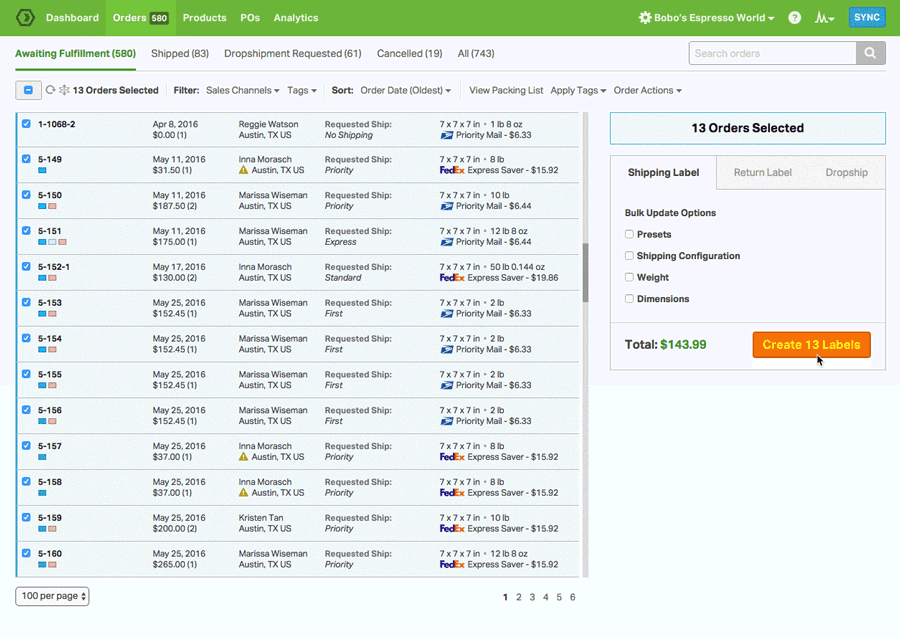 The All-In-One Amazon Seller Software
The All-In-One Ecommerce Logistics Platform
Equip yourself with a comprehensive solution
Inventory Management
Stock, sync, and scan.
Automatically track and sync your inventory levels
Create and send out Purchase Orders when it's time to restock
Bundle multiple SKUs into one unit for sale
Use Barcode Scanning to reduce fulfillment errors
Multi-Carrier Shipping
Your workflow, minus the work.
Enjoy heavily-discounted shipping rates via USPS
Ship via any of our integrated shipping carriers like USPS, UPS, FedEx, DHL and Canada Post
Set up your own Automation Rules and Shipping Presets
Print shipping labels in triple-digit batches or individually
Dropshipping
Truly hands-off dropshipping.
Launch a dropshipping operation in a matter of clicks
Tag any product as drop shipped and assign it to a vendor
Choose between automated or manual routing
Activate a Vendor Portal between you and your supplier
Multichannel
We're your operations hub.
Integrate and view all of your sales and supplier channels in one spot
Use our open API to hook up any third-party or custom apps
Manage every aspect of your orders
Establish Supplier Feeds for real-time, back-end communication
Barcode Generation and Scanning
Raise the bar for stocking and packing.
Create UPC barcodes for your products
Scan, set, and search UPC codes for SKUs within Ordoro
Reduce fulfillment errors with our pack and pack barcode scanning workflow
Scan received POs to automatically adjust stock levels
Don't take our word for it
Our awesome customers have shipped some really great compliments our way:
"I spent about a month thoroughly searching for the right backend fulfillment software for my eCommerce business. There were definitely some big name guys out there that I considered, but at the end of the day, I went with Ordoro and I'm so glad I did!"

Tina Yarandi
Founder/CEO of Nature's Artisan
"Ordoro continues to add immensely valuable features to an already awesome sales/warehousing/shipping platform. Using Ordoro continues to save us time and money."

Anthony Krize,
VP of GE Holiday Lighting
Amazon Seller Software
Amazon isn't just one of the largest companies in the world. When it comes to generating revenue, Amazon is the largest internet company in the world, as well as the second-largest employer in the United States. One of the ways they stay at the top of the Fortune 500 list is constantly updating and adding to their Amazon seller software. With almost unlimited resources, the Amazon software list that they've developed is truly impressive. Those resources are why you can get so many Amazon seller tools free of charge, too. At Amazon Seller Central, you can find tutorials on any and every aspect of e-commerce you care to learn about. Everything you need to know about creating a custom online storefront is there. You can watch a short video on what kinds of products are most popular and how to describe them on your website to make them even more popular. Starting out as an Amazon seller can teach you everything you need to know about the business and prepare you for starting your own. They've even got a Seller University for complete beginners, with courses on product identification numbers, inventory management, multi-channel fulfillment, and drop-shipping. Amazon teaches people about the processes that are essential to any online business. Ordoro provides an integrated software system that efficiently streamlines all those processes and allows you to control every aspect of your entire operation from a single dashboard. It also integrates seamlessly with Amazon, eBay and other well-known and resource-rich suppliers and shippers. With Ordoro working around the clock in the background, you'll have the time it takes to build your brand—and your customers' trust. There may be a lot of free resources out there, but building a reputation for reliability is priceless. Investing in a time-tested, proven software solution like Ordoro, voted best software for small and medium-sized businesses, reaps long-term dividends.
Amazon Seller Tools
After you've learned enough about e-commerce to start your own business, there are a lot of Amazon seller tools you can use to help you succeed. In the beginning, you might not know what the best Amazon FBA tools are, or even that FBA stands for fulfillment by Amazon. It's a service that lets sellers ship their merchandise to Amazon fulfillment centers and store it there until it's sold. When an order is placed on your website, Amazon employees prepare and ship the package. While it takes a larger share of your profits, many people just starting out find this service helpful because there is so much less overhead. One of the best Amazon FBA tools at your disposal when you use this service is access to their Prime audience. Other useful tools in the FBA toolkit are quick shipping and discounted shipping fees. Even if you don't choose to utilize this service, it's important to know what benefits and drawbacks it offers. Utilizing the best Amazon tools, including Amazon analytic tools, can help small business owners learn more about every aspect of e-commerce. Whether it's product hunting or information about pricing, finance, payments, taxes or shipping, there's a video or a tutorial for that. The same is true for listing, sourcing, customer service and advertising. There isn't one element of e-commerce that Amazon hasn't either thoroughly researched in advance or learned through trial and error over time. Fortunately, they provide sellers with that hard-earned information free of charge. Taking advantage of everything you can that is offered for free will allow you to invest your money where it will work the hardest for you. For e-commerce businesses, that's usually in an integrated software system that efficiently streamlines and automates business processes so you can have time for the business of selling. There are some subscription services like Helium 10 and Jungle Scout that many e-commerce business owners find useful.
Helium 10
Helium 10 might sound like a company you'd hire to blow up party balloons, but it's actually a suite of tools for Amazon sellers. Many successful sellers think it's worth it to pay the somewhat steep Helium 10 price for a subscription to access the most popular features it offers. You can do further research on Helium 10 pros and cons with a Helium 10 download of their limited free plan. They allow 2 or three uses of some of their most popular features, which will give you a better idea of whether it might be able to help your business grow. One of the most popular uses for it is product research. It has several different levels, each of which provides additional features. Their Black Box level allows you to scan millions of products by category or niche. Moving up a level to Trendster, you can get specific data about the sales trends of any of those products. Available data includes demand for the product, pricing and even revenue estimates for how much you could earn by selling it. Another popular use is optimization. It's Frankenstein tool ranks keywords by their relevance to your product, while it's Magnet tool allows you to use high-volume keywords to create either automated or manual PPC campaigns. If you're new to online sales, PPC stands for pay-per-click advertising. Many people find PPC a useful tool in conjunction with FBA in their overall online sales strategy. Soon, you'll be able to compile an entire dictionary of business acronyms. They do have an inventory management tool that the free plan allows you to check out for 30 days, but it's not one of the features they're famous for, like product research and optimization.
Jungle Scout
So don't forget that the business world is a jungle that you need to navigate carefully. One well-known company has incorporated a reminder right into their name. Jungle Scout is another popular subscription service that offers a multitude of features. Depending on what you need, that can be either good news or bad news. Just as the majority of Shopify small business owners only use an average of 6 apps out of the thousands available to run their businesses, some reviewers of Jungle Scout believe it may even offer more functions than most people actually use. However, one of the things that people appreciate most about it is its product analysis algorithms. The proprietary algorithms they've developed can supply you with a wealth of information about any product on the Amazon platform. That includes estimates of profitability, consumer demand, what season the product sells best in, and how many competitors are currently offering the product. If you're trying to build a brand that sets you apart from the competition, Jungle Scout can help you find top brand manufacturers and global suppliers. Since they use official reputable sources, such as Customs Import Trade Data, most people trust their information to be reliable. For website optimization, they also offer a tool called Keyword Scout. That tool can be useful for creating listings and conducting PPC campaigns because they can make them more visible in search results. While the subscription price is lower than that of Helium 10, not many would consider it cheap. There is currently no Jungle Scout free version, but they do offer a relatively inexpensive Jungle Scout extension for your browser. Many people opt for that Jungle Scout alternative because it gives you basic access to some of the most-used features like sales estimates and sales analytics tools. They have an inventory management tool, but it isn't included with the basic version of the service.
Best Amazon Seller Software
The best software system for e-commerce is the one that was developed specifically for e-commerce. Ordoro focused on developing an integrated system that efficiently streamlines every business process and keeps working 24/7 behind the scenes. Multi-channel integration allows you to order merchandise from multiple suppliers from a single dashboard. It gives you scanning capability, so that with every purchase and every sale, your inventory is automatically adjusted and stays updated at all times, while fulfillment errors are eliminated. Depending on the rules you set up, the system will alert you when your stock falls below a certain level, and even automatically generate a purchase order. It provides multi-carrier shipping capability, so you can take full advantage of industry shipping discounts, as well as providing kitting, pick and pack, and bundling capability. Data analytics help you make the most informed business decisions possible is also a feature. The software developers at Ordoro interviewed almost a hundred small business owners about what features they needed most to help their businesses succeed, then incorporated all of those features into a single integrated system. Now, rather than spending money on five or six separate apps, your entire business operation can be handled from a single dashboard. Their research and development approach to creating a comprehensive system designed specifically to help businesses succeed in e-commerce worked—and now word is spreading. They were recently ranked as the Best Shipping Software Company of 2021 by Digital.com, and Best Inventory Management Software by The Blueprint. To ensure that their system helps your business thrive, they offer 30-day onboarding free to demonstrate everything it can do and help you set up automation rules customized for your business. They also offer lifetime support. With Ordoro, you get the best Amazon seller software with the best Amazon seller analytics software added for no extra charge. Helping small businesses reduce costs and increase profits is what Ordoro never stops working to become famous for.