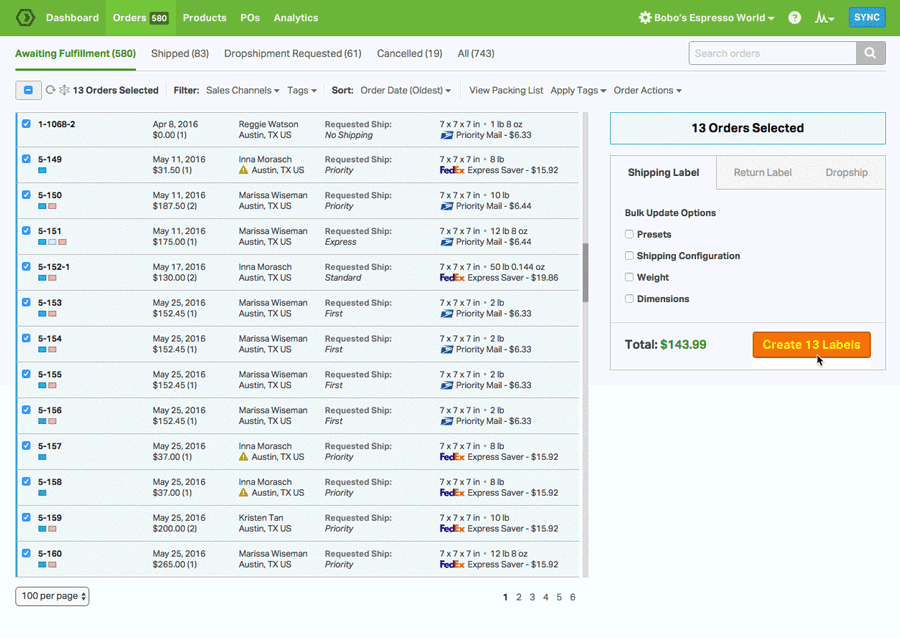 The Best Shipping Label Printer For Ordoro
The All-In-One Ecommerce Logistics Platform
Equip yourself with a comprehensive solution
Inventory Management
Stock, sync, and scan.
Automatically track and sync your inventory levels
Create and send out Purchase Orders when it's time to restock
Bundle multiple SKUs into one unit for sale
Use Barcode Scanning to reduce fulfillment errors
Multi-Carrier Shipping
Your workflow, minus the work.
Enjoy heavily-discounted shipping rates via USPS
Ship via any of our integrated shipping carriers like USPS, UPS, FedEx, DHL and Canada Post
Set up your own Automation Rules and Shipping Presets
Print shipping labels in triple-digit batches or individually
Dropshipping
Truly hands-off dropshipping.
Launch a dropshipping operation in a matter of clicks
Tag any product as drop shipped and assign it to a vendor
Choose between automated or manual routing
Activate a Vendor Portal between you and your supplier
Multichannel
We're your operations hub.
Integrate and view all of your sales and supplier channels in one spot
Use our open API to hook up any third-party or custom apps
Manage every aspect of your orders
Establish Supplier Feeds for real-time, back-end communication
Barcode Generation and Scanning
Raise the bar for stocking and packing.
Create UPC barcodes for your products
Scan, set, and search UPC codes for SKUs within Ordoro
Reduce fulfillment errors with our pack and pack barcode scanning workflow
Scan received POs to automatically adjust stock levels
Don't take our word for it
Our awesome customers have shipped some really great compliments our way:
"I spent about a month thoroughly searching for the right backend fulfillment software for my eCommerce business. There were definitely some big name guys out there that I considered, but at the end of the day, I went with Ordoro and I'm so glad I did!"

Tina Yarandi
Founder/CEO of Nature's Artisan
"Ordoro continues to add immensely valuable features to an already awesome sales/warehousing/shipping platform. Using Ordoro continues to save us time and money."

Anthony Krize,
VP of GE Holiday Lighting
Best Shipping Label Printer
Your regular business printers are great for many things… when they're not getting a paper jam, that is. But seriously, they help your business with all of the reports and memos and other printouts you need. Yet when it's time to print shipping labels, you really should go with a more specialized printer for this process.
In general, printing your own labels can save your small business money, so it's a great idea. Taking charge of this process can also save you time. And your own printed labels can look just as professional and official as any others.
What's the difference between your regular business printer and the best label printer options? Chances are, you're using an inkjet printer for your regular business needs. This type is capable of printing shipping labels, yet the ink is expensive for high-volume printing. Also, these printers work slowly and have a low media tray capacity, so they restrict your optimal printing flow. Laser printers work faster and give crisper results, but they have expensive toner and need to be used with laser-compatible media.
The best shipping label printer is a thermal printer, which is designed specifically for the purpose of printing shipping labels. This means you gain specialty functions like feeds to fit 4x6 shipping label rolls and label-roll cutters. While these printers are more expensive than other printers, amazingly enough, they don't have ink or toner to replace, so you can save in the long run after you make the initial investment.
Printers with thermal technology are fast and effective at printing shipping labels, which is the whole purpose here, right? With the specialty features designed just for shipping labels and the speed, these printers are quick, convenient and effective to use for your business printing needs.
Thermal Label Printer
Overall, a thermal label printer is the one for the job if your small business will be printing a significant amount of shipping labels. Rather than using ink and toner, these printers use heat on special thermal paper. The dye coating on the paper turns to black wherever the thermal printer heats it, so the words and imaging you want on each shipping label show up during this heating process.
Thermal printing is a high-quality process that many businesses rely on to print shipping labels, retail receipts, airline tickets, bar codes and more. Nonetheless, your small business can choose a thermal label printer that is a piece of equipment designed specifically for the purpose of printing shipping labels.
These printers have numerous pros with very few cons. It's helpful to know that the printing process prints just one color at a time, the labels can fade in the sun or with time, and it's possible for the labels to completely turn black if they face high heat exposure. Nonetheless, these cons generally aren't such a problem for the purpose of shipping labels, since they don't need to last forever and you generally only need them printed in black anyway.
On the plus side, you don't have to deal with ink or toner when using this method, which saves a lot of hassle and money. You get crisp printed results free of smudges. Also, the printers themselves are small and easy to move, and they work quietly for minimal distractions in the workplace.
You can find different types and brands, such as a Bluetooth thermal label printer and a thermal transfer printer that prints more colors. It's easy to find an Amazon label printer, and a Brother label printer is one brand you may want to look into.
Shipping Label Printer Amazon
Once you decide to use a shipping label printer for your small business, the next step is finding and purchasing the right one. There are many you can choose from, including the long list of shipping label printers that Amazon has to offer. Amazon has a wide variety of options, different price points and great deals, and the perks of free and quick shipping, especially if you have Prime.
One of the downsides of Amazon's selection is that it's tough to choose the right one. Ultimately, you'll need to think about your business's priorities, such as price point, the most popular choice or a brand you trust. Do you want a cheap shipping label printer or one of the highest quality options? Also, take customer reviews into account.
You can compare features on different printers on the site to help make your decision. When you're wondering what features to look for, consider the needs of your business. Look at how it connects to the computers you have, or consider a wireless shipping label printer, and whether it's compatible with your operating system. Think of the type and size of label you'll want to print, printing speeds and resolution.
See how well the management software will work for you, and whether the brand has good customer support. You may also want to look into printer maintenance, although in general, direct thermal label printers do not require much maintenance. Some varieties may need calibration and cleaning from time to time.
Some good shipping label printers Amazon has to offer include a Rollo label printer, a Zebra LP2844, a DYMO 4XL or a Brother label printer such as the Brother QL-111ONWB label printer. You may want to look at these options and see how they fit into your preferences.
DYMO 4XL
While you have many printer choices available for your business, we recommend using the DYMO LabelWriter 4XL with 4x6 thermal paper for printing domestic USPS labels, Fedex labels and UPS labels. However, keep in mind that USPS international labels with custom forms cannot be printed on this 4x6 label printer. If you have a need for them, you can print them on your business's regular letter-sized printer using two letter-sized sheets.
We recommend this label printer to companies we work with who want the best shipping label printer for Shopify, eBay and Etsy, since this printer is compatible with these selling sites. It's a good choice for Shopify, as you can use it directly through this kind of ecommerce site as a seller.
This is good when you're searching for the best shipping label printer for eBay, as it lets you print the specific 4x6 labels you need to sell from this top selling site. It's also a top choice when your small business requires the best shipping label printer for Etsy, for the same reasons it makes sense for the other ecommerce sites, as well as if you're a seller on another ecommerce marketplace like Amazon, Poshmark and more. If you sell on multiple sites, this printer makes your shipping easier by being compatible with so many different ecommerce platforms at once.
This brand and model have a good reputation in the label printing industry. This particular model is great for small businesses and people selling from home that have high-volume shipping yet are not yet at the level of needing a warehouse. This printer will provide just what you need for printing extra-large shipping labels with fast printing, 300 dpi resolution and a compact size that won't take up much space in your office.
Best Shipping Label Printer for Small Business
As a company that helps small businesses with their shipping needs, Ordoro suggests small businesses use the DYMO 4XL to save time and money by printing their shipping labels themselves. This is perfect as a best shipping label printer for small business people who want to print 4x6 thermal paper shipping labels for their shipping needs. Thermal paper comes by default with the purchase of this printer to get you started. Then, you can purchase the same paper from there for your ongoing shipping needs.
To determine whether this is the best label printer for your small business, compare it to other options you like in terms of various features. Does it have the compatibility you need with your business computers, devices and platforms like eBay, Shopify and Etsy? The DYMO 4XL does have compatibility with these platforms and with major shipping carriers, including domestic USPS, UPS and Fedex.
Also consider the speed, whether one print color is okay with your business and how you prefer to connect your printer. Further, do you need a printer for multiple purposes or one specifically for printing shipping labels? Having a designated shipping label printer helps save your regular business printers for other needs and keeps you from fighting over the printer when you need to print labels.
Consider the size of shipping labels you'll need, as well as the resolution. Also, look at the durability, which you can learn through factors like customer reviews and whether the company has a good sales history and reputation.
The DYMO 4XL is a good choice for the shipping needs of many small businesses. This label printing machine for small business gives you 4x6 thermal shipping labels, provides a wide range of compatibility and works quickly to provide crisp printing. The compact size and reasonable price point are convenient for at-home or small businesses as well.