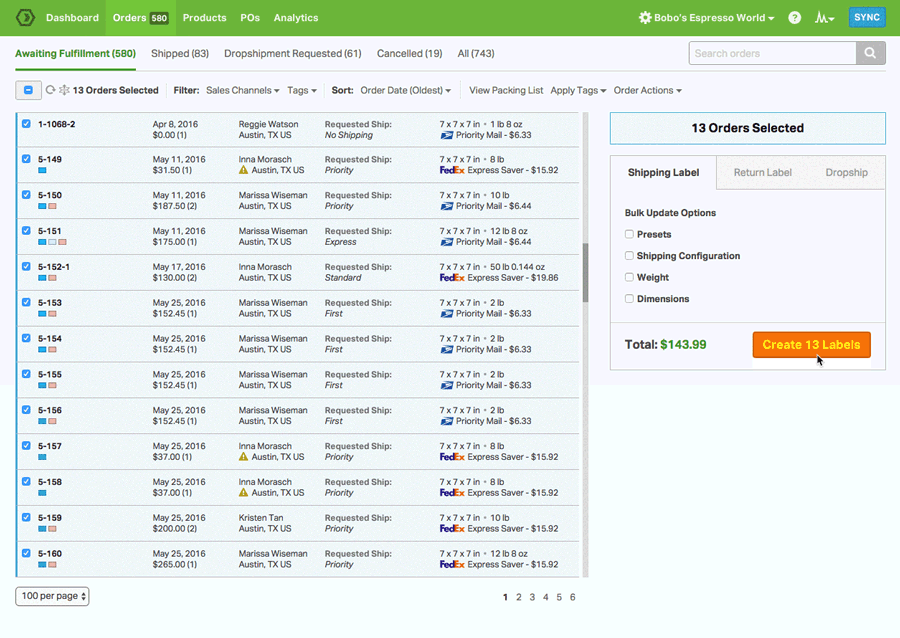 Fulfill Orders Faster and Cheaper with Our Ecommerce Shipping Software
The All-In-One Ecommerce Logistics Platform
Equip yourself with a comprehensive solution
Inventory Management
Stock, sync, and scan.
Automatically track and sync your inventory levels
Create and send out Purchase Orders when it's time to restock
Bundle multiple SKUs into one unit for sale
Use Barcode Scanning to reduce fulfillment errors
Multi-Carrier Shipping
Your workflow, minus the work.
Enjoy heavily-discounted shipping rates via USPS
Ship via any of our integrated shipping carriers like USPS, UPS, FedEx, DHL and Canada Post
Set up your own Automation Rules and Shipping Presets
Print shipping labels in triple-digit batches or individually
Dropshipping
Truly hands-off dropshipping.
Launch a dropshipping operation in a matter of clicks
Tag any product as drop shipped and assign it to a vendor
Choose between automated or manual routing
Activate a Vendor Portal between you and your supplier
Multichannel
We're your operations hub.
Integrate and view all of your sales and supplier channels in one spot
Use our open API to hook up any third-party or custom apps
Manage every aspect of your orders
Establish Supplier Feeds for real-time, back-end communication
Barcode Generation and Scanning
Raise the bar for stocking and packing.
Create UPC barcodes for your products
Scan, set, and search UPC codes for SKUs within Ordoro
Reduce fulfillment errors with our pack and pack barcode scanning workflow
Scan received POs to automatically adjust stock levels
Don't take our word for it
Our awesome customers have shipped some really great compliments our way:
"I spent about a month thoroughly searching for the right backend fulfillment software for my eCommerce business. There were definitely some big name guys out there that I considered, but at the end of the day, I went with Ordoro and I'm so glad I did!"

Tina Yarandi
Founder/CEO of Nature's Artisan
"Ordoro continues to add immensely valuable features to an already awesome sales/warehousing/shipping platform. Using Ordoro continues to save us time and money."

Anthony Krize,
VP of GE Holiday Lighting
Ecommerce Shipping Software
Shipping charges can vary considerably among carriers, with a number of factors affecting cost: distance, weight, method, speed and additional features such as order tracking and delivery confirmation. Paying too much for your shipping or choosing the wrong carrier can cost your ecommerce business money and time, eating into your business's profitability.
Due to the need for tight controls over shipping costs, having access to the best shipping software for ecommerce by top-rated industry leader Ordoro can help boost your bottom line by reducing shipping costs while increasing efficiency and customer satisfaction – and reorders.
Whether you run an online retail, dropshipping, manufacturing or even a primarily brick-and-mortar business, you'll need efficient and flexible software to handle the multiple tasks needed to stay competitive.
Shipping management software fills a large field, with a lot of variation among developers, so it's necessary to know how to access the best products for your company, based on the type of business you run as well as your budget and usability considerations. Ordoro's ecommerce shipping software and apps have been designed to optimize your shipping workflow saving time and money in a seamless process. Among the tasks a robust shipping software needs to be able to perform successfully are:
Label Printing – Needed for shipping labels or bills of lading, with tools for enabling printing large batches particularly useful
Order Management – Sort and prioritize orders, either manually or with preset filters
Order Tracking – Monitor orders, allowing customers to self-track using emailed tracking information
Dropshipping – For stores not stocking all of their products, but ordering through a third party who then ships it directly to the customer
Route optimization – Helps find the quickest and cheapest route for businesses using private fleets
Rate management – Find and compare the best carrier rates, as with USPS, FedEx, UPS, and others
Reporting and analytics – Identify shipping tends, such as cheaper carrier rates or other information, allowing for better shipping decisions
Shipping Software Free
What types of shipping software are most popular, and how much should you pay? Should you pay anything, when there are free shipping software programs and apps available? The better versions of online shipping software are not free, other than perhaps a free trial, but as with anything else, you get what you pay for. Some free shipping programs still utilize spreadsheets or entice new users with free delivery software for small business, which are time-consuming to edit and add new products, as well as monitoring inventory levels.
Several sites such as Easyship, offer the best free shipping app for Shopify users, along with Shopify Local Delivery with optimized routes, automatic notifications and order status updates,is another good choice for Shopify merchants.
Two of the more popular offering shipping software free (initially) are ShipStation and Shippo, with either $0 entry level pricing or very low (around $25) monthly entry prices.
ShipHeros charges a low initial monthly fee with free setup, free software geared for warehouses and hands-off ecommerce fulfillment.
ShippingEasy is a cloud-based platform that integrates with most major markets, such as Amazon, Etsy, eBay, and so on, with features including order management and free shipment tracking software.
Some of the top complaints of the above and similar companies were in set-up, initial user interface, and especially customer service. If you're a new user, you NEED top-notch support both initially and ongoing.
Which brings us to Ordoro: according to a report from Software Advice, consumers rated Ordoro 4.72 out of 5 stars – one of the top ratings among the heavy-hitters in the shipping and inventory-management software industry! Favorite features were ease of implementation, large variety of desirable features, the ability to interface with areas outside the US, as well as outstanding customer service.
Multi Carrier Shipping Software
Below are some of the most important features you'll need to have with multi carrier shipping software. It should offer the ability to:
Create shipping labels and packing slips in a format appropriate for your type of business
See real-time rates of multiple carriers in the quoting estimate process as well as prioritize options for speeding delivery and saving money
Integrate with major ecommerce platforms such as Etsy, eBay,Amazon, Shopify, WooCommerce and more
If you do business in or with Canada, you'll need to access multi carrier shipping software Canada carriers and requirements
Commonly-used brands of multi carrier shipping software:
Shippo – this is a multi-carrier shipping software developed for ecommerce helps save on rates for most of the major carriers such as USPS, FedEx, as well as local and regional carriers often not included in other apps. It syncs order information and creates labels and other shipping documents.
ShipStation – this is another multi-carrier shipping software that also interfaces with the major carriers, creates and prints shipping labels, tracks orders and is compatible with both Android and iOS mobile phones
Ordoro – this shipping and inventory backend software developer is fast becoming an industry leader with an array of versatile apps and plug-ins. These can allow users to mix and match shipping methods, access real-time best shipping rates, with USB weight scale support included, and allow users to manage shipping down to the smallest details
Best Online Shipping Service for Small Business
As a recent article in Forbes' online magazine observed, "…in ecommerce, the shipping of goods is as much about software and notifications as it is about trucks and cargo planes." This has become truer than ever, especially with more people still staying home and purchasing online instead of brick-and-mortar stores. Ecommerce has become more of the norm than just a diversion, opening up opportunities for "e-tailers", dropshippers and other ecommerce businesses as never before.
With sales orders aligned with shipping, choosing the best ecommerce shipping software is critical.
Regardless of what type of business you run, you need to ask the following questions of any company selling shipping software:
How do you ship goods at lower cost to make a pro
How do you move goods faster and more efficiently than the competition?
Will this software be compatible with and integrate seamlessly with my current systems in place?
The above are the most important to your business's bottom line, but you'll want to have answers to pricing, included features as well as optional add-ons, when searching for the best online shipping service for small business. An online search should turn up some of the best shipping websites, where you'll need to pay attention to user ratings and evaluate the features offered.
Among the top contenders in shipping and inventory management software are Ordoro, with its integrated apps and plugins for barcode scanning, interfacing with multiple carriers and tracking shipments, sending notifications, automatically reordering stock, connecting your warehouses throughout the country, unifying your inventory and shipping requirements in
apps and software developed for that purpose.
Ordoro's plugins are compatible with all major market platforms, including Amazon, eBay, Shopify and WooCommerce, making it a logical choice for handling all of your shipping needs in a comprehensive, easily-installed and user-friendly system.
Best Shipping Software for Shopify
Shopify Shipping is a multi carrier shipping software developed to help ecommerce businesses with tools to help create shipping labels as well as enhance customer service with providing real-time shipping updates to customers, along with access to the best shipping rates. As one of the best shipping software for Shopify, it's compatible with a variety of plugins and apps from developers such as Ordoro, and offers one of the best comprehensive platforms and user support in the industry. It's been a winner in previous years, including 2020, and is considered a best shipping app for Shopify 2021.
Shopify Shipping offers merchants access to the best pre-negotiated shipping rates and labels depending on the terms of their Shopify subscription plan. The discounted rates are available automatically both in the US and Canada. The best shipping app for Shopify UK, as well as best shipping app for Shopify Australia as well as Shopify shipping apps Canada can be found in the Shopify Apps Store as well, with features that can vary depending on country.
Of course, Shopify's Apps Store offers hundreds of useful apps and plugins as well, making it one of the top platforms for ecommerce stores and dropshippers.
Speaking of dropshipping, for those who came in late, Shopify offers a great guide to setting up a dropshipping business:
Video training
Handy apps and plugins from Shopify's Apps Store for finding products to sell
Evaluating potential stock
Choosing suppliers
You should know that Shopify's dropshipping suppliers tend to do really well with the platform, especially since Shopify gives tips and leads on finding good suppliers for potential dropshippers. Shopify's partner app Oberlo provides a wealth of supplier leads as well as ideas for profitable new products, as well as evaluations on performance.
Named as a top 2021 shipping software company by Digital.com, Ordoro has the tools, teamwork and experience to make your ecommerce vision a reality. Track shipments, unify your entire inventory, automatically reorder when stock levels drop to a preset point, send customers notices, coordinate multichannel markets and more. Your warehouse employees in multiple locations around the country can interface with your sales department while getting the best pre-negotiated shipping rates from the major and local carriers.
They offer FREE 30-day onboarding, free trial of software and related products, ongoing lifetime award-winning support, and some of the best prices in the industry. Give them a call at 512-271-9453 or email Ordoro today to learn how to take better control over your inventory and shipping operations, with a bigger bottom line.