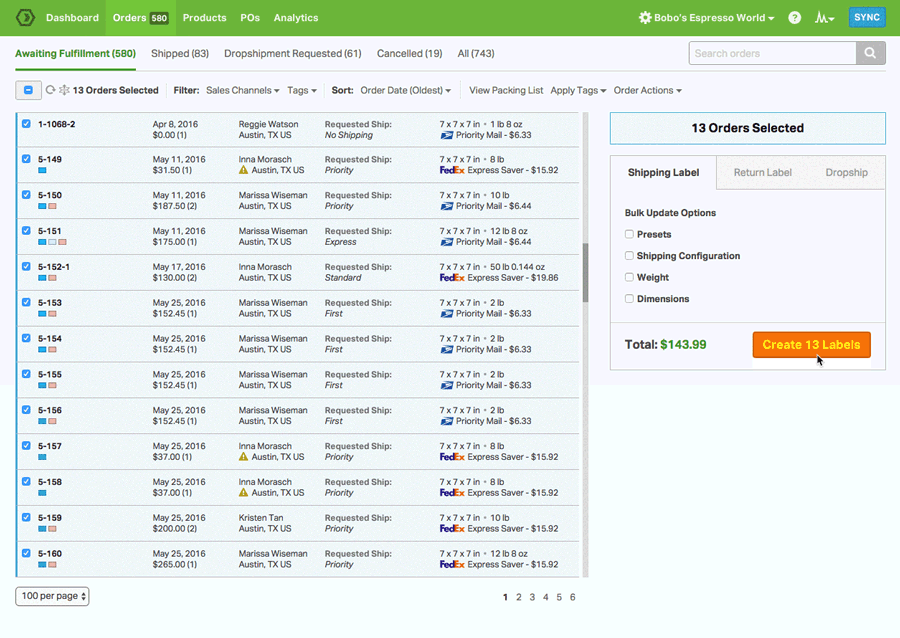 The all-in-one platform that helps you manage shipping labels for eBay.
The All-In-One Ecommerce Logistics Platform
Equip yourself with a comprehensive solution
Inventory Management
Stock, sync, and scan.
Automatically track and sync your inventory levels
Create and send out Purchase Orders when it's time to restock
Bundle multiple SKUs into one unit for sale
Use Barcode Scanning to reduce fulfillment errors
Multi-Carrier Shipping
Your workflow, minus the work.
Enjoy heavily-discounted shipping rates via USPS
Ship via any of our integrated shipping carriers like USPS, UPS, FedEx, DHL and Canada Post
Set up your own Automation Rules and Shipping Presets
Print shipping labels in triple-digit batches or individually
Dropshipping
Truly hands-off dropshipping.
Launch a dropshipping operation in a matter of clicks
Tag any product as drop shipped and assign it to a vendor
Choose between automated or manual routing
Activate a Vendor Portal between you and your supplier
Multichannel
We're your operations hub.
Integrate and view all of your sales and supplier channels in one spot
Use our open API to hook up any third-party or custom apps
Manage every aspect of your orders
Establish Supplier Feeds for real-time, back-end communication
Barcode Generation and Scanning
Raise the bar for stocking and packing.
Create UPC barcodes for your products
Scan, set, and search UPC codes for SKUs within Ordoro
Reduce fulfillment errors with our pack and pack barcode scanning workflow
Scan received POs to automatically adjust stock levels
Don't take our word for it
Our awesome customers have shipped some really great compliments our way:
"I spent about a month thoroughly searching for the right backend fulfillment software for my eCommerce business. There were definitely some big name guys out there that I considered, but at the end of the day, I went with Ordoro and I'm so glad I did!"

Tina Yarandi
Founder/CEO of Nature's Artisan
"Ordoro continues to add immensely valuable features to an already awesome sales/warehousing/shipping platform. Using Ordoro continues to save us time and money."

Anthony Krize,
VP of GE Holiday Lighting
Manage Shipping Labels eBay
Are you thinking about how to expand your online business? If so, then you should consider selling products and services on eBay. After all, eBay is one of the oldest online shopping platforms around, and even though others have been established since, eBay still remains one of the most popular. At the same time, though, you also need to make sure that you're considering how you'll collect orders and fulfill orders from your customers. In other words, even when you're selling online, you still need to ship your products as they sell - and this is why you need to be thinking about how to manage shipping labels eBay.
Luckily, even if you are wondering how to pay for eBay shipping labels without PayPal, there are multiple options available. This will be useful because even though PayPal can be helpful in certain situations, there are other cases where it might be a hassle. However, advanced programs such as Ordoro can integrate with eBay directly, streamlining your shipping labels and thus making it easier for you to ship products to your customers. Using Ordoro can also reduce the amount of time you spend wrestling with your shipping labels every day. If you can expedite this process, then you can save time and money while growing your business. Furthermore, Ordoro will also let you manage shipping labels eBay app, making this process easier for you as well.
Changing your shipping practices will take some time and effort, but making the change can do wonders for your business. This way, instead of having to manage multiple channels at the same time, you can put them all in the same place and manage everything from one convenient application. This in turn can make it much easier for you to meet your customers' needs. And if you keep your customers happy, then they will return for future purchases, helping you grow your company faster and better.
To change your shipping and shipping labels management practices for the better, you should be taking advantage of every tool at your disposal with Ordoro.
eBay Shipping Labels
When taking a look at your eBay shipping labels, there is a lot you need to be thinking about. The first thing you need to do is think about the carrier you use. eBay uses multiple carriers, and common examples include USPS, FedEx, and UPS.
While you might have one carrier that you prefer, keep in mind that the best carrier for one order might not be the same as the best carrier for another. For example, you may have one order where you use a USPS shipping label, such as for domestic orders. However, for international orders, you may want to print out a UPS shipping label instead for faster and more effective shipping to a location in a different country. Either way, you should think about the carriers you use because this will have a major impact on your overhead expenses.
For another thing, there's a lot of information that you need to include on your shipping label. For example, you need to include the payment receipt or the QR code that shows you have paid for shipping. Otherwise, you will have a harder time getting your orders where they need to go. Then, you also need to make sure that you have the customer's name and address on the shipping label as well. In addition, you may need to print out a shipping label with your return information just in case the package comes back to you for any reason.
As you look at the shipping labels page eBay, you also need to think about tracking. After shopping online, most customers will have questions and concerns about where their packages are located. If you can assuage these kinds of concerns quickly, then you can improve your customers' level of confidence in you, which will make a significant difference in your business's reputation. So, when you print out your shipping label, make sure you get a tracking number too. That way, you can track your orders as they are moved from place to place. By doing this, you can also provide your customers with a better estimation of when their order will arrive.
eBay Shipping Rates
You also need to have an accurate idea of how much money you will be spending on eBay shipping. For this reason, it may be helpful to review your eBay shipping rates closely. There is a helpful table that you can use to learn more about how much money eBay charges for certain carriers, including UPS. You may also want to take a look at the eBay shipping calculator, which can help you figure out exactly how much money you might need to pay for shipping.
There are a number of factors that will play a role in how much you will have to pay for eBay shipping. For example, there's how far your package will be going: the further your package needs to travel, the more money you will be spending to get it there. You also need to think about the weight of your package, since carriers will charge you based on how much weight you are transporting. Finally, you may also have to spend more money if you want your package to get there faster. If you want your package to arrive somewhere overnight, for instance, then you are probably going to pay more money.
Because there are so many factors involved in eBay shipping labels cost, you need to take advantage of integrations that can help you streamline your shipping process. Of course, it makes sense if you do not want to spend more money than you absolutely have to; however, you also need each order to arrive at the customer's door quickly and in perfect shape. So how can you make sure that you are getting the most value for your shipping costs?
This is another area where it might be helpful to rely on Ordoro. This advanced platform offers an easy way for you to manage multiple orders at the same time across multiple channels. When using Ordoro, you can compare your options, find the best one to meet your needs, and make sure that your orders get there on time.
eBay Shipping Label Printer
While it may not seem like a big deal initially, there are situations where you might struggle to print out shipping labels. This is where it might be helpful to use an eBay shipping label printer.
Depending on your business, though, you might be wondering how to print eBay shipping label from phone, or you might also be wondering how to print a shipping label without printer. Fortunately, there are applications that can make this easier for you. For example, if you are wondering, "where can I print a shipping label from my phone," then the application from Ordoro can help you with this.
Or even if you are wondering how to print shipping label eBay without sale, it's worth keeping in mind that you do need to pay for your shipping label one way or another. There are also multiple payment methods available, so you can pick the one to best meet your needs, after which you can print shipping labels from phone. The easier it is for you to print shipping labels, the faster you can get your orders shipped out. This means that you can get your orders to your customers as quickly as possible. This comes with its own benefits: for example, if you have a high percentage of on-time deliveries, then you will instill a new level of confidence in your customers, leading to high customer satisfaction, good ratings, and future purchases as well.
With all of this in mind, make sure you take advantage of a strong eBay shipping label printer.
eBay Shipping Labels Payment
If you are wondering how to set up automatic payments for USPS labels on eBay, then you are probably looking to learn more about eBay payment methods too. When it comes to your eBay shipping labels payment, you also have multiple options at your disposal here. However, if you want to make this process as efficient as possible, then you need to take advantage of everything that the Ordoro platform provides. With the ability to automate certain processes that you used to complete by hand, you can save time and money on your shipping, meeting the demands of your customers faster and more easily than before.
The Ordoro application also makes it easy to keep all of your orders in place. You can even use filterable tags, search to view the status of each shipment, and view all of this information on a single dashboard. With Ordoro you can also audit all of your orders, documenting each action while also keeping track of each timeline. This kind of overview can make a significant difference in your ability to get your orders shipped out to your customers on time.
So if you want to accelerate your shipping process from beginning to end, then you should consider configuring your shipping presets on Ordoro. This will help you manage processes such as auto-filling the information on your shipping labels.
eBay Bulk Shipping
Finally, there is another way for you to make it easier to ship your items via eBay, and this option is to take advantage of eBay bulk shipping. There is an eBay bulk shipping tool that you can use to group all of your orders together. While this might increase the weight of your package, you are still saving costs overall because you will only have one order to process instead of multiple orders going out at the same time. So if you can print out eBay bulk shipping labels, you can save a lot of money when it comes to your shipping processes.
It may sound like a completely different process to ship items in bulk; however, this is another task that Ordoro can handle easily. By taking a look at the Ordoro application dashboard, you can see exactly what you need to do to get all of your items out through eBay, even if you want to ship them via bulk. You can also take a look at your carrier options, finding the cheapest one to meet your needs. Then, all you have to do is print out an eBay bulk shipping label, add it to the package, and send it off. This is just another way that you can save money by using Ordoro.