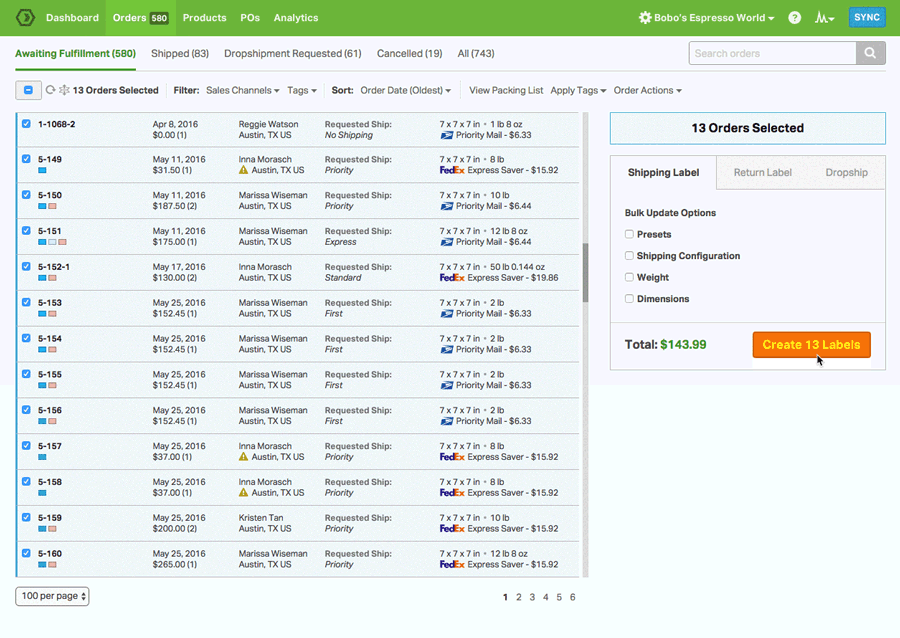 How Can I Print A FedEx Shipping Label
The All-In-One Ecommerce Logistics Platform
Equip yourself with a comprehensive solution
Inventory Management
Stock, sync, and scan.
Automatically track and sync your inventory levels
Create and send out Purchase Orders when it's time to restock
Bundle multiple SKUs into one unit for sale
Use Barcode Scanning to reduce fulfillment errors
Multi-Carrier Shipping
Your workflow, minus the work.
Enjoy heavily-discounted shipping rates via USPS
Ship via any of our integrated shipping carriers like USPS, UPS, FedEx, DHL and Canada Post
Set up your own Automation Rules and Shipping Presets
Print shipping labels in triple-digit batches or individually
Dropshipping
Truly hands-off dropshipping.
Launch a dropshipping operation in a matter of clicks
Tag any product as drop shipped and assign it to a vendor
Choose between automated or manual routing
Activate a Vendor Portal between you and your supplier
Multichannel
We're your operations hub.
Integrate and view all of your sales and supplier channels in one spot
Use our open API to hook up any third-party or custom apps
Manage every aspect of your orders
Establish Supplier Feeds for real-time, back-end communication
Barcode Generation and Scanning
Raise the bar for stocking and packing.
Create UPC barcodes for your products
Scan, set, and search UPC codes for SKUs within Ordoro
Reduce fulfillment errors with our pack and pack barcode scanning workflow
Scan received POs to automatically adjust stock levels
Don't take our word for it
Our awesome customers have shipped some really great compliments our way:
"I spent about a month thoroughly searching for the right backend fulfillment software for my eCommerce business. There were definitely some big name guys out there that I considered, but at the end of the day, I went with Ordoro and I'm so glad I did!"

Tina Yarandi
Founder/CEO of Nature's Artisan
"Ordoro continues to add immensely valuable features to an already awesome sales/warehousing/shipping platform. Using Ordoro continues to save us time and money."

Anthony Krize,
VP of GE Holiday Lighting
Can I Print A FedEx Shipping Label
Can you print a FedEx shipping label? This is a question that a lot of new online brands want to know. The good news is that it is possible.
The first step in the process is to visit FedEx's dedicated page for learning how to print shipping labels. From there, you can either sign into your FedEx Ship Manager account or you can opt to create one as a guest. The guest feature allows you to create a FedEx shipping label without an account, which is ideal if you only send a few packages per year. From there, follow the prompts. If you have a question, you can always contact FedEx Ship Manager support with your questions.
There are a few guidelines to understand, too. Generally, these shipment labels have to be on a white background and you cannot tape over the label. Thus, it is a good idea to use roll or sheet labels instead, which do not require additional tape to adhere them to the box.
But what if you send a lot of shipments with FedEx Ground? Should you try to print your own shipping labels or take them to a FedEx store? The truth is that printing shipping labels for FedEx yourself is actually quite easy if you have the right tools.
The good news is that Ordoro has integrated shipping label printing to make the process as easy as possible. Whether you need to print or reprint, you can do it from inside our eCommerce management tool. Plus, it integrates with must common label printers and you can automate the entire process. This means that keeping track of tons of labels at once is much easier and can keep you from having to visit the FedEx store directly.
How to Print FedEx Label
If you're wondering how to print a FedEx label, there are a couple of options. As we've mentioned above, you can opt to use the online shipping manager website to do this task. In fact, it works well whether you're logged in as a user or opt to create a guest account. With this option, you have the ability to choose between standard paper, label roll printing, or sheet label printing—which will depend on the type of printer you have and the paper you're using.
You can also print a Fedex print label in-store. This is where you take a package to one of their many locations, work with an employee to create the label based on shipping needs, and then have the label printed right there. The benefit to this is that you can then turn the package over to FedEx for shipping at that moment.
However, the best method to print FedEx shipping labels when you have a lot of orders to fulfill is to do it yourself with a label printer. If you're using Ordoro, you can even create shipping and return labels in batches or individually. And this works for both domestic and international shipments.
This third option is one reason why users love Ordoro so much. With this platform, you can even set up automated label printing for the moment clients place orders. And, with multiple sales channel support, it doesn't matter if someone orders from your Shopify store or other platforms like Amazon, eBay, or Walmart.com.
Additionally, Ordoro is compatible with most sheet and roll label printers. This gives you flexibility and added efficiency in packing orders for shipment by making it super easy to print FedEx labels yourself. In short, if you're using FedEx Ground to send out customer orders, then you'll love the features and increased ease-of-use that Ordoro provides.
What is a FedEx Prepaid Shipping Label?
Sometimes, you might need to use what's called a FedEx Prepaid Shipping Label. In this instance, you are anticipating what a package would cost to send and prepaying it for the customer. As an eCommerce business, the most common time you might need to do this is when a customer has initiated a product return or if you're expecting them to send an item to you for customization.
To do this, you'll want to login to your FedEx Shipping Manager account. Under the ship tab, you can select create a shipment. Finally, choose prepare shipment and create return shipment. Then follow the prompts to create your shipment.
The interesting thing about this process is that you have the option to either print a label or send it to someone else via email to print on their own. The second option is usually a good choice with online returns, as it gives the customer the option to use the label.
Generally, your business is not charged until the shipment is scheduled for pickup. In that case, whichever credit card you have on file is what will be used to pay for the prepaid label shipment.
So, how do you schedule a FedEx pickup with a prepaid label? When the customer is ready, they can contact FedEx directly at the number on their label to request a pick up at their location. They also have the ability to drop the item off at one of the thousands of FedEx dropoff centers nationwide.
What about printing a UPS prepaid label and overall UPS prepaid label cost? In most instances, the process is fairly similar. However, we suggest working directly with UPS to determine their exact protocol for setting up prepaid shipping services.
FedEx Pickup Scheduling
If you need to schedule a FedEx pickup, the process is actually quite simple and there are a variety of options in getting this done.
Those using the FedEx Ship Center dashboard can start by selecting a pickup request in the appropriate section while creating the label. You can also indicate in the same box whether you intend to drop off the item at a local FedEx store or center.
Another option is to request pickup after creating the label. This is done by using the Schedule and Manage Pickups tab on the FedEx website. Likewise, you can accomplish the same thing by calling FedEx directly and talking to a representative. But be warned, however, that hold times on the phone can sometimes be long.
Finally, you can choose to drop off the package at a local FedEx center yourself. For a lot of small eCommerce brands, this is the easiest and most convenient option. FedEx offers pickup locations at most post offices, nearly every Walgreens location, and thousands of other places in the United States.
Do you send a lot of packages on a daily or weekly basis? If so, you might consider talking directly to the company about creating a regular FedEx schedule pickup. This is where a driver comes to your location at a set time each day or once a week to gather all packages. Those who are sending hundreds or thousands of orders out to customers often prefer this option.
The good news? Scheduling your package pickups and keeping tabs on tracking numbers are two things you can do inside Ordoro. For those who use FedEx as a primary shipping method, this is a great way to keep everything in one spot, plus automatically update customers on when their items are on the way and give them their FedEx pickup tracking numbers.
FedEx Shipping Labels
Whether you're creating FedEx shipping labels individually or by the triple-digit batches, Ordoro is the best software for getting the job done. Not only does our platform offer tons of robust features for logistics, but it allows you to save tons of time in the picking and packing process, too.
Need a few examples? Ordoro's automation rules act on orders as they arrive. This means the system will automatically create shipping label FedEx shipments, print pick lists, store invoices, and send out update emails to the customer without you having to do anything.
You can also accelerate the shipping process by configuring presets that auto-fill shipping parameters when creating labels. If you've ever tried to do this in bulk, you know exactly why this is such an amazing thing.
Finally, Orodor provides batch printing of shipping labels of up to a hundred at a time for FedEx shipments and discounted shipping rates up to 67%. What's not to love about any of that?
And that's just a few of the many reasons why Ordoro is absolutely the best shipping software for eCommerce merchants. Whether you're just starting out or process thousands of orders each month, our platform is designed to help you save time, money, and keep everything you need in one central location.
Ordoro also provides multi-marketplace support, bringing all of your orders, item descriptions, photos, and other elements together on one dashboard for ease of convenience. There's also barcode scanning, inventory tracking, and many other excellent features to ensure your business runs as smoothly as possible.
Best of all, Ordoro is committed to the success of our users. That's why we offer an extensive onboarding program to ensure you're aware of how to get the most out of the platform and lifetime support.
Have you tried Ordoro for your eCommerce business yet? Don't wait! Schedule a demo today to learn more.