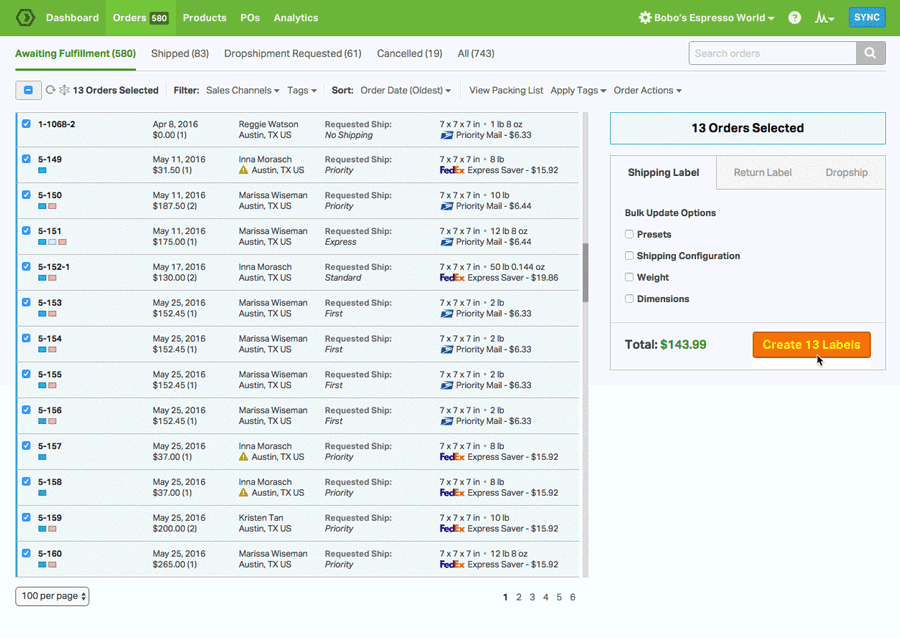 Fulfill Orders Faster with Our Robust Shipping Platform
The All-In-One Ecommerce Logistics Platform
Equip yourself with a comprehensive solution
Inventory Management
Stock, sync, and scan.
Automatically track and sync your inventory levels
Create and send out Purchase Orders when it's time to restock
Bundle multiple SKUs into one unit for sale
Use Barcode Scanning to reduce fulfillment errors
Multi-Carrier Shipping
Your workflow, minus the work.
Enjoy heavily-discounted shipping rates via USPS
Ship via any of our integrated shipping carriers like USPS, UPS, FedEx, DHL and Canada Post
Set up your own Automation Rules and Shipping Presets
Print shipping labels in triple-digit batches or individually
Dropshipping
Truly hands-off dropshipping.
Launch a dropshipping operation in a matter of clicks
Tag any product as drop shipped and assign it to a vendor
Choose between automated or manual routing
Activate a Vendor Portal between you and your supplier
Multichannel
We're your operations hub.
Integrate and view all of your sales and supplier channels in one spot
Use our open API to hook up any third-party or custom apps
Manage every aspect of your orders
Establish Supplier Feeds for real-time, back-end communication
Barcode Generation and Scanning
Raise the bar for stocking and packing.
Create UPC barcodes for your products
Scan, set, and search UPC codes for SKUs within Ordoro
Reduce fulfillment errors with our pack and pack barcode scanning workflow
Scan received POs to automatically adjust stock levels
Don't take our word for it
Our awesome customers have shipped some really great compliments our way:
"I spent about a month thoroughly searching for the right backend fulfillment software for my eCommerce business. There were definitely some big name guys out there that I considered, but at the end of the day, I went with Ordoro and I'm so glad I did!"

Tina Yarandi
Founder/CEO of Nature's Artisan
"Ordoro continues to add immensely valuable features to an already awesome sales/warehousing/shipping platform. Using Ordoro continues to save us time and money."

Anthony Krize,
VP of GE Holiday Lighting
Shipping Platform
Your business can experience benefits by investing in a shipping platform like Ordoro and using it well. Ordoro can help you simplify the way you run your biz. What exactly is Ordoro? It's a comprehensive e-commerce logistics platform. Among its other features and benefits, it facilitates multi-carrier shipping, whether you want hefty discounts from USPS (who doesn't?) or you're planning to go with UPS, FedEx, DHL or Canada Post.
Plus, it includes inventory management, automatically tracking your inventory for you and letting you know when you need to restock. You can use it as your operations hub that's connected to your supplier channels, sales channels and apps. And it allows you to carry out hands-off dropshipping with ease.
This shipping software can help your business ship faster and save a lot of money, benefitting both you and your customers. Ordoro guides you to figure out the best way to ship your products and to automate shipping worldwide. It helps you keep up with the modern world where e-commerce is king and to meet increasing demand, which is what every business wants. Don't let that growing demand get overwhelming—get a handle on it with enterprise shipping software like Ordoro.
Shipping Software Free
It's completely understandable to be drawn to free shipping software, especially in the early stages of your business. It's natural to want to save money and even to try out shipping software with a low investment to see if it's something that works for you. Is your business currently utilizing shipping software free versions? How is it working for you? You may have developed some doubts about it over time. Keep in mind that free shipping programs are free for a reason: they come with certain downsides.
To get better results, don't give up on shipping platforms and assume they're all worthless. Instead, consider investing in the features that would work for you and that would give you results. You have to factor in the return on investment you could expect from a paid shipping platform compared to free shipping programs.
When companies offer you shipping software free, it's really not such a bad idea to utilize it in the beginning. But it's common to outgrow these free versions because they only take your business so far. In the end, they tend to hold you back by limiting what your business is capable of and missing the features that would help your biz grow. You can utilize the free versions to see what works for you, what doesn't work and what you might be missing. Use that information to choose the right paid version that works the way you want it to. The right software can help you maximize your shipping processes and your business overall.
Free shipment tracking software or other free shipping programs aren't likely to help you work with different carriers. When you spend money on premium shipping software like Ordoro, it can save you overall on shipping expenses. Multi-carrier shipping software like Ordoro allows you to shift carriers to meet varying demands as quickly as possible.
USPS Shipping Platforms
To be a successful, growing e-commerce business, you need to be integrated with USPS (The United States Postal Service). This government-backed shipping carrier is cost-effective, convenient and flexible. It gives a lot of options for various package sizes, weights and shapes, plus you can ship to virtually anywhere. You can also choose from different shipping options, such as First Class Mail or Priority Mail. Yet, as the cost of USPS shipping goes up, it's important to think about how to keep costs down. The right USPS shipping platforms can help with your integration and with shipping costs. Plus, these platforms can provide USPS tracking for each shipment.
Different carriers work in different ways. USPS allows businesses to use API integration. They use a Business Customer Gateway (BCG) as a business hub to help manage the high-volume shipping of businesses.
You'll find numerous options in USPS shipping software, such as Shippo, Easyship and Shyp. These USPS shipping platforms tend to offer many of the features you would want for your business, such as shipping rate calculations, the ability to track packages, a carrier connection interface and more. You'll want to compare and contrast the various features of numerous shipping software options, along with the price, to pick the best one for your needs.
Ordoro is another option for USPS shipping software. This choice is a top option for inventory management, as it automatically tracks and syncs inventory levels for your business. With this software, your business can take advantage of heavy shipping rate discounts through USPS and also switch to other integrated carriers like UPS or FedEx when the need arises. Ordoro utilizes the best rates of each carrier and the best domestic or international methods for each shipment.
Shipstation Review
Your business has different options to compare when you're ready to move beyond free shipping software and make an investment in improved features. Shipstation is one of the companies offering shipping software to e-commerce companies along with other top companies in the industry. How does Shipstation work? Like most shipping software, it includes features that allow brands to work with different carriers, to import and manage orders, to provide tracking info to customers and so on. Shipstation pricing includes a range of options at different price points, so you get different features depending on the monthly package you choose.
You could compare Shipstation reviews with those of other companies offering shipping software. Ordoro is one of the companies that is able to keep up with big brands, so you may want to compare it to Shipstation regarding the features provided with its software. Ordoro offers integrated solutions and targets e-commerce brands. Multi-carrier integration allows you to ship through USPS, FedEx, UPS or others as needed. Features of this shipping software include inventory management, automation, dropshipping, analytics and more. Like Shipstation, it offers different pricing plans to fit your needs, with flexible monthly pricing that reflects your actual use of the platform.
USPS Shipping Rates
Your e-commerce business is impacted by USPS shipping rates, along with the rates of other shipping carriers. One of the top benefits of working with premium shipping software like Ordoro is significantly discounted USPS shipping rates. Through a deep discount, your company can achieve great savings that more than make up for the cost of the shipping software.
Even without the discounts, USPS offers a cost-effective shipping method. But keep in mind that USPS shipping rates vary greatly according to the shape, size and weight of the package, as well as by different services you choose. For example, you can pay differing amounts to send the same product depending on whether you send it First Class, Priority, Media Mail or through another service. Where you send the package also impacts the pricing. Therefore, it is a good idea to use a USPS shipping calculator to gain a more precise answer to the price of shipping each package.
Shipping software like Ordoro helps in this area by integrating with USPS and other carriers. Through a central hub, your business can view and ship orders, gain discounted USPS shipping rates and create shipping labels. Ordoro can also determine when to switch between carriers for the best pricing and timing of each shipment.
Best Shipping Software
You can compare the features and benefits of various companies to find the best shipping software for your business needs. Out of the various shipping platforms available on the market, Ordoro is the best shipping software for online merchants with its features and focus on e-commerce. Ordoro is a great platform for any online store, ranging from those scaling a start-up to thriving and growing e-commerce businesses.
Digital.com named Ordoro one of its best shipping software companies of 2021. This top independent review website found it among the most reliable options for e-commerce businesses and online retailers. It carried out an extensive review of this software and others to form its assessment.
Ordoro offers many features that put it among the top shipping software options. It can give you multi-carrier shipping and multichannel integration, so you can work with different shipping carriers and apps for maximum efficiency. Through this software, you gain access to inventory management, dropshipping, kitting, pick and pack lists, automation, analytics and more.
Ordoro offers your business many benefits that come with a premium shipping platform like this. The design was created to streamline your workflow, helping you save time on your shipping process. It makes it simple to create shipping labels, to automate your process and to track shipments. Through your integrated sales channel, Ordoro automatically shares this tracking information with the customer. It even has a convenient app you can use to manage every detail of your shipping operation, including figuring out the rate, purchasing postage or adding shipping insurance. Your business gains discounts from USPS and every other carrier, giving you a great return on investment on your shipping software. By signing up for Ordoro, you gain FREE 30-day onboarding along with lifetime support.