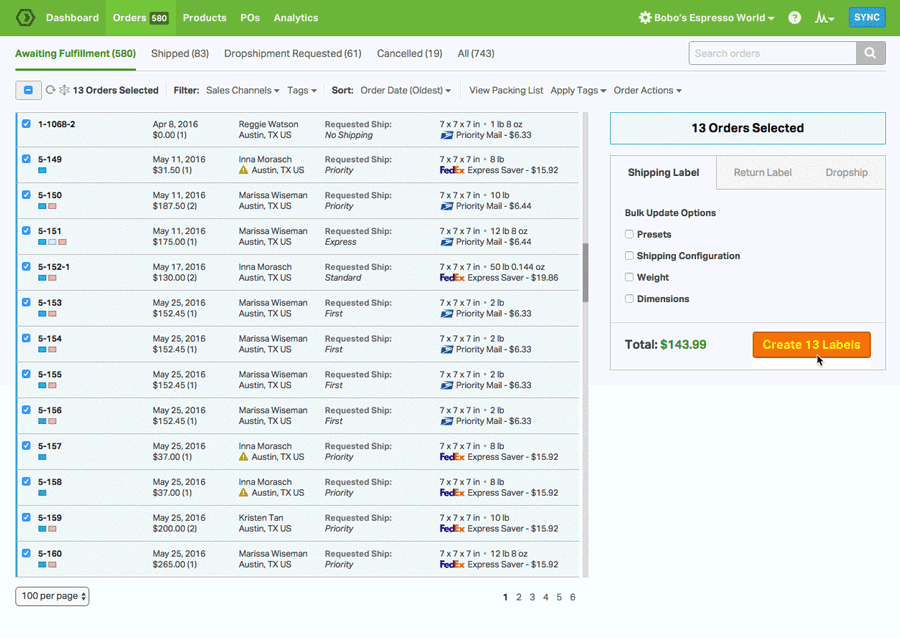 The Software That Outperforms Any Clothing Inventory Template
The All-In-One Ecommerce Logistics Platform
Equip yourself with a comprehensive solution
Inventory Management
Stock, sync, and scan.
Automatically track and sync your inventory levels
Create and send out Purchase Orders when it's time to restock
Bundle multiple SKUs into one unit for sale
Use Barcode Scanning to reduce fulfillment errors
Multi-Carrier Shipping
Your workflow, minus the work.
Enjoy heavily-discounted shipping rates via USPS
Ship via any of our integrated shipping carriers like USPS, UPS, FedEx, DHL and Canada Post
Set up your own Automation Rules and Shipping Presets
Print shipping labels in triple-digit batches or individually
Dropshipping
Truly hands-off dropshipping.
Launch a dropshipping operation in a matter of clicks
Tag any product as drop shipped and assign it to a vendor
Choose between automated or manual routing
Activate a Vendor Portal between you and your supplier
Multichannel
We're your operations hub.
Integrate and view all of your sales and supplier channels in one spot
Use our open API to hook up any third-party or custom apps
Manage every aspect of your orders
Establish Supplier Feeds for real-time, back-end communication
Barcode Generation and Scanning
Raise the bar for stocking and packing.
Create UPC barcodes for your products
Scan, set, and search UPC codes for SKUs within Ordoro
Reduce fulfillment errors with our pack and pack barcode scanning workflow
Scan received POs to automatically adjust stock levels
Don't take our word for it
Our awesome customers have shipped some really great compliments our way:
"I spent about a month thoroughly searching for the right backend fulfillment software for my eCommerce business. There were definitely some big name guys out there that I considered, but at the end of the day, I went with Ordoro and I'm so glad I did!"

Tina Yarandi
Founder/CEO of Nature's Artisan
"Ordoro continues to add immensely valuable features to an already awesome sales/warehousing/shipping platform. Using Ordoro continues to save us time and money."

Anthony Krize,
VP of GE Holiday Lighting
Clothing Inventory Template
You did your research and stuck to your business plan. It was a sound plan, and you had faith that it would succeed. The only problem is, you weren't ready for it to begin succeeding quite this soon. With orders coming in as fast as you can fill them, you're going to need some help. Preferably, that help won't want overtime pay. Many entrepreneurs who start achieving success use spreadsheets to track their inventory. There are some good reasons to enter all your inventory into a database. Spreadsheets definitely offer more advantages than pen and paper. For example, it's easier to add new rows and columns as you add new items to your product line. They also provide formulas so they can do the math for you when it's time to add up your expenses or total your bottom line. You can also access your information stored in the cloud from anywhere. There are some downsides, too, though. The first is that collecting and entering data manually is both time-consuming and prone to errors. Another is that your spreadsheet isn't able to grow as quickly as your company. Once you reach a certain level of sales, it will no longer be feasible to manually enter data unless you are prepared to hire a team of typists. Since most people starting out don't have a lot of spare cash lying around after purchasing their initial inventory, many look for apparel inventory tracking spreadsheet free offers. It's a good idea to research some clothing inventory spreadsheet examples. Not everyone has the time or is patient enough to create a clothing inventory spreadsheet from what google sheets capability offers. While you might be able to build a free t-shirt inventory spreadsheet from a t-shirt inventory template Excel offers, it's a lot more difficult if you are selling more than one type of clothing product. A free clothing inventory spreadsheet for multiple items that could be easily modified as quickly as fashions change just doesn't exist.
Excel Inventory Management
With an inventory management system, it's possible for you and everyone else in your organization to determine at a glance what you have in stock. You'll know exactly how many of each item you have and can pre-set alerts to let you know when that number falls below a certain point. You can even trigger an automated purchase order for more when it does. Having all the information you need at your fingertips is invaluable when you're making decisions about sales promotions and pricing. Excel inventory management templates cost nothing to create, except your time, which makes them an attractive alternative to many who fear that warehouse inventory management software programs are too costly. You can even summon the help of a page out of Excel for dummies if you get stuck. The same is true for creating a spreadsheet using a Google sheets inventory management spreadsheet. However, entering numbers by hand increases the chances of errors. It's also labor-intensive, which means you'll be paying more employees for more hours. Another problem is that when it comes to spreadsheets, mistakes tend to multiply and correcting one can often create another more far-reaching one. The fact that only one person can use the spreadsheet at a time can really reduce your customer response time, too. Because it wasn't designed for use as an inventory management system, it probably isn't the best long-term solution, but it can teach you a lot about the kind of features you need. When Ordoro's software engineers were doing their research for creating an integrated system designed specifically for e-commerce, some of the most requested features were those that would create labels and track shipments. Ordoro can do all that and more, as well as integrate seamlessly with all the big players in e-commerce, like eBay and Amazon.
Free Excel Inventory Template With Formulas
While it's possible to create a free Excel inventory template with formulas that can help you track your sales figures, it's not as efficient as software that provides data analytics capability. Any inventory management Excel template free download you might find online will provide only the most basic features. The same is true of what you could create using the free inventory spreadsheet template google sheets offers. With a free excel clothing inventory template, you would need to create categories and manually enter all the data. Barcode scanning capability virtually eliminates all the data entry errors that can result in your customers either receiving the wrong item or receiving it at the wrong time or it being delivered to the wrong address. It only takes typing one digit incorrectly to result in any of those scenarios. Microsoft Office offers some ready-made templates that clothing inventory spreadsheet template Excel users can track purchases with. These templates can also be used to show the value of your inventory if you create a column with a formula that multiplies stock quantity by the value of each item. However, these templates and spreadsheets become more complex and difficult to manage as your inventory expands. Stock management in Excel sheet free download can also show the full value of inventory at a glance with a column that multiplies stock quantity to give the total value of a product's inventory. As anyone in the fashion industry knows, fashions can change overnight. What is trending this week may even be the exact opposite of what was popular last week. Spreadsheets work best for items that remain the same over time. Having to create new product lists and categories every week just isn't the best use of your resources. You need all the time you can get to create sales promotions that bundle last week's popular item with what's trending this week so you don't get stuck paying higher warehouse storage fees.
Small Business Inventory Spreadsheet Template
Investing in a well integrated software system from the start is a good way to invest in your own success. It's a lot easier to manage expenses when you know exactly what they are. The problem with starting out with a small business inventory spreadsheet template free offer is that none of them are scalable. That means that just when you start to experience some success, the free inventory spreadsheet for small business is no longer free—and you are hit with an unexpected expense.
All those free trial offers, including the small business inventory template google sheets offers, can only accommodate a certain number of customers, orders, or both. There is also the question of how you define the word "free". For example, if the free retail inventory Excel template you're using costs you customers as the result of data entry errors, is it really free? No matter how many new items you purchase and need to add to your spreadsheet, the store inventory format in Excel will require you to manually enter their category names, SKU numbers, and prices. Having to pay employees overtime for data entry is anything but free. Your inventory spreadsheet is also just one element of your business. It usually doesn't take e-commerce entrepreneurs long to learn how many free offers they need to piece together a system that meets all their needs. Unfortunately, learning how software upgrades of any one of the programs they depend on can render them incompatible with the others overnight can be a costly lesson. Ordoro's engineers created their integrated system to ensure that every bit of software needed for every stage of your operation can be accessed from the same dashboard—and seamlessly integrated with multiple sales channels and suppliers. With Ordoro, every step from purchase orders to printing shipping labels and everything in between, including communicating with suppliers, barcode scanning, bundling, and drop-shipping can be accomplished from a single platform.
Simple Inventory Template Google Sheets
If your superior skills in customizing spreadsheets have gotten you this far, give yourself a round of applause. Those high-tech skills will probably come in handy no matter what integrated system you choose to invest in once your business has grown too big to be contained in a spreadsheet. With Ordoro's open API, you can even create and add your own app. However, it includes so many built-in features that computer programming doesn't have to be included in your skillset for you to profit from using it. Those features include:
Multi-channel integration to keep information flowing, maintaining consistently effective communication between sales and suppliers
Inventory tracking by setting thresholds for each of your products, ensuring that your most popular items will never be out of stock
Connecting suppliers to inventory, whether it's Fulfillment by Amazon, a dropshipper, or in your own garage
Automatically updating inventory with every sale or purchase
Keeping inventory organized for maximum efficiency to take advantage of kitting, linking, and marketing your products
Increasing workflow speed through automation
Analyzing inventory costs and sales data to make informed decisions
Utilizing multi-carrier shipping capability to take advantage of deep industry discounts and reduce shipping costs
Ordoro offers a free 30-day onboarding. Their professionals will teach you to customize every feature for maximum benefit to your specific business. The support doesn't stop once you're on board, though. Because they measure their success by yours, they provide lifetime support. That means that your system will always be on the cutting edge of technology—and maintain the highest level of security. New features will be thoroughly tested before they're rolled out, so you'll never have to experience any disruptions as your system incorporates new features. Schedule a demo today and see how the power of Ordoro can transform your small business into a bigger one.