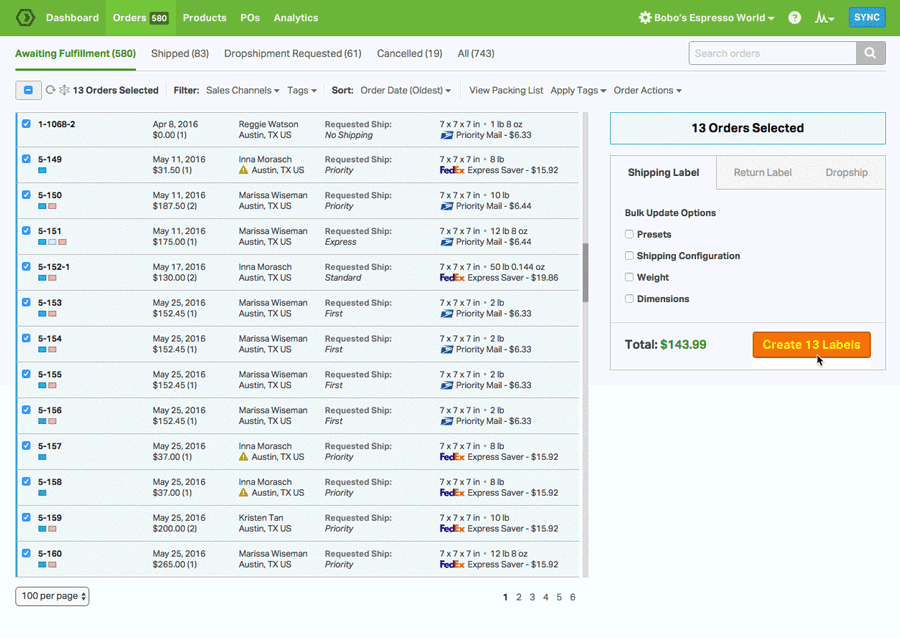 Fulfill Orders Faster with The Best Inventory Management Software
The All-In-One Ecommerce Logistics Platform
Equip yourself with a comprehensive solution
Inventory Management
Stock, sync, and scan.
Automatically track and sync your inventory levels
Create and send out Purchase Orders when it's time to restock
Bundle multiple SKUs into one unit for sale
Use Barcode Scanning to reduce fulfillment errors
Multi-Carrier Shipping
Your workflow, minus the work.
Enjoy heavily-discounted shipping rates via USPS
Ship via any of our integrated shipping carriers like USPS, UPS, FedEx, DHL and Canada Post
Set up your own Automation Rules and Shipping Presets
Print shipping labels in triple-digit batches or individually
Dropshipping
Truly hands-off dropshipping.
Launch a dropshipping operation in a matter of clicks
Tag any product as drop shipped and assign it to a vendor
Choose between automated or manual routing
Activate a Vendor Portal between you and your supplier
Multichannel
We're your operations hub.
Integrate and view all of your sales and supplier channels in one spot
Use our open API to hook up any third-party or custom apps
Manage every aspect of your orders
Establish Supplier Feeds for real-time, back-end communication
Barcode Generation and Scanning
Raise the bar for stocking and packing.
Create UPC barcodes for your products
Scan, set, and search UPC codes for SKUs within Ordoro
Reduce fulfillment errors with our pack and pack barcode scanning workflow
Scan received POs to automatically adjust stock levels
Don't take our word for it
Our awesome customers have shipped some really great compliments our way:
"I spent about a month thoroughly searching for the right backend fulfillment software for my eCommerce business. There were definitely some big name guys out there that I considered, but at the end of the day, I went with Ordoro and I'm so glad I did!"

Tina Yarandi
Founder/CEO of Nature's Artisan
"Ordoro continues to add immensely valuable features to an already awesome sales/warehousing/shipping platform. Using Ordoro continues to save us time and money."

Anthony Krize,
VP of GE Holiday Lighting
Best Inventory Management App
Some experts believe that 45 percent of all jobs could be automated using current technology. Automation allows business owners to successfully identify and pursue more opportunities. It also allows them to work more quickly and turn those opportunities into profits. There are some things that still need a personal touch. Customer service is one of them. However, when it comes to inventory management, automation can make ordering, storing, and delivering your merchandise more fast and efficient than humanly possible. Having an app to check store inventory instantly when a customer calls to ask about availability of a specific item can mean the difference between a sale and the loss of a potential repeat customer. That's not the only advantage to having a property inventory app. From a single dashboard on your computer, you can track arrivals, expiration dates, popular shopping seasons, and re-orders, as well as other data. There is some open-source software that many small businesses utilize when they're first starting out. Even the best free inventory app can't match the power and performance of a fully integrated system. There are a number of essential functions that business owners have the right to expect from any software advertised as the best inventory management app. It should track and sync your inventory levels automatically. It should enable you to bundle multiple SKUs into a single unit and use barcode scanning to reduce fulfillment errors. Finally, it should enable you to automate creating and sending out purchase orders when it's time to restock. In short, automation should make it possible to do what used to take hours, or even days, in seconds. It should free up more of your time to devote to developing and refining products and services that your customers want.
Simple Inventory Software Free
Checking out simple inventory software free is a good way to help small businesses determine which functions are most essential for them. The knowledge you can gain by taking advantage of free offers to learn by experimenting with different kinds of software can prove to be beneficial. It can also prove to be costly in terms of being time-consuming. The other disadvantage of piecing together a system using, for example, the inventory management software in excel with a free inventory app for small business, is that many free apps don't integrate well with other apps. Most also have order limits. Finally, there are few processes more prone to human error than entering long numbers and complex data into an excel spreadsheet by hand. Small businesses have more technological options available to reduce errors and costs than ever before. It's now possible to integrate and view all of your supplier and sales channels from a single computer dashboard. Not only that, but you can also connect with third-party apps through an open API or even customize your own apps. An integrated system allows you to manage every aspect of your orders, even if you decide that it's best for your business to manage your inventory off-site or in more than one location. A free inventory app for small business can help you get started, but it won't help you get very far past the starting line and into the race. Free apps just don't provide the functionality, the level of security, or the technical support businesses need to remain competitive in e-commerce today. Fully optimizing your workflows requires bulk shipping label creation capability, omni-channel inventory management, and increasingly, automated drop-shipping as well. Ordoro provides all of that, and more, in a seamlessly integrated system.
Stock And Inventory App
Experts may disagree about which stock and inventory app for pc is the best. It's not difficult to find a stock count app. There are plenty of them out there to choose from. There are a few things that experts all agree on, though. One of those things is that a good inventory management app reduces costs and increases profits. There's a good chance that after you learn what EOQ calculation is, you'll want software that can calculate it for you. (EOQ stands for economic order quantity.) Knowing the cost of storing your products versus the cost of ordering them allows you to accurately compare your stock level and your cash flow and make the best possible decisions. Every business owner should do a little research to determine what stock and inventory app for pc would be best for their particular type of small business. However, there are some features that should be non-negotiable. One of those features is that it should be able to integrate with your POS (point-of-sale) system. That integration allows you to automatically update your stock numbers in real time. That means you'll never disappoint a customer by running out of a popular item or buy too large a quantity of an item that isn't selling well. The best free inventory app for small business may not be the best inventory app for e-commerce. In fact, it's difficult to find a stock and inventory app for pc free download that is created specifically for e-commerce. One reason for that is that free downloads can't provide the level of security necessary to ensure that your customers' personal information is never compromised. Security is another feature of a good inventory management system that should be non-negotiable.
Barcode Scanner For Inventory
Did you know that a computer can remember a human face more accurately than a human can? On the list of things that computers are better at than humans, reading bar codes is right up there near the top. Investing in an inventory app with barcode scanner capabilities is like giving yourself permission to succeed. There is a lot of expert advice out there about the importance of using a barcode scanner for inventory. Here are a few of the advantages. A barcode system requires less employee training time. It also requires less employee data entry time. The less time your employees have to spend on repetitive tasks like data entry, the more time they have to spend learning what customers want and increasing customer satisfaction. There is a greater risk of errors when employees type long numbers into a spreadsheet by hand than when numbers are scanned and entered automatically. Barcodes provide more accurate data and reduce shipping errors as well as data entry errors. Too often, one error can begin a chain reaction. If an inventory number is incorrect, you could order the wrong item and run out of the right one. A shipping error could result in a customer receiving the wrong item. While to err is human, it can also be costly, especially if it costs you a potential life-long customer. Barcodes are inexpensive to design and print. Even if you've never dealt with a barcode in your life, there are some great step-by-step tutorials that can teach you everything from what a barcode is to how to implement a barcode system for inventory. Automating everything that computers are better at than humans helps keep your humans' time free for what they do best.
Best Way To Keep Track Of Inventory
Having a good sales and inventory app has become essential for people who want their businesses to grow. When your customers call, they want to speak with a human being. Ideally, that human being should be one that can sympathize with how they are feeling and offer solutions for whatever issue they are calling about. Most consumers agree that computer automation fails miserably in this department. However, that hasn't stopped companies that consider themselves too big to fail from using it. That's one reason so many more customers are supporting smaller online businesses. Automation is enabling small businesses not just to compete against multinational corporations, but to compete and win. Being able to manage your inventory accurately to control costs and maximize profits is essential. The best way to keep track of inventory is to integrate automation into every aspect of your business. Ordoro offers free 30-day onboarding to show you exactly how to do that. With functions including multi-carrier shipping, multi-channel integration, and inventory management, it has proven to be the best inventory app for small business for many people. Streamlining processes, reducing costs, and increasing customer satisfaction will enable your business to continue to grow. Because Ordoro's integrated features are fully scalable, you won't be penalized by having to find and learn a new system when you succeed. No matter what kind of online store you have or how many, whether you have one warehouse location or several, Ordoro can give you the ability to view and control your entire operation from a single dashboard. Their advanced data analytics functions can help you identify new markets and invest your time and capital where they are most effective. Lifetime support ensures that both your software system and its security features are always up to date. Automation gives you the time to think of a more creative idea for your next sales campaign than a computer could possibly imagine.