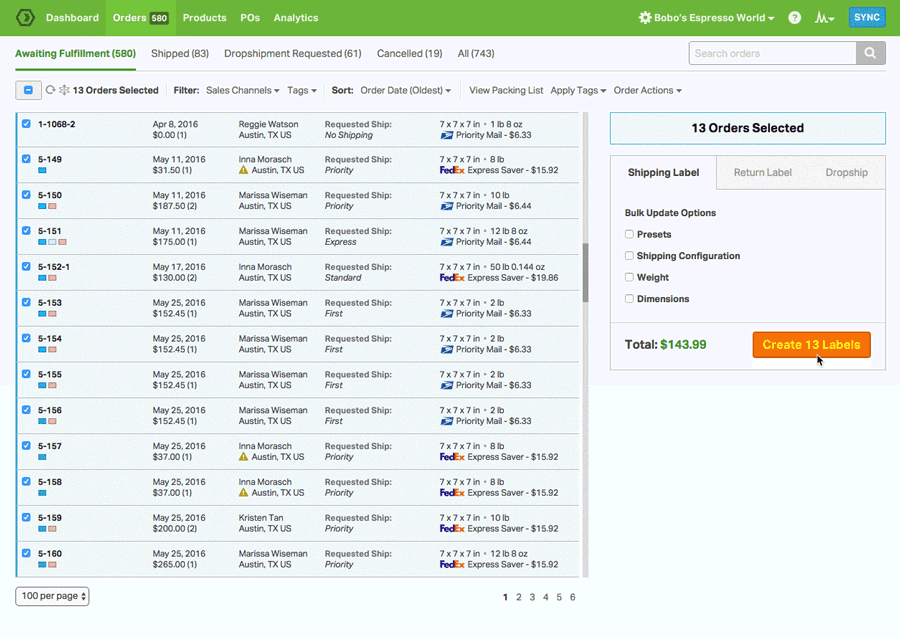 Discover The Best Clothing Inventory Management Software
The All-In-One Ecommerce Logistics Platform
Equip yourself with a comprehensive solution
Inventory Management
Stock, sync, and scan.
Automatically track and sync your inventory levels
Create and send out Purchase Orders when it's time to restock
Bundle multiple SKUs into one unit for sale
Use Barcode Scanning to reduce fulfillment errors
Multi-Carrier Shipping
Your workflow, minus the work.
Enjoy heavily-discounted shipping rates via USPS
Ship via any of our integrated shipping carriers like USPS, UPS, FedEx, DHL and Canada Post
Set up your own Automation Rules and Shipping Presets
Print shipping labels in triple-digit batches or individually
Dropshipping
Truly hands-off dropshipping.
Launch a dropshipping operation in a matter of clicks
Tag any product as drop shipped and assign it to a vendor
Choose between automated or manual routing
Activate a Vendor Portal between you and your supplier
Multichannel
We're your operations hub.
Integrate and view all of your sales and supplier channels in one spot
Use our open API to hook up any third-party or custom apps
Manage every aspect of your orders
Establish Supplier Feeds for real-time, back-end communication
Barcode Generation and Scanning
Raise the bar for stocking and packing.
Create UPC barcodes for your products
Scan, set, and search UPC codes for SKUs within Ordoro
Reduce fulfillment errors with our pack and pack barcode scanning workflow
Scan received POs to automatically adjust stock levels
Don't take our word for it
Our awesome customers have shipped some really great compliments our way:
"I spent about a month thoroughly searching for the right backend fulfillment software for my eCommerce business. There were definitely some big name guys out there that I considered, but at the end of the day, I went with Ordoro and I'm so glad I did!"

Tina Yarandi
Founder/CEO of Nature's Artisan
"Ordoro continues to add immensely valuable features to an already awesome sales/warehousing/shipping platform. Using Ordoro continues to save us time and money."

Anthony Krize,
VP of GE Holiday Lighting
Clothing Inventory Management
When it comes to the ever-changing fashion industry, the importance of clothing inventory management can't be overemphasized. No matter what size your business is, inventory management can be a challenge. You need to know exactly how many of each item you have, exactly where each item is, and how much it will cost for you to ship it from that location to your customer. Good inventory management can save you money in a few different ways. More importantly, it can also save you from having to sell fashion items that you paid top dollar for, and which are no longer trending, at bargain-basement prices. Reducing storage costs is another way it can save you money. Anything that reduces your storage and insurance costs can be considered part of a winning strategy. Data analytics is more important in the retail fashion industry than in other types of businesses because accurate forecasting based on current sales data for specific items can mean the difference between a wildly profitable sales promotion and a total flop. In the world of fashion, being able to spot and predict trends is everything. Being able to determine what your top-selling items are at any given moment is essential. A good inventory management system for an ecommerce business should provide all those features, as well as provide multi-channel capability. The more storefronts, warehouse locations, and shipping carriers you're able to plug into and control from one dashboard, the more you'll be able to save on shipping costs—and the faster you're able to get items to your customers. If you're still new to e-commerce, you might be experimenting with different free offers before investing in a long-term software solution. Experimentation is a great learning tool, and you've probably learned a lot already. However, when experimenting, it's wise to proceed with caution.
Excel Inventory Template
Templates can be real-time-savers sometimes, but in the rapidly changing fashion industry, they can also cost you time—and money. One reason for that is that a clothing business inventory Excel template requires manual data entry. Even if you have the fastest, most accurate data entry specialist in your area, manual data entry is still labor-intensive, time-consuming, and error-prone. That means that it costs you money in more ways than one. You don't just pay more in employee wages and potential overtime. You also have to pay for extra shipping costs to deal with returns as the result of fulfillment errors. Then there are the deep discounts and special offers that business owners offer to apologize for errors in order to keep the customers they've worked so hard to cultivate. More than one business has gone under as the result of the high cost of resolving too many customer complaints. While it may be tempting for a new business to take advantage of a free Excel clothing inventory template, any clothing inventory template requires a degree of customization to be useful. The Excel inventory template is no exception. The level of clothing inventory management excel spreadsheets provides can't compare, or compete with, the level provided by the kinds of ecommerce software available today. Ordoro, rated as the best inventory management software for ecommerce, was designed specifically to allow online retailers to move up to the next level from the clothing inventory management Excel spreadsheets are capable of providing. Once you view a demo of what Ordoro can do, you'll never be satisfied with using a clothing spreadsheet again. Ordoro's scanning capability alone can virtually eliminate the manual data entry errors that are impossible to avoid using the retail clothing inventory template Excel advertises as "free" of charge. Fulfillment errors are actually anything but free.
Free Inventory Management App
It's not difficult to find free inventory software for small business owners. If you prefer mobile apps, you can find a free inventory app for small business owners pretty easily, too. It's just a matter of typing in the right kind of query, like "best free inventory management software" or "best free inventory app for small business." Once you do, be prepared to sift through a lot of results. There are some good reasons to take advantage of one or two of the clothing inventory management software free trial offers. One good reason is to see what kinds of functions are available. Another is to determine which functions your business would benefit from the most. Ideally, you want to find which software systems include all the features you need, but won't have you paying extra for features that you don't need or never use. Although there are advantages to trying out the latest free clothing inventory management app, it's wise to remember to read the fine print. That's where you'll find that the software only remains free to use up to a certain number of customers, orders, or both. The problem with that is that just when you start to achieve some success, you're hit with unexpected expenses and either has to continue to pay for an app that may not be right for you or learn an entirely new system overnight. Neither of those options are ideal. That's why once you've got a good idea of what features you need by trying out simple inventory free software, it's a good idea to go with a fully integrated system for a set price within your budget to avoid surprises. Besides providing the level of security you need to protect your customers' personal information, Ordoro is fully scalable, so there are no artificial limits placed on the growth of your business.
Clothing Inventory Management Software
The best clothing inventory management software is software that's part of an integrated system with features that address every aspect of your ecommerce business. Even the best clothing inventory app can't compete with Ordoro's multi-channel capability. It allows you to plug in multiple storefronts, suppliers, and shipping carriers and connect them all to the same inventory—even if that inventory is stored in multiple locations. Rather than manually entering data, scanning capability makes it possible to automatically adjust your inventory with every sale or purchase. It also makes it possible for you to have a greater number of ways to market and sell your products. Customers love sales promotions, and the ability to kit and bundle items together allows you to create multiple ways to move stored merchandise that will increase your customers' audience participation factor. Ordoro even includes dropshipping capability for products that you don't want to store at all. That's something that no mere clothing inventory management app can offer. In addition to unifying your inventory, Ordoro also allows you to link your products by brand and sell the same product on multiple channels using multiple product descriptions. Customers love storefronts customized to their personal tastes. No stand-alone clothing inventory app can compare to the level of communication with your suppliers that Ordoro makes possible, either. You can put the vital information you get from Ordoro's data analytics immediately into action to reduce inventory costs. Being able to determine your best and worst selling items at a glance allows you to restock your most popular items while phasing out those that are costing you money. You can set a low inventory threshold for popular products and receive an alert when that quantity is reached so you'll never have to worry about an item being out of stock.
Apparel Software For Small Business
Once you and your business are ready to level up from spreadsheets and free offers and invest in future long-term success, the next step is to schedule a demo. It's always a good idea to see a software system in action—and in the context of your specific business—before making a decision. Designed specifically for e-commerce, Ordoro is one of the few software systems powerful and versatile enough to handle the ever-changing world of fashion. Even better, it's an all-in-one solution, which means that you'll never have to worry about potential incompatibility between any of the essential moving parts of your operation. It automates your behind-the-scenes processes from beginning to end and allows you to control your entire operation from a single dashboard. From creating purchase orders for merchandise to scanning it into inventory to printing shipping labels once it's been sold, you're covered every step of the way. Ordoro was also designed to integrate seamlessly with all the big players in e-commerce, like Shopify, Amazon, and eBay. They offer a FREE 30-day onboarding, so their professionals can show you how to use every one of their features, including how to customize automation rules, to reflect your personal priorities while maximizing your profits. If you're like most people, you don't realize or utilize even a fraction of what your own personal computer can do. That's why the professionals at Ordoro provide lifetime support to make sure you're able to fully harness its power. They also make sure that every new technological advance, upgrade, and security measure is fully tested before being incorporated. That allows you to stay on the cutting edge without ever having to learn a new system. If you're in it to win it, Ordoro can give you more time to spend cultivating new customers and finding new ways to enjoy your success.