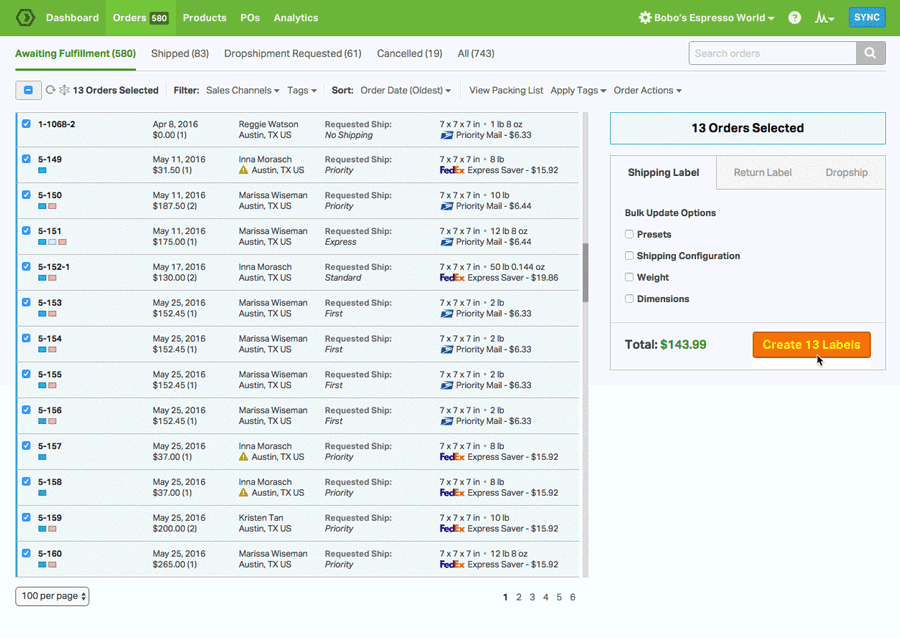 Discover The Easiest E Commerce Automotive Software On The Market
The All-In-One Ecommerce Logistics Platform
Equip yourself with a comprehensive solution
Inventory Management
Stock, sync, and scan.
Automatically track and sync your inventory levels
Create and send out Purchase Orders when it's time to restock
Bundle multiple SKUs into one unit for sale
Use Barcode Scanning to reduce fulfillment errors
Multi-Carrier Shipping
Your workflow, minus the work.
Enjoy heavily-discounted shipping rates via USPS
Ship via any of our integrated shipping carriers like USPS, UPS, FedEx, DHL and Canada Post
Set up your own Automation Rules and Shipping Presets
Print shipping labels in triple-digit batches or individually
Dropshipping
Truly hands-off dropshipping.
Launch a dropshipping operation in a matter of clicks
Tag any product as drop shipped and assign it to a vendor
Choose between automated or manual routing
Activate a Vendor Portal between you and your supplier
Multichannel
We're your operations hub.
Integrate and view all of your sales and supplier channels in one spot
Use our open API to hook up any third-party or custom apps
Manage every aspect of your orders
Establish Supplier Feeds for real-time, back-end communication
Barcode Generation and Scanning
Raise the bar for stocking and packing.
Create UPC barcodes for your products
Scan, set, and search UPC codes for SKUs within Ordoro
Reduce fulfillment errors with our pack and pack barcode scanning workflow
Scan received POs to automatically adjust stock levels
Don't take our word for it
Our awesome customers have shipped some really great compliments our way:
"I spent about a month thoroughly searching for the right backend fulfillment software for my eCommerce business. There were definitely some big name guys out there that I considered, but at the end of the day, I went with Ordoro and I'm so glad I did!"

Tina Yarandi
Founder/CEO of Nature's Artisan
"Ordoro continues to add immensely valuable features to an already awesome sales/warehousing/shipping platform. Using Ordoro continues to save us time and money."

Anthony Krize,
VP of GE Holiday Lighting
E Commerce Automotive
The automotive industry is relying on ecommerce selling methods more than ever. This side of the industry is really taking off, with projections of $132.75 billion in the global e-commerce automotive aftermarket by the year 2028. This is a significant increase from 42.5 billion in 2020. This estimate focuses on auto parts that can be sold online, including engine, electrical, drive transmission, steering, braking, and suspension parts. This market allows consumers to purchase parts for their cars directly, and for service businesses to purchase them as well.
Yet the e-commerce automotive industry goes beyond parts for cars to also include the automobiles themselves. Trends in the industry show that U.S. car sales have significantly dropped over the last couple of decades, yet the e-commerce automotive sector has shown positive news with online car sales going up nearly 100 percent since 2010. Now, people can search and compare vehicles online instead of browsing in person at a dealership. They can even get pricing online and purchase the vehicle through ecommerce channels. Then, only certain aspects need to be taken care of in person.
These automotive e-commerce trends may be the future of automotive industry in the world. This may not be bad news, as online car shopping trends offer many benefits. Car sellers can create a more streamlined and consistent system that is less reliant on salesperson variations. They can also reach more customers. This method actually helps sellers cut costs and develop new revenue streams. Buyers experience benefits as well, as searching for and purchasing an automobile becomes more convenient and easier. They can search from a wider base and have a personalized experience that improves the process. Also, this method doesn't require dealing with car salespeople. Nobody wants to do that, right?
Automotive Parts Ecommerce
Between fewer people buying new cars and a time in society when most are looking to save money, a lot of people will be keeping the cars they have and needing to keep them in good working order. This means that they'll be looking to automotive parts ecommerce stores to conveniently purchase parts that are shipped to their doors. Between necessity and the abundance of how-to online content that can teach you how to fix your car, people will increasingly be looking to purchase parts and do it themselves.
We're already seeing this trend through increased sales in aftermarket auto parts ecommerce. This area has already been growing, and professional predictions forecast continuous growth. These trends have opened up a whole e commerce spare parts industry of businesses getting in on the action of selling these parts to consumers for maintenance and repairs. This industry involves setting up an auto parts ecommerce website where you have listings of spare parts. A business model can involve sourcing and selling the parts from your own stock or using dropshipping where a third-party business sends the items to the customer when your website makes a sale.
Once you have your ecommerce + spare parts business up, running and making sales, you can grow it from there to be part of the future of auto parts industry. You can use software like Ordoro to track inventory and learn the best and worst selling items, directing the way forward for your business. This software helps ecommerce businesses streamline their operations so processes become automated. This is the way to grow. For instance, you no longer use a spreadsheet and manually track orders. To reach the big time, you need software like this that automatically tracks orders and inventory. It can also help with your shipping processes and methods that can increase sales, such as kitting (bundling products together).
Automotive Ecommerce Websites
The main part of running an ecommerce automotive business is having a successful website. Your website needs to be set up to make sales, and you should consider factors like automotive parts website design and user experience. A good way to get started is to look at successful automotive ecommerce websites to see what they're doing, how they work and what they look like. Do some seem better than others? Why?
You have various options for starting and running automotive parts websites. You could go through an ecommerce platform and create a Magento automotive or BigCommerce automotive website, for example. You could sell through eBay or Amazon's marketplace. Ecommerce platforms can help you with an auto parts website template or auto parts website builder to make it easy for you to get started, even if you don't have much experience in websites. Alternatively, you could create your own website with your own domain, hiring experts to help you set it up if needed. With an ecommerce business, you can sell directly to consumers or choose an auto parts B2B website that sells to other businesses like automotive service shops.
Look at some of the most successful automotive parts selling websites to get an idea of what works. These also show how specialized a site like this can be, which might help guide your direction. For example, enjukuracing.com sells aftermarket parts specifically for Nissan and a few other automotive manufacturers. BBwheelsonline.com focuses on selling wheels, tires, and rims. Brocksperformance.com specializes in fast motorcycle parts. Some other sites to check out include CruiseMaster, Spindle-Source, Indianapolis Motor Speedway, and ones you Google search that is similar to what you think you might specialize in. Keep in mind that these brands aren't only good for their specializations but for their great user experiences and sites focused on selling and revenue. Once you have a good site, build it through strategies like social media, brand awareness, and email lists.
Parts Connection
When you start an automotive ecommerce website, you can become a parts connection between your supply sources and those who need the parts. There are different types of companies like this out there, such as an auto parts fitment database like the company called Parts Connect. This company helps auto parts sellers like you're considering becoming. This company helps ecommerce businesses manage their product fitment on their website or ecommerce platform. For instance, they provide an ecommerce for parts connect tool that helps your customers find the right parts based on the specific automobile they have.
Then, you have companies, such as the one called Parts Connection, that help supply replacement parts. Parts Connection specializes by only offering branded Didde replacement parts. The website includes a catalog to find and purchase the specific parts you are looking for.
You could seek out various parts connection companies to fit your needs or you could become a parts connect type of company yourself. You may need to work with this type of business to gain supplies that you will then sell to customers. Or, you could provide the connections as your ecommerce automotive business. You have options available to you when you set up an ecommerce business or sell on an ecommerce marketplace within this industry.
Like the company Parts Connection, you could create a very specialized type of ecommerce business if you choose to do so. You could follow the path of this company and stick to a specific brand. Otherwise, you could focus on certain types of vehicles or some other specialty. Other options are to offer rush parts connect, business-to-business parts or parts to specific areas of the world. Looking at examples like these companies can help you get a better idea of what you want to do and can also show you companies that might be helpful to partner with for your business.
Auto Parts Ecommerce Software
Once you figure out the type of automotive ecommerce business you plan to run and you get started, using the right software can help you streamline and grow your business. Ordoro offers auto parts ecommerce software that you can use to run this specific type of business. Ordoro is the best option available for online merchants looking for ecommerce software. It works great for any type of online store, including those selling automotive parts.
Whether you have your own website or you're selling through an automotive e commerce market place, your business can use Ordoro software to help you carry out your business processes. When people start businesses, they always focus on what they will sell and why, but once they get started, the business operations can become overwhelming and confusing. Many people end up feeling like this isn't what they signed up for. But software like Ordoro helps you work out those processes like inventory and shipping so everything becomes easy and automated. It can also help your business keep up as you grow, allowing you to scale up in time.
Ordoro fits a range of businesses, from those that are already large and thriving to those that are just getting started but looking to grow. Ordoro helps your business integrate multiple sales channels. With it, you can seamlessly manage automotive inventory. You can easily kit automotive products, create pick and pack lists, automate systems and more. And Ordoro helps with your shipping processes, even if they become largescale. You can use Ordoro to ship from your own warehouse(s) or use it for dropshipping. You can utilize multi-carrier shipping, and Ordoro will help you shift between different carriers to find the best rates and options for each sale. Ordoro offers free 30-day onboarding for you to get started, and then lifetime support. Please schedule a demo to learn more.