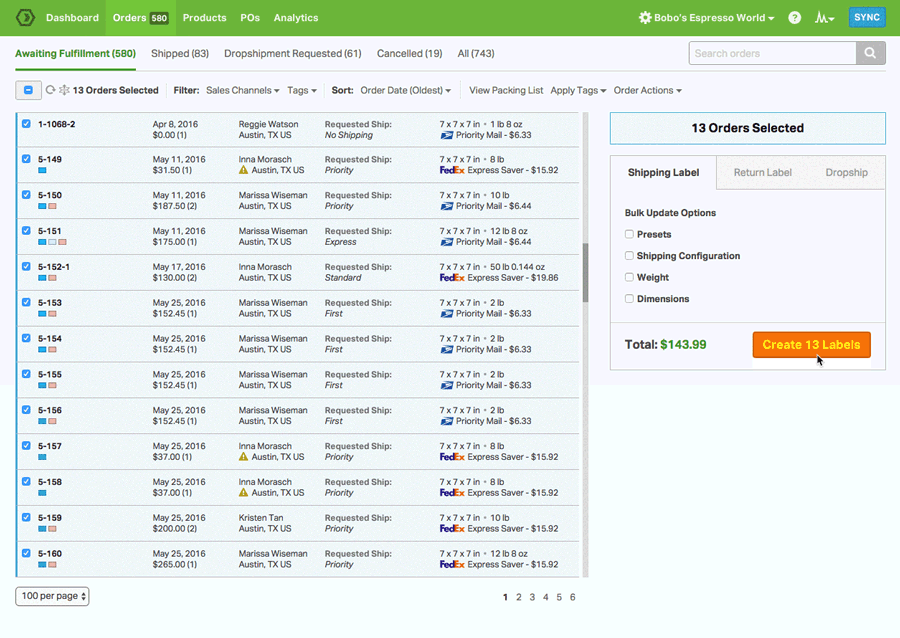 Discover The Best Auto Parts Ecommerce Software On The Market
The All-In-One Ecommerce Logistics Platform
Equip yourself with a comprehensive solution
Inventory Management
Stock, sync, and scan.
Automatically track and sync your inventory levels
Create and send out Purchase Orders when it's time to restock
Bundle multiple SKUs into one unit for sale
Use Barcode Scanning to reduce fulfillment errors
Multi-Carrier Shipping
Your workflow, minus the work.
Enjoy heavily-discounted shipping rates via USPS
Ship via any of our integrated shipping carriers like USPS, UPS, FedEx, DHL and Canada Post
Set up your own Automation Rules and Shipping Presets
Print shipping labels in triple-digit batches or individually
Dropshipping
Truly hands-off dropshipping.
Launch a dropshipping operation in a matter of clicks
Tag any product as drop shipped and assign it to a vendor
Choose between automated or manual routing
Activate a Vendor Portal between you and your supplier
Multichannel
We're your operations hub.
Integrate and view all of your sales and supplier channels in one spot
Use our open API to hook up any third-party or custom apps
Manage every aspect of your orders
Establish Supplier Feeds for real-time, back-end communication
Barcode Generation and Scanning
Raise the bar for stocking and packing.
Create UPC barcodes for your products
Scan, set, and search UPC codes for SKUs within Ordoro
Reduce fulfillment errors with our pack and pack barcode scanning workflow
Scan received POs to automatically adjust stock levels
Don't take our word for it
Our awesome customers have shipped some really great compliments our way:
"I spent about a month thoroughly searching for the right backend fulfillment software for my eCommerce business. There were definitely some big name guys out there that I considered, but at the end of the day, I went with Ordoro and I'm so glad I did!"

Tina Yarandi
Founder/CEO of Nature's Artisan
"Ordoro continues to add immensely valuable features to an already awesome sales/warehousing/shipping platform. Using Ordoro continues to save us time and money."

Anthony Krize,
VP of GE Holiday Lighting
Auto Parts Ecommerce
2020 was a very good year for auto parts e-commerce entrepreneurs. One online auto parts company reported a 28% increase in sales from 2019 to 2020. In real dollars, that was expressed as an increase from $328 million to $421 million. That's a lot of growth in one year. Partially due to the pandemic, the e-commerce automotive industry as a whole has grown as new car sales numbers have decreased. Sales fell substantially from 2019 to 2020. While sales increased a little in 2020, they remained well below pre-2019 levels. The auto parts companies that invested in scalable software solutions were the most prepared to take advantage of that surge in sales. Those who weren't may not have fared as well. As the pandemic continues and more two-income households continue to become one-income households, current automotive e-commerce trends promise to continue. Rather than buying a new car, more people will be shopping online for new and used parts for the cars they already have. But wait, there's more! Since Amazon entered the auto parts business with some major suppliers, they've been able to reduce the cost of auto parts by an average of 23%. Those savings are partly the result of not having to bear the expense of maintaining brick and mortar storefronts. They're also partly the result of a combination of automation and smart inventory management. While many people still haven't yet made the transition to shopping online for their car maintenance and repair needs, the number who has continues to grow exponentially. So have the number of do-it-yourself minor car repair videos on YouTube! Increasingly, people are utilizing a combination of e-commerce and educational online content to save money by doing simple maintenance and repairs themselves.
Automotive Ecommerce Websites
If you're thinking of striking while the iron is hot and getting into the automotive parts e-commerce business, you're going to need an auto parts e-commerce website. Looking at some of the most successful automotive e-commerce websites online is a good way to get some ideas about your own automotive parts website design. If you need more incentive, consider that eBay reported a 38.5% increase in sales from automotive parts e-commerce from 2019 to 2020. In addition to eBay, there are a number of other online platforms. For example, you could build a BigCommerce automotive website. One of the advantages of going with a big name in e-commerce is that you don't have to re-invent the wheel. They provide templates and you can probably even find an auto parts website template you can use. While templates make it easy, many people prefer to use an automotive parts website builder that allows them to customize the site and add their own apps. If you want to stand out from the crowd, investing in an integrated e-commerce software system that provides an open API for you to do that is a good idea. Here is a list of some of the most successful online automotive shopping websites. E-commerce parts websites have the same moving parts that other types of websites have, but inventory is another matter. For this type of business, having great inventory management software is essential. An error committed while manually entering a part number could prove disastrous as well as costly. Ordoro's barcode scanning capability virtually eliminates those kinds of data entry errors as well as makes it possible for your inventory to be automatically adjusted with every sale or purchase. Because people depend on their cars to get them safely where they need to go, the auto parts business requires a higher degree of data accuracy than some other types of business.
Best App To Sell Car Parts
People have their own personal preferences and may disagree on exactly which app is the best app to sell car parts. What someone considers "best" also depends on the type of product they're selling. If you're planning on selling used car parts on Amazon, you might need a different app than if you're selling in a different type of auto parts marketplace. However, enough of them agree to be able to compile a shortlist of the best four channels for car part sales. That list starts with your own website, followed by eBay and Amazon, and ends with a combination of all three. Multi-channel capability is essential in this business. According to recent market research some of the best car parts to sell online include accessories like:
Car Digital Video Recorders (Car DVR)
GPS tracke
Windscreen sunshade
Battery chargers
Headlights and taillights
Smart locks
Car rims
Side mirrors
Even though they're not driving new cars, people take pride in their vehicles and want their appearance to reflect that, so it comes as no surprise that attractive accessories have become top sellers. Some of the top-selling internal parts include:
Air filters
Air conditioning compressors and control system
Cylinder heads
Braking system parts
Mufflers
Fuel pumps and filters
Spark plugs and wires
Alternators
Experts in the field suggest that, in addition to knowing what the top-selling items are, you ask yourself whether there is an unmet need in the market that could provide a niche for you to fill. Another suggestion is that you conduct some market research to identify the ideal target market for the specific items you want to sell. Once you're up and running, having data analytics capability can help you accurately determine which and how many e commerce spare parts to keep in inventory and which to back-order to maximize your cash flow.
Future of Auto Parts Industry
Experts predict that the future of the auto parts industry will see continued, sustainable growth. 2022 promises to be another stellar year for those in the e-commerce auto parts industry. Once you've learned what the most sellable auto parts are, you'll need to learn how to source car parts. It would be great if you could find an already successful online auto parts business for sale, but that isn't very likely. To build one, you'll need all the help modern technology can provide. The good news is that there are software systems like Ordoro that are designed specifically for e-commerce. Ordoro can't teach you how to sell car parts online. To take full advantage of the current shift towards sustainability, you'll have to do some extensive research on how to sell aftermarket car parts. There are a number of useful tutorials available online for that very purpose. What Ordoro can do is help you implement your research and flawlessly execute your plan of action. With omnichannel capability, you can connect with multiple suppliers to compare and take advantage of the best prices. Cost comparisons and multi-carrier shipping capability with deep industry discounts can save you a bundle on shipping costs, which is by far the biggest expense in e-commerce. Inventory management tools allow you to automatically adjust your inventory as well as store your merchandise in multiple locations for lower shipping fees and faster delivery to your customers. Add kitting, bundling and pick and pack capability to being able to print shipping labels either in bulk or individually, and you've got a complete system that streamlines every one of your business processes for maximum efficiency. Best of all, it keeps working 24/7 with no need to pay over time.
Auto Parts Ecommerce Software
Order processing and inventory management are two of the most important elements in the online auto parts business. The best auto parts e-commerce software will not only automate those processes but offer data analytics that will allow you to spot and respond to automotive e-commerce trends. Perhaps even more importantly, it should be scalable to accommodate rapid growth. Since the rapid automotive e-commerce growth during both 2020 and 2021 promises to continue into 2022, it's wise to plan for growth right from the start. Ordoro's small group of dedicated professionals listened to small business owners talk about what features they needed most to succeed. Then they used what they heard to create a comprehensive system that included all those features and more. With Ordoro, you'll have the same capabilities as much bigger players, but at a fraction of the cost. For over a decade, satisfied customers have appreciated the lifetime service they provide. They know that software engineers are keeping their software systems both technologically cutting-edge and secure. Scheduling a demo is a great way to see what the power of Ordoro can do for yourself. During the free 30-day onboarding they offer, they show you how to harness that power for your specific business. You'll be able to set automation rules that reflect your priorities for every step of the sales process. Receiving alerts when stock falls below a certain level and automatically generating purchase orders all make your life easier. The feature that customers love the most is being able to control every aspect of their business from a single dashboard. Whether it's communicating with suppliers, checking stock levels in multiple warehouses, or processing customer orders from more than one storefront, Ordoro is command central. When it comes to moving towards sustainability, Ordoro can put you on the fast track.