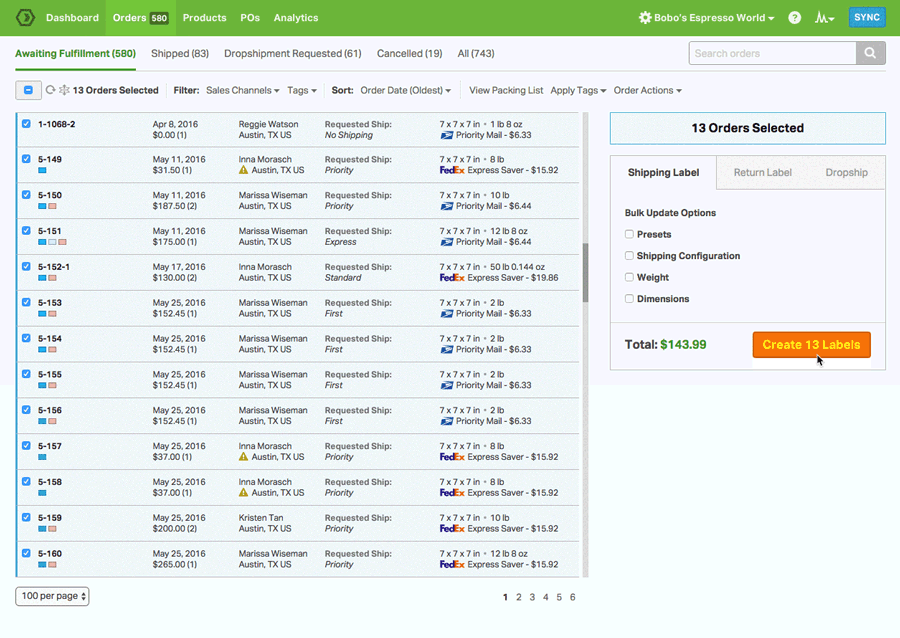 The All-In-One Best Ecommerce Platform For Startups
The All-In-One Ecommerce Logistics Platform
Equip yourself with a comprehensive solution
Inventory Management
Stock, sync, and scan.
Automatically track and sync your inventory levels
Create and send out Purchase Orders when it's time to restock
Bundle multiple SKUs into one unit for sale
Use Barcode Scanning to reduce fulfillment errors
Multi-Carrier Shipping
Your workflow, minus the work.
Enjoy heavily-discounted shipping rates via USPS
Ship via any of our integrated shipping carriers like USPS, UPS, FedEx, DHL and Canada Post
Set up your own Automation Rules and Shipping Presets
Print shipping labels in triple-digit batches or individually
Dropshipping
Truly hands-off dropshipping.
Launch a dropshipping operation in a matter of clicks
Tag any product as drop shipped and assign it to a vendor
Choose between automated or manual routing
Activate a Vendor Portal between you and your supplier
Multichannel
We're your operations hub.
Integrate and view all of your sales and supplier channels in one spot
Use our open API to hook up any third-party or custom apps
Manage every aspect of your orders
Establish Supplier Feeds for real-time, back-end communication
Barcode Generation and Scanning
Raise the bar for stocking and packing.
Create UPC barcodes for your products
Scan, set, and search UPC codes for SKUs within Ordoro
Reduce fulfillment errors with our pack and pack barcode scanning workflow
Scan received POs to automatically adjust stock levels
Don't take our word for it
Our awesome customers have shipped some really great compliments our way:
"I spent about a month thoroughly searching for the right backend fulfillment software for my eCommerce business. There were definitely some big name guys out there that I considered, but at the end of the day, I went with Ordoro and I'm so glad I did!"

Tina Yarandi
Founder/CEO of Nature's Artisan
"Ordoro continues to add immensely valuable features to an already awesome sales/warehousing/shipping platform. Using Ordoro continues to save us time and money."

Anthony Krize,
VP of GE Holiday Lighting
Best Ecommerce Platform for Startups
When you're first starting out in ecommerce, there's so much to learn that it can almost feel overwhelming. Where to begin? You have a product and a dream – and that's about it right now. You know that your product needs to get out there online in front of as many potential buyers as possible, but what steps do you need to take to do that? What are the tasks needed to be performed to get your new online business off to a great start and turn it into a real ecommerce website?
There are a lot of ecommerce sites out there – some of which may already carry products similar to yours. Competition exists – and that's actually a good thing because it means there's a market for what you want to sell! That's the good news. Those websites are part of an ecommerce platform of one type or another, some more successful than others.
So, which is the best ecommerce platform for startups? That depends on a lot of factors, including what kinds of features it offers, whether basic or with all the bells and whistles. What features do you really need when just starting out and what others would be nice but not really necessary right now?
How do you plan to ship your products? Have you considered dropshipping? Will you need a special kind of shipping or dropshipping software to help manage shipping tasks? To make things easier for you, Ordoro is a leader in dropshipping software, as well as offers other inventory management solutions,
And, you will have inventory to deal with: storage, purchasing, vendors and suppliers, shipping carriers, tracking orders once sent out to customers – the list goes on. Wouldn't it be nice to be able to manage all of that from just one source, such as with Ordoro's inventory management ecommerce software solutions and other ecommerce platform capabilities?
Ecommerce Platforms Free
Yes, we know your budget can be limited – that's true of most startups. When choosing the best free ecommerce platform for small business, you may be tempted to consider platforms such as Excel. It's free, and does a respectable job of managing inventory – up to a point. The thing is, "omnichannel" is today's catchword, and that's where ecommerce platforms free of charge, like Excel, are at a disadvantage. Here's why:
First, software and spreadsheet programs like Excel have to have your product and other data manually entered into the spreadsheet cells, and must be constantly updated as changes, such as order fulfillment, occur. That takes an awful lot of time. And of course, there's the constant chance of error in entering data. One wrong digit or decimal point and you could lose valuable sales business.
Instead of taking chances with free or low-cost products, why not go with a software leader of the best ecommerce of 2021: Ordoro.com. Ordoro is so easy to use, with plug-ins, including handy Vendor Portals and other tools developed for handling your business's specialized tasks. You might be surprised just how affordable the array of services is.
For example, take a look at Ordoro's very affordable Express Plan:
Discounted USPS Rates
No SFP Fees
Multi Carrier shipping
Unlimited Users
Automaton Rules
Barcode Scanning
Batch Label Printing
With this plan, you'll get everything you'll need starting out and of course, as your business grows and needs more specialized features, you can always upgrade to our more comprehensive plans. Our flexible monthly pricing models are designed to reflect the reality of seasonal ups and downs, so instead of paying flat fees, even in times of lower volume, you're charged for actual platform usage only.
But wait – like they say, there's more! Ordoro offers you the chance to give us a try with the 15-Day Free Trial for the Express Plan! Contact us at info@ordoro.com to learn more and how it can be the best ecommerce platform for your startup.
Best Ecommerce Platform For Small Business
According to the website Investopedia's evaluations of several popular ecommerce platforms when choosing the best ecommerce platform for small business, sites such as Shopify, BigCommerce, Magento, Weebly and several others made the list.
Which ecommerce platform is best for you? Your answers will help determine what type of platform works best for your situation.
Here are a few suggestions from Investopedia for choosing which is the best ecommerce platform for small business 2021:
Are you a startup brand new to ecommerce? Then Squarespace could be your best bet.
If you've been doing this for awhile and have some solid experience, are you now ready to move up to something able to handle your larger inventory and shipping? Magento could be a good choice.
Are you primarily interested in dropshipping? Then Shopify, with its easily-integrated tools and user-friendly helpful guidelines, could work well.
The best affordable platform was Square Online
For ecommerce limited to solely online use, 3dcart took the prize
For brick-and-mortar retailers, Weebly was voted tops.
For best overall platform, BigCommerce walked away with that honor.
Remember that the above list is by no means complete, and no one single platform will meet all of the needs of ecommerce users. It's up to you to educate yourself and decide which comes closest to what you want it to do for you, factoring in your time availability, technical expertise, budget, short-term and long-term goals and more.
Just because a platform made the cut as one of the best ecommerce platforms for small business 2020 may not still hold true for 2021. There have been a lot of changes in the software especially with more of us working from home and having time and resources to devote to tweak and improve what's already out there. Many merchants and other entrepreneurs struggled with cumbersome spreadsheets and outdated software to manage inventory, shipping suppliers and more.
Best Ecommerce Platform For Dropshipping
While many of the above platforms provided solutions to one or more aspects of engaging in ecommerce, such as excellent website design or hosting, the outdated tools for managing data prevented many smaller entrepreneurs from reaching their sales and production goals, especially for those seeking the best ecommerce platform for dropshipping. You spoke and Ordoro listened. With that in mind, Ordoro was launched with the goal of becoming a one-stop-shop for a logistics platform to help solve ecommerce and dropshipping problems that went unaddressed.
Odoro targets small to medium-sized ecommerce businesses with plug-ins and specialized customizable tools designed to ensure ecommerce success at a fraction of the cost paid by the larger players.
As we've seen above, near the top of the best dropshipping platform 2021 is Shopify. As one of the best ecommerce platform 2020, the company has gone to great lengths to assist prospective dropshippers with just about everything they could need: Shopify's array of dropshipping apps, in tandem with Ordoro's toolbox of supporting software helps dropshippers track orders and shipments, interface with multiple carriers, create Vendor Portals easing use and communication with suppliers, and managing ongoing inventory.
Ordoro has also become a leader in developing comprehensive dropshipping software and tools for successfully managing every aspect of a dropshipping business, making it a major contender for best ecommerce platform for dropshipping 2021.
Inventory software that is powerful enough to handle not only vendor data but interface with a variety of carriers, track sales and shipped orders in real time is a must. In addition, Ordoro provides dropshippers with inventory management software capable of handling bulk orders, assign and send out orders and even automatic reorders, match the right warehouse with your designated suppliers and successfully manage other aspects of running your dropshipping business.
Best Ecommerce Platform 2021
Ultimately, the software you choose for your ecommerce venture must reflect your needs and be flexible enough to grow with your business. To reach that point, however, you'll want the best ecommerce platform 2021 software, with plug-ins and other toolkits that along the way allow scaling a startup to compete as a full-fledged ecommerce business, whether you offer products or services.
Ordoro allows businesses to streamline their ecommerce business with just a few clicks from getting your products from the warehouse to customers, choose your shipping carrier, and enjoy discounts of up to 67% with USPS rates. Once your order is out the door and on its way, Ordoro sends tracking numbers to your storefronts as well as customers.
Ordoro is your one-stop control center for everything inventory: create kits, assign barcodes, SKUs, issue purchase orders when inventory drops, track, sync and update quantities and more.
And of course, Ordoro's flexible pricing, array of tools and other ongoing app updates and development help make it a leader in the best ecommerce platform for medium business as well as putting it among the best ecommerce platform for big business.
With Ordoro's auto-centric approach to ecommerce and other types of operations, they take the "work" out of "workflow." Automated features abound: Set up Printing Presets and Automation Rules for printed shipping labels Auto-route your dropshipped orders. Auto-sync to align product counts among your storefronts – you get the idea.
Using Ordoro's unique features that include multichannel integration with all of your sales channels, dropshipping management, multi-carrier shipping, label creation, pack lists, analytics and report generation, even FREE 30-day onboarding and lifetime support – Ordoro has you covered, whether you use your ecommerce platform as a service instead of moving products, Ordoro offers the best ecommerce platform for selling services.
Want to learn more? Call us at 512-271-9453 or email: info@ordoro.com