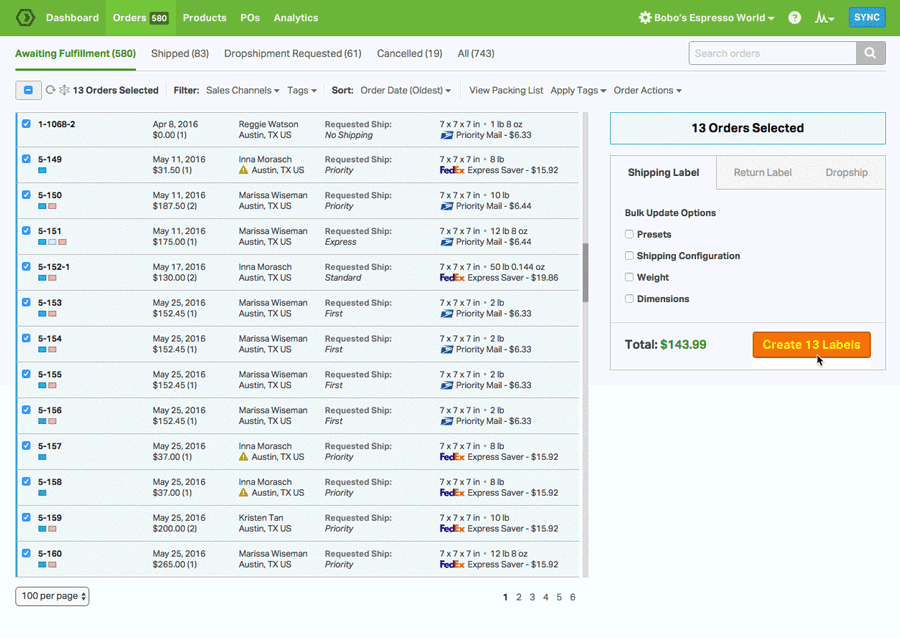 Master The FedEx Shipping Time Map With Ordoro
The All-In-One Ecommerce Logistics Platform
Equip yourself with a comprehensive solution
Inventory Management
Stock, sync, and scan.
Automatically track and sync your inventory levels
Create and send out Purchase Orders when it's time to restock
Bundle multiple SKUs into one unit for sale
Use Barcode Scanning to reduce fulfillment errors
Multi-Carrier Shipping
Your workflow, minus the work.
Enjoy heavily-discounted shipping rates via USPS
Ship via any of our integrated shipping carriers like USPS, UPS, FedEx, DHL and Canada Post
Set up your own Automation Rules and Shipping Presets
Print shipping labels in triple-digit batches or individually
Dropshipping
Truly hands-off dropshipping.
Launch a dropshipping operation in a matter of clicks
Tag any product as drop shipped and assign it to a vendor
Choose between automated or manual routing
Activate a Vendor Portal between you and your supplier
Multichannel
We're your operations hub.
Integrate and view all of your sales and supplier channels in one spot
Use our open API to hook up any third-party or custom apps
Manage every aspect of your orders
Establish Supplier Feeds for real-time, back-end communication
Barcode Generation and Scanning
Raise the bar for stocking and packing.
Create UPC barcodes for your products
Scan, set, and search UPC codes for SKUs within Ordoro
Reduce fulfillment errors with our pack and pack barcode scanning workflow
Scan received POs to automatically adjust stock levels
Don't take our word for it
Our awesome customers have shipped some really great compliments our way:
"I spent about a month thoroughly searching for the right backend fulfillment software for my eCommerce business. There were definitely some big name guys out there that I considered, but at the end of the day, I went with Ordoro and I'm so glad I did!"

Tina Yarandi
Founder/CEO of Nature's Artisan
"Ordoro continues to add immensely valuable features to an already awesome sales/warehousing/shipping platform. Using Ordoro continues to save us time and money."

Anthony Krize,
VP of GE Holiday Lighting
FedEx Shipping Time Map
Many businesses now depend on shipping carriers to stay in business, and even more of them do so now that the pandemic is heading into its third year. Ecommerce businesses now have more competition than ever, so great customer service and personal touch are important. Great customer service doesn't end with the sale. Providing shipping information on your website is one of the ways you can show your customers you're willing to go the extra mile to make their shopping experience a good one. FedEx is one of the most popular shipping carriers in the world. Even if they're not always your first choice, you're likely to use FedEx at some point. People love that FedEx delivery hours by zip code are 9:00 a.m. to 8:00 p.m. instead of 9:00 to 5:00, seven days a week, in all 50 states. Customers can use a simple FedEx zip code lookup to find FedEx delivery times by zip code using the FedEx zip code zone chart. Another good reason to provide FedEx information on your website is so that your customers can see the actual cost—and realize what a good deal you're giving them. Each of the 7 zones covers an increasing number of miles, with Zone 2 covering 0-150 miles for a cost of $62.76 and Zone 8, covering 1800 miles and over at a cost of $116.46 for the same eight-ounce package. Delivery times are calculated according to the distance, the type of shipping option chosen, whether there are weekend days or holidays within the shipping time frame, and the type of goods being shipped. FedEx puts out a new zone chart every year, so FedEx zone chart 2021 will soon be replaced by the 2022 version.
FedEx Ground Shipping Time
FedEx has a handy online tool called a transit time calculator that you can use to calculate FedEx ground transit times. While the calculations for FedEx ground shipping time are consistent, sometimes life isn't. Weather, worker strikes, and supply chain disruptions can all affect delivery times. With inflation rising, it's likely that prices on the 2022 FedEx ground zone chart are going to be a bit higher than on the FedEx ground zone chart 2021 version. That's why your expertise in using tools like the FedEx ground shipping time map, FedEx ground zone map, and being familiar with the price differences between FedEx ground zones can save you a bundle. It can also help you offer your customers great deals on shipping. Having a software system like Ordoro that allows you to take advantage of deep industry discounts doesn't hurt, either. All your customers have to know is that you're able to offer them free shipping when they purchase bundled items, not how big a discount you are getting with Ordoro behind the scenes. Ordoro's kitting, bundling, drop-shipping capabilities, multichannel integration, and warehouse inventory tracking all work together to reduce your costs and increase your bottom line. Every purchase and sale automatically adjusts your inventory in real-time, ensuring that you never have to disappoint a customer. You'll always be able to ship merchandise from the closest possible location as well as automatically print shipping labels either individually or in batches. Automating your processes and working behind the scenes 24/7 is what Ordoro was designed to do, leaving you free to find the next new trend or plan your next big sale. You'll be able to save and send FedEx tracking numbers automatically as well. Customers love being able to track their packages from the moment they hit the purchase button until they arrive at their doorsteps.
FedEx Tracking
FedEx tracking utilizes a FedEx tracking number which is issued as soon as the shipping label is printed. As a seller, you can also track a package by the transportation control number (TCN) which is used for FedEx standard transit tracking. Customers can also track by using a FedEx Office order number. If an attempted delivery has been made, a scannable tracking number will be left on the door tag along with the time and date of the next attempted delivery. Door tags are commonly left when a customer isn't home and the package requires a signature. They can also be left if a delivery person doesn't feel that your doorstep is secure. The door tag contains tracking information that customers can scan with their smartphones. That information usually includes the time and date that the next delivery attempt will be made as well as a number to call if you want to arrange to pick the package up from a local FedEx location before then. The ease of FedEx ground tracking, and the number of ways they make it available, is one of the things that makes them one of the most popular carriers worldwide. With Ordoro, your write-back to customers that includes their tracking information is automatic. There's no need for copying and pasting after you've created your shipping labels. Ordoro automatically keeps customers in the loop by relaying the shipping status and tracking numbers back to the appropriate sales channel. No matter how many sales channels, warehouses, or shipping carriers you have, Ordoro's multi-channel capability automates and streamlines your processes and allows you to manage them all from a single dashboard.
Does FedEx Deliver on Weekends?
The surprising answer to the question "Does FedEx deliver on Saturday"? is not only yes, but yes, and it doesn't even cost extra! You get the same answer if you ask "Does FedEx deliver on Sunday?". As of January 2020, online sellers can now offer delivery to residential customers every day of the week via FedEx Ground service. FedEx has expanded their Sunday delivery to include 95% of the United States population. FedEx delivery hours on Saturday and Sunday are the same as those for Monday through Friday deliveries. FedEx Saturday delivery times by zip code vary. Having multi-carrier shipping capability really comes in handy when you have either time-sensitive items or customers who want speedy delivery. Customers also have the flexibility to schedule appointment times and evening deliveries at their convenience to ensure they will be available when their package arrives. FedEx also does weekend pickups, which help sellers in a number of ways. It allows them to:
Fulfill orders more quickly
Reduce costs even when speedy delivery is urgent
Increase inventory turnover with kitting and bundling capabilities
Decrease warehouse storage costs
Customers are always looking for the perfect combination of efficiency, speed, and cost savings, and that's exactly the combination that Ordoro helps small businesses provide. That's why it's been voted the ecommerce software most likely to transform a small business into a medium-sized business. An integrated software system that can take the place of several employees in terms of rendering time-consuming data entry unnecessary and working around the clock without overtime pay is the single best investment that ecommerce entrepreneurs can make. As prices continue to rise, those cost savings become less of a luxury and more of a necessity for being able to stay in business. 2021 saw several major well-known clothing retailers, such as Christopher and Banks, file for bankruptcy.
FedEx Ground Shipping Rates
It's likely that along with the prices of everything else, including fuel, FedEx ground shipping rates will increase next year. The same can be said for FedEx overnight rates 2021 and FedEx standard list rates 2021. It remains to be seen how FedEx ground rates 2022 will compare to FedEx ground rates 2021. The last increase, from 2020 to 2021, was 4.9%. Shipping costs are the single largest expense for ecommerce entrepreneurs. According to data from a recent survey, 42% of retail CFOs reported that they plan to reorganize or restructure due to the persistence of the effects of the pandemic worldwide. While ecommerce entrepreneurs are spared the added expense of brick and mortar real estate, 2021 still proved to be a challenging year for many as consumer demand fell. That means that it's more important than ever to have every possible tool at your command that can help reduce costs. Knowledge is one of the most important tools, and knowing the current FedEx shipping rates from your location is essential for making good business decisions. Ecommerce has expanded our horizons and most people now sell internationally. Since every country has different shipping guidelines and costs, understanding those costs is an important element in developing a good business strategy for managing them. If you're concerned about how rising shipping costs may affect your business in 2022, the time to call the ecommerce professionals at Ordoro for a free demo is now. Besides a free 30 day onboarding in which their tech support shows you exactly how to set up automation rules for your specific business, Ordoro is fully scalable and offers lifetime support. Their shipping software tools integrate seamlessly with all the major shipping carriers. Knowledge, automation, and technological know-how are the winning combination for ecommerce businesses heading into the potentially stormy online ecosphere of 2022.