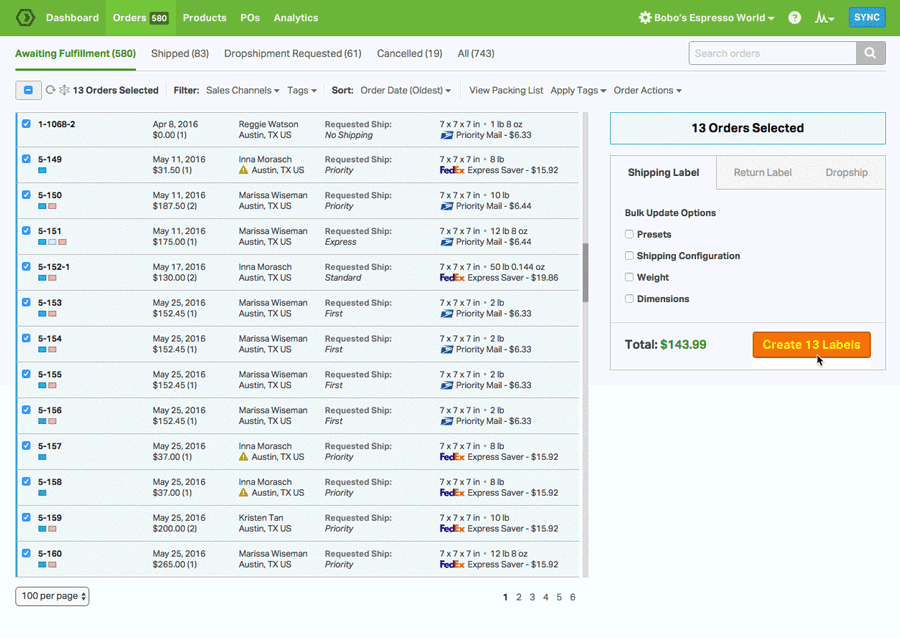 How Long Does UPS Standard Shipping Take
The All-In-One Ecommerce Logistics Platform
Equip yourself with a comprehensive solution
Inventory Management
Stock, sync, and scan.
Automatically track and sync your inventory levels
Create and send out Purchase Orders when it's time to restock
Bundle multiple SKUs into one unit for sale
Use Barcode Scanning to reduce fulfillment errors
Multi-Carrier Shipping
Your workflow, minus the work.
Enjoy heavily-discounted shipping rates via USPS
Ship via any of our integrated shipping carriers like USPS, UPS, FedEx, DHL and Canada Post
Set up your own Automation Rules and Shipping Presets
Print shipping labels in triple-digit batches or individually
Dropshipping
Truly hands-off dropshipping.
Launch a dropshipping operation in a matter of clicks
Tag any product as drop shipped and assign it to a vendor
Choose between automated or manual routing
Activate a Vendor Portal between you and your supplier
Multichannel
We're your operations hub.
Integrate and view all of your sales and supplier channels in one spot
Use our open API to hook up any third-party or custom apps
Manage every aspect of your orders
Establish Supplier Feeds for real-time, back-end communication
Barcode Generation and Scanning
Raise the bar for stocking and packing.
Create UPC barcodes for your products
Scan, set, and search UPC codes for SKUs within Ordoro
Reduce fulfillment errors with our pack and pack barcode scanning workflow
Scan received POs to automatically adjust stock levels
Don't take our word for it
Our awesome customers have shipped some really great compliments our way:
"I spent about a month thoroughly searching for the right backend fulfillment software for my eCommerce business. There were definitely some big name guys out there that I considered, but at the end of the day, I went with Ordoro and I'm so glad I did!"

Tina Yarandi
Founder/CEO of Nature's Artisan
"Ordoro continues to add immensely valuable features to an already awesome sales/warehousing/shipping platform. Using Ordoro continues to save us time and money."

Anthony Krize,
VP of GE Holiday Lighting
How Long Does UPS Standard Shipping Take
As an ecommerce brand, knowing how long it takes for an order to arrive at your customer's doorstep is important. Not only can this information make it easier to ensure you're accurately communicating the right expectation level with buyers, but it can also help prevent numerous customer service issues.
So, how long does UPS standard shipping take? And after shipping how long does it take to deliver?
Generally, this depends on two factors: the type of shipping you select and the overall distance between your warehouse and the customer's zip code. The further away the delivery area, the longer the transit time takes.
UPS Standard shipping is one of their slower options, but often the most cost-effective for ecommerce orders. The date the shipment is scheduled dictates when it will arrive, with the idea that the package is set for doorstep arrival before the end of the day.
Now, that isn't really a definitive answer if you're looking for an answer to how long does UPS standard shipping take. However, using a calculator or special tool can help give you a good idea of what to expect.
The great news? There's options for managing your shipping that keep everything in one place, meaning you don't have to find an additional calendar to calculate shipping time.
If you're looking for a way to align your ecommerce shipping needs in one app, then you'll love Ordoro. This all-in-one solution makes it simple to keep track of UPS shipments, determine logistics timing, and automatically print shipping labels. Best of all, you can do all of this across multiple marketplaces at the same time.
UPS Delivery Times By Zip Code
If you're looking for a list of UPS delivery times by zip code, this official resource directly from the carrier is a great place to start.
All you have to do to use it is to input the date you're shipping and either the zip code the package is coming from or going to. From there, you'll see a graphic with information on approximate UPS standard shipping time frames.
If you already have Ordoro, you can also use our built-in UPS Transit Time Calculator for additional details. This feature makes it incredibly easy to select the right shipping rate and method for any package based on weight, where it is going, and which warehouse it is coming from.
In fact, this is just one of the many fantastic options Ordoro offers for streamlining your shipment workflow. Once you've decided which UPS shipping rate to choose, you can then automatically print the right labels with customer information and a coordinating pick-and-pack list to save time.
Furthermore, you can keep those customers tracking numbers in one place for easy access for your entire team. Need to send an automated email to shoppers once the package is sent? Ordoro does that, too.
And Ordoro also works with multiple marketplaces. This means you can calculate UPS shipping times for orders from eBay, Amazon, Shopify, and more—all in one place. This added convenience is an excellent way to reduce errors, save money on shipping, and ensure all the information you need is in one easy-to-use dashboard.
UPS Tracking
One of the most important parts of sending orders to customers is UPS shipping tracking. After all, this handy little number lets you see exactly where a package is at and when it is anticipated to arrive.
Automating your ecommerce shipping process by sending out emails to customers with their UPS tracking number can help eliminate a lot of customer service issues. This way, shoppers can use the track my package feature on UPS to find out where their shipments are without having to contact your staff directly. Since this is one of the more common reasons why buyers need support from brands, automating the process only makes the most sense.
With Ordoro, you can keep track of UPS tracking numbers within each order record. This keeps everything neat and tidy in one spot for communicating with the client or answering questions about delivery times on orders.
In addition, Orodoro fully integrates with UPS to act as your shipping hub. From your dashboard, you can check pricing, set rates for specific orders, or even combine orders for better overall rates. In turn, this makes it simple to always get the right shipping method, speed, and cost for your customer orders.
And the automated printing feature ensures your workflow is as smooth as possible. Imagine a scenario where a customer orders a product from your online store in the middle of the night. The moment that happens, a pick list and shipping label are printed. The tracking number is then sent directly to the customer via email and your team is able to get those items boxed up and ready to go when they arrive at your warehouse the next morning. See how many steps Ordoro just eliminated?
UPS Shipping Rates
In general, UPS shipping rates depend on the size of the item, where it is coming from, the zip code it is going to, and how fast you need it to arrive. That said, UPS standard shipping cost and UPS envelope rates are usually much lower than other options like two-day delivery.
To really understand why this is the case, you need to think about all the places a package goes once it leaves your warehouse and makes it to the customer's doorstep.
First, a pickup driver has to gather the package from your warehouse or the center where it was dropped off by a member of your team. Then all of those packages at that location have to go to a regional fulfillment center, where they're categorized based on UPS shipping rates, size, and delivery zip code.
Next, the items have to be transported to that specific location. Sometimes, this means traveling in semi-trucks across the country or even going on an airplane. Once the item arrives in the general area, it is sorted again for a delivery driver to pick up. Finally, that driver delivers the package on their route.
When you consider that UPS shipping rates are determined by the speed of how all of those steps have to happen, you can see why general shipping costs far less than next day or two-day delivery. Simply put, if your customer has to have their order right away, it is going to cost far more than if they're just a little bit patient.
UPS Ground
So, what is UPS Ground? Essentially, this is a shipping option where packages are only transported over the open road. This means there's no flying them on an airplane to a separate region across the country. Instead, they're gathered at a regional center and then driven by truck to their destination area—which can sometimes see delays due to weather, truck driver shortages, and more.
UPS Ground rates are based on numerous factors, but usually, the region in which the item is coming from in contrast to where it is going. A UPS Ground map generally offers a good idea of what to expect in terms of number of days until delivery. At a glance, it allows you to see color coding for various regions and the average shipping time.
By no means is a map like this a firm deadline for UPS Ground time for delivery. Instead, it is better to use a shipping calculator to come up with a better idea of how long a customer should wait for an order to arrive.
Ordoro's built-in shipping calculator feature makes it easy to determine approximate shipping times and keep track of UPS Ground tracking numbers. It also offers the feature to update the customer via email if there's a delay and gives them the right information on how to check the status of their shipment directly with UPS. And the same features are available for other shipping options, like two-day or international, too.
UPS International Shipping
Does your ecommerce store ship orders to customers in foreign countries? If so, expect to pay higher rates via UPS International Shipping. Why?
As we've mentioned above, the farther an item has to go from your warehouse to a shopper's doorstep, the higher the cost of shipping. Think about it for a moment. There's airplanes, customs inspections, and a whole host of other steps involved that make it more difficult to move a package from one country to another. The end result? A higher shipping cost than simple domestic shipping, which is deemed as anywhere within the lower forty-eight states.
While UPS International Shipping rates are some of the most competitive, it is still important to review all of your options before deciding on the best one for the specific order you're mailing. If you offer shipping to customers outside the United States, you'll want to have a complete system for tracking orders, printing labels, etc.
And that's where Ordoro can truly help. This all-in-one ecommerce platform makes it easy to do everything—from determining the right shipping class for a specific size of item to automatically configuring the best rates and keeping tracking information handy.
Another benefit to using Ordoro? You can print off a UPS International Shipping label with all the correct customs information already attached. This saves time, helps prevent delays, and makes it easy to sell to shoppers around the globe.
If you're ready to learn more about Ordoro, please click here to get started.