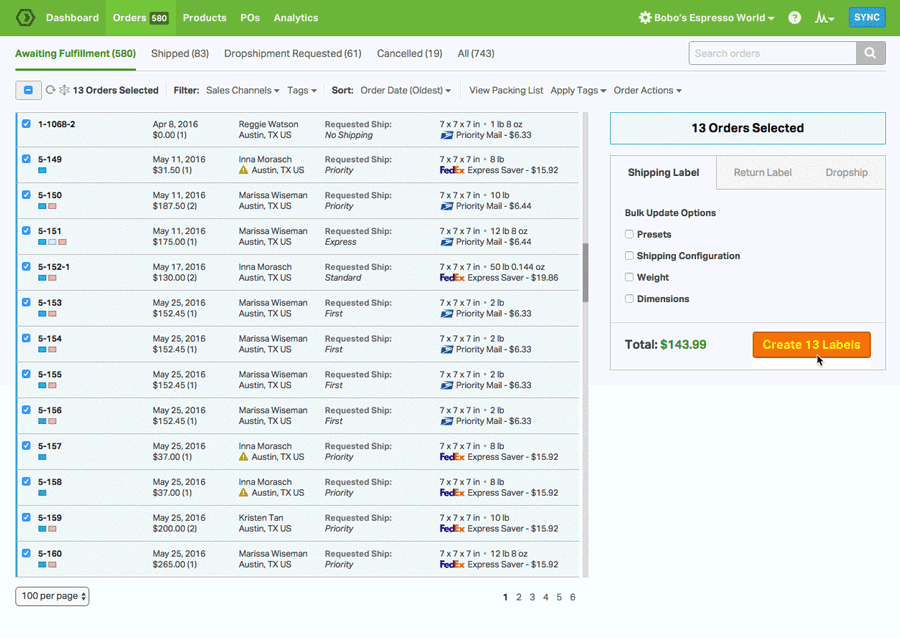 Master The FedEx Shipping Times Map With Ordoro
The All-In-One Ecommerce Logistics Platform
Equip yourself with a comprehensive solution
Inventory Management
Stock, sync, and scan.
Automatically track and sync your inventory levels
Create and send out Purchase Orders when it's time to restock
Bundle multiple SKUs into one unit for sale
Use Barcode Scanning to reduce fulfillment errors
Multi-Carrier Shipping
Your workflow, minus the work.
Enjoy heavily-discounted shipping rates via USPS
Ship via any of our integrated shipping carriers like USPS, UPS, FedEx, DHL and Canada Post
Set up your own Automation Rules and Shipping Presets
Print shipping labels in triple-digit batches or individually
Dropshipping
Truly hands-off dropshipping.
Launch a dropshipping operation in a matter of clicks
Tag any product as drop shipped and assign it to a vendor
Choose between automated or manual routing
Activate a Vendor Portal between you and your supplier
Multichannel
We're your operations hub.
Integrate and view all of your sales and supplier channels in one spot
Use our open API to hook up any third-party or custom apps
Manage every aspect of your orders
Establish Supplier Feeds for real-time, back-end communication
Barcode Generation and Scanning
Raise the bar for stocking and packing.
Create UPC barcodes for your products
Scan, set, and search UPC codes for SKUs within Ordoro
Reduce fulfillment errors with our pack and pack barcode scanning workflow
Scan received POs to automatically adjust stock levels
Don't take our word for it
Our awesome customers have shipped some really great compliments our way:
"I spent about a month thoroughly searching for the right backend fulfillment software for my eCommerce business. There were definitely some big name guys out there that I considered, but at the end of the day, I went with Ordoro and I'm so glad I did!"

Tina Yarandi
Founder/CEO of Nature's Artisan
"Ordoro continues to add immensely valuable features to an already awesome sales/warehousing/shipping platform. Using Ordoro continues to save us time and money."

Anthony Krize,
VP of GE Holiday Lighting
FedEx Shipping Times Map
FedEx provides Ground, a low-cost delivery to businesses in the contiguous 48 states; other methods of delivery, including Overnight, are available for those in Alaska and Hawaii.
You can refer to the FedEx shipping times map based on zip code to find the cost of shipping a parcel based on a given distance as well as how soon it's to be delivered.
Look up FedEx delivery times by zip code to get costs and times available for delivery. Each method (Ground, Overnight, and so on) has its own rate chart based on distance traveled, size, and other factors. Note that
The FedEx zone chart by zip code will show how long a parcel may take for delivery as well as estimate the cost to send it.
FedEx zip code lookup is one way to find a particular shipping zone when estimating rates and times.
FedEx transit times map is a handy tool for estimating the delivery time that a package should need to get to its destination.
The FedEx ground map (Ground Service map), found on FedEx's Ground/Maps pages, is useful for estimating costs of Ground shipments – generally the least expensive and cost-effective method of shipping most items. FedEx provides delivery to the contiguous 48 states in 1-5 business days depending on the distance to the destination.
To use the FedEx ground transit map, just enter the original postal code ("zip"), country, as well as "outbound" or "inbound" and "overnight" options to get rates as well as track the shipment once sent out.
FedEx delivery hours (Express) offers users Standard, Priority, Overnight, Next Day or 2-Day /3-Day Delivery, giving customers more options for those needing a faster delivery. Account-holders also have access to the other perks and discounts offered by FedEx. If you plan to ship multiple packages week after week, opening a FedEx account would be the best, most cost-effective option. There are also special offers and advice for new businesses scaling up and unsure of the shipping process.
FedEx Transit Times Map International
International shipping costs have soared in recent years – and even more so in the last few months of 2021. Supply chain issues have reached around the world, causing backlogs and delays – an especially worrisome development for dropshippers utilizing foreign suppliers.
It's not as hard as you might think to ship internationally with FedEx:
Be sure that the item can be shipped as you intended
Choose a customs broker and determine your terms of sale
Get your required information together for the customs documents
Create an international shipping label
Complete and submit customs documents
Package the item and get it out to FedEx
For international orders, the FedEx transit times map international shipping rates tool is necessary for accurately estimating shipping rates based on the destination country, any restrictions, time frame for delivery, weight, and other factors.
FedEx international tracking is a great tool for tracking the shipment's journey around the globe to its final destination, taking much of the guesswork and worry out of the shipping and delivery processes. Like FedEx Ordroro also offers shipping and tracking apps and tools, and integrates seamlessly with FedEx and other carriers to keep everything moving along the way it should.
FedEx zip code lookup international can help to know your postal codes for shipping with FedEx. To speed up your international shipping, be sure to correctly and completely enter the correct address and postal code or PIN for the shipment's destination.
International 1-3 Day Delivery is available with FedEx, in addition to International First and Priority delivery. Be aware that there may be out-of-delivery-area as well as out-of-pickup-area surcharges – these are listed on the FedEx list of applicable zip codes as well as effective dates.
In addition, FedEx provides necessary information on harmonized codes, duties, and taxes as well as the required customs documents to ensure seamless shipping for your customers.
Shipping to Hawaii FedEx
Normally, FedEx delivery to the 48 contiguous states takes between 1-5 business days. However, shipping to Alaska and Hawaii requires 3-7 business days. Packages up to 150 lbs., 108 inches in length, and 165 inches in length plus girth (L+2W+2H) can be shipped; as with other delivery methods, packages exceeding these limits will be sent via Freight.
FedEx offers Overnight shipping to Hawaii, as well as 2-Day shipping, FedEx Freight, and FedEx national LTLSM Hawaii Service.
As might be expected, when shipping to Hawaii FedEx rates and times are higher and some services, such as Overnight, are therefore more expensive.
FedEx is still competitive with UPS shipping to Hawaii in terms of rates and shipping time. As with other locations, while Overnight shipping to Hawaii is available, the latest time to drop off a package at a FedEx location will vary with the location.
FedEx shipping to Hawaii rates can be found on the FedEx (freight) PDF. In addition, there are also surcharges for Alaska and Hawaii shipments within certain selected zip codes.
FedEx 2-Day shipping to Hawaii rates can be found in the PDF and logging into the FedEx .com, going to the Alaska and Hawaii pages on the FedEx website.
One more thing: you don't need a FedEx account in order to ship Overnight or Next Day, and so on. Just create your shipping label and select which overnight service option you want in the Packages & Shipment Details section and FedEx takes care of the rest. On the other hand, if you plan to ship multiple packages week after week, opening a FedEx account would be the best, most cost-effective option. There are special helps for new businesses scaling up and unsure of the shipping process.
Don't forget that Ordoro's ecommerce management software integrates perfectly with almost all major and local carriers, including FedEx. You can easily coordinate your shipping needs as well as suppliers and sales channels from one central location with just a few clicks.
FedEx Tracking Number
FedEx tracking utilizes state-of-the-art GPS tracking devices to monitor a package's in-transit status from drop-off to delivery, as well as an online rate calculator and small business-assist pages, similar to those found on USPS's shipping pages.
FedEx shipment facts standard transit refers to the date and time a package is scheduled for delivery. With FedEx tracking a package is easy: you can use the tracking number assigned to the package, use the reference number, the door tag number, transportation control number (TCN), as well as the FedEx order number.
FedEx Ground tracking is included in the rates, as are other forms of tracking, and is used when shipping a package weighing 150 pounds or less. For residential deliveries, FedEx offers Home Delivery. FedEx Express is for urgent delivery and delivers to anyone.
If the recipient isn't home to receive the package, the delivery person leaves a FedEx door tag to alert that delivery was attempted and available delivery options. You can also use the door tag number to track the package.
FedEx standard transit tracking includes selected services (Home Delivery, Ground, Express, etc., as well as destination and shipping dates.
A FedEx tracking number is assigned to each package at the time of shipment and is used to track the whereabouts of the package through its trip until final delivery. You can hold packages for an in-person pickup, manage home deliveries and even redirect packages. (f you do not know a tracking number, you can still track using a reference number associated with the shipment or the purchase order number.)
We'd like to add that ecommerce management software from Ordoro, a software industry leader, integrates perfectly with your favorite multi carriers, including FedEx, as it enables you to view and control all aspects of the fulfillment, shipping, and tracking operations.
FedEx Shipping Rates
As we've discussed, FedEx shipping rates are varied and depend on the distance, delivery times, size, and weight of the package.
FedEx overnight rates 2021 were Express Saver -$9.50 for an envelope 3rd Day, by 4:0 pm., with Next Day - $29.55 by 3 pm. FedEx Pak was $10.10 for Express Saver, by 4:30 pm and a whopping $50.30 for Next Day by 3 pm.
The FedEx rate sheet 2021 can be found on the FedEx website FedEx.com, as a PDF. Of course, these rates can be expected to change for 2022, so be sure to check with FedEx directly for the latest tax and service updates.
The FedEx ground multi-weight rates 2021 haven't really changed significantly going into 2022, although it's still early in the year and those supply issues from 2021 may carry over into future rates and shipping methods.
Ordoro has all of your multicarrier needs covered with FedEx, USPS, UPS, Canada Post, DHL, and many local carriers. Kit and bundle products as you and your customers choose, with discounted rates through the USPS of up to 67% — a huge saving as your business grows and shipping needs increase and change. Ordoro has all of your multicarrier needs covered with the USPS, UPS, International, Canada Post, DHL, or FedEx.
In a recent report from Software Advice, consumers who were surveyed rated Ordoro 4.72 out of 5 stars – one of the highest ratings among the top players in the ecommerce management software industry! Respondents' favorite features were the ease of implementation, a large variety of desirable features, the software's ability to interface with areas outside the US, as well as Ordoro's outstanding customer service.
Ordoro also offers you FREE 30-day onboarding as well as lifetime support. Take charge of your inventory and shipping needs by contacting us for more information today. Test drive Ordoro for FREE through our Express plan during a 15-Day FREE trial.