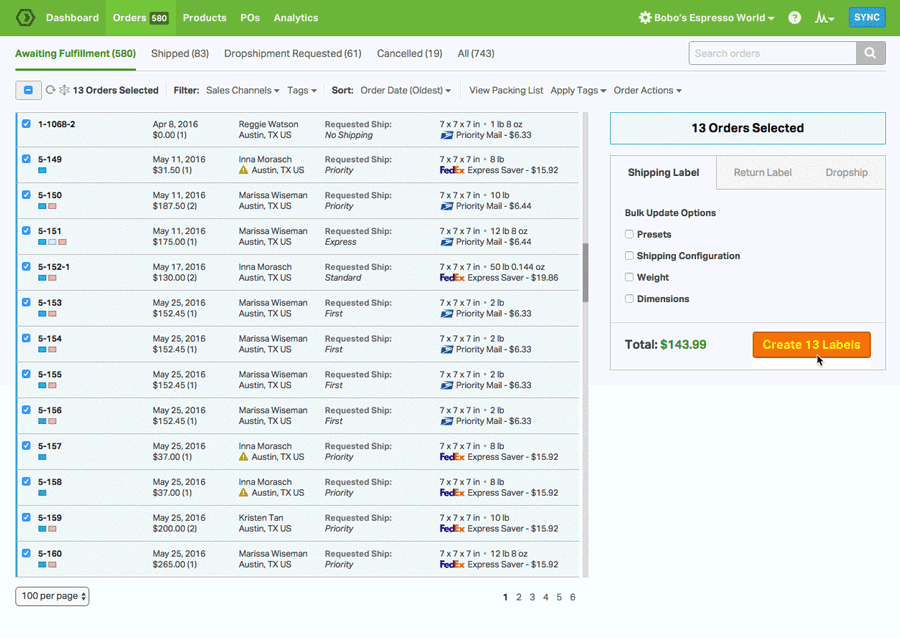 Alternatives To Free Inventory Management Software In Excel
The All-In-One Ecommerce Logistics Platform
Equip yourself with a comprehensive solution
Inventory Management
Stock, sync, and scan.
Automatically track and sync your inventory levels
Create and send out Purchase Orders when it's time to restock
Bundle multiple SKUs into one unit for sale
Use Barcode Scanning to reduce fulfillment errors
Multi-Carrier Shipping
Your workflow, minus the work.
Enjoy heavily-discounted shipping rates via USPS
Ship via any of our integrated shipping carriers like USPS, UPS, FedEx, DHL and Canada Post
Set up your own Automation Rules and Shipping Presets
Print shipping labels in triple-digit batches or individually
Dropshipping
Truly hands-off dropshipping.
Launch a dropshipping operation in a matter of clicks
Tag any product as drop shipped and assign it to a vendor
Choose between automated or manual routing
Activate a Vendor Portal between you and your supplier
Multichannel
We're your operations hub.
Integrate and view all of your sales and supplier channels in one spot
Use our open API to hook up any third-party or custom apps
Manage every aspect of your orders
Establish Supplier Feeds for real-time, back-end communication
Barcode Generation and Scanning
Raise the bar for stocking and packing.
Create UPC barcodes for your products
Scan, set, and search UPC codes for SKUs within Ordoro
Reduce fulfillment errors with our pack and pack barcode scanning workflow
Scan received POs to automatically adjust stock levels
Don't take our word for it
Our awesome customers have shipped some really great compliments our way:
"I spent about a month thoroughly searching for the right backend fulfillment software for my eCommerce business. There were definitely some big name guys out there that I considered, but at the end of the day, I went with Ordoro and I'm so glad I did!"

Tina Yarandi
Founder/CEO of Nature's Artisan
"Ordoro continues to add immensely valuable features to an already awesome sales/warehousing/shipping platform. Using Ordoro continues to save us time and money."

Anthony Krize,
VP of GE Holiday Lighting
Free Inventory Management Software In Excel
People just starting out in business need all the free help they can get. For those with some coding experience, open-source inventory management software can often provide temporary relief from the stress of startup costs. GitHub can be a great resource for finding software you can use until you're able to invest in a longer-term solution. A lot of people feel more comfortable with a brand name and program they're already familiar with, though. Brand recognition is one reason that so many choose to start out using Excel. If you've been using the free inventory management software in Excel for any length of time, chances are you've probably already discovered why it's free. One reason is the learning curve. Although the stock management in excel sheet pdf provides instructions, it still takes time to learn. While it might be possible to automatically update inventory while creating invoices in Excel, setting up the daily inventory sheet Excel requires to accomplish that task can be daunting. If you're using the invoice and stock management in Excel template, it's important to enter the right formulas in the right places. Even if you're able to master the Excel system, once your business starts to grow, you're going to need all the time you're spending entering data into a spreadsheet to satisfy your customers. In short, you're going to need scanner capability to be able to keep up with customer orders. Scalability is key to continuing success, and as your customer base grows, so will the number of warehouses you'll be shipping from to keep shipping costs down. Having a comprehensive software system that automatically adjusts your inventory in real-time with every purchase or sale becomes essential. Ordoro, designed specifically for ecommerce, is just such a system. Not only can you track inventory in multiple locations from a single dashboard—you can combine those real-time sales numbers with Ordoro's data analytics to make smarter buying decisions.
Inventory Management Excel Template
We all owe a debt of gratitude to the inventors of the template. They incorporated all the most often-used features and kept the rest of us from having to perpetually re-invent the wheel. The first step into the world of ecommerce for many a new entrepreneur is finding a small business inventory spreadsheet template. Let's face it, cash flow can be more like a cash trickle when you're first starting out. That's why so many take advantage of the Excel inventory template with formulas free download. Until you make a few sales and gain a few repeat customers, you have plenty of time to enter items by hand into the inventory list template excel provides. Plugging your information into the inventory management excel template is also pretty easy. However, once your sales start increasing, it becomes increasingly difficult to keep up using an inventory tracking spreadsheet, especially typing in multi-digit numbers accurately. The more digits a number has, the greater the margin for error. Spreadsheet inventory errors usually result in faulty buying decisions, the loss of hard-won customers, or both. Shrinking that margin of error is probably the number one reason people invest in a system with scanner capability as soon as they can afford it. A few instances of paying more than expected for storage and shipping costs are usually enough to convince even the most frugal new business owner of the reality that they can't afford NOT to invest in a good inventory management software system. Increasingly, customers want to know that the companies they trust with their personal information are equipped with the latest technological advances, including security measures. The engineers at Ordoro ensure that every element of your system stays cutting edge and integrates seamlessly with all the most popular ecommerce platforms.
Inventory Management Excel Formulas
New entrepreneurs usually breathe a sigh of relief when they see what a small business inventory spreadsheet template can do. That sigh of relief is even deeper when they first realize how much time the free excel inventory template with formulas can save them. The retail inventory Excel template makes it easy to use inventory management Excel formulas. Formulas are just as awesome as templates because they do all the math for you. Unfortunately, what neither templates nor formulas can save you from is the necessity of entering all the data by hand. Only barcode scanning capability can save you from that. Barcode scanning virtually eliminates data entry errors and goes a long way towards eliminating overtime pay, too. Pricing your merchandise is difficult enough, especially when you have to estimate and factor in rising shipping costs. That's why a software system that ensures that the right customer is receiving the right item at the right address at the right time is priceless. Sure, it's possible to use a template to create a column with a formula that multiplies the value of each item by the quantity of that item in stock to determine the value of your inventory. However, the more items you sell and the greater the number of orders you receive, the more complex it becomes to manage a spreadsheet. One reason for that is that the Excel spreadsheet only permits one person to make new entries or adjustments at a time. Depending on the number of storefronts or warehouses you have, that limitation alone makes real-time accuracy in your inventory count nearly impossible to achieve. The ability to track inventory in multiple locations in real-time from a single dashboard helps keep your business competitive. Being able to take advantage of deep industry shipping discounts of up to 67% helps more than a little, too.
Inventory Management Software
In a very real sense, success can be defined as that moment when your sales reach the level that it's no longer possible to enter data by hand into a spreadsheet. Admittedly, it's hard to celebrate success by having to find and learn to use different inventory management software. The good news is that Ordoro makes it possible for their fully integrated system to be the last software system you'll ever have to learn to use. The even better news is that they provide a 30-day onboarding process, during which their professionals show you how to customize every feature for your specific business for maximum benefit. Ordoro is like having a team of employees that work around the clock behind the scenes, but don't require overtime pay. You can set up automation rules and automatically update and sync product quantities across multiple sales channels. No matter how many suppliers or customers you have, you'll be able to manage them all from a single dashboard. Some of the tools you'll have at your disposal include the ability to:
Create unique barcodes for specific items
Create product kits or automatically bundle SKUs together within a single order
Send purchase orders to suppliers to prevent stock shortages
Expedite the process of updating products
Streamline orders and fulfillment with top-rated shipping software
Use data analytics to measure each channel's effectiveness
When combined with Ordoro's shipping software and data analytics, the list of tools in your ecommerce toolbox gets much longer.
How To Implement A Barcode System For Inventory
Excel made it possible to create barcodes within the barcode inventory system Excel template. Developers created a barcode scanner for spreadsheet function by writing an Excel barcode scanner macro. That function can be accessed by typing the function name in the cell. When you do, it triggers the Excel barcode scanner auto-enter and creates a barcode. However, there are some disadvantages of using a barcode system for an inventory-free download programs. One of them is that to achieve real mastery, you need to know how to use software developer tools. That's also true if you want to use the QR code inventory management excel offers. The good news is that there is a multitude of tutorials out there. With enough time and patience—and the right YouTube videos, you can learn just about anything. That includes every aspect of the free inventory management software in Excel, including the barcode function—and even how to change the barcode font for Excel. You should know, though, that creating an Excel inventory management spreadsheet, besides being time and labor-intensive, requires flawless attention to detail. One small data entry error can cause a chain reaction of other errors, and manual entry of multiple-digit numbers increases that risk. Due to the fact that only one person can update your spreadsheet at a time, your numbers are likely to be out of sync with the actual inventory count. That makes it difficult to know exactly what you have on hand at any given moment. Not surprisingly, the ease and comfort of online shopping have not resulted in customers cultivating more patience. In fact, many expect their orders to arrive almost immediately after they've placed them. Drone technology, coupled with the nearly unlimited resources of giants like Amazon, has made same-day delivery, which would have been impossible five years ago, a commonplace occurrence. Ordoro gives you all the tools you need for your small business to harness those resources. They specialize in making your transition from a small business to a medium-sized business seamless enough that you'll have time to celebrate your success.