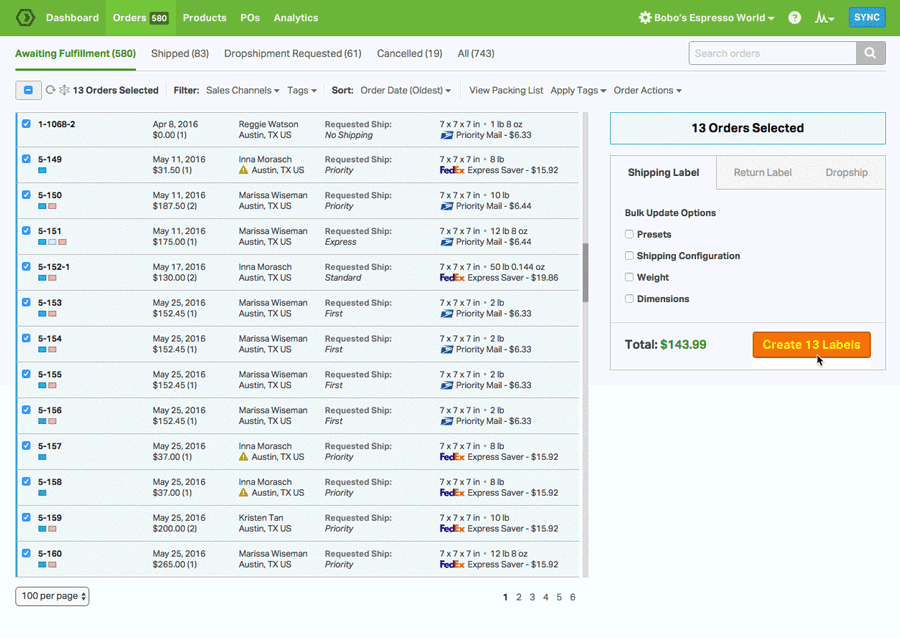 The Best Alternative to Free Inventory Software for Small Business
The All-In-One Ecommerce Logistics Platform
Equip yourself with a comprehensive solution
Inventory Management
Stock, sync, and scan.
Automatically track and sync your inventory levels
Create and send out Purchase Orders when it's time to restock
Bundle multiple SKUs into one unit for sale
Use Barcode Scanning to reduce fulfillment errors
Multi-Carrier Shipping
Your workflow, minus the work.
Enjoy heavily-discounted shipping rates via USPS
Ship via any of our integrated shipping carriers like USPS, UPS, FedEx, DHL and Canada Post
Set up your own Automation Rules and Shipping Presets
Print shipping labels in triple-digit batches or individually
Dropshipping
Truly hands-off dropshipping.
Launch a dropshipping operation in a matter of clicks
Tag any product as drop shipped and assign it to a vendor
Choose between automated or manual routing
Activate a Vendor Portal between you and your supplier
Multichannel
We're your operations hub.
Integrate and view all of your sales and supplier channels in one spot
Use our open API to hook up any third-party or custom apps
Manage every aspect of your orders
Establish Supplier Feeds for real-time, back-end communication
Barcode Generation and Scanning
Raise the bar for stocking and packing.
Create UPC barcodes for your products
Scan, set, and search UPC codes for SKUs within Ordoro
Reduce fulfillment errors with our pack and pack barcode scanning workflow
Scan received POs to automatically adjust stock levels
Don't take our word for it
Our awesome customers have shipped some really great compliments our way:
"I spent about a month thoroughly searching for the right backend fulfillment software for my eCommerce business. There were definitely some big name guys out there that I considered, but at the end of the day, I went with Ordoro and I'm so glad I did!"

Tina Yarandi
Founder/CEO of Nature's Artisan
"Ordoro continues to add immensely valuable features to an already awesome sales/warehousing/shipping platform. Using Ordoro continues to save us time and money."

Anthony Krize,
VP of GE Holiday Lighting
Free Inventory Software For Small Business
When it comes to the benefits of investing in a system for your small business, you cannot afford to scrimp and not spend money. How can you expect customers to spend money on your company if you do not put money out there into the world for your own business? Wealth attracts more wealth, and here is the first example of that fact. How you decide to manage your inventory will make all the difference in whether you continue to grow as a manufacturer, retailer, or wholesaler.
You can use free inventory software for small business or inventory management software free for PC. Or you can invest in a full fledged system including software, apps, and barcode scanning generators from Day One. The first method will not get you very far, and one day you'll be scratching your head wondering what to do next in order to scale up operations since your free solution is no longer enough. You will wish you had spent a little money on the best inventory management app for small business in the first place–when you end up doing that with Ordoro anyway.
The benefits of simplifying your business come from using and investing in inventory management software like Ordoro. But does investing have to cost money or can you get it by using free inventory software for a small business? The truth is, no, you cannot. Inventory management software small business for free, costs you in the long run. You will have to invest actual dollars if you want the best simple inventory software for small businesses.
This is necessary if you are ready to scale your company. Using a basic Excel spreadsheet to manage your inventory is the wrong move to make. The manual inventory software that requires you to manually enter every single piece of information is also the wrong way to go. You are going to leave yourself in the lurch whenever a big order or shipment comes through that you cannot keep track of fast enough.
Offline Free Inventory Management Software
We know a lot of small to medium business owners choose an offline inventory management software free download from the get-go. This way you can start tracking these variables, so you can determine the right pricing for future suppliers, products, and items to ship.
As a result, the customer will end up unsatisfied with the order and find somewhere else to do business. Your company will not be able to scale up properly because you cannot keep up with the inventory or track it down in the supply chain. Free software will eventually cost you more money and time, as you will either have to supplement the solution when scaling up or find a new vendor and software.
This happens every day. Businesses are not prepared to make more money and continue increasing productivity for their company. This is because they have not spent time understanding where their inventory is going and how much it truly costs per item. But what if you are just starting out and have no idea about how much inventory you will have in the next few months?
Setting up an inventory tracking system starts when you identify costs associated with your products. Each item you produce has a cost due to the materials, labor, and other factors associated with its end product. Shipping becomes a factor once the first order is placed by a wholesaler, retailer, or customer. An open source inventory management software - free download might sound like a simple fix and a great freebie for your company.
But what will happen when you end up downloading a virus or spyware in the process? This is a huge issue and major risk that companies take on every single day. Downloading anything from the internet always comes with a risk that you will get more than you bargained for, but something that says it is free is far more likely to harbor ill will. You can nearly guarantee that there is a Spybot tracker embedded within the sales and inventory system free download and even with offline free inventory management software.
If you plan on protecting your financial information and company data, then choose the best master inventory management for small businesses from Ordoro.
Free Inventory Management Software In Excel
If you are someone who struggles with macros and column deletions on Excel, then rest assured that there is a far better way to manage inventory. However, that does not tamper with the fact that a lot of office workers are still using Excel. Therefore, you may experience some resistance to trying to set up an inventory management system without an Excel inventory management template or free excel inventory template with formulas. Do not let that stop you, and here's why.
You want to avoid using free inventory management software in Excel because there is more to the story of this freebie. When you set up a spreadsheet in Excel, it takes a lot of manual labor that costs you money. Figuring out how to use a spreadsheet is also a chore and becomes a burden when macros and sums stop automatically calculating themselves. Delete a formula and watch out for the sparks to fly! Excel is simply no longer enough for everything, including inventory management for today's warehouse.
With an invoice and stock management in excel template, you can only handle inventory and stock. What about the rest of your supply chain including third-party logistics (3PL) providers and shipping? Keeping inventory up-to-date requires a complete supply chain solution. Simple inventory software free in Excel lacks real-time data, historical data, and user access. Even if you are able to use the cloud to store information, stock management in excel sheet pdf is way too basic for real business purposes.
The same issues arise with manual inventory software as a type of inventory management system in Excel VBA free download. A manual inventory system requires you to input each piece of information. Forget barcodes and barcode scanners or even apps to save you time and labor. The free inventory management software in Excel barcodes works to improve the load, but it is limited in the scope of what it can provide. If you want more accessible features, then you are going to have to pay anyway.
Simple Inventory Software Free
There are several options for free inventory software for small businesses on the market. These free inventory management software providers include Odoo, Zoho Inventory, Boxstorm, and Stockpile. Zoho reviews indicate that support is not always helpful. Customers report having trouble with communicating via customer service to report problems. They also state that important bugs have remained a problem for years. That's not good! A lack of support and bugs are clear indicators that the simple inventory software free by Zoho Inventory also comes with things you really can't afford to have on your PC.
Odoo is another alternative with a free inventory management app and other features. However, customers report that there are errors in files with Odoo services. In addition, the simple inventory software free to download comes with a complex implementation process. Training and time spent learning the system is a huge downfall. This is why you want to go with a service provider that offers free onboarding with its services.
Ordoro is where you can go to find the best free inventory management software and the best free inventory app for small businesses. Our services include free onboarding for the first 30 days to help you get the most out of an easy implementation process. We have a top-of-the-line customer service team that is serviced by actual humans at Ordoro Support. You also have access to online videos that provide information and guidance on getting their open source inventory management software - free download to work for your business.
Best Inventory Management Software For Small Businesses
Whether you want to scale your production from zero to 200 or 200 to 20,000 a month, Ordoro has a solution. Our comprehensive fulfillment platform is the best inventory management software for e-commerce. Ordoro managed more than 12 million orders worldwide in 2020 alone and is ready to do the same for your business.
What to look for in software for inventory management starts with choosing an online platform for an online store. If you have an online store, Ordoro is an excellent resource for you. The services include professional inventory software for small business with a scanner for barcodes, as well as barcode generators and a barcode scanning app for free to download. There is even a free inventory management app with Ordoro to help you track and manage inventory online with ease. With our free inventory software for small business combined with our software and platform access, you combine cost savings with scale-able solutions.
The features of the best inventory management software for small businesses that you really need include solutions for inventory shrinkage and better tracking methods than Excel spreadsheets. Ordoro offers all of this and more with subscriptions to our platform, as well as a stock management software free download for PC.
Your e-commerce business could make a lot of improvements with the implementation of Ordoro inventory management software. As the best inventory management software for small businesses, you can benefit from using Ordoro to develop a multichannel business. We have apps, a built-in kitting engine, bulk shipping label creation, and automated dropshipping. It's all within a single platform to give you the most integration of data both in real-time and historical. Understanding how to scale up your business starts with seeing where your business began. This takes data pulled over as many KPIs as possible, which comes from using the best inventory management software you can buy.