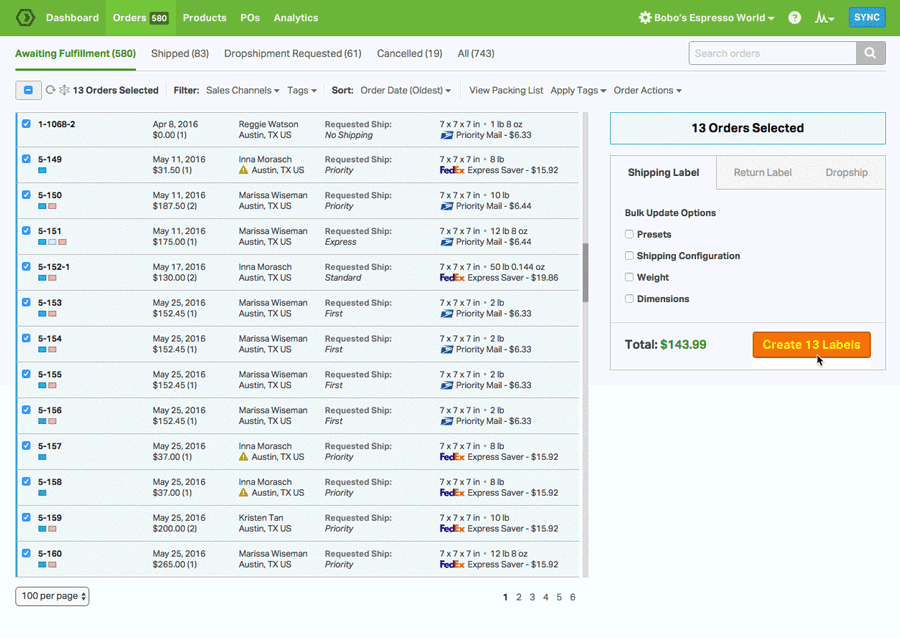 Free Inventory Management Alternatives For Your Business
The All-In-One Ecommerce Logistics Platform
Equip yourself with a comprehensive solution
Inventory Management
Stock, sync, and scan.
Automatically track and sync your inventory levels
Create and send out Purchase Orders when it's time to restock
Bundle multiple SKUs into one unit for sale
Use Barcode Scanning to reduce fulfillment errors
Multi-Carrier Shipping
Your workflow, minus the work.
Enjoy heavily-discounted shipping rates via USPS
Ship via any of our integrated shipping carriers like USPS, UPS, FedEx, DHL and Canada Post
Set up your own Automation Rules and Shipping Presets
Print shipping labels in triple-digit batches or individually
Dropshipping
Truly hands-off dropshipping.
Launch a dropshipping operation in a matter of clicks
Tag any product as drop shipped and assign it to a vendor
Choose between automated or manual routing
Activate a Vendor Portal between you and your supplier
Multichannel
We're your operations hub.
Integrate and view all of your sales and supplier channels in one spot
Use our open API to hook up any third-party or custom apps
Manage every aspect of your orders
Establish Supplier Feeds for real-time, back-end communication
Barcode Generation and Scanning
Raise the bar for stocking and packing.
Create UPC barcodes for your products
Scan, set, and search UPC codes for SKUs within Ordoro
Reduce fulfillment errors with our pack and pack barcode scanning workflow
Scan received POs to automatically adjust stock levels
Don't take our word for it
Our awesome customers have shipped some really great compliments our way:
"I spent about a month thoroughly searching for the right backend fulfillment software for my eCommerce business. There were definitely some big name guys out there that I considered, but at the end of the day, I went with Ordoro and I'm so glad I did!"

Tina Yarandi
Founder/CEO of Nature's Artisan
"Ordoro continues to add immensely valuable features to an already awesome sales/warehousing/shipping platform. Using Ordoro continues to save us time and money."

Anthony Krize,
VP of GE Holiday Lighting
Free Inventory Management
Having the right kind of inventory management software can take a huge part of administrative burdens off your shoulders, but if you're tempted to look into "free" software, be aware that most free programs have either time limits (such as 14 days) to try it out, or you're getting a very limited or even beta version of the real thing. In any event, you'll be getting a much-abbreviated version that will probably leave out features that you may find necessary to do business.
Is there really such a thing as "free inventory management?" Well, sort of. At least for a short while and/ or until you need something that can handle more inventory, volume, product movement (incoming as well as outgoing), multi-carriers, multichannels, and so on.
Where can you find simple inventory software free of charge? The following list may be useful, although you'll need to evaluate these for yourself, based on your own business needs.
Fit Small Business which put together the following list, also offers a free inventory management software download and workbook for those who still prefer spreadsheets.
Probably the best free inventory management app for small businesses depends on what type of business you run.
For example, Ordoro was rated "Best for Warehouse Management and Dropshipping". The rest are as follows:
Square – rated best for tracking an unlimited number of products.
Zoho Inventory – excellent for growing businesses and retailers
ABC Inventory – great for volume sellers and manufacturers who also need advanced stock/ workflow management
SalesBinder – Best program, fully-featured for limited inventory products
Boxstorm – best for those with QuickBooks connectivity and smaller SKU counts
Stockpile - rated best standalone for simply tracking items
Right Control – best for generating barcodes and pick-pack for online orders
Sortly – voted best on-the-go free inventory app
We've saved the best for last: Ordoro offers a generous free trial period with enough time to evaluate its features and compare to other inventory software brands available.
Free Inventory Management System Excel
One good choice if you're just starting out and want to save a bit of money with a free inventory management system Excel or a similar downloadable spreadsheet program could be the ticket in the beginning. However, as you may already know if you've used this method before, it can be prone to errors when entering or changing data. It's also pretty cumbersome when trying to track down large quantities of products as well as manage shipping, reorders, and so on. What about offline free inventory management software?
Using the Excel inventory management template, even offline, you can enter data as well as track incoming and outgoing product movement. One problem is that most spreadsheets aren't customizable to reorder replacement products once you start to run low.
There are Excel inventory template with formulas free download offered by Microsoft, so if your hardware is compatible, that could be a good source.
For new businesses with a lot of upfront expenses and relatively small inventories of products, simple inventory software free in Excel may be a good choice at the beginning, at least until your start to have more sales and increase your product lines.
Free inventory management software in Excel may save some software money upfront, but as soon as possible, you should look into getting a more reliable, versatile, and scalable software system in place. Ecommerce software leader Ordoro's plug-in app and other tools allow you to handle shipping and inventory management, from multichannel suppliers and carriers such as Amazon, eBay, and other major marketplaces. It also includes accessing the shopping carts from such powerhouses as BigCommerce and Shopify.
With our handy tools and apps, Odoro also gives you the ability to multi-channel inventory sync of your shipping locations, customer sales data, and oversee each sales channel, all from the same dashboard.
Inventory Management Software Open Source
Using an inventory management software open source such as offered through top-rated Odoo's downloads, can improve performance and speed up processing time, but there is a lot to know about installing and using it. There are, in fact, several pages of online information, including Demo, SaaS, as well as packaged and Source installation, for Linux, Mac OS, Windows, and so on. If that sounds a bit daunting, and you aren't (or don't have a tech guru on site), then there may be learning-curve delays and likely glitches as you and your software get to know each other.
Using open source inventory management software - free download may be of interest to not only ecommerce retailers but, in general, any warehouse or operations manager. One advantage of open source is that the software can be changed and reconfigured as well as shared with others in the organization. On the other hand, to do so requires a certain level of technical expertise not possessed by a large portion of ecommerce entrepreneurs.
So there are pros and cons to both free and open source inventory management software, with balancing the saving of money against saving time. Ordoro gives you the best of all worlds, with the adaptability of open source as well as customization of apps and plugins for your type of business, whether re-selling, manufacturing or dropshipping. As an ecommerce software industry leader, Ordoro allows users to optimize real-time fulfillment workflows, including label generating, barcode scanning, omnichannel inventory management, and more.
Say goodbye to spreadsheets that waste time, money, and efficiency, as you can now speed up operations overall. Instead of having to install specific types of software for different operations tasks, such as inventory against shipping, you can handle everything from a centralized source with just a few clicks.
Inventory Management Software Small Business
What's the best inventory management software small business related? As we like to say, ecommerce businesses are different, even those selling the same types of products to similar markets. The best inventory management software is what offers the features your business needs while remaining scalable and growing with your business. Of course, we're proud that Ordoro takes the top honors thanks to our versatile features, scalability, ease of use, and affordability.
What's the best inventory management app for small business? One of the best apps is that which is offered by Ordoro, compatible for iOS, Android, or desktops. Stockpile, Sortly, and On Shelf also rated positive mentions in a survey by NerdWallet.com.
Can you find truly free inventory software for small business? Again, this depends on a number of factors: the type and quantities of products you offer for sale, the physical storage such as warehouses, available, whether you're a new start-up with a limited budget and experience or a seasoned ecommerce retailer, and so on.
When you're looking for inventory management software small business, what should you look for?
The ability to organize product categories, including kitting and multiple bundles of products.
Quickly, accurately track sales and purchase orders.
Automatically reorder only necessary new stock, streamlining inventory management while reducing the costs of inventory management.
Support centralized multi-channel listings for customer convenience and increased sales.
It is easy for non-tech users to learn, without needing expensive, time-consuming training.
Ordoro has spoken with dozens of ecommerce business owners and concluded that while there were many good resources to help build websites, find products, and other frontend tools, most were struggling with the backend chores of inventory managing, using spreadsheets, and other more antiquated software methods. That was why and how Ordoro came to be launched – with the vision of solving these problems by becoming an all-in-one ecommerce logistics platform, with the goal of serving small to medium-sized businesses.
Best Inventory Management Software
The type of inventory management system you'll need to set up depends on what kind of ecommerce business you plan to operate. Dropshippers only need inventory for accounting purposes, even though they don't have to worry about more complex aspects of inventory such as coordinating warehouses, picking/ packing, and other fulfillment tasks. Will you need warehouse management capabilities or will you be storing your inventory on your store's premises? No matter what your needs, Ordoro can handle all phases of inventory management, even for startups, as we offer scalable features to grow along with your ecommerce business.
Voted the best inventory management software by our many customers is a testament to Ordoro's thoughtful features, automating your shipping and warehouse management in real-time, streamlining your fulfillment operations, and tracking your shipments right down to the final delivery to the customer's doorstep.
Granted, the best inventory management software for ecommerce isn't "free", but as with anything, you ultimately get what you pay for. Our many satisfied users agree that Orodor has the bases covered with inventory management software, including apps and plugins to stay current and scalable as your business grows. With state-of-the-art multi-channel ecommerce inventory management software, you can give your customers more flexibility in choosing which warehouse or shipping location that best serves their needs. As your inventory drops to pre-set levels, products are automatically reordered to prevent delays in filling orders.
Finally, for those Shopify entrepreneurs, what's the best inventory management software for Shopify? Are you planning on running a dropshipping business, or will you be buying products from suppliers to (re)sell? Shopify currently offers its subscribers a solid platform in an easy-to-use format, which is compatible with Ordoro as well as many Shopify apps and other multichannel sources, so you can be assured that your inventory needs are being met.
Schedule a free demo to learn what our products can do for you, saving time and money while moving your ecommerce business forward.