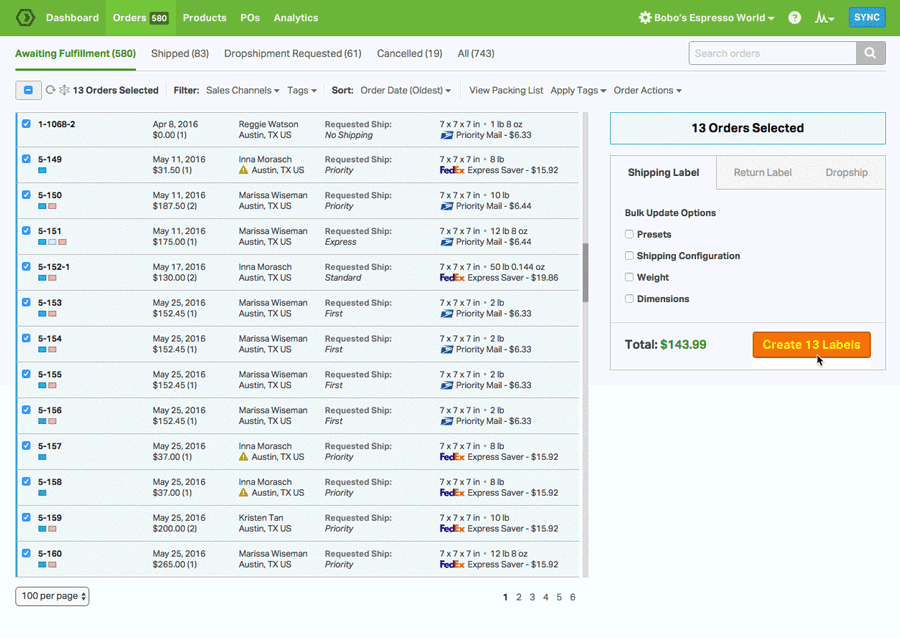 The Best Alternative to Inventory Management Software, Free Options
The All-In-One Ecommerce Logistics Platform
Equip yourself with a comprehensive solution
Inventory Management
Stock, sync, and scan.
Automatically track and sync your inventory levels
Create and send out Purchase Orders when it's time to restock
Bundle multiple SKUs into one unit for sale
Use Barcode Scanning to reduce fulfillment errors
Multi-Carrier Shipping
Your workflow, minus the work.
Enjoy heavily-discounted shipping rates via USPS
Ship via any of our integrated shipping carriers like USPS, UPS, FedEx, DHL and Canada Post
Set up your own Automation Rules and Shipping Presets
Print shipping labels in triple-digit batches or individually
Dropshipping
Truly hands-off dropshipping.
Launch a dropshipping operation in a matter of clicks
Tag any product as drop shipped and assign it to a vendor
Choose between automated or manual routing
Activate a Vendor Portal between you and your supplier
Multichannel
We're your operations hub.
Integrate and view all of your sales and supplier channels in one spot
Use our open API to hook up any third-party or custom apps
Manage every aspect of your orders
Establish Supplier Feeds for real-time, back-end communication
Barcode Generation and Scanning
Raise the bar for stocking and packing.
Create UPC barcodes for your products
Scan, set, and search UPC codes for SKUs within Ordoro
Reduce fulfillment errors with our pack and pack barcode scanning workflow
Scan received POs to automatically adjust stock levels
Don't take our word for it
Our awesome customers have shipped some really great compliments our way:
"I spent about a month thoroughly searching for the right backend fulfillment software for my eCommerce business. There were definitely some big name guys out there that I considered, but at the end of the day, I went with Ordoro and I'm so glad I did!"

Tina Yarandi
Founder/CEO of Nature's Artisan
"Ordoro continues to add immensely valuable features to an already awesome sales/warehousing/shipping platform. Using Ordoro continues to save us time and money."

Anthony Krize,
VP of GE Holiday Lighting
Inventory Management Software Free
Invest in inventory management software, rather than choosing the first open source inventory management software - free download - you find online. This decision is an important part of your business and operations. Your choice of inventory management software will make or break how well you are able to organize inventory, replenish stock, and manage your supply chain.
Having the right tools and technology is important, especially if you are a small business owner. If you choose inventory management software free and generally use open source software, you'll find yourself running up short in the times you need this system the most.
You want to steer clear of free inventory management software. What you should be focusing on instead is the best local software, the best software for growth, and the best for ecommerce. There is also industry-focused software that is the top-rated for manufacturers. Getting everything you need for your company in terms of free inventory management software for PC is essential.
One example of where to find the best inventory management software free is the open source inventory management by GitHub. This is a total inventory management database where all kinds of software are provided in the open-source context. OpenBoxes, InvenTree, and PartKeepr, which is well suited for managing inventory for healthcare facilities as a supply chain management solution, can be sourced on GitHub. However, being that it is open source, anyone can change or edit the code to these forms of inventory management software. This is risky for a business owner who is focused on cybersecurity and confidentiality.
Even the best free inventory management software and free inventory management app will only carry your company so far. At some point, you will need to expand or gain control over some aspect of the inventory management system. This is where you should start with a paid inventory management software list with all of the services and features these offer.
Seek out a provider like Ordoro that offers customized software solutions. The end results will be exactly what your company needs for best practices and smarter scalability. Ordoro does not have free inventory management software. What we offer instead is a value-oriented software package to supply your team with total inventory management.
Free Inventory Management Software In Excel
There are other forms of free inventory management software in Excel that are quite popular. New business owners can easily open up a new Excel spreadsheet and find a template to conduct inventory management. Furthermore, as a small business owner, you may currently be utilizing free inventory management software Excel.
Figure out a better and more efficient way to handle inventory management with the services and software by Ordoro. We have invested time and money in a system that is dedicated to all of your most pressing manufacturing and inventory management needs. This includes creating barcodes using UPC and printing shipping labels, as well as providing cloud-based storage for digital documents. All of this is available with a paid subscription to Ordoro.
Even while the inventory management system in Excel vba free download is easy to open, this also means other people on the network can easily get into your database. If you want to protect your business against cyber attacks, avoid using Excel and opt for a more stable and secure form of inventory management.
Also, as simple inventory software free in Excel may be in allowing businesses to track their inventory via a stock management in Excel sheet download. However, the formulas, macros, and cells can be very time-consuming to use–especially when manually entering data. This results in a greater number of mistakes by employees when entering information, which adversely affects your bottom line.
Using Ordoro's software ensures that online merchants have everything they need for proper inventory management. This includes:
Optimization of fulfillment workflows
Bulk shipping label creation
Omnichannel inventory management
Automated dropshipping
All in one platform
The Ordoro system also includes free inventory management software in Excel barcodes and an inventory management system template free download. Get started with a trial offer of Ordoro today!
Free Excel Inventory Template With Formulas
There are several pitfalls that come from using Excel inventory templates and formulas. The biggest problem with this system for inventory management is the manual entry required. As a small business owner, you are required to do a lot to just set up one of these spreadsheets. Now, try handling incoming orders, outcoming stock, and shipping with third-party logistics providers. These factors create a constant flux in your inventory. Also, the majority of the free Excel inventory templates with formulas are not capable of this level of automation.
Even with a template, you still have to manually enter information, which is tedious and time-consuming. If a formula has an error within an equation, such as choosing the sum instead of the average for a formula, you are stuck with a hidden mistake embedded within the spreadsheet. Trying to decipher these mistakes takes time that your company cannot afford to lose. Plus, everything is digital these days, including invoicing and inventory tracking using barcodes and shipping labels.
To be on point and on target with the rest of the world in the 3PL supply chain, you must have the correct information on your shipments. Barcoding is the way that enterprise manufacturers have been doing this and tracking inventory for decades. If you are using a paper ledger for accounting and bookkeeping, you have a long way to go. Scaling up your business is not feasible when competing against fast-paced businesses and online merchants who utilize tools like those by Ordoro.
Choose the right purchase sales inventory Excel template free download for your small business. Start using this template today from Ordoro, and see a rise in productivity and inventory management. Our small business inventory spreadsheet template for auto parts, for example, shows you exactly what Ordoro can do for your company. Upgrade how you see and handle inventory to reduce energy and output in this area. We also offer an invoice and stock management in Excel template that will work for your warehouse.
Best Inventory Management Software Small Business
Inventory management is a challenge for small businesses because of several factors. You might be a new startup that is unsure of your supply and demand due to an unstable consumer base. You could struggle with defining the KPIs and parameters of your supply. There is also the concern about security with an online inventory management system. Finding the right choice will make or break your growth in the coming years. Choose the best inventory management software small business by Ordoro to ensure you optimize your performance.
The benefit of using the best inventory management software for small businesses for free is a good place to start. However, you want to avoid free software and solutions for your company. These are only going to provide you with free inventory software for small businesses in a single phase. To scale up and grow in business, you want to choose the best inventory management software for e-commerce. Ordoro is the best inventory management software for small businesses, and we offer the best free inventory app for small businesses.
However, you want to invest in inventory management software for a small business. This is where Ordoro provides the most reliable tools and technology to set up your warehousing and inventory processes. Update the way you rely on software for your company by choosing to work with Ordoro from the beginning. That way, you have a system in place that will expand your operations, providing your team with optimized processes.
Best Inventory Management Software
The advantages of using a barcode scanner for inventory management are paramount. Along with creating order in your inventory management, you are also setting up your logistics and third-party distributors with the information they need to get the sale. Barcode information including RFID and UPC Code information is universal. This data is useful across many channels, and it supports the functionality of the entire supply chain. Having the best inventory management software readily available is the right choice.
Ordoro is the best inventory management software for small e-commerce businesses. Keep in mind, Ordoro does not offer free inventory management software. However, we do provide our customers with the best inventory management software with a barcode scanner app that is free to subscribers. While free inventory software for small businesses is OK, our subscription service comes with the additional support and security your company demands. Stay on target with KPUs and have everything in order for any sale or shipment using the best inventory management software by Ordoro.
Our inventory management software solution is ready to use out of the package. We also provide customer support and 30 days of onboarding, for free, to help you get started with our software. When you are ready to scale up your business, it is simple to do with the support that Ordoro offers. Along with the latest in inventory management software, we also have updated technology to continue to expand your services.
Let Ordoro show you how to improve your bottom line with smarter supply chain management. From inventory to shipping, everything using our Ordoro software will be tracked seamlessly. Provide customers and distributors with up-to-date information with real-time tracking data. Everything you want and need to handle your warehousing and inventory will be made available to you through Ordoro. Using the simple yet intuitive dashboard provided by Ordoro gives you control and tools at your fingertips.