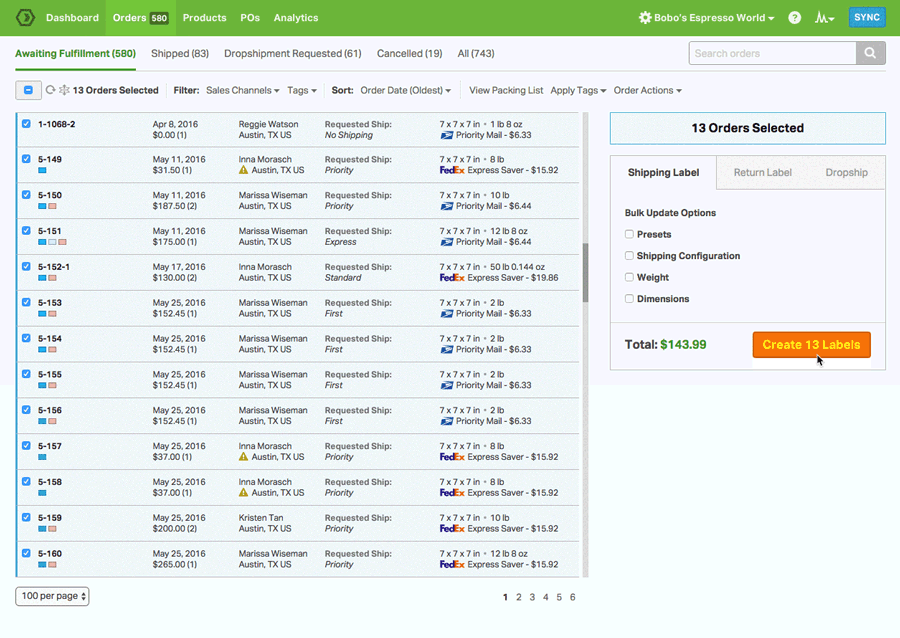 Improve Your Inventory Management Process With Ordoro
The All-In-One Ecommerce Logistics Platform
Equip yourself with a comprehensive solution
Inventory Management
Stock, sync, and scan.
Automatically track and sync your inventory levels
Create and send out Purchase Orders when it's time to restock
Bundle multiple SKUs into one unit for sale
Use Barcode Scanning to reduce fulfillment errors
Multi-Carrier Shipping
Your workflow, minus the work.
Enjoy heavily-discounted shipping rates via USPS
Ship via any of our integrated shipping carriers like USPS, UPS, FedEx, DHL and Canada Post
Set up your own Automation Rules and Shipping Presets
Print shipping labels in triple-digit batches or individually
Dropshipping
Truly hands-off dropshipping.
Launch a dropshipping operation in a matter of clicks
Tag any product as drop shipped and assign it to a vendor
Choose between automated or manual routing
Activate a Vendor Portal between you and your supplier
Multichannel
We're your operations hub.
Integrate and view all of your sales and supplier channels in one spot
Use our open API to hook up any third-party or custom apps
Manage every aspect of your orders
Establish Supplier Feeds for real-time, back-end communication
Barcode Generation and Scanning
Raise the bar for stocking and packing.
Create UPC barcodes for your products
Scan, set, and search UPC codes for SKUs within Ordoro
Reduce fulfillment errors with our pack and pack barcode scanning workflow
Scan received POs to automatically adjust stock levels
Don't take our word for it
Our awesome customers have shipped some really great compliments our way:
"I spent about a month thoroughly searching for the right backend fulfillment software for my eCommerce business. There were definitely some big name guys out there that I considered, but at the end of the day, I went with Ordoro and I'm so glad I did!"

Tina Yarandi
Founder/CEO of Nature's Artisan
"Ordoro continues to add immensely valuable features to an already awesome sales/warehousing/shipping platform. Using Ordoro continues to save us time and money."

Anthony Krize,
VP of GE Holiday Lighting
Inventory Management Process
What is meant by the inventory management process and why is it important to the success of any business, especially ecommerce?
A number of websites, such as Veeqo, HubSpot and ResearchGate, offer tutorials on inventory management process PDF formats. These are handy downloads that can guide you to learn management concepts and improve strategic decisions on managing inventory no matter what size business you have or whether you are a manufacturer, retailer or any organization dealing with moving and storing products or raw materials.
When setting up an ecommerce business, you will probably wonder: what is the inventory process in relationship to inventory management?
What are the functions of inventory management and the roles they play?
Here are the basic tasks any good inventory software should be able to perform:
Organize your products into relevant and easily-found categories
Track your sales and new purchase orders (POs)
Meet your start-up budgetary requirements now and into the future as your business grows.
It should be easy to install and use, especially for employees without a technical background.
Automatically order replacement stock from designated suppliers when levels drop to a pre-determined quantity
Finally, your business's size and type, such as manufacturing, retail, and so on, are also major factors in determining which software is right for you.
Ordoro's inventory management software, plugins and other tools have helped countless ecommerce businesses take charge of inventory management and stay competitive, even with larger competitors, and thrive.
Inventory Management Techniques
If you're new to ecommerce or any business moving products, and so on, to customers, you may wonder: what is inventory? Simply put, it's defined as the "complete set of property, goods available in stock, or a building's contents." It normally refers to the goods and other materials held by a business with the ultimate goal of reselling, production or other forms of utilization. Of course, it includes any raw materials needed for the production of goods as well as other goods produced by suppliers available for sale. Inventory management is a discipline that deals with the shape and placement of stocked goods.
Some inventory management techniques and inventory management tools to track inventory and purchase orders include:
Excel and other spreadsheets, as well as cloud software, installed software and subscription software, including Ordoro, are a few tools and techniques of inventory management.
Any inventory management tools and techniques should also include the use of automated inventory management, such as provided by Ordoro.
There are three primary methods of valuing inventory: Last In, First Out (LIFO), First In, First Out (FIFO), and Weighted Average Cost (WAC).
FIFO – assumes that the first items purchased are also first to leave the warehouse or distribution center.
LIFO – the opposite assumption is true: the last items entered are the first to leave.
WAC - the item's average cost-per-unit is calculated by dividing the total cost by the total number of units purchased during the year.
Regarding the importance of inventory management techniques, you can also refer to an inventory management techniques PDF on the Veeqo and other websites mentioned above.
As a leading developer of ecommerce management software, Ordoro's inventory management tools can help businesses:
Track and sync inventory levels automatically
Bundle multiple orders together, making it easier to handle shipping needs
Automatically create and send Purchase Orders when you need to restock
Utilize barcode scanning to reduce fulfillment mistakes, especially at the pick/ pack level
Access inventory guides for SKUs and other functions and apps
Ororo's inventory system and apps make inventory mistakes a thing of the past.
Inventory Management System Free
Inventory management system open source is often used interchangeably with "free" and cloud-based or downloadable programs. These types of programs can be helpful for larger businesses that can afford the IT staff to configure the software to meet their specific needs, but may not be a good choice for a smaller enterprise whose owners and staff aren't as adept at IT. One positive thing about them is that they are web-based and downloadable, requiring less space than installed programs in your computer's hardware and servers.
Many businesses, especially if startups are trying to save money, use an inventory management system free of charge, such as spreadsheet programs like Excel, Google Spreadsheets, and others. In fact, because it's so widely used, your business may currently be utilizing these "free inventory management software" programs. If so, here's what you need to know:
Although Excel and most other inventory management system free download spreadsheet programs are free platforms that allow businesses to track their inventory, they can be inefficient and subject to human error. If you've spent hours laboring over data entries within a spreadsheet, you know how tedious and time-consuming it can be. It's easy to see how mistakes can be easily made, especially when hundreds or even thousands of products are concerned.
Using a spreadsheet inventory management system Excel, or other similar programs can cost more time and money spent copying and pasting, as well as risking mistakes. Using inventory management tools free of charge can cost you in terms of efficiency, accuracy, and potential stockouts.
Ordoro is your go-to for everything inventory and beyond - whether it's ecommerce, manufacturing, or dropshipping, we have the apps and tech support your business needs to be competitive and thrive. Just plug in your online store and other channels, including suppliers, warehouses, and other markets – to connect the same inventory data for true multichannel business. No more need for time wasted copying and pasting or performing repetitive drudgery.
Warehouse Inventory Management Software
When considering warehouse inventory management software, especially if your business has multiple warehouses or distribution centers in different states, it's essential that each location is integrated so users can quickly view inventory levels. The solution should also allow customers and other users to choose one warehouse as their primary location and fulfill orders from a single screen.
Warehouse inventory management software is traditionally focused on the needs of large warehouse companies, such as those run by Amazon, and using installed stand-alone software developed for their unique needs. Smaller and medium businesses, particularly startups, have entirely different needs and flexibility requirements. For these, a web-based solution that offers a more nimble adaptation to market changes as well as scalability to grow easily with a business is a far better choice for the short-and long terms.
For smaller businesses, warehouse software can also be combined with other functionalities to encompass all movement of stock, manage storage systems as well as warehouse employees, fulfillment operations, and other tasks within the warehouse environment. Newer versions of such web-based software may also be cloud-based for even faster access.
Wouldn't you rather spend your time actually running your business instead of entering dozens of products, updating entries after orders, and tracking warehouse and shipping location activities? If you've been using Excel, especially with dealing with warehouse management complexities, it's time to shred those spreadsheets and "get with the program" – Ordoro's program, with its apps and plugins for seamless integration of managing every facet of your ecommerce operation.
Ordoro offers complete multi-channel integration, automated fulfillment from kitting, picking and packing, multicarrier shipping, order tracking, along with analytics and report generation. Ordoro can handle everything from scaling upwards with a new business, as it grows with your business. Ordoro offers FREE 30-day onboarding and lifetime support. Contact us and get a free demo and learn more about growing your ecommerce business.
Best Inventory Management Software
We've talked about the different inventory management system software and their pros and cons, but one thing to remember is that any business using an inventory system needs to be as efficient and accurate as possible.
Do some research and you'll find that the best inventory management software for ecommerce should meet the criteria discussed previously in the first section and that it should be able to grow right along with your business.
Ordoro software allows you to:
Unify your entire inventory, by becoming the main hub for all matters related to inventory. Just plug each marketplace channel, from your webstore to suppliers and warehouses, into the app for a multichannel integration connecting everything together in real-time.
You can also raise the bar of workflow as Ordoro supports UPC barcodes, so you can scan, set, as well as search for UPC codes for SKUs within the Ordoro app. You can also tag products in bin and aisle locations for faster, more accurate picking and packing.
With pick and pack mistakes dropping, thanks to the barcode scanning feature, you'll have the peace of mind that comes from sharply reducing all types of fulfillment errors. All you have to do is select which orders you want to pull, click a button and the app will pick up the items to be picked, scanned, and packed, marking orders as "complete" once everything has been accounted for.
You'll want to choose the best inventory management software on the market today – choose Ordoro, a leader in the ecommerce software management industry. Ordoro's apps and plugins offer flexibility, scalability, and the most-wanted features by businesses of all sizes and types that other software companies can only dream of.
Plus, as a top platform for any online store, Ordoro offers multi-channel integrations, multicarrier shipping, automated fulfillment from kitting, picking and packing, order tracking, analytics and report generation, and more. Ordoro can handle any task: from scaling along with a new business and offers FREE 30-day onboarding and lifetime support. Contact us for a free demonstration today and learn how to save money while growing your business with the best.