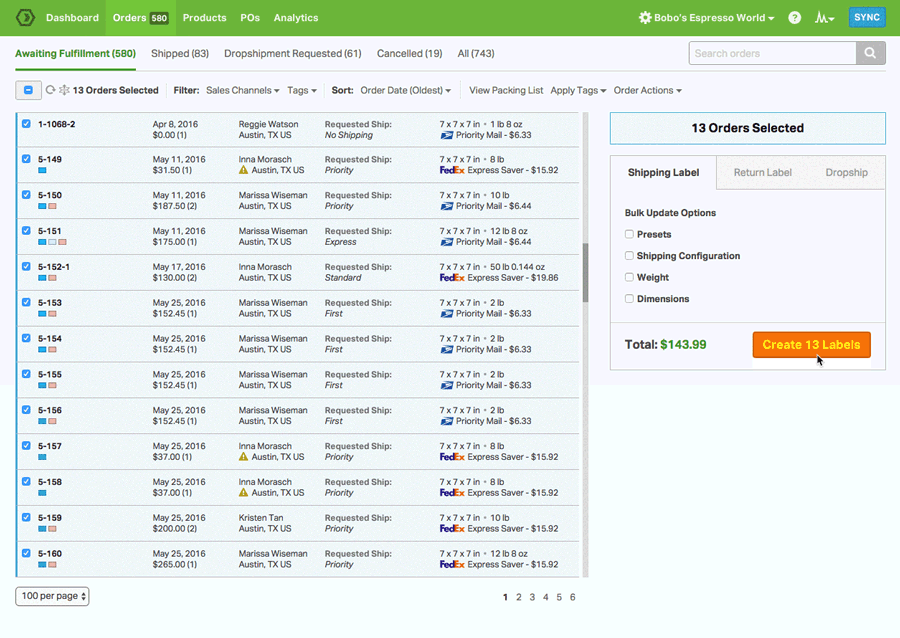 Fulfill orders faster with our order management software for small business
The All-In-One Ecommerce Logistics Platform
Equip yourself with a comprehensive solution
Inventory Management
Stock, sync, and scan.
Automatically track and sync your inventory levels
Create and send out Purchase Orders when it's time to restock
Bundle multiple SKUs into one unit for sale
Use Barcode Scanning to reduce fulfillment errors
Multi-Carrier Shipping
Your workflow, minus the work.
Enjoy heavily-discounted shipping rates via USPS
Ship via any of our integrated shipping carriers like USPS, UPS, FedEx, DHL and Canada Post
Set up your own Automation Rules and Shipping Presets
Print shipping labels in triple-digit batches or individually
Dropshipping
Truly hands-off dropshipping.
Launch a dropshipping operation in a matter of clicks
Tag any product as drop shipped and assign it to a vendor
Choose between automated or manual routing
Activate a Vendor Portal between you and your supplier
Multichannel
We're your operations hub.
Integrate and view all of your sales and supplier channels in one spot
Use our open API to hook up any third-party or custom apps
Manage every aspect of your orders
Establish Supplier Feeds for real-time, back-end communication
Barcode Generation and Scanning
Raise the bar for stocking and packing.
Create UPC barcodes for your products
Scan, set, and search UPC codes for SKUs within Ordoro
Reduce fulfillment errors with our pack and pack barcode scanning workflow
Scan received POs to automatically adjust stock levels
Don't take our word for it
Our awesome customers have shipped some really great compliments our way:
"I spent about a month thoroughly searching for the right backend fulfillment software for my eCommerce business. There were definitely some big name guys out there that I considered, but at the end of the day, I went with Ordoro and I'm so glad I did!"

Tina Yarandi
Founder/CEO of Nature's Artisan
"Ordoro continues to add immensely valuable features to an already awesome sales/warehousing/shipping platform. Using Ordoro continues to save us time and money."

Anthony Krize,
VP of GE Holiday Lighting
Order Management Software For Small Business
Running a successful and profitable business today means planning to excel in an increasingly global and digital marketplace, and having an online revenue stream has become increasingly important. Today, most of your prospective customers will be using the internet, and particularly search engines, when they are looking for new products and services. All the same, processing an order that a customer has placed online is quite different from processing an order placed at a physical brick-and-mortar location. To succeed in this area, you will need to invest in a powerful order management software for small business.
An order management system for small business can be critical to setting up your company for success: it will help you to fulfill orders in a timely manner while minimizing waste and potential confusion about fulfilment. In contrast, you have probably realized that keeping your overhead expenses under control is important, and this may tempt you into looking for a small business order management free program. While it may be tempting to go with a free option, though, it's worth understanding that this probably won't be the best option for your company in the long run. Instead, if you really want to get the most out of your order management system, then it's worth doing the research and finding the best order management software program that can scale with you and your small business.
So, what should you consider if you are looking for the best order management program for your company? To start with, you should consider the products and services you provide, the exact needs of your customers, and how you are planning for your business to scale in the future. By taking the time to find the right order management system now, you can remain one step ahead of your competitors while also making sure that scaling remains viable and sustainable. With all of this in mind, it's well worth learning more about the benefits of using the right order management program for your company.
Free Order Management Software For Small Business
If you are just looking for an order management program for the first time, then you may not exactly know what you are looking for. That is okay! It is important to try out several programs to figure out what you need, what you don't, and what you are willing to spend money on. In order to handle this learning and discovery process, many companies decide to start with free order management software for small businesses. Even though a free order system for small business may seem like the best way to get started, it's important to understand that a free trial will never quite provide the full picture of how a program operates.
In addition, inventory management software free will come with a number of drawbacks. For example, the features of an order management software free will be more general, instead of designed specifically for your industry. As a result, when using a free trial of order management software for small business, you may have a hard time getting the program to match your exact processes. In addition, you can't always be sure if a free program is secure enough, or whether it might be leaving your company's or customers' confidential information open to unauthorized access.
Because of these issues, it is always worth going with a premium version over a free one in the long run. That way, you can rest assured that the program has been designed specifically for your industry and also that it is secured to industry standards.
Simple Order Management Software
It goes without saying, but technology has come a long way over the last few years. Even in your industry, there is a good chance that technology has changed the way you and your competitors run daily operations. As a result, you probably already know that if you want to stay ahead of your competitors, you should always be on the lookout for how you can use the latest technology and best practices in your own daily operations. The same is true if you are looking for sales order management software.
In addition, this is another reason why you should steer away from a free order management system in the long run. An order management system program that runs on less than full features just won't help you to stay ahead of your competitors. After all, the leaders in your industry are there for their software programs as well. A premium order management system will be well worth the investment and the cost of user training once you have it in place, particularly in terms of creating a better experience for users.
Ecommerce Order Management Software
Ecommerce has become an integral part of countless industries, and there is a good chance that you've already started or at least considered an ecommerce arm of your company as well. Moreover, if you run an ecommerce business or division, then there is a good chance you understand exactly how important it is for you to invest in ecommerce order management software. With access to the right ecommerce order management process flow, you can make it easier for your customers to find what they are looking for, enter their payment information, complete the order process, and receive their shipment as quickly as possible. Remember that the goal of using an order management system eCommerce is to make it easier not only for your employees but also for your customers as well.
With all of these possibilities in play, you need to be familiar with eCommerce order management system architecture and what it can make possible. These programs are set up not only to protect the information of your customers but also to make it easy for them to complete the payment process. If you can streamline these processes and make it easier for your customers to complete them, then this will play a major step in convincing them to come back for future purchases as well. This is just another reason why you need to invest in the best order management software program for your business, particularly if you run an ecommerce company.
Order Management App
You also need to take advantage of mobile applications. Think about it: don't you usually have your phone at hand? Most people also use their phones to manage large parts of their lives, including purchasing, and there is a very good chance that your customers act in this same way. Therefore, you need to make it possible for your customers to make purchases from their phone as well. This is where an order management app can be critically useful.
In addition to using order management software to benefit your customers, the best order management app will make things easier for your employees as well. For example, consider: will your employees be handling orders from customers while on the go or otherwise away from a traditional desktop setup? If so, then you may need to use an order management application to help them. (Also, when you begin looking at these order management system examples, there is a good chance that you were looking for order management apps free. Again, it is tempting to go with a free option when first looking for an order management application; however, it is always better in the long run to invest in the best software program possible for your business.
Investing in technology is important because it helps you to stay ahead of your competitors. Regardless of whether you are looking for an order management application, an order management platform, or an order management software system, you should consider how modern technology can improve the fulfilment speed and accuracy of your business. With this in mind, make sure that you take advantage of the best order management systems, applications, and processes in order to meet or exceed the expectations of your customers.
Online Order Management System
If you have a successful business, then there is a good chance you already have an order management system in place. You probably also know that an online order management system is tremendously helpful because it makes the purchasing process so much easier for both your employees and your customers. On the other hand, there's also a good chance that, if you are using a standard or free order management system online, then you will need to upgrade this to a more advanced platform soon. By moving beyond an order management system software free download, you will be taking advantage of the best technology for your order management system.
For example, you might be using the order management app Shopify. This is a superb choice: Shopify is currently one of the biggest ecommerce platforms in the world, with many beneficial features that will make selling online so much easier for your company. However, even this system needs to be upgraded from time to time.
When considering whether your business's processes require an upgrade, take a look at your current processes, analyze the expectations of your customers, map out any overlap or conflicts, and figure out the best way to have the two meet. If you do, then this is another way in which you will be able to stay ahead of your competition.
This all probably sounds complicated, but it does not have to be. In addition, you do not need to undertake these research, installation, or upgrade processes alone! If you do not specialize in this area, it is well worth reaching out to trained professionals who will be able to assist you. If you are looking for the best online order management system for your company, then consider working with a digital marketing agency or ecommerce specialist who has the tools, training, and expertise to guide your company through these changes. In this way, you know that you will end up with the best options possible for your small business.