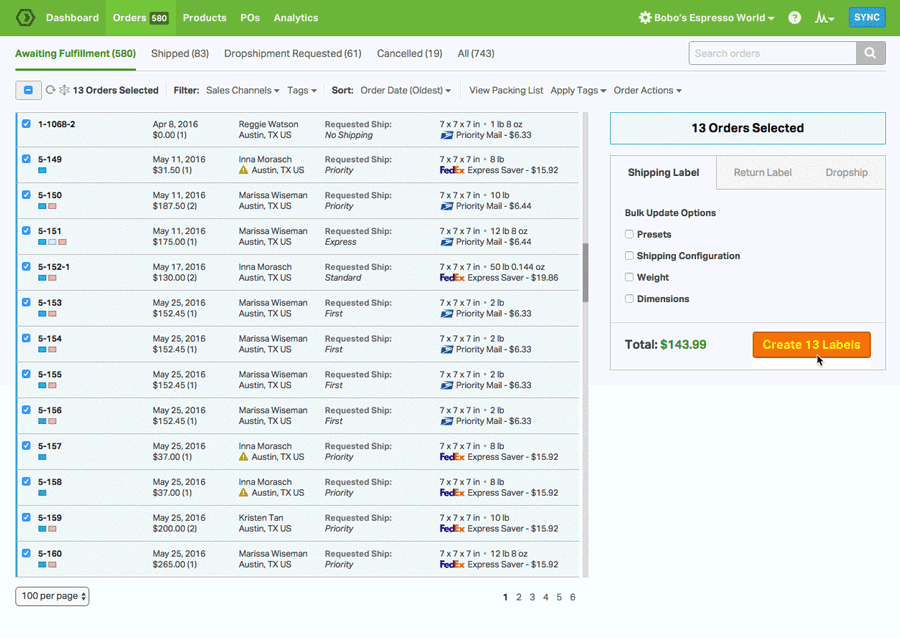 Discover One Of The Best Inventory Management System Examples
The All-In-One Ecommerce Logistics Platform
Equip yourself with a comprehensive solution
Inventory Management
Stock, sync, and scan.
Automatically track and sync your inventory levels
Create and send out Purchase Orders when it's time to restock
Bundle multiple SKUs into one unit for sale
Use Barcode Scanning to reduce fulfillment errors
Multi-Carrier Shipping
Your workflow, minus the work.
Enjoy heavily-discounted shipping rates via USPS
Ship via any of our integrated shipping carriers like USPS, UPS, FedEx, DHL and Canada Post
Set up your own Automation Rules and Shipping Presets
Print shipping labels in triple-digit batches or individually
Dropshipping
Truly hands-off dropshipping.
Launch a dropshipping operation in a matter of clicks
Tag any product as drop shipped and assign it to a vendor
Choose between automated or manual routing
Activate a Vendor Portal between you and your supplier
Multichannel
We're your operations hub.
Integrate and view all of your sales and supplier channels in one spot
Use our open API to hook up any third-party or custom apps
Manage every aspect of your orders
Establish Supplier Feeds for real-time, back-end communication
Barcode Generation and Scanning
Raise the bar for stocking and packing.
Create UPC barcodes for your products
Scan, set, and search UPC codes for SKUs within Ordoro
Reduce fulfillment errors with our pack and pack barcode scanning workflow
Scan received POs to automatically adjust stock levels
Don't take our word for it
Our awesome customers have shipped some really great compliments our way:
"I spent about a month thoroughly searching for the right backend fulfillment software for my eCommerce business. There were definitely some big name guys out there that I considered, but at the end of the day, I went with Ordoro and I'm so glad I did!"

Tina Yarandi
Founder/CEO of Nature's Artisan
"Ordoro continues to add immensely valuable features to an already awesome sales/warehousing/shipping platform. Using Ordoro continues to save us time and money."

Anthony Krize,
VP of GE Holiday Lighting
Inventory Management System Examples
How does your business keep track of incoming and outgoing stock levels? Inventory management systems help make this process easier by tracking how many items are currently on hand and how many have been sold, plus other additional factors.
There are two types of inventory systems. These include periodic and perpetual inventory management.
The difference between the types comes down to when inventory is counted and how it is kept track of within the system.
With a perpetual inventory system, items are counted as they come in and as they go out. This is usually linked to a bigger software program that reflects inventory in real time as orders are placed or a customer makes an in-store purchase, but not always.
Perpetual inventory systems are great, as you always know almost exactly how much of an item you have at any given moment. However, they also require the added expense of updated equipment to keep track of everything, like barcode scanners.
In contrast, there's the periodic inventory system example. This is where your company only counts inventory after a set timeframe, such as once a month or every quarter. The numbers are compared to see what's been sold and what remains in stock.
While some major companies prefer the periodic way of inventory management, it can be a lot more difficult for employees and managers. This process usually requires a manual count of items on shelves, which can take up a considerable amount of time and resources to accomplish. Plus, the margin for error is generally quite large.
Need to see some inventory management system examples? A company that uses a barcode scanner to track items coming and going during the pick-and-pack process would be utilizing a perpetual inventory system. Likewise, a major retailer that has overnight staff counting inventory once a quarter would be an example of a periodic inventory management system.
Inventory Management
So, what are the functions of an inventory management system and why is it so crucial to your business? Let us count the ways.
First of all, inventory management systems make it easier to keep track of your supply chain management on an ongoing basis. Without a proper workflow and accounting system, it can be difficult to know when you're getting low on stock, what items are in most demand, and other crucial elements.
Inventory management systems also help keep payroll and manpower hours low, as they make each employee's job more efficient and accurate. For businesses with a tight budget for staffing, this is an incredibly crucial aspect to consider.
So, what are inventory management techniques? Well, these are the parts of inventory management that are also crucial to your operations. Examples of the most commonly known inventory techniques include economic order quantity (EOQ), minimum order quantity, FIFO/LIFO, reorder point formula, dropshipping, lean manufacturing, and consignment inventory. These terms all refer to different methods of keeping stock and taking an accounting of what's available.
If that sounds like a whole lot of elements to keep track of, then you're right. Which is where apps like Zoho Inventory and others can help streamline the process by keeping everything in one software program.
However, the best inventory management software on the market is still Ordoro. Not only does it make streamlining your inventory process simple, but it also allows you to handle multi-channel listings, track dropshipping, review analytics, add a barcode scanner, and so much more.
In fact, Ordoro is widely recognized as one of the best inventory management software small business use. Whether you're a new online brand just starting out or looking to scale your current ecommerce store, this is a great inventory management system for small business to consider.
Inventory Management Process
As we mentioned above, there are certain inventory management techniques that you need to be aware of. Why? When you have the right software, choosing the right techniques for the inventory management process is incredibly easy.
What are the most common inventory management strategies?
One popular one with manufacturers is just-in-time (JIT) order management. This process is when raw orders for materials arrive in line with production schedules. For example, if you're making a widget on a Tuesday, your supplies to do so would arrive on Monday. This helps cut down on warehousing costs and save space, which is especially important if budget and square footage are a concern.
Another term on the list of types of inventory management systems is the ABC analysis. This process splits your entire inventory into three categories: the products that contribute the most to your overall profit (A), those somewhere in the middle (B), and items that do not contribute to profit at all (C). By having a clear system that helps identify which products are the best for sales, you can keep more of them in your warehouse at a given time.
As a third technique, there's safety stock inventory. With this process, extra items are ordered above demand to help keep out-of-stick problems from happening. This can be especially helpful during high-volume sales seasons or during special marketing promotions.
Of course, these are just three of the many different inventory management philosophies out there. In some cases, companies might opt to use multiple strategies at once to keep their warehouses as optimal as possible.
Managing the entire inventory management process is simple with Ordoro. Our platform allows you to keep track of current inventory utilizing the best techniques and systems for your needs. In addition, it can also handle specialty things like dropshipping with ease.
Stock Management System
Of course, warehouses always need a stock management system to help keep track of how much of each item is available at a given moment. This information is crucial for tasks like picking orders, filling orders, reordering products from the manufacturer, etc.
When done by hand, the process can be very time consuming and difficult to do. Which is where having a solid inventory tracking system is so important.
There are many different types of stock control systems, each with benefits and downsides. For those on a budget, the idea of using a spreadsheet template as a stock management system in Excel might seem tempting—especially since it is free.
However, this isn't usually a good idea and you truly get what you pay for. A free stock management system in Excel requires users to manually input data to keep it up-to-date. The problem with this is that it can take a considerable amount of time to do, plus there's the issue of human error.
In contrast, having an automated inventory management app like Ordoro provides greater flexibility, better automation, and saves your business both time and money in the long run.
Known around the globe as the best inventory management software available, Ordoro offers a wide range of features for both small and enterprise level businesses. Easily tackle tasks like inventory counts, data reporting, and more quickly through the app's dashboard.
Furthermore, Ordoro comes with a whopping thirty-day onboarding process and tons of technical support. With an Excel spreadsheet, you aren't going to ever get that level of service and dedication to your needs.
Ordoro can also handle multiple marketplace platforms at once, including major ones like Shopify, Amazon, eBay, and Walmart. There's even ways you can automate dropship orders and print shipping labels from the moment the customer finishes checking out online.
Best Inventory Management Software
Are you looking for the best inventory management software for your online business? Ordoro has exactly what you need to ensure your warehouse runs smoothly and effectively.
In fact, our app is highly regarded as the best simple order management software on the market for online merchants of all sizes. Whether you're just starting out as a new brand or looking to grow your existing one, Ordoro has all of the features and scalability necessary for your success.
We're also ranked as the number one inventory management software by The Blueprints for 2021. With so many other options on the market these days, we see that as quite an honor!
So, what inventory management system features does it do better than the competition? There's things like multi-carrier shipping, automated pick and pack lists, kitting, and a whole lot more.
For those who utilize dropshipping to get products from the manufacturer to the customer, there are multiple options with Ordoro. Consider automation tasks like ordering from the distributor directly when a customer makes a purchase and tracking shipping information. You can also use the app to identify new companies to work with.
But what makes Ordoro the true best? Our attention to our customers. We want to help you streamline your business, which is why we offer lifetime support and tons of onboard training to ensure you're getting the most out of our app.
In summary, Ordoro is your top choice when it comes to finding the right inventory management software for your online business. And we're adding new features and improvements all the time based on customer input, too!
Are you ready to find out what Ordoro has to offer? Please schedule a demo today for more details or to try it out for yourself.