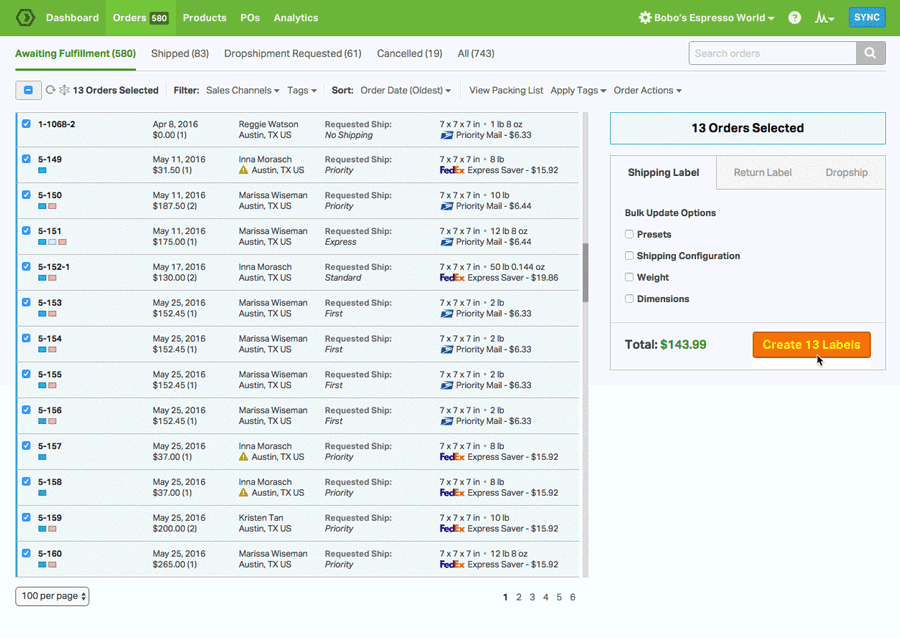 The Product Management System That Saves You Time And Money
The All-In-One Ecommerce Logistics Platform
Equip yourself with a comprehensive solution
Inventory Management
Stock, sync, and scan.
Automatically track and sync your inventory levels
Create and send out Purchase Orders when it's time to restock
Bundle multiple SKUs into one unit for sale
Use Barcode Scanning to reduce fulfillment errors
Multi-Carrier Shipping
Your workflow, minus the work.
Enjoy heavily-discounted shipping rates via USPS
Ship via any of our integrated shipping carriers like USPS, UPS, FedEx, DHL and Canada Post
Set up your own Automation Rules and Shipping Presets
Print shipping labels in triple-digit batches or individually
Dropshipping
Truly hands-off dropshipping.
Launch a dropshipping operation in a matter of clicks
Tag any product as drop shipped and assign it to a vendor
Choose between automated or manual routing
Activate a Vendor Portal between you and your supplier
Multichannel
We're your operations hub.
Integrate and view all of your sales and supplier channels in one spot
Use our open API to hook up any third-party or custom apps
Manage every aspect of your orders
Establish Supplier Feeds for real-time, back-end communication
Barcode Generation and Scanning
Raise the bar for stocking and packing.
Create UPC barcodes for your products
Scan, set, and search UPC codes for SKUs within Ordoro
Reduce fulfillment errors with our pack and pack barcode scanning workflow
Scan received POs to automatically adjust stock levels
Don't take our word for it
Our awesome customers have shipped some really great compliments our way:
"I spent about a month thoroughly searching for the right backend fulfillment software for my eCommerce business. There were definitely some big name guys out there that I considered, but at the end of the day, I went with Ordoro and I'm so glad I did!"

Tina Yarandi
Founder/CEO of Nature's Artisan
"Ordoro continues to add immensely valuable features to an already awesome sales/warehousing/shipping platform. Using Ordoro continues to save us time and money."

Anthony Krize,
VP of GE Holiday Lighting
Product Management System
Product management processes might be different for different businesses, but product management always has the same goal. That goal is to produce, describe, and market products efficiently, effectively, and at the lowest possible cost. What is product management in tech terms?
In the world of ecommerce, achieving that goal depends on having good product management software. There are some basic product development tools and techniques that benefit all types of businesses. Three of the most important are:
Conducting research to learn about the market and what competitors are doing as well as what customers want that isn't yet available
Developing and communicating plans to introduce new products or services to present throughout the organization for feedback from both members and customers
Transforming feedback into actionable ideas
Research allows you to confirm that the product you're thinking of developing or marketing is one that potential customers will actually buy. A good product management system makes it easy for customers to provide feedback. It should also make it easier for you to process and respond to that feedback in a way that increases customer satisfaction. Responding promptly to a customer complaint has the potential of creating an even greater degree of customer loyalty than if there had been no reason to complain. Customers are human, and humans love to feel heard, understood, and appreciated. That kind of customer service experience has become increasingly rare, and frustrating, for many shoppers. In our high-tech world, many companies have replaced most of their customer service representatives with automated bots. That's why businesses that automate their behind-the-scenes processes and leave direct customer service to humans have a definite advantage. Investing in a comprehensive software system with data analytics designed specifically for e-commerce is the best way to achieve maximum high-tech efficiency without sacrificing the equally important human element of your business.
Product Management Techniques
Before deciding what product management tools and techniques would be best for your business, there are a few questions you should be able to answer, such as:
What metrics do you use to define success?
What websites and products are your favorites and why?
How can you best integrate your individual product strategies with the overall objectives of your business?
What are the specific demographics of the customers you want to attract by offering the product?
What need does this product address for them and are there other products that would appeal to the same demographic?
Good product management techniques include ways for customers to tell you which features or products they use and enjoy the most, what new ones they would love to see, and which ones they'd most like you to change. The law of attraction is always at work, even when we don't realize it. If you incorporate the things you love most about your favorite websites, it will attract customers who also appreciate those things. The best product management techniques are those that best utilize technology to implement human innovation. A good example of successfully combining product management tools and techniques would be using data analytics charts showing that BBQ grill sales were highest in June to plan and execute a coordinated ad campaign for a BBQ grill sale next May. Letting your customers know about it through their preferred social media channel is another. A well integrated software system for e-commerce provides multi-channel capability that allows you to accommodate your customers' preferences. Even the best sales promotion won't succeed if information about it is sent through a channel a customer rarely uses. Personalized customer service is the best way to make sure they stay your customers, instead of being lost to the competition.
Product Management Tools
Every product manager should have a product manager toolkit. So, what are the best tools for product managers? At the top of the list is information. Data analytics is an excellent tool to gain insight into which products to invest the most in and which features of those products to highlight. Luckily, you aren't limited to just your own data. There are research firms that specialize in gathering data industry-wide and transforming that information into easy-to-understand graphs and charts to help business owners make smart choices. Gartner and Sirius Decisions are two of the most well-known. There are also a number of software product management tools available that you might want to include in your product management toolkit. For collecting data, a popular product management tools list would include:
For project tracking, some of the most popular programs include:
Microsoft Project
Pivotal Tracker
Jira
Trello
No list of product management tools would be complete without tools designed specifically to help your team maintain effective communication. These include:
Slack
Confluence
Google Drive
Dropbox
Evernote
You've probably already started asking yourself how long it's going to take to research all these tools and learn how to use them. You'll also need to learn which ones integrate smoothly with one another. The time all that takes is one reason that the best tools for product managers are already seamlessly integrated into a comprehensive system. Ordoro is just that kind of system, and it allows you to integrate equally seamlessly with multiple suppliers on multiple channels. It's much less stressful to research and incorporate new tools when the tools you already have allowed you to control every aspect of your business from a single dashboard. Ordoro helps you automate order, inventory, and shipping management and integrates fully with tools like Amaze that provide you real-time data, like how many people are visiting your website right now.
Product Management Software Free
Product management software free offers can be really tempting. If there was a way to use product management tools free of charge forever, everybody would probably be doing just that. Unfortunately, those free offers come with limits—whether it's time, use of features, number of sales, or number of customers. Once those limits are reached, the product management tools free trial offer ends. Another thing to consider when using free software is how the company can afford to make it free. Last year, it was discovered that Avast, a company that offered free antivirus software, was recording users' online behavior. Their browsing history, web searches, and mouse clicks were all monitored and recorded and the information collected was sold to the highest bidder for creating targeted ads. Open source product management software is one alternative to free trial offers. It stays free of charge forever. The only problem is, it also stays open-source, which means that anyone can change it at any time. It's really hard to maintain the level of security necessary to protect your customers' information when every change is another opportunity for hackers to infiltrate and gain access to data. The lack of technical support is another disadvantage of using open-source software. It's usually limited to basic FAQs or message boards. When you're experiencing technical difficulties, the last thing you want to do is search for your own answers on a site provided by the company whose software caused the technical difficulties. Some issues require a rapid response and more information than an automated system can provide. Investing in a system that offers lifetime tech support is well worth the money. It's safer to take advantage of new product development software free offers than to try free offers for software that's essential for the continued operation of your business.
Best Product Management Software
A big part of product management is making sure the products that you've spent so much time researching, choosing, and describing so accurately actually get to your customers. The best product management software allows you to accomplish that at the lowest possible cost. The ability to utilize barcode scanning, kitting and bundling are essential for reducing both fulfillment errors and shipping costs. It also reduces storage costs. Your inventory is automatically adjusted with every sale and purchase order received. That means you're never understocked or overstocked. Being able to print out shipping labels in batches gets your products to more customers more quickly. With multi-channel, multi-carrier shipping capability, you can ship items from multiple locations to reduce shipping costs. It's a lot less expensive to ship a package to California from a warehouse or fulfillment center in Utah than from one in New York. If you're manufacturing your own products, you can utilize Ordoro's software product management features to build a bill of materials to track the raw goods needed for your finished product. You can also create manufacturing orders with the click of a mouse. Because Ordoro was designed specifically for e-commerce, it integrates seamlessly with suppliers and sellers like Amazon, eBay, and Shopify. Their data analytics help you make the smartest buying and marketing decisions possible. Scheduling a demo can help you learn more about all the features their comprehensive system offers. The free 30-day onboarding they offer is the time to take advantage of their professional expertise. They can show you how to customize every one of those functions for your specific business and set up automation rules that reflect your priorities. Investing in Ordoro is like investing in a whole team that keeps working around the clock, but doesn't charge you overtime. It lets you achieve the perfect balance between hi-tech and the human touch.