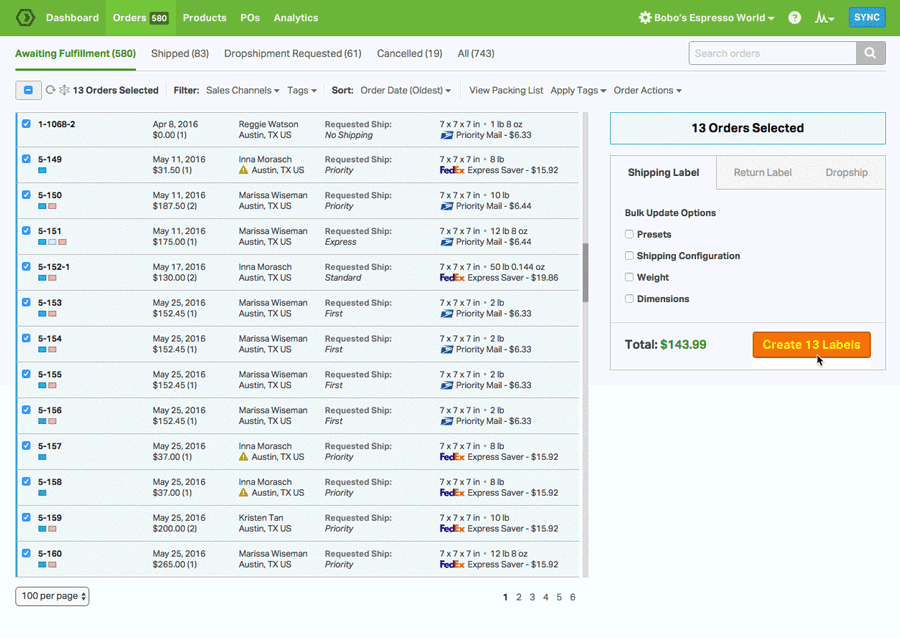 Fulfill Orders Faster with Our Online Inventory Management
The All-In-One Ecommerce Logistics Platform
Equip yourself with a comprehensive solution
Inventory Management
Stock, sync, and scan.
Automatically track and sync your inventory levels
Create and send out Purchase Orders when it's time to restock
Bundle multiple SKUs into one unit for sale
Use Barcode Scanning to reduce fulfillment errors
Multi-Carrier Shipping
Your workflow, minus the work.
Enjoy heavily-discounted shipping rates via USPS
Ship via any of our integrated shipping carriers like USPS, UPS, FedEx, DHL and Canada Post
Set up your own Automation Rules and Shipping Presets
Print shipping labels in triple-digit batches or individually
Dropshipping
Truly hands-off dropshipping.
Launch a dropshipping operation in a matter of clicks
Tag any product as drop shipped and assign it to a vendor
Choose between automated or manual routing
Activate a Vendor Portal between you and your supplier
Multichannel
We're your operations hub.
Integrate and view all of your sales and supplier channels in one spot
Use our open API to hook up any third-party or custom apps
Manage every aspect of your orders
Establish Supplier Feeds for real-time, back-end communication
Barcode Generation and Scanning
Raise the bar for stocking and packing.
Create UPC barcodes for your products
Scan, set, and search UPC codes for SKUs within Ordoro
Reduce fulfillment errors with our pack and pack barcode scanning workflow
Scan received POs to automatically adjust stock levels
Don't take our word for it
Our awesome customers have shipped some really great compliments our way:
"I spent about a month thoroughly searching for the right backend fulfillment software for my eCommerce business. There were definitely some big name guys out there that I considered, but at the end of the day, I went with Ordoro and I'm so glad I did!"

Tina Yarandi
Founder/CEO of Nature's Artisan
"Ordoro continues to add immensely valuable features to an already awesome sales/warehousing/shipping platform. Using Ordoro continues to save us time and money."

Anthony Krize,
VP of GE Holiday Lighting
Online Inventory Management
Online inventory management presents special challenges to ecommerce owners, especially those engaged in dropshipping and similar activities needing to track products remotely, not necessarily on the business's premises. When you're "here'' and your inventory is "there" how do you effectively track shipment, reorder products to maintain stock levels, and reduce errors in fulfillment tasks? Especially if you need a way to centralize your inventory to connect with multiple locations and sales channels such as websites and stores, warehouses and suppliers, what do you need to do to effectively manage the backend of your operations?
The days of laborious data entry are thankfully behind most of us, with computers taking over the drudgery of hand-entered and copied data. Installed programs, such as QuickBooks and other accounting software can help businesses track daily expenses, income and generate tax and other reports but is severely limited in giving you a "snapshot" of your real-time inventory levels, tracking of orders, interfacing with multiple sales channels, carriers and so on, as well as being unable to connect with scanning devices to let you enter barcode information into your system. So, to accomplish these critical backend tasks, you now turn to exploring the pros and cons of using an online inventory management system.
One caution to be aware of: simple inventory software free of charge or at rock-bottom cost is very much available (Excel-type spreadsheets and other antiquated methods of tracking come to mind), but beware their limitations.
Ordoro, a leader in inventory management software, can help get your ecommerce business up to speed with plug-ins and other software that help you utilize barcode scanning software, track shipments, improve picking and packing operations (and reducing returns), connect with your carriers and interface with multichannel sales and warehouse operations.
Free Online Inventory Management
There have long been programs available, such as free inventory management software in Excel and similar spreadsheets that have been used to enter inventory and other data. The obvious problems with these are not only would they require generating many pages of data for enterprises carrying hundreds of products, but updating them by copying and pasting is incredibly time-consuming, with plenty of potential for human error in entering and moving the data.
Other free inventory management software, such as installed or downloaded into one's hardware, require periodic updates as changes are made to the software, and due to their nature, aren't as nimble or adaptable to ongoing changes in the needs of a growing ecommerce business. They may offer inventory management software free trials or at a sharply reduced initial cost but software is like anything else: you get what you pay for. Many of these free trial or cut-rate programs are very limited in their features as well as lack scalability of growing with your business.
Inventory management software free for PC and Apple exists, as does stock management software free programs.
Free inventory software for small business using spreadsheets and older programs can be a temporary choice but won't work long term for a growing business with the need for software that can keep up as the business grows and changes.
Fortunately, times are changing: there are now tools, plug-ins and cloud-based software easily adapted to your individual business needs. Ordoro is a leader among these companies developing the best affordable online inventory management software on the market today. Geared toward the small and medium ecommerce enterprise, Ordoro's handy plug-ins and other tools can take your business from newbie startup to major ecommerce contender. With its scalability, our software has the flexibility to help you stay competitive at any stage of your business's growth.
Open Source Inventory Management
What exactly is open source inventory management web-based software and how does it differ from inventory management programs such as Excel?
Simply put, open source refers to copyrighted software released under license whereby the holder of the copyright gives users rights to change and edit, study and distribute the software and source code for anyone and any purpose. Open source inventory management software may be developed in a public manner using collaboration. It's one good option for businesses needing to be able to edit an inventory management program to meet their unique needs.
On the other hand, it's not for anyone inexperienced in writing coding as most programs open to this type of software will usually need to have a team member or someone experienced in writing code to adapt the program for your use. Inventory management software open source utilization requires the technical expertise of accurately coding the software editing to adapt it for a particular business. A dropshipper, for example, will have different coding and program needs than someone who maintains their own warehouses in multiple locations around the country.
Additionally, there's the question of program security, and the possibility that others could either deliberately or accidentally change the coding, rendering it useless or worse.
Inventory Management Software
Examples of popular open source inventory software include PartKeepr inventory management software and Zoho inventory management, which claim to offer fast access to searches of inventory levels, tracking the movement of stock and easy usability. (Note that Zoho's emphasis is more about frontend business management tools, than the type of nuts-and-bolts ecommerce inventory management such as found with Ordoro or even PartKeepr. For those reasons, Zoho's customers are more apt to be sales and marketing departments rather than warehouse managers or dropshippers.)
On the other hand, Ordoro's focus is on the backend operations of ecommerce businesses, with a wide array of tools for effectively tracking stock movement, barcoding and picking/packing tasks, shipping carriers, warehouse management, interfacing with sales and other multichannels, as well as reorder stock before it falls below acceptable levels.
As for usability, Ordoro's plug-ins and other handy tools are among the easiest in the industry. Your warehouse staffers, packing departments and other employees don't have to be IT pros to figure out and use Ordoro's applications, which are versatile enough for any dropshipping enterprise as well as other forms of ecommerce.
Ordoro's affordable subscription software and apps have the competition beat in ease of use, versatility and pricing.
Online Inventory Management Software System Demo
While a lot of software companies offer free demos, many times these are just limited versions of a program's capabilities or you wind up signing up for a product that ultimately fails to meet your business's needs. Furthermore, there may not be anyone available for tech support available with those free trials.
Not so with Ordoro! You'll not only get a truly free online inventory management system demo that will let you put our software through its paces, but you'll be able to directly chat with one of our experts who can assess your needs and recommend the products best suited for your business.
We know that many of our clients, especially newer business owners, have little or no knowledge about how to get the most out of their inventory management software so we teach them inventory training from the bottom up how to effectively manage their inventory and fulfill customer orders with ease.
"But wait – there's more!"
Not only is Ordoro's ecommerce software affordable and versatile, but we provide FREE 30-day onboarding as well as lifetime support! Take charge today of your inventory by signing up for Ordoro's inventory management software free demo today – for more information call 512-271-9453 or email us at info@ordoro.com.
Best Inventory Management Software
We've taken a look at some of the ways you can manage your inventory online: stand-alone installed programs, cloud-based and open source software, best inventory management software free trials as well as licensed and subscription pricing. Each has benefits as well as some disadvantages, depending on a business's needs and type of organization.
From the beginning of your enterprise, it would be a great idea to explore better ways to take charge of your inventory and shipping requirements now and get your business off to the best possible start instead of being held back for any length of time while resetting your inventory management software setup.
Here's why Ordoro is the best inventory management software choice for your ecommerce business:
As you fill orders, Ordoro keeps track of product levels by reacting to both restocks and fulfilled orders, automatically syncing and updating stock quantities across all of your integrated sales and supplier channels to perfectly align inventory information.
Dump those cumbersome spreadsheets leaving inventory management subject to errors and automatically track orders while preventing running out of stock with preset thresholds for product items.
Plug in all your sales channels, suppliers and markets into the Ordoro app to unify and centralize your inventory into a multichannel business. You can add warehouses in multiple locations as well as dropshipping information.
Assign your products to the appropriate suppliers; once matched, you can easily issue purchase orders (POs) to restock with just a few clicks on Ordoro. A goods receipt is generated with each PO, ensuring that you receive the stock ordered, and will not be considered "complete" until all the quantity ordered and received is entered.
Fulfillment mistakes while picking and packing will be sharply reduced with the use of Ordoro's barcode scanning app, allowing you to select one of more orders, click on a button and the items needing to be picked, scanned and packed will pop up and marked as "complete" once all requested items are accounted for.
Contact Ordoro today by phone: 512-271-9453 or email for a free expert consultation and demo of the power of taking your inventory management and ecommerce business to the next highest levels!