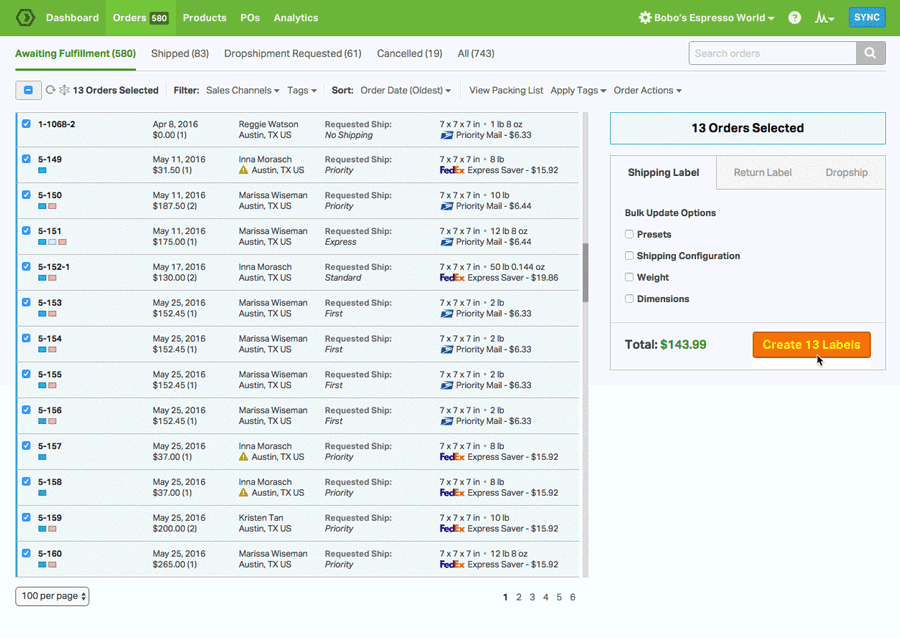 Fulfill Orders Faster With Our eBay Inventory Management Software
The All-In-One Ecommerce Logistics Platform
Equip yourself with a comprehensive solution
Inventory Management
Stock, sync, and scan.
Automatically track and sync your inventory levels
Create and send out Purchase Orders when it's time to restock
Bundle multiple SKUs into one unit for sale
Use Barcode Scanning to reduce fulfillment errors
Multi-Carrier Shipping
Your workflow, minus the work.
Enjoy heavily-discounted shipping rates via USPS
Ship via any of our integrated shipping carriers like USPS, UPS, FedEx, DHL and Canada Post
Set up your own Automation Rules and Shipping Presets
Print shipping labels in triple-digit batches or individually
Dropshipping
Truly hands-off dropshipping.
Launch a dropshipping operation in a matter of clicks
Tag any product as drop shipped and assign it to a vendor
Choose between automated or manual routing
Activate a Vendor Portal between you and your supplier
Multichannel
We're your operations hub.
Integrate and view all of your sales and supplier channels in one spot
Use our open API to hook up any third-party or custom apps
Manage every aspect of your orders
Establish Supplier Feeds for real-time, back-end communication
Barcode Generation and Scanning
Raise the bar for stocking and packing.
Create UPC barcodes for your products
Scan, set, and search UPC codes for SKUs within Ordoro
Reduce fulfillment errors with our pack and pack barcode scanning workflow
Scan received POs to automatically adjust stock levels
Don't take our word for it
Our awesome customers have shipped some really great compliments our way:
"I spent about a month thoroughly searching for the right backend fulfillment software for my eCommerce business. There were definitely some big name guys out there that I considered, but at the end of the day, I went with Ordoro and I'm so glad I did!"

Tina Yarandi
Founder/CEO of Nature's Artisan
"Ordoro continues to add immensely valuable features to an already awesome sales/warehousing/shipping platform. Using Ordoro continues to save us time and money."

Anthony Krize,
VP of GE Holiday Lighting
eBay Inventory Management
You might wonder how the most popular sellers on eBay keep their customer satisfaction ratings so high. Some of them seem too good to be true, like when you see that someone has had 10,154,602 take the time to give them positive feedback after a sale. So they've sold at least that many items and yet, somehow, they still have a customer satisfaction rating of 99.4%. This seller is at the top of this month's list of eBay superstars. You can learn a lot from those lists. What items are consistently popular and the categories that customers rate sellers on are two of the most important questions they can help answer?
Here are the four categories that sellers on eBay are rated on: accurate item description, communication, shipping time, and shipping charges. Error-free inventory tracking, bundling, and forecasting are among some of the capabilities you'll need to succeed in those four categories. Chances are the people on that list didn't achieve those numbers using free eBay inventory software. That kind of eBay inventory management magic doesn't happen without a comprehensive, fully scalable system designed specifically for e-commerce. Once you've done a little research, you realize quickly that even the more trusted free trial offers like Zoho inventory doesn't stay free once your business starts to grow. Sellers on eBay need multiple suppliers, so they need a software system with multi-channel capability to stay connected. Effective communication with their manufacturers, suppliers, and shipping carriers is essential for maintaining high customer satisfaction ratings. Those ratings tell your customers that your business has earned and maintained trust over time. When it comes to online shopping, trust is important. Your customers want to know their personal information is as safe and protected as their packaged items are during shipping.
Is eBay Safe?
We've come a long way since the first online sale in 1994. It took nearly two decades, and a lot of security software engineering, for people to trust that they could shop online safely. Today, it's even safer for shoppers than for sellers. The necessity of guaranteeing customers a safe and satisfying online shopping experience is one reason that customer expectations are now at an all-time high. Online industry giants like eBay have high customer satisfaction requirements. As a result, sellers often have to replace items that are defective, damaged in shipping, or that never arrive, to maintain their high ratings. Sometimes buyers will even claim that an item never arrived when it actually did. When that happens, it's up to the seller to provide proof that they shipped the item. Tracking numbers that show successful delivery to a buyer's address are a seller's best friend. Experienced sellers recommend requiring a signature for delivery of orders over $150. Replacement is expensive and without a signature, eBay almost always sides with the buyer. Returns are equally expensive, and one of the most common reasons for them is items not being described accurately. New sellers will find that eBay puts a hold on their accounts for a certain period of time. The funds held are used to provide refunds when a buyer is able to show that an item doesn't match its description. After a seller has established good ratings and has accumulated some positive buyer feedback, that holds is released. If you're still deciding what products you want to sell on eBay, you should know that there is a list of items considered high-risk for sellers. Gift cards, travel, and tickets are high on that list. Also included are high-end items with lots of moving parts that can potentially malfunction, like computers and cell phones.
eBay Inventory Management Excel
The good news is that scanners also help you automate. Buyers love eBay's 30-day no-questions-asked return policy. Sellers? Not so much. Buyers know that eBay is in their corner if and when a dispute arises. That's why it's important for sellers to have a good comprehensive inventory management system. Many small business owners start out using free inventory management excel spreadsheets. Once their business starts growing, they soon leave their eBay inventory management excel spreadsheets behind. They usually start looking for eBay inventory management software free trial offers. Taking advantage of those is a good way to learn about what features are available. Many successful entrepreneurs have started with eBay inventory management Google sheets. There is a lot of free eBay software for sellers out there. However, the top sellers on eBay didn't achieve that status by depending on eBay inventory management free software offers. The biggest problem with using a spreadsheet for inventory is that it requires entries to be made by hand. In 1946, Stella Pajunas set a world record by typing 216 words per minute. That record still hasn't been broken, even though Barbara Blackburn came close in 2005, with a speed of 212 words per minute. However, even the fastest human data entry typist can't come close to the speed and accuracy of a digital scanner. Accuracy is everything when it comes to customer satisfaction ratings. Typing even one digit of a twelve-digit UPC code number incorrectly results in a customer receiving the wrong item. Every error costs you not just time and money in the present, but lower customer satisfaction ratings and profits in the future. Barcodes were made for scanning, and having the ability to create and scan your own barcodes is essential in today's high-tech marketplace. With a well-integrated software system in place, your inventory can be automatically and effortlessly adjusted with every item you scan in or out.
eBay Scanner App
Increased speed and accuracy aren't the only good reasons to implement a barcode scanning system for your small business. Investing a few cents per label pays big dividends. Barcode scanning reduces labor costs as well as storage costs. Having access to your exact inventory numbers in multiple locations prevents costly overstocking—and unnecessary storage fees. When tax time comes, you'll be able to take full advantage of those inventory cost tax deductions, too. Human beings, even world-record-holding typists, average 10 errors for every 1000 keystrokes. Compare that to 1 error for every 10,000 barcode scans. The difference might be just a couple of zeros, but those zeros can hurt when they're deducted from your bottom line. Barcodes also give you the ability to recall items quickly and accurately, which can be important, especially in the pharmaceutical and healthcare industries. They provide an extra layer of security as well since they are traceable. Another important advantage of having eBay inventory management barcode scanning capability is data analytics. Just as your inventory is automatically adjusted, all the data scanned into the system can be retrieved in the form of graphs and charts that help you make the most informed decisions possible. Being able to see at a glance which items sold best this month and where, allows you to focus your sales and advertising efforts on where they will profit you the most. Since e-commerce has gone global, sellers are no longer limited to the seasonal opportunities of just one country, either. You may not be able to avoid storage costs in April by selling all those umbrellas you got such a good deal on in the U.S. in March, but it's always the rainy season somewhere. The best barcode scanner for eBay resellers is one that's attached to a comprehensive software system designed specifically for global e-commerce.
Best eBay Inventory Management Software
The best eBay inventory management software is one that helps you achieve and maintain high customer ratings. Ordoro was designed specifically for e-commerce and it does just that. Its barcode creation and scanning capabilities both virtually eliminate fulfillment errors and give you the time to make sure your product descriptions are accurate. As eBay stock management software, it's unparalleled. That's because the software engineers at Ordoro interviewed small business owners before developing it to make sure it would have all the most requested features. Multi-channel integration allows you to maintain effective communication with both suppliers and buyers. Inventory management software allows you to view and control your inventory levels in multiple locations from a single dashboard. Kitting, bundling, and creating pick and pack lists are a few of the strategies you'll be able to utilize to increase customer satisfaction. Being able to print out shipping labels in bulk is likely to increase your satisfaction as well as give you more time to brainstorm your next sales promotion. Their multi-carrier shipping gives you access to deep industry discounts as well as the ability to compare costs easily. Data analytics is another feature that makes Ordoro the best inventory software for resellers available today. Since it's fully scalable, you and your employees won't have to find and learn another system as soon as you start achieving success. Ordoro is so confident that you'll achieve success using their fully integrated system that they offer lifetime support. They also offer a free 30-day onboarding to show you how to customize it and set up automation rules for your specific type of business. When it comes to inventory management for resellers, Ordoro has the same goal as eBay— 100% customer satisfaction ratings. Helping your business achieve that goal is how they achieve theirs.