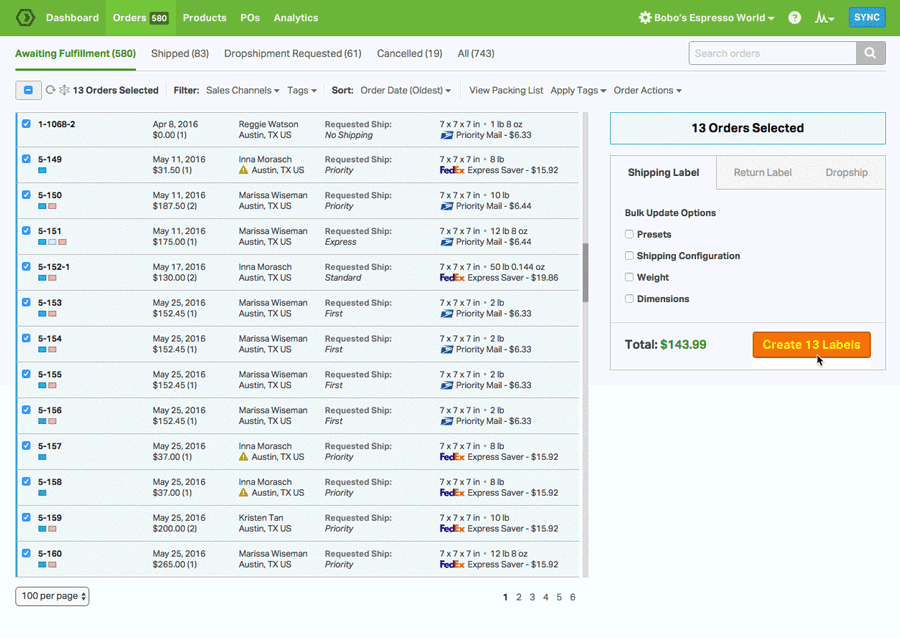 Order management software that saves you time and money
The All-In-One Ecommerce Logistics Platform
Equip yourself with a comprehensive solution
Multi-Carrier Shipping
Your workflow, minus the work.
Enjoy heavily-discounted shipping rates via USPS
Ship via any of our integrated shipping carriers like USPS, UPS, FedEx, DHL and Canada Post
Set up your own Automation Rules and Shipping Presets
Print shipping labels in triple-digit batches or individually
Inventory Management
Stock, sync, and scan.
Automatically track and sync your inventory levels
Create and send out Purchase Orders when it's time to restock
Bundle multiple SKUs into one unit for sale
Use Barcode Scanning to reduce fulfillment errors
Multichannel
We're your operations hub.
Integrate and view all of your sales and supplier channels in one spot
Use our open API to hook up any third-party or custom apps
Manage every aspect of your orders
Establish Supplier Feeds for real-time, back-end communication
Dropshipping
Truly hands-off dropshipping.
Launch a dropshipping operation in a matter of clicks
Tag any product as dropshipped and assign it to a vendor
Choose between automated or manual routing
Activate a Vendor Portal between you and your supplier
Don't take our word for it
Our awesome customers have shipped some really great compliments our way:
"I spent about a month thoroughly searching for the right backend fulfillment software for my eCommerce business. There were definitely some big name guys out there that I considered, but at the end of the day, I went with Ordoro and I'm so glad I did!"

Tina Yarandi
Founder/CEO of Nature's Artisan
"Ordoro continues to add immensely valuable features to an already awesome sales/warehousing/shipping platform. Using Ordoro continues to save us time and money."

Anthony Krize,
VP of GE Holiday Lighting
Order Management Software
If you want to compete in today's business world, then an online presence is an absolute must. Your brand's reputation and your company's overall revenue will be highly dependent on whether consumers can find your business online when looking for products and services in your field. The flip side of having your products and services visible online, though, is that you will still need a way to manage incoming orders, particularly if they're being fulfilled from a different location than your digital storefront. This is where order management software can be helpful.
An order management software system can fulfill a variety of needs, from handling customers' payments and shipping requests to keeping buyers updated on the status of their orders. Given these functions, order fulfillment software is very important for the success of modern businesses. However, this isn't an area to head into blindly—instead, it's also key for business leadership to understand how sales order software programs can help them keep on top of orders.
When it comes to order management software for small business, the biggest benefit of such programs is their ability to keep multiple orders organized. When starting out, small business owners might be able to track their orders by hand, but this will become more difficult as the company grows and scales. Luckily, sales order management software can automate many of the processes that were once handled manually. For example, if a customer orders something in the middle of the night, free order management software can fulfill the order, check this against current inventory, collect the payment, and handle shipping setup, all before the business owner wakes up the next morning.
This is very convenient, not to mention helpful, for a successful small business! Of course, similar to other products and services, there are numerous examples of sales order software programs available. Therefore, small business owners need to understand what their options are and how to find an order management program that can meet their needs. Given the range of options to choose from, there are a few important points that every savvy business owner should keep in mind.
Inventory Management Software
One of the most important types of order management system is inventory management software. The whole point of inventory management software is to help an organization handle its inventory, from tracking what is available at any given time to alerting leadership when restocking is needed. Managing the ins and outs of inventory in this way can easily be one of the biggest challenges of running a small business. Small business owners have to balance between maintaining the inventory needed to fulfill orders, while also ensuring that inventory isn't languishing in their storage units for too long, where it just contributes to overhead costs and may expire. This is where inventory management software can be helpful.
When customers place orders, inventory management software programs check the incoming orders against what they currently have in stock. If there is not enough inventory, then the inventory management software program can delay or block the order until the materials needed to fulfill it have been restocked. Some inventory management software programs are even able to automatically reorder certain supplies. Because these useful automated options are possibilities, it is important for small business owners to check on the features provided through any inventory management software program and consider whether a particular program may be the best option for their business.
Regardless of whether you are a small business or a larger brand, investing in shipping receiving software is important. There are numerous benefits when it comes to free inventory management software download options. With free order management online, many of the processes that were initially managed by hand can be expedited. This can save business owners time and money, so it is important to stay on top of everything that these programs can do. Investing in inventory management software can help small business owners free up more time from routine clerical work so that instead they can use this time to do other important work for the business.
Order Management System
For those who are looking for an order management system, there are plenty of options to choose from, and given this range of options, it will be important for business owners to find the right order management system to meet their needs. For example, there are many people who decide to start with an open source order management system. Among the various examples of order management systems, a free order management system is among the most popular since it is free and easier to learn how to use. However, this kind of option will not be able to compare to the best order management software for small business. Often, a free order management system is designed to help business owners test the product and see what it can offer before they invest in the full package. Therefore, business owners need to be cognizant of the fact that they will need to eventually invest in a full order management system if they intend to scale, perform well, and keep up with their competition.
There are many different order management systems available, depending on the industry that a business operates within. For example, someone who works in the healthcare field or deals with medical supplies will need an order management system that has been tailored to meet their needs. The same can be said of construction, retail, and numerous other industries: each industry serves different clients and manages different kinds of orders. Therefore, savvy business leaders should take a look around and see what options are out there, as there is no single answer to the best order management system example.
Furthermore, even beyond the question of different industries, some order management systems might work differently depending on the size of the company. For example, an enterprise corporation might be looking for a larger order management system than a small business would be. Furthermore, a larger company might need to invest in multiple tools while a smaller business might be able to get away with a single, comprehensive solution. Therefore, it is critical for every business owner to be aware of their own unique order management needs and to make a point of finding the order management systems that will best meet their needs. Savvy business owners will also keep in mind that as the needs of their business change, the software program should be able to change and keep up with the new demands.
Inventory Management Software Free
Of course, small business owners will also want to be able to keep their overhead expenses as low as possible, so that they can achieve large profifts. Therefore, many start off by looking for inventory management software free choices. While free shop management software is a good place to start, though, these options simply will not be enough in the long run.
First, the savvy business owner should understand that many "free" programs are simply paid solutions that are offering free trials. Therefore, the business owner will eventually have to pay for the entire thing. So if you decide to start with a free program, this is great for uncovering which features you might like; however, if you really want to keep up with the competition, you need to be able to invest in more premium inventory management software.
Furthermore, order management software free is not usually a viable long-term solution. As a company grows, its needs will change too, and free software programs are unlikely to scale as well as the business requires.
And finally, a free program is usually not tailored to meet the needs of a particular business, let alone an industry. In this way, a free program can leave a company at a distinct disadvantage compared to their competitors. Therefore, in order to truly take advantage of everything that an inventory management software program has to offer, business owners should be willing to invest in a paid program.
Simple Inventory Software Free
There are many business owners who are concerned that they might not be able to understand everything that comes along with inventory management software. Therefore, they might be looking for a simple stock management software free download or similar options. While there's nothing wrong with looking for something that is straightforward and easy to understand, it is important to keep in mind that simple inventory software free examples will rarely provide the company with everything they need as they grow.
Ideally, the company is going to grow and the software program will have to be able to keep up. In the event of such growth, business owners will have to transition to a new option, and this will end up costing more money in the long run. Furthermore, the business will also lose revenue because they are spending time training people on how to use a new program. Business owners can avoid these issues if they simply try to find a program that will meet the needs of the company the first time around.
Order Management System eCommerce
For those who are looking for an order management system ecommerce, it is important to know that there are also plenty of options to choose from. Many people decide to start with a free order management software for small business programs. Similar to the cases discussed above, though, these options simply won't be able to compare the best order management software options.
Therefore, those who are looking for an order management program for their online businesses need to make sure they find something that can actually meet their needs. Needs vary from industry to industry and will also change with the size of the company. You should try to find an order management system that can handle payments, check orders against inventory, get the order shipped, and keep the customer in the loop regarding the status of their orders. This will go a long way toward improving customer loyalty, keeping them coming back for future purchases.