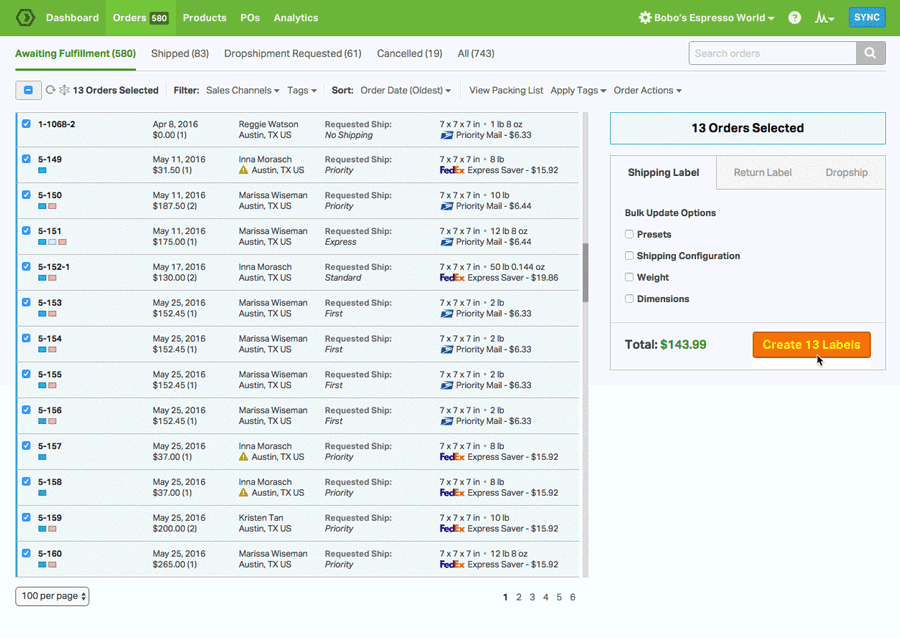 Fulfill Orders Faster With Our Simple Order Management Software
The All-In-One Ecommerce Logistics Platform
Equip yourself with a comprehensive solution
Inventory Management
Stock, sync, and scan.
Automatically track and sync your inventory levels
Create and send out Purchase Orders when it's time to restock
Bundle multiple SKUs into one unit for sale
Use Barcode Scanning to reduce fulfillment errors
Multi-Carrier Shipping
Your workflow, minus the work.
Enjoy heavily-discounted shipping rates via USPS
Ship via any of our integrated shipping carriers like USPS, UPS, FedEx, DHL and Canada Post
Set up your own Automation Rules and Shipping Presets
Print shipping labels in triple-digit batches or individually
Dropshipping
Truly hands-off dropshipping.
Launch a dropshipping operation in a matter of clicks
Tag any product as drop shipped and assign it to a vendor
Choose between automated or manual routing
Activate a Vendor Portal between you and your supplier
Multichannel
We're your operations hub.
Integrate and view all of your sales and supplier channels in one spot
Use our open API to hook up any third-party or custom apps
Manage every aspect of your orders
Establish Supplier Feeds for real-time, back-end communication
Barcode Generation and Scanning
Raise the bar for stocking and packing.
Create UPC barcodes for your products
Scan, set, and search UPC codes for SKUs within Ordoro
Reduce fulfillment errors with our pack and pack barcode scanning workflow
Scan received POs to automatically adjust stock levels
Don't take our word for it
Our awesome customers have shipped some really great compliments our way:
"I spent about a month thoroughly searching for the right backend fulfillment software for my eCommerce business. There were definitely some big name guys out there that I considered, but at the end of the day, I went with Ordoro and I'm so glad I did!"

Tina Yarandi
Founder/CEO of Nature's Artisan
"Ordoro continues to add immensely valuable features to an already awesome sales/warehousing/shipping platform. Using Ordoro continues to save us time and money."

Anthony Krize,
VP of GE Holiday Lighting
Simple Order Management Software
According to the most recent statistics, online sales increased even more in the second quarter of 2021 than they did in the first quarter. Some experts suggest that the pandemic catapulted the growth of E-commerce 4 to 6 years into the future. That rapid growth in demand for online services has also resulted in the acceleration of technology, enabling greater numbers of people all over the world to participate in e-commerce. That's good news for your online business. One of the best ways to ensure your small business is able to reap it's share of the benefits is getting the right online order management system for e-commerce in place before the next big surge. Some important things to consider when choosing an order management system ecommerce are how orders are placed, how long it takes to fill them, how inventory is tracked, and how items are shipped. Other considerations include how many storefronts and suppliers you currently have—and how many you'd like to have. Since every small business has its own unique products, promotions, and customer base, the ability to customize and automate business processes online has become essential. Sometimes what's advertised as simple order management software can be anything but simple. It takes a lot of time to research and test all of the individual components before integrating them into a comprehensive system that meets all of the specific needs of a small business. That's time that could be spent communicating and developing long-term relationships with your customers. Automating your processes with customer order management software makes it possible to increase efficiency and customer satisfaction while freeing up your time for the customers themselves. As anyone who's ever had to listen to five minutes of a pre-recorded message before they could finally "press 8 to speak to a customer representative" can tell you, that's something that can't be automated.
Free Order Management Software For Small Businesses
Many small businesses start out by using pre-packaged, pre-loaded, one-size-fits-all software like Excel. For some, this approach has worked well. For others, it has proven to be a costly mistake. One reason it can be costly is that it requires thinking small. While there is some good free order management software for small business out there, many that describe themselves as "free" often aren't. For those that actually are free, most have a limit on the number of users, transactions, or both. Even if you don't dream of becoming a multi-billion dollar international conglomerate, doubling your sales shouldn't result in having to scramble to find a new system instead of celebrating with a vacation. There are a lot of companies out there competing for your business. In some ways, that competition works in your favor, like offers of free limited use of their software. However, when it comes to integrating software programs, it can work against you. That's because some companies purposely make their software incompatible with the software products of their competitors. Let's say that you're able to find some good simple inventory software free of charge. Will it interact well with your existing order system? Can you use it to automate your drop-shipping, or will you have to find another shipping software program that will be compatible with your free inventory management software in excel? Ordoro's software program consolidates all those functions into one easy-to-use integrated platform. From the moment a customer places an order until it arrives on their doorstep, from creating shipping labels to taking advantage of special rates on automated drop shipping and creating tracking numbers, Ordoro's integrated platform handles it all for you. There's also a 15-Day Free Trial for the Express Plan so you can take the whole seamlessly integrated system out for a test-drive and experience its advantages for yourself.
Warehouse Inventory Management Software
Sometimes it's not about which software is recommended for doing inventory management--but which software you can customize to get the job done exactly the way you want it done. done right. There's no shortage of advantages in investing in some good warehouse inventory management software. Time has never been more of a luxury than it is today. In the past, people enjoyed the anticipation of waiting for their items to arrive. It gave them time to talk to their friends about it, to imagine all the ways they were going to enjoy it. Now, some customers demand to know why a drone can't drop their order on their doorstep within 24 hours after they press the "place order" button. Having an integrated software system in place can prevent potential customers from placing orders with someone else while you're still busy researching which software is most recommended for inventory management. The best inventory management software allows both you and your customers to be informed within seconds about the number of specific items in stock at any given time. Setting up your system to automatically reorder an item as soon as it falls below a certain number in stock prevents you from ever having to lose a customer to someone who can get that item to them faster. Ordoro's Inventory Management software plugs your inventory into every one of your suppliers and marketplaces, so no matter how many orders are placed from different storefronts, your purchase orders are adjusted accordingly. Being able to use barcode scanning to reduce fulfillment errors helps you make first-time customers long-term repeat customers. The ability to view all of your sales and suppliers' channels from one place is one of the best time-saving features of our integrated system. Another is that it allows you to use our open API if you want to integrate your favorite third party apps or customize an app of your own. With our cloud-based system, you don't even have to worry about maintaining all the hardware storing your information. Sometimes it's not about which software is recommended for doing inventory management--but which software gets your specific job done right.
Order Management Software For Small Businesses
Maybe it's not a coincidence that all the most popular movies these days have superheroes and special effects in them. Let's face it, when your small business is competing with a multi-billion dollar company with the ability to actually deploy drones for near- instant delivery, you need every technological superpower you can get. A good order management system for small business allows you to scale up to accommodate your increasing success. Part of that success depends on skillful product pricing. That means watching sales cycles and offering reduced prices at the right time. Great bargains are important to customers, but knowing their personal and payment information is secure is even more important in building long-term trust. While it's possible to start your small business utilizing a sales order processing software free download, it's hard to know whether that software is being updated regularly in response to potential new security threats. No matter how good your pricing and shipping strategies are, few small businesses survive their customers' information being compromised. When deciding how much to invest in a system you can customize for your specific business, it's a good idea to research overall order management system pricing within the industry and compare it with the number of functions it offers. It's also a good idea to keep the users in mind, whether it's yourself, family members, or employees. Free trial offers are great for testing out user-friendliness. Even if a system seems to have every feature you need, if your employees aren't able to understand or use it, it's not likely to help your business succeed. Like customers who expect instant drone-drop delivery, employees want to be able to place an order, scan a barcode, update inventory, print a label, and set up shipping with a few clicks of a mouse. Another advantage of choosing a paid service instead of piecing together a system from free downloads is that onboarding is provided to demonstrate how to take full advantage of the system's capabilities. They also offer ongoing support. Keeping good employees is as important as keeping customers. If your co-workers are also your family members, creating a pleasant work environment is even more important. Reducing frustrating, time-consuming, repetitive processes through automation and technology is what order management software for small business is all about.
Best Order Management Software
While technology has increased customer expectations to unprecedented levels, it has also made it possible to meet—and even surpass— those expectations. When it comes to order and inventory management software, an important element in defining "best" is choice. Our comprehensive system provides just that—the ability to choose your own automation rules, and set whatever parameters for ordering, inventory management, and shipping processes that work best for your specific type of business. Built-in kitting capability can help you bundle items for quick sale to make space for new seasonal items, while multi-carrier shipping discounts can reduce your monthly operating expenses. Consistency is essential in creating and maintaining customer loyalty. So is getting to know your customers. Knowledge about their preferences and spending habits over time can mean the difference between a successful advertising campaign and a complete waste of time and money. The data analytics included with our fully integrated e-commerce order management software system can show you what products are performing best, when, and where. The ability to pinpoint exactly which regions respond most favorably to a particular item or sale allows you to focus your efforts where they pay off the most. You can access your total revenue and total costs over a specific period of time or track sales tax rates by state with the click of a mouse. A good order management software system helps you connect your customer orders to inventory management, fulfillment services, and shipping providers. The best order management software system is one that streamlines all those functions into a single, consistently efficient, seamless process. No matter what kind of online business you have, success depends on fulfilling the promise of consistent quality service that your customers can access quickly and easily. Ordoro helps small businesses deliver.