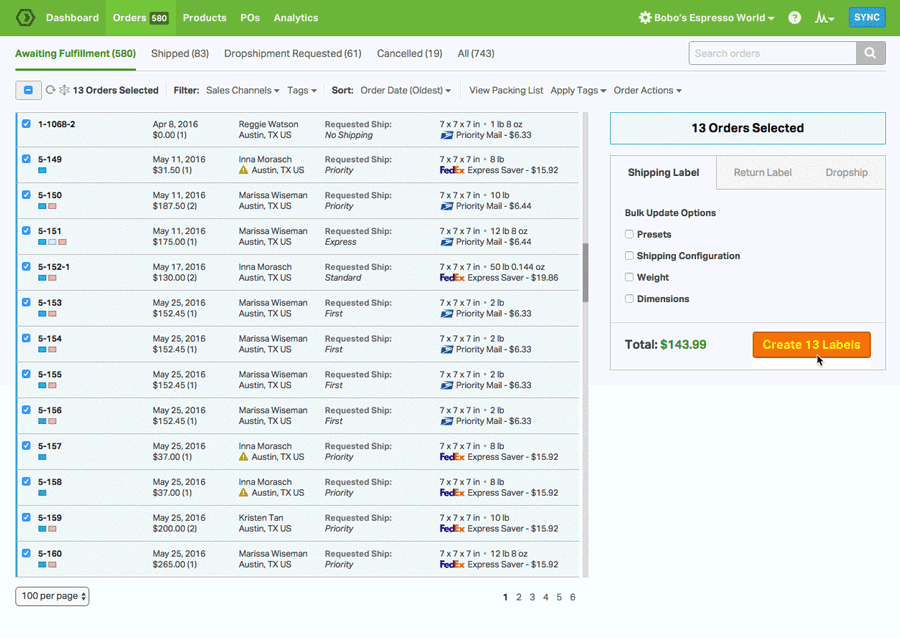 Save time and money with our order management system
The All-In-One Ecommerce Logistics Platform
Equip yourself with a comprehensive solution
Multi-Carrier Shipping
Your workflow, minus the work.
Enjoy heavily-discounted shipping rates via USPS
Ship via any of our integrated shipping carriers like USPS, UPS, FedEx, DHL and Canada Post
Set up your own Automation Rules and Shipping Presets
Print shipping labels in triple-digit batches or individually
Inventory Management
Stock, sync, and scan.
Automatically track and sync your inventory levels
Create and send out Purchase Orders when it's time to restock
Bundle multiple SKUs into one unit for sale
Use Barcode Scanning to reduce fulfillment errors
Multichannel
We're your operations hub.
Integrate and view all of your sales and supplier channels in one spot
Use our open API to hook up any third-party or custom apps
Manage every aspect of your orders
Establish Supplier Feeds for real-time, back-end communication
Dropshipping
Truly hands-off dropshipping.
Launch a dropshipping operation in a matter of clicks
Tag any product as dropshipped and assign it to a vendor
Choose between automated or manual routing
Activate a Vendor Portal between you and your supplier
Don't take our word for it
Our awesome customers have shipped some really great compliments our way:
"I spent about a month thoroughly searching for the right backend fulfillment software for my eCommerce business. There were definitely some big name guys out there that I considered, but at the end of the day, I went with Ordoro and I'm so glad I did!"

Tina Yarandi
Founder/CEO of Nature's Artisan
"Ordoro continues to add immensely valuable features to an already awesome sales/warehousing/shipping platform. Using Ordoro continues to save us time and money."

Anthony Krize,
VP of GE Holiday Lighting
Order Management System
Many savvy business owners have realized that one of the best ways to boost their presence in the business world is to leverage the internet. Today, the vast majority of people who are looking for new products and services turn to the internet first for help. These consumers will go to a search engine, enter a query, and see what comes up first, then click on one of those top results. Because of this new consumer behavior, businesses thatare looking to recruit new customers today must ensure that they have a strong online presence. This is where an order management system can be helpful.
At first, businesses that are just starting out might be able to handle their orders manually. However, as the business grows and scales, it will quickly prove more difficult to keep up with the number of orders coming in and going out. This is where an open source order management system can be helpful. By using an order management system, it becomes relatively easy for business leaders to see how and when orders are being managed.
Businesses have many options in this space, from an order management system open source to an order management system free. However, free options can only get a growing business so far. When looking at order management system examples, it is often a good idea to look at an order management system PDF. For example, businesses can learn about their options when it comes to an order management system retail.
Ultimately, though, it will be important for small business owners to invest in an order management system that has been tailored to meet their needs. There is no single best order management system, but businesses can compare different options to see which one works best for a company of their size, with their target market, and in their industry. Therefore, all businesses should take a look at how often they are receiving orders, how long these orders take to fill, what their inventory looks like, and how quickly they need to get orders turned around. These factors will help the company figure out which order management system will best meet their needs.
What is Order Management?
For new business owners, a relevant question might be: "what is order management?" This term describes the process of recording the business's orders as they are placed, and then addressing each order appropriately. In some cases, order management might also mean re-ordering the inventory items needed to fulfill certain orders. Given that different businesses sell different products and services, order management will also be different from company to company depending on size, industry, location, target market, and more. Therefore, small businesses especially should be savvy with their order management.
Despite these differences, there are some things that most businesses will find they have in common regarding order management. First of all, orders must be fulfilled. At its core, an order management system is about ensuring that no orders fall through the cracks. Every customer is important to the business, and if an order gets forgotten or overlooked, then the customer who wanted that product or service will be disappointed and may take their business elsewhere. An effective order management system has been designed specifically to help business owners ensure that every customer receives exactly what they purchased.
Next, an order management system will also ensure that orders are filled on time. When a customer places an order, they expect to receive that product or service in a timely manner. If an order takes too long to arrive, then the customer will be upset, and may complain or ask for a refund. A good order management system will help make sure that this does not happen. In order to do so, though, an order management system must be able to connect with the company's shipping system and make sure that orders are filled in a timely manner.
Finally, order management systems should also have the ability to interface with inventory tracking or management systems. This is because the business can't fulfill an order if the inventory needed to fill it isn't in place, and a good order management system will be able to prevent such orders from being placed at all. With this in mind, a comprehensive system should be able to link the order to the business's present inventory and the two will work in tandem to ensure that only appropriate orders can be placed.
Order Management Software
There are a number of major challenges that come with order management in general. For example, many small business owners have to figure out when they need to order more inventory, plus how quickly they need to fulfill different orders while making sure that nothing falls through the cracks. If small businesses can't succeed in all three of these things, then their customers will grow upset and they may decide to take their business elsewhere.
Order management software can be incredibly helpful in addressing these issues. However, even though there are plenty of options that can provide free order management software for small businesses, this will not necessarily be the best option. A simple order management software is a good place to start for small businesses, but eventually a sales order management software will need to do much more than simply take orders. For example, small business owners could benefit greatly from being alerted when their inventory is running low. The best order management software will be able to take a look at incoming orders, compare needs with existing inventory, and provide managers with this information.
Given this, it is important for all small businesses to make sure that they find the right order management solution for their unique business needs. Business leaders should also keep in mind that their companies' needs might change over time. As a small business grows, there might be new product lines that are added or a greater volume of orders being placed. In these situations, most small business owners would prefer not to have to buy a brand new software program for every change and the new requirements that come with it. Therefore, it is also important for business owners to consider scalability when assessing order management software options. This will streamline all order management processes and increase the efficiency of the business.
Order Management System eCommerce
Even though order management systems play a critical role in just about every business, one of the most important spaces in which they operate is ecommerce. An order management system ecommerce is one of the most important parts of running an online business today.
Because of this, it is critical to take a look at the ecommerce order management system architecture. Here, ecommerce order management starts with a purchase. When a customer makes a purchase, the order has to go through to the order management system. The best order management system will be able to automate this process, allowing the small business owner to save time instead of manually running sales and checking inventory every time someone wants to place an order.
Given this process, an order management system in logistics is also incredibly important. Many logistics are involved in running an online business. For example, ecommerce businesses have to connect customers with shipping providers, inventory, and fulfillment services, which means that there are many moving parts that need to work together. Ideally, a logistics order management system will be able to handle all of these issues, streamlining them into a single process. While this streamlining does make the business owner's job easier, it also creates a better, more seamless customer experience.
Order Management System Software
Business owners should know that there are plenty of options to choose from when it comes to order management system software. For example, many people decide to start out with a free customer order management system. There are also templates available that can provide order management system steps. Either of these options is a great place to start for many small businesses. At the same time, though, these options will not be enough to keep up with growing orders as the business scales. As a business grows, the software program needs to be able to grow with it.
This close dependence demonstrates why it is important for small businesses to consider investing in a strong order management tool. The right order management tool should be able to grow with the company, and can also help to grow the company. For example, if a company rolls out a new product or service, then the software program should be able to handle the addition to both inventory and orders. Furthermore, if a customer has an issue with placing an order, then the software program should be able to address this as well, or at least alert the appropriate business leader that there has been a problem.
The goal of an effective order management system software program is to address as many tasks as possible. This will help small business owners save a lot of time, allowing them to spend their resources growing the business while the order management system handles many smaller issues that can be automated.
Order Management Process Flow
For those who might be looking to build their own order management system, there are several order management process steps that should be followed. The order management process flow can be challenging for the inexperienced to build on their own, which means that an order management process flow PPT can be helpful. This kind of guidance will reveal that there are a few steps to be followed.
First, the company should take a look at how many orders they handle on average. Then, they should consider how long it takes for these orders to get turned around. In addition, the company also needs to find a way to link up their inventory system so that orders won't be falling through the cracks. Finally, it is also important to incorporate shipping, as the orders ultimately need to be shipped to customers.
Clearly, there are several equally important steps here, and it can all be a lot to handle. This is why many small business owners decide to invest in a software program that can handle all these issues automatically instead. This can save business leadership valuable time, effort, and even headaches.