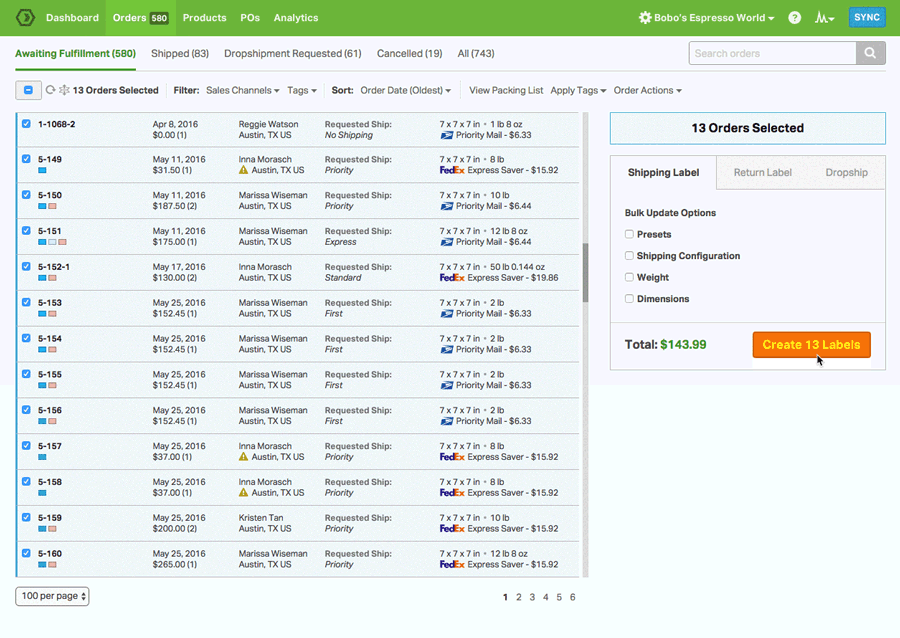 Ordoro Now Offers A Free Shipping App
The All-In-One Ecommerce Logistics Platform
Equip yourself with a comprehensive solution
Inventory Management
Stock, sync, and scan.
Automatically track and sync your inventory levels
Create and send out Purchase Orders when it's time to restock
Bundle multiple SKUs into one unit for sale
Use Barcode Scanning to reduce fulfillment errors
Multi-Carrier Shipping
Your workflow, minus the work.
Enjoy heavily-discounted shipping rates via USPS
Ship via any of our integrated shipping carriers like USPS, UPS, FedEx, DHL and Canada Post
Set up your own Automation Rules and Shipping Presets
Print shipping labels in triple-digit batches or individually
Dropshipping
Truly hands-off dropshipping.
Launch a dropshipping operation in a matter of clicks
Tag any product as drop shipped and assign it to a vendor
Choose between automated or manual routing
Activate a Vendor Portal between you and your supplier
Multichannel
We're your operations hub.
Integrate and view all of your sales and supplier channels in one spot
Use our open API to hook up any third-party or custom apps
Manage every aspect of your orders
Establish Supplier Feeds for real-time, back-end communication
Barcode Generation and Scanning
Raise the bar for stocking and packing.
Create UPC barcodes for your products
Scan, set, and search UPC codes for SKUs within Ordoro
Reduce fulfillment errors with our pack and pack barcode scanning workflow
Scan received POs to automatically adjust stock levels
Don't take our word for it
Our awesome customers have shipped some really great compliments our way:
"I spent about a month thoroughly searching for the right backend fulfillment software for my eCommerce business. There were definitely some big name guys out there that I considered, but at the end of the day, I went with Ordoro and I'm so glad I did!"

Tina Yarandi
Founder/CEO of Nature's Artisan
"Ordoro continues to add immensely valuable features to an already awesome sales/warehousing/shipping platform. Using Ordoro continues to save us time and money."

Anthony Krize,
VP of GE Holiday Lighting
Shipping App
Having a reliable, user-friendly and versatile shipping app designed to meet most ecommerce shipping needs, is a necessity to make sure that your shipping tasks are handled efficiently and promptly. There are a number of options to choose from, including some that are free and others available through subscription or downloads.
If you looking for the best shipping app Shopify-compatible, then you need one able to integrate with multiple carriers and create labels. interface with your inventory software,\ as well as package tracking.
With sales orders aligned with shipping, choosing the best ecommerce shipping app is critical.
Regardless of what type of business you run, you need to ask the following questions of any company selling shipping software and apps:
How do you ship goods at a lower cost to make a profit?
How do you move goods faster and more efficiently than the competition?
Will this software be compatible with and integrate seamlessly with my current systems in place?
Other considerations include:
The app's ability to coordinate creating shipping labels, packing slips, and other documents
The ability to integrate with ecommerce platforms, such as Amazon. Etsy, Shopify, eBay, and WooCommerce
The ability to interface with and sync with your site's current order information and tracking tools
The above are the most important to your business's bottom line, but you'll want to have answers to pricing, included features as well as optional add-ons, when searching for the best online shipping service for small business.
If you use a Shopify platform, the Shopify apps store has apps for just about every possible task, including shipping apps Shopify-compatible.
Shopify shipping rates can vary with the size, weight, distance, carrier choice, delivery preferences, and other factors. Your choice of an app can affect rates so check app reviews by other users and evaluate comparisons carefully before choosing.
Free Shipping Apps
Yes, there are also free shipping apps to help manage shipping – some drawbacks to those can be that many free apps are often limited in their capabilities or lack full integration with the rest of your ecommerce software.
The Shopify app store also offers free shipping apps Shopify-related – just log in to your Shopify account and browse away.
Free shipping bar examples include offering customers a free shipping option, usually when certain conditions are met, such as minimum dollar amounts ordered. These can be great incentives for increasing sales, especially around holidays.
A free shipping bar Shopify-compatible can be added to your shopping cart as a reminder at checkout or better yet, displayed right on the product pages.
Some buyers find a "free shipping" pop-up on product pages to be distracting or annoying, others appreciate the reminder. It's a personal thing, so it's up to you.
You can also offer free shipping programs, sort of like a buying club, where a customer makes "X" amount of purchases costing a given amount of money and gets free shipping. The larger the orders the more they save. You can also offer "free shipping today only" to create a sense of urgency with buyers – use it or lose it!
There are a number of free shipping shopping apps – you can check out a few examples of free shipping sites such as AfterShip and OneTracker.
If you're managing a warehouse and /or shipping from multiple locations you'll need a different set of applications geared toward managing not just shipping but the inventory and fulfillment tasks required to run a successful enterprise. Hint: Ordoro does it all, as a one-stop shop for everything all about ecommerce, from helping control your inventory, automatically reordering to keep sufficient stock at all times, to filling high-volume orders with the best carrier and price.
Shipping App Shopify
Several sites such as Easyship, offer a free shipping app Shopify-compatible for its users, along with Shopify Local Delivery with optimized routes, automatic notifications, and order status updates, which is another good choice for Shopify merchants.
Among the choices for the best Shopify app for international shipping from a variety of app vendors, there is Shop, which can be found on the Shopify app store Shopify Shipping offers merchants access to the best pre-negotiated shipping rates and labels depending on the terms of their Shopify subscription plan, with discounted rates available automatically in the US and Canada.
There's more than one Shopify shipping rates app that can help you choose the best rates for your products, customer location, the desired delivery timeframe, and so on. Find more information on those by logging into your Shopify account and going to the Shopify app store.
Shopify shipping apps can be accessed through the Shopify App store. Some may be integrations, (extensions not requiring the use of additional advanced software programs.) Having integrations and extensions at your fingertips as well as creating advanced shipping rules Shopify makes it easier for ecommerce retail and dropshipping business owners, to manage their stores and applications.
With Ordoro's shipping label apps, when an order is picked and during the fulfillment process, the shipping label generator activates and creates labels either in multiples or for just one order. You can quickly create shipping labels as well as branded packing lists in triple-digit batches with just a few clicks in seconds!
Ordoro has shown to be the best shipping app for Shopify as it integrates perfectly with the platform and lets you create multiple shipping labels and branded packing lists in triple-digit batches without tiresome data re-entry. As you print, you can streamline your workflow more with our direct-to-printer option, sending labels in seconds to your printer. You wouldn't expect anything less from an ecommerce software industry leader!
Package Shipping App
Play Store offers a number of choices for picking the best package tracking app Android, including AfterShip, which views and tracks packages through a variety of couriers, with the ability to have packages added to the app automatically as it hits the inbox.
AfterShip is not only a free service but is also ad-free, so for many of us, that's another plus.
OneTracker isn't as robust as some others but is free and allows users to sync across devices, with automatic tracking integration, and, for those not wishing to have apps scan their email, makes it easy to bypass your email to track incoming packages.
What are some of the best free package tracking app choices? As mentioned above, AfterShip is both free, making them even more appealing when combined with their multiple couriers and tracking features.
Using the Shop app you can combine multiple functions into your Shop: package and order tracker as an all-in-one solution to sync across multiple devices and accurately track package delivery progress.
Once the package shipping app has helped create your shipping labels, the Ordoro live package tracking app automatically relays shipping status and tracking numbers back to the appropriate sales channel, keeping the customer in the loop.
When you create a shipping label, Ordoro automatically sends the tracking to your sales channel. Next, your sales channel will email your customer the tracking number notifying them their order has shipped.
To keep your fulfillment centers moving along, Ordoro offers automation rules including preset instructions to automatically help with bulk selection, bar code scanning, and label printing.
Ordoro connects seamlessly to all of your supply-side channels, warehouses, and fulfillment centers, efficiently routing orders to 3PLs and others, as it selects the best ship-from location. As the best package tracking app Ordoro can handle shipping operations marketplaces like eBay and Amazon to carts and other platforms like BigCommerce and Shopify keeping your shipping and tracking operations running smoothly.
Shipping Apps for Small Business
The cheapest shipping for small business isn't necessarily the best but there are a few low-cost free apps available to handle the more basic tasks of label making, If you're looking for the best shipping apps for Shopify, you can try some of the apps on Shopify's app store or other cloud-based software for the best shipping apps.
Why not do things the smart way and partner with industry leader Ordoro for a complete platform to manage and grow your ecommerce business? Whether you're a retailer, dropshipper, manufacturer, or another enterprise, look to Ordoro for help with managing your business from inventory, and fulfillment to final tracking and delivery. With our app for shipping packages you can connect your supply-side channels or warehouses as well: route orders to 3PLs and dropshippers, choosing which warehouse or location to ship from.
Consumers have rated Ordoro 4.72 out of 5 stars –top ratings for the best shipping app for ecommerce in the shipping and inventory-management software industry!
Ordoro helps with multichannel sales: whether they're from an Ordoro-supported sales channel, CSV upload, or a custom API integration, by importing your orders into the app and shipping them out the door to the customer, making it the best shipping software for small business.
In addition, Ordoro's shipping apps for small business label apps let you quickly create and print out shipping labels, in batches or individually, speeding up the fulfillment process.
Some other Ordoro advantages: accelerate your fulfillment process by configuring Shipping Presets to auto-fill designated shipping parameters when creating labels. You can set up Automation Rules that will act on orders as soon as they arrive.
But wait – there's more!
At the end of March 2022, Ordoro launched our FREE Starter Plan! We now offer:
1,000 orders per month
1 user
Discounted USPS rates
Multi-carrier shipping
Batch label printing
1 Ship-from location
With FREE 30-day onboarding, lifetime support, and an array of apps and tools, Ordoro is the best shipping for online business.