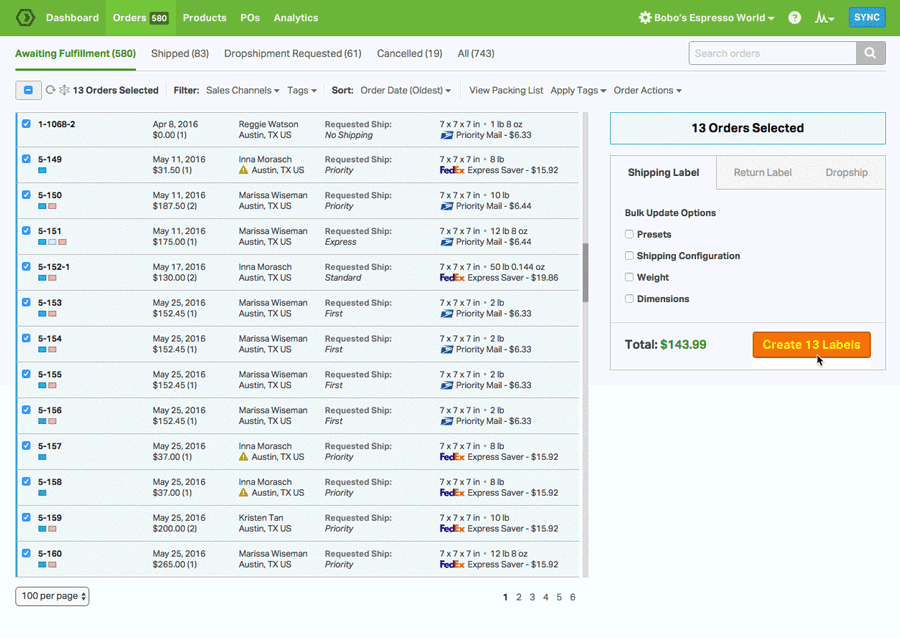 The Best Alternative Software For Your TradeGecko Integrations
The All-In-One Ecommerce Logistics Platform
Equip yourself with a comprehensive solution
Inventory Management
Stock, sync, and scan.
Automatically track and sync your inventory levels
Create and send out Purchase Orders when it's time to restock
Bundle multiple SKUs into one unit for sale
Use Barcode Scanning to reduce fulfillment errors
Multi-Carrier Shipping
Your workflow, minus the work.
Enjoy heavily-discounted shipping rates via USPS
Ship via any of our integrated shipping carriers like USPS, UPS, FedEx, DHL and Canada Post
Set up your own Automation Rules and Shipping Presets
Print shipping labels in triple-digit batches or individually
Dropshipping
Truly hands-off dropshipping.
Launch a dropshipping operation in a matter of clicks
Tag any product as drop shipped and assign it to a vendor
Choose between automated or manual routing
Activate a Vendor Portal between you and your supplier
Multichannel
We're your operations hub.
Integrate and view all of your sales and supplier channels in one spot
Use our open API to hook up any third-party or custom apps
Manage every aspect of your orders
Establish Supplier Feeds for real-time, back-end communication
Barcode Generation and Scanning
Raise the bar for stocking and packing.
Create UPC barcodes for your products
Scan, set, and search UPC codes for SKUs within Ordoro
Reduce fulfillment errors with our pack and pack barcode scanning workflow
Scan received POs to automatically adjust stock levels
Don't take our word for it
Our awesome customers have shipped some really great compliments our way:
"I spent about a month thoroughly searching for the right backend fulfillment software for my eCommerce business. There were definitely some big name guys out there that I considered, but at the end of the day, I went with Ordoro and I'm so glad I did!"

Tina Yarandi
Founder/CEO of Nature's Artisan
"Ordoro continues to add immensely valuable features to an already awesome sales/warehousing/shipping platform. Using Ordoro continues to save us time and money."

Anthony Krize,
VP of GE Holiday Lighting
TradeGecko Integrations
There are several TradeGecko integrations available to customers using QuickBooks Commerce. Note this is the same standalone product that is related to the TradeGecko sunset in June 2022. Finding a TradeGecko alternative that manages these same integrations may be critical to the continuity of your business operations. In order to accommodate the needs of customers at this time of TradeGecko ending at QuickBooks ECommerce, the brand is incorporating some features and integrations into QuickBooks Online. However, you have to be willing to utilize QuickBooks Online exclusively in order to see or use these benefits.
For those customers of the TradeGecko app who are worried about what they are going to do now, we have some information about the integrations offered by the platform. This includes e-commerce inventory management TradeGecko integrations that many small business owners find very useful, such as:
Amazon
eBay
Liquid Web
Neto
OpenCart
Rocketspark
Shopify and Shopify Plus
Squarespace
WooCommerce
For the Amazon app built for QuickBooks Commerce, this allows businesses to stay on track with up-to-date stock levels and fulfillment requests. TradeGecko WooCommerce is another popular inventory management integration app that manages the sales side of shipping. Here you gain access to sales orders, invoicing, and customer discount codes, as well as legal payment terms to provide for customers. The QuickBooks Commerce app built for eBay is one of the newer integrations, surprisingly, as this is the oldest online marketplace.
Having these integrations available from another inventory management software vendor is important for the continuation of some processes for many businesses. For instance, most businesses now have automated dropshipping and use Amazon to provide a storefront. If you are not able to integrate these with APIs and apps, your business is going to miss out on a lot of revenue. Ordoro is one platform where you will find API integrations for all of the same TradeGecko merchants–and many more.
TradeGecko Quickbooks Integration
If you are a business owner searching for a solution to replace TradeGecko QuickBooks integration, we have an option with Ordoro. The use of QuickBooks integration is important for business owners who are working in accounting and inventory management. This allows everything to be connected and managed seamlessly, including stores online, 3PLs, warehouses, and bookkeeping. First take a look at the way TradeGecko, also known as QuickBooks Commerce, works with QuickBooks Online.
QuickBooks Commerce and QuickBooks Online are part of the same e-commerce platform that provides a bevy of features and services. This starts and centers around accounting and bookkeeping and includes inventory management. The primary feature of QuickBooks, which is now owned by Intuit, is that it is an online platform with a robust dashboard available for customers.
This is created to make it easier for customers to use the system so they can get more out of it. QuickBooks Commerce was formerly known as TradeGecko, which was founded in 2012. TradeGecko was acquired by QuickBooks, at which time the software was sold as a standalone product. TradeGecko was also renamed QuickBooks Commerce and was available for sale until June 2021, and all integrations and services will end in June 2022.
The QuickBooks Commerce API allowed for integration of the inventory management software with QuickBooks Online. Since QuickBooks Commerce (TradeGecko) is no longer going to be available for use by customers, it is time to find a new QuickBooks API for integration. Thankfully, Ordoro has this area covered with a QuickBooks Commerce API replacement. Choose the Ordoro integrations for your business's inventory management practices, which integrate with the QuickBooks E-Commerce system. This will keep your business moving right along during this transition period.
Ordoro integrates with several aspects of QuickBooks Online including:
Syncing wholesale orders
Manage and sync inventory to QuickBooks
Tracking shipping and syncing to QuickBooks
Create invoices and manage sales taxes
Handle cash flow across several integrated channels
The Ordoro system works with several of the QuickBooks Desktop programs. This includes Manufacturing through Connex, Wholesale, and Enterprise, as well as Pro and Premier.
TradeGecko Shopify
At this time we are seeing the sunsetting of TradeGecko and its integration with QuickBooks Commerce. It is critical that customers using this software for TradeGecko Shopify inventory management have a new option. This cannot be a last-minute decision. After June 2022, customers will not have access to QuickBooks Commerce and its inventory features for Shopify and Shopify Plus unless they make a change. They can choose to go on with QuickBooks Online, or are forced to find a new vendor for software to handle Shopify integrations. This also means integration from their merchants to QuickBooks will be cut.
These all need to be managed and maintained by a new API integration provider or done through QuickBooks Online. However, you have to be a customer of QuickBooks E-Commerce in order to have access to any of their API integrations. If this is not an option for you or your company, then it's time to find a new provider. This is where Ordoro steps in to fill that gap in providing a full-service inventory management solution.
One specific area of API integration that a lot of customers are going to need in Shopify is with fulfillment. There are so many merchants offering ways for orders to be filled, such as through eBay or Amazon. Any of these third-party providers will require you to have a bevy of services to meet their requirements.
For example, one API integration is barcode scanning, which a customer of the Ordoro e-commerce inventory management system has been using for pick and pack in warehousing. The feature has reduced errors to a notable rate. Accordingly, "Ordoro's order verification process is a key factor that empowers our distribution center team members to consistently exceed the goal of 90% average rate of accuracy in order fulfillment," to the point where the accuracy rate for Kitsbow Distribution was 99.96 percent in 2020.
TradeGecko API
TradeGecko aka QuickBooks Commerce API is the network bridge between inventory management and several key merchants and their services. Take Amazon and eBay, for example. If you are a seller on either of these marketplaces, they have a ton of features for their shipping customers. In order to maximize your profits and increase time spent marketing on these platforms, you must take advantage of all of them.
This is where TradeGecko had been offering a great service in the way it provided QuickBooks Commerce API integration. You were able to connect to eBay and Amazon, as well as Shopify, WooCommerce, and many more merchants. With that going out the window, it's time to find a new way to integrate with merchants as small business owners.
The Ordoro API integrations are equally as robust as TradeGecko–and we dare say more up-to-date. Considering QuickBooks Commerce is folding the software and removing it from its catalog, after only a year of Intuit being at the helm, you have to ask. Is it because the software was only good for certain areas, such as strengthening its omni-channel commerce and accounting platform, but not more? Either way, the services since the TradeGecko acquisition are going by the wayside.
Fortunately, we are seeing services like Ordoro that are coming in strong with more than enough support and features that you thought you needed. In fact, it is easy to see why TradeGecko and QuickBooks Commerce are technically being replaced by competitors like Ordoro.
Customers are also utilizing the Ordoro API integrations with great results: "Integrating with Ordoro's API was an obvious thing for us to do. Their APIs were incredibly easy to integrate with, and we are excited to offer QuickBooks connectivity to Ordoro's multi-channel customers."
TradeGecko Alternative
As a small business owner searching for the right solution for a new inventory management service provider, there are plenty of options out there. It is all about finding the best service for your own business to use day in and day out. Along with identifying API integrations, you also want to take into account the 3PL warehouses, supplier chains, and sales channels that you are currently in–and those you want to scale into as your business expands. Having software to manage the inventory while you do this allows your company to achieve its goals more easily.
Finding replacements for TradeGecko is also key to this process. In order to make the most of the time spent and money invested in a new manufacturing and warehousing inventory system, start with the experts and their advice. For starters, Ordoro is the number one ranked business for the 14 Best Inventory Management Software for Small Businesses in 2022. While there are other services like Zoho Inventory, Dear Inventory, and Unleashed, Ordoro ranks at the top of the ratings for several reasons.
We believe Ordoro is the best TradeGecko/QuickBooks Commerce alternative on the market. By choosing to use Ordoro for your service provider, you maintain the connection to QuickBooks ECommerce through the use of API integrations. This is if you want to, of course, since there are several other merchants offering ecommerce services for accounting that might be better suited to your company. The point is, there are options and you will have everything you need to be able to handle your inventory if you select one now.
Ordoro, for example, offers automated workflows and fulfillment through integrated channels. This is managed for kitting, linking, and marketing products, which are the quintessential requirements for any modern-day store with an online presence. You also have access to dropshipping automation, which is huge. Most business owners don't even understand dropshipping and are not nearly primed to take advantage of this service. By implementing these handy tools now, your business can start making money you never thought possible.