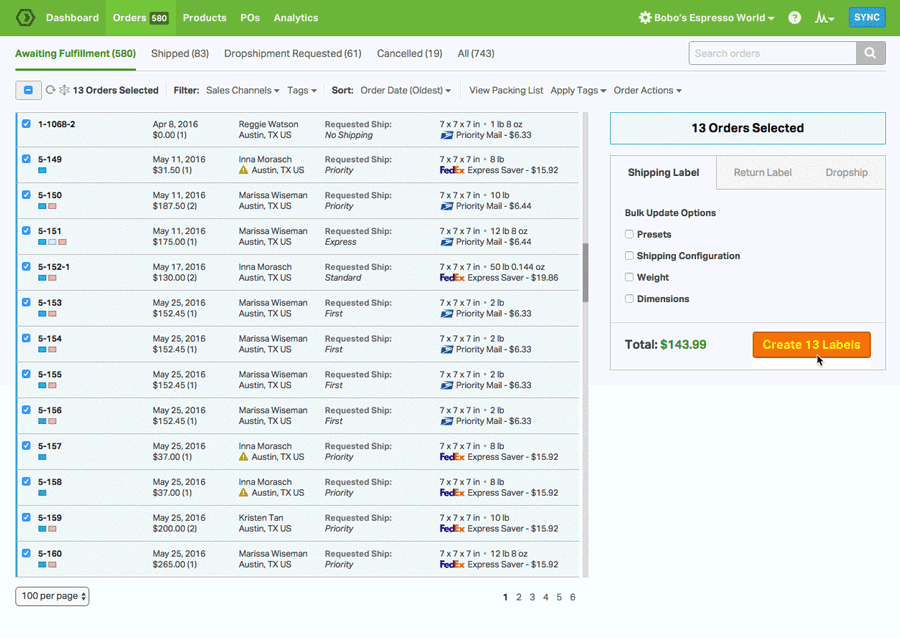 The Best Alternative For Your TradeGecko Quickbooks Integration
The All-In-One Ecommerce Logistics Platform
Equip yourself with a comprehensive solution
Inventory Management
Stock, sync, and scan.
Automatically track and sync your inventory levels
Create and send out Purchase Orders when it's time to restock
Bundle multiple SKUs into one unit for sale
Use Barcode Scanning to reduce fulfillment errors
Multi-Carrier Shipping
Your workflow, minus the work.
Enjoy heavily-discounted shipping rates via USPS
Ship via any of our integrated shipping carriers like USPS, UPS, FedEx, DHL and Canada Post
Set up your own Automation Rules and Shipping Presets
Print shipping labels in triple-digit batches or individually
Dropshipping
Truly hands-off dropshipping.
Launch a dropshipping operation in a matter of clicks
Tag any product as drop shipped and assign it to a vendor
Choose between automated or manual routing
Activate a Vendor Portal between you and your supplier
Multichannel
We're your operations hub.
Integrate and view all of your sales and supplier channels in one spot
Use our open API to hook up any third-party or custom apps
Manage every aspect of your orders
Establish Supplier Feeds for real-time, back-end communication
Barcode Generation and Scanning
Raise the bar for stocking and packing.
Create UPC barcodes for your products
Scan, set, and search UPC codes for SKUs within Ordoro
Reduce fulfillment errors with our pack and pack barcode scanning workflow
Scan received POs to automatically adjust stock levels
Don't take our word for it
Our awesome customers have shipped some really great compliments our way:
"I spent about a month thoroughly searching for the right backend fulfillment software for my eCommerce business. There were definitely some big name guys out there that I considered, but at the end of the day, I went with Ordoro and I'm so glad I did!"

Tina Yarandi
Founder/CEO of Nature's Artisan
"Ordoro continues to add immensely valuable features to an already awesome sales/warehousing/shipping platform. Using Ordoro continues to save us time and money."

Anthony Krize,
VP of GE Holiday Lighting
TradeGecko Quickbooks
The primary reason you would use TradeGecko aka QuickBooks Commerce inventory solutions is to manage your inventory. However, users also look for API integration into QuickBooks Commerce to resolve the end accounting processes. This is where you want to find a TradeGecko QuickBooks alternative that includes integration into QuickBooks for your accounting and bookkeeping needs. If you do not use QuickBooks for accounting, and only use the TradeGecko inventory management software, then this is not an area of concern for you.
There are several key features that attracted customers to want to use TradeGecko in the first place. These include organizing product inventory both on the desktop and mobile for management, as well as at the end of sales and fulfillment. The complete inventory management system of TradeGecko was convenient for customers in manufacturing and sales, and wherever inventory demanded tracking and organizing.
Consider how these features best suit your company's B2B inventory management processes. Then narrow down what you can do without when finding a new solution. Also, this will help you identify those new features that TradeGecko QuickBooks did not offer–but new software like Ordoro can, including QuickBooks Commerce integration.
The system also offered accounting and bookkeeping services that were integrated seamlessly with the QuickBooks Online platform. When TradeGecko retires, the QuickBooks Commerce standalone software will in fact become one with QuickBooks Online. The difference here is that some customers, including you, may prefer to move along with the ending of TradeGecko to a new and more innovative way of managing your inventory. This is where finding a list of reputable QuickBooks' alternatives is both timely and necessary. Otherwise, your inventory will be left in the dark as TradeGecko goes bye-bye in a few months.
QuickBooks Commerce Review
Finding a system means going through some research, starting with the features of TradeGecko. If you are currently using TradeGecko and want to find a replacement for the software, here is a detailed list of the QuickBooks Commerce features:
Accounting for invoicing and ledgers
B2B eCommerce storefront setup, shipping, payments, and access control
Batch and expiration "expiry" date tracking
Customer relationship management (CRM) database and order history
Inventory alerts for out of stock and reordering points
Inventory lists, status, history, and variants of stock, including for moving average cost (MAC) and committed stock per location
Inventory locations, including bin and stock using CSV format for Excel
Manufacturing, including Bills of Materials (BOM) and lists of component parts
Mobile app for dashboard controls and mobile readable website and inventory product catalog
Reporting for sales and inventory order and history
Sales and purchase orders, including order status and sales orders to print
Shopping cart management and PCI compliant payments using TLS 1.2 encryption
Stock control and order fulfillment to manage transfers, adjustments, and backorders
According to TradeGecko reviews, TradeGecko wholesale customers were having a lot of trouble in some key areas. This may be more of a reason why QuickBooks has ended software and QuickBooks Commerce support. Customers reviewed were limited in listing items in multiple categories, as well as with the creation of reports. Perhaps they could not utilize the reports they needed due to a limit in the accuracy and range for inputting data.
As a result, customers stated the "reporting is TERRIBLE" and was not great due to not being able to, "report on consumption of SKU's if they are sold within a BOM." There is also a huge problem with inaccurate reporting for customers during the shopping experience. Customers are told there are no items to buy when in fact there are, and vice versa. This mistake in saying the item is oversold is a number one concern for businesses trying to sell products.
TradeGecko API
TradeGecko aka QuickBooks Commerce API was the link providing a direct transition from inventory to accounting. Referred to by QuickBooks, the Commerce API was a way to do "powerful TradeGecko integrations for various use cases" within the TradeGecko app, including:
QuickBooks Commerce to eCommerce stores
3PL/warehouse management service with fulfillment workflows
The QuickBooks Commerce API was also used to build apps to link to more than 200,000 merchants. This allowed customers to create sales channels directly from their shipping and warehouse inventory with their merchants. Building your own APIs is part of the benefits of the API, too. There was the QuickBooks Commerce App Store that included several options and apps already developed, including the top merchants like eBay, Shopify, WooCommerce, and Xero Accounting.
As we know, the public API of TradeGecko is getting no changes from the developers. However, there will be support for "the foreseeable future" according to Intuit. To make up for this missing link and API resource, Ordoro API integrates with QuickBooks and provides a seamless transition. According to QuickBooks, "Integrating with Ordoro's API was an obvious thing for us to do. Their APIs were incredibly easy to integrate with, and we are excited to offer QuickBooks connectivity to Ordoro's multi-channel customers."
A customer review of Ordoro states: "I've been really impressed with Ordoro's inventory management and shipping software. Their integrated API and the crazy simple user interface is making our lives at Mr. Davis so easy. Can't recommend enough for small business retailers who handle fulfillment in-house." Choosing to use Ordoro for inventory management as well as the place of TradeGecko Quickbooks is an easy decision to make. Thanks to this TradeGecko alternative, you can continue using QuickBooks API integrations without fail during this transition.
TradeGecko Sunset
In recent developments of software and technology in inventory management, the biggest change has been the sunsetting of TradeGecko. TradeGecko has worked in conjunction with QuickBooks for a while now in assisting customers who have inventory management needs. This is an entire area of data-heavy processes that go alongside bookkeeping and accounting. However, managing an inventory is a huge task that requires its own software or services to handle. That is why QuickBooks offered a standalone product, most likely, to begin with, in the acquisition of TradeGecko, which we will cover in a moment.
This software is being retired and customers who formerly used TradeGecko have two options. They can choose to use QuickBooks Online exclusively or find a new inventory management system. For some, upgrading to a new platform and provider like Ordoro will leave a better taste in their mouth. After all, if you were a TradeGecko customer, this was an unexpected change to your operations and processes. Trying a new brand and provider altogether may do you and your business more good than you realize.
In retrospect, TradeGecko was founded in 2012 and was purchased by QuickBooks, and renamed QuickBooks Commerce. TradeGecko was then acquired by Intuit in August 2020, and the TradeGecko acquisition price was $80 million. Intuit acquired TradeGecko in order to "strengthen its accounting platform [for] QuickBooks," and to add omni-channel commerce to their capacities. Then, in June 2021, Intuit decided TradeGecko shutting down would be a better option. They announced the company would cease all service and support a year later, this June 2022.
This is where customers have constraints. As of today, you can no longer purchase TradeGecko or QuickBooks Commerce, and upgrading services will cease completely on June 10, 2022. Since then, the 2022 shuttering of TradeGecko and its inventory management software leaves the wholesale, manufacturer, and retail customers without a proper management system. What customers will do at this point is up to them.
As a result, you may be looking for a TradeGecko sunset or QuickBooks alternative. To assist you in this process, here are some of the features and services that Ordoro offers to their customers. Ordoro is a leader in inventory management. An alternative to TradeGecko is Ordoro for managing inventory, and there is also the QuickBooks API integration within Ordoro. This keeps customers formerly using TradeGecko on the right track with their accounting processes.
TradeGecko Alternative
There are many options for customers on the market when it comes to managing solutions. However, when we are talking about inventory management, there are few and far better than Ordoro. As an alternative to the features supported by TradeGecko customer service, Ordoro serves up most of the same while covering more modern areas that you really need help with managing.
Even Neil Patel agrees that Ordoro is the best inventory management software for ecommerce websites. But you don't have to take his word for it. The 14 Best Inventory Management Software for Small Businesses 2022 featured Ordoro is the number one choice for ecommerce. As a result, it is not just us who feel that Ordoro is the best TradeGecko alternative, but the market and customers as well. Customer satisfaction is our number one concern when managing inventory and we take that to heart. Let us show you how we can improve your operations and create room for scaling to large-scale corporations.
Our QuickBooks Commerce alternative is the best TradeGecko alternative on the market. Using Ordoro, you are able to utilize all the solutions and features afforded by TradeGecko along with even more support and services. This includes omni-channel inventory management and fulfillment workflows. Develop your processes through automation and the use of bulk shipping label creation. Finally, tackle those automated dropshipping revenue and sales goals you have been aiming at all year. And, yes, integrate with QuickBooks for accounting processes using the Ordoro API integration and support features.
Ordoro lets you manage all inventory information in a workflow using integrated channels. Kit, market, and link your inventory to a management system that supports your storefronts. This will improve the flow of fulfillment and make your supplier and vendor relations more seamless. Get the data you need to properly analyze inventory costs and have this on hand with the mobile app by Ordoro. Plus, you get 30 days of free onboarding when you sign up–and a lifetime of customer support.