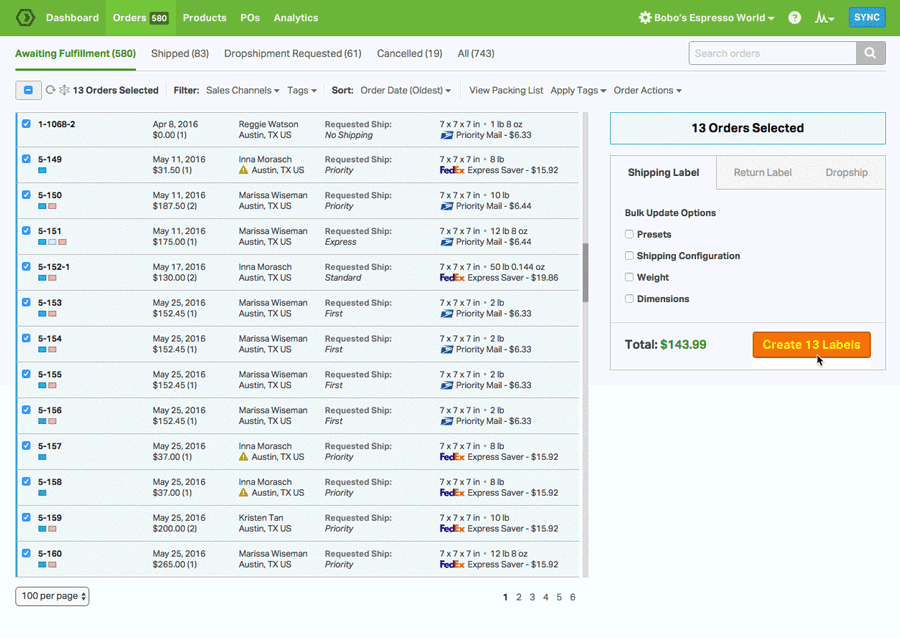 Everything You Need To Know About Amazon FBA Shipping Labels
The All-In-One Ecommerce Logistics Platform
Equip yourself with a comprehensive solution
Inventory Management
Stock, sync, and scan.
Automatically track and sync your inventory levels
Create and send out Purchase Orders when it's time to restock
Bundle multiple SKUs into one unit for sale
Use Barcode Scanning to reduce fulfillment errors
Multi-Carrier Shipping
Your workflow, minus the work.
Enjoy heavily-discounted shipping rates via USPS
Ship via any of our integrated shipping carriers like USPS, UPS, FedEx, DHL and Canada Post
Set up your own Automation Rules and Shipping Presets
Print shipping labels in triple-digit batches or individually
Dropshipping
Truly hands-off dropshipping.
Launch a dropshipping operation in a matter of clicks
Tag any product as drop shipped and assign it to a vendor
Choose between automated or manual routing
Activate a Vendor Portal between you and your supplier
Multichannel
We're your operations hub.
Integrate and view all of your sales and supplier channels in one spot
Use our open API to hook up any third-party or custom apps
Manage every aspect of your orders
Establish Supplier Feeds for real-time, back-end communication
Barcode Generation and Scanning
Raise the bar for stocking and packing.
Create UPC barcodes for your products
Scan, set, and search UPC codes for SKUs within Ordoro
Reduce fulfillment errors with our pack and pack barcode scanning workflow
Scan received POs to automatically adjust stock levels
Don't take our word for it
Our awesome customers have shipped some really great compliments our way:
"I spent about a month thoroughly searching for the right backend fulfillment software for my eCommerce business. There were definitely some big name guys out there that I considered, but at the end of the day, I went with Ordoro and I'm so glad I did!"

Tina Yarandi
Founder/CEO of Nature's Artisan
"Ordoro continues to add immensely valuable features to an already awesome sales/warehousing/shipping platform. Using Ordoro continues to save us time and money."

Anthony Krize,
VP of GE Holiday Lighting
Amazon FBA Shipping Labels
There's no doubt that Amazon is the world's largest online retailer. They simply have such a huge hold on the market that it can sometimes be difficult for other ecommerce companies to even think about entering the market.
The good news is that they know this. To help smaller brands compete and remain profitable, the ecommerce giant has a program called Fulfilled By Amazon (FBA). In this program, retailers are encouraged to send products to an Amazon warehouse, where they are kept until a customer buys them from the mega store website.
However, the key thing about this is that Amazon does have certain requirements that need to be met when a company sends in products to the company. After all, they have millions of products in warehouses all over the country, making it imperative to follow the steps to ensure items end up in the right spot.
To make this easier, Amazon FBA shipping labels have a specific barcode on them that help route incoming shipments to the right center. Since Amazon offers Prime Shipping to many customers, this also means that items incoming from a distributor or manufacturer through the FBA process might go to several different fulfillment centers.
That's where it becomes important to know that Amazon shipping labels have specific requirements. They need to be a special size, include certain information, and more. This is why a lot of FBA sellers opt to use an Amazon shipping label template or use a special label printer to ensure they're meeting the right requirements.
In this guide, we're going to dive into Amazon shipping labels explained and help you understand the various options available. Plus, we'll take a look at why it matters and how having the right software to help you with multichannel sales is important.
Amazon FBA Label Requirements
So, what are these specific Amazon shipping label requirements? Well, they include aspects like using only unique shipping labels that are specific to that particular package. For example, you can't whip up one with a standard Amazon shipping label format and use it for all of your FBA boxes in the future.
Instead, you'll need to learn how to print Amazon FBA shipping labels on an individual basis, including what each one needs to contain. Which, if you did not know, includes things like satisfying a specific dimension, where they are placed on the box, and how they relate to the shipping carrier's label.
Additionally, you'll want to include your shipment queue information on your label. This is how Amazon matches up to your incoming products with your FBA account and the product listings you inputting on their platform.
Amazon product label requirements are super-specific and change all the time. Why? Well, it has a lot to do with how they refine their process. Essentially, they want an FBA package to arrive at a fulfillment center and be easily scanned without someone having to open that box at first.
By using the right FBA shipping label format, you can ensure your items get to where they need to go without any additional delays—meaning they'll go live and be able to be purchased by customers faster. Which, as we all already know, that's pretty much the goal of selling on Amazon in the first place.
You also want to make sure that your Amazon shipping labels don't get your order rejected outright. If guidelines aren't accurately followed or the sticker isn't in the right place of the exterior of the box, you could run into issues. Thus, it is important to learn this stuff in the first place for ease later on in the Amazon FBA business process.
We do feel it is important to note that Amazon (FBA label requirements) change frequently, so you'll always want to check with their website for the latest details and suggestions on how to best handle the process.
Amazon Shipping Label Size
If you're wondering about Amazon shipping label size, then we're here to help. The current guidelines for the size of these labels are somewhere around 4-inches by 6-inches, but no bigger than 6-inches by 8-inches.
It is important to remember that there needs to be a gap between the edge of the package and the Amazon shipping label itself. You'll also need to ensure the label is white and features only the approved fonts.
Certain brands of barcode and label printers don't always work with Amazon guidelines. To keep this from being an issue, it is important to double-check that any hardware you buy for this purchase meets those requirements exactly. After all, it would be terrible to spend money on this type of item for your business, only to find out printing shipping labels according to Amazon requirements is impossible.
Furthermore, the Amazon FBA shipping label size does change periodically. That means it is important to check their website each time before sending out a new shipment to ensure you're adhering to the right standards. Failure to do this could result in a lost or returned shipment, which only creates delays.
Amazon Barcode Requirements
Barcodes are an excellent way to keep track of items and ensure fewer packing errors. It is also great for inventory management as a whole, as a simple scan of a barcode can tell your system where an item is within your inventory.
If you're looking for this type of solution for your own warehouse, then Ordoro is a good option. Not only does it help you keep track of items in a more efficient manner, but you can also improve workflow and employee productivity by using this type of system.
This brings us to a good point. Amazon knows the importance of barcode scanning is a huge part of efficient warehouse management. And that's why they require every FBA shipment to include a specific one on the exterior of the package.
So, What are Amazon Barcode Requirements?
Barcodes must be easy to read and clear. Purchasing a quality barcode printer can help keep from issues like smudging and readability problems. Your items must also match up to the generated barcode, which will tell their system what products are inside the box. If this does not accurately match up, the shipment might be denied. After all, they want to be able to get the right item to the customer who eventually orders it.
While it might sound complicated, the process of generating barcodes for Amazon FBA isn't too terrible. Usually, printing right from the dashboard will allow you to get the right code for your specific shipment. You can also use an Amazon FBA barcode generator to make the process a little more simple.
As a side note, Ordoro can also help you make this process a whole lot easier. With the multichannel sales option, you can keep track of your Amazon FBA barcodes in conjunction with the same item on other platforms like eBay, Walmart, or even your own website. The end result is a seamless management app that makes it possible for your entire team to see the information they need when it is most important.
Best Labels For Amazon FBA
Are you looking for the best simple inventory management software for your Fulfilled by Amazon (FBA) business? Then look no further than Ordoro, our all-in-one software designed for both startup and enterprise retailers alike.
We provide an integration with Amazon to manage shipping, label printing, barcode printing, return label printing, inventory management, automation of printing shipping labels and so much more! Instead of handling everything manually, let Ordoro do the work for you.
What are the best labels for Amazon FBA? While there are many different options on the market, you'll want to find one that integrates with your inventory management software and fits the printer you intend to use.
Ordoro is a great software option for this. Not only does it include full integration with your favorite barcode scanner and Amazon shipping label printer, but there's also multichannel support. That means you can sell on Amazon FBA and your website at the same time.
We were also named the best shipping software of 2021 by Digital.com and have a major reputation for being one of the more robust eCommerce management apps on the market. Additionally, we take care of our users by offering a free thirty-day onboarding program and lifetime support.
Whether you're wondering how to print shipping labels from Amazon Seller Central or just want to find ways to use more features in your everyday operations, our team is here to answer your questions. Think of it as our way of really ensuring your success, both on Amazon as an FBA seller and as an eCommerce brand in general.
Ready to see how Ordoro can help with everything from automated shipping label printing to analytics, order tracking, and a whole lot more? We absolutely cannot wait to hear from you and to give you a tour of what we have to offer. Please get in touch with us today for further details.