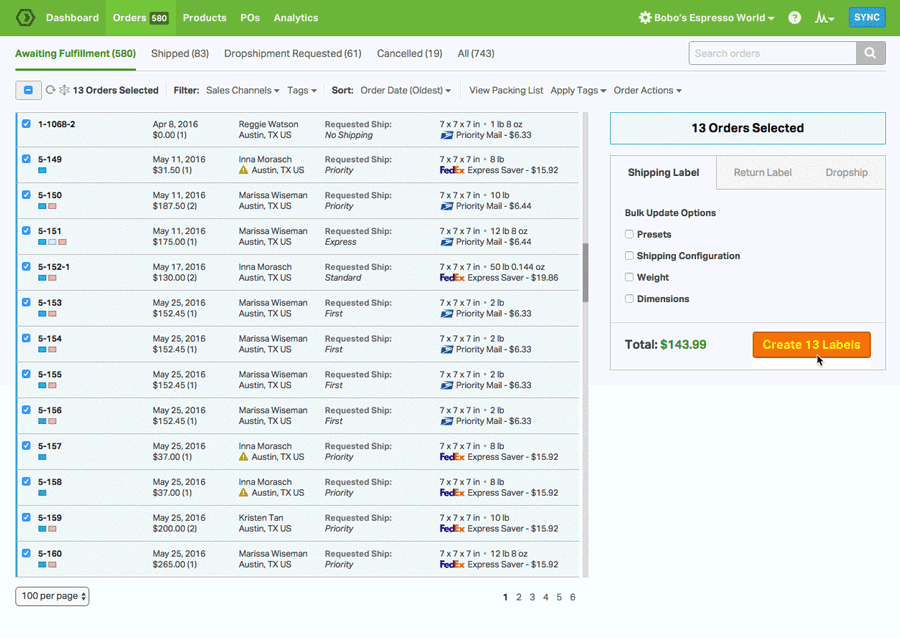 Shipping software that meets all of the Amazon FBM shipping requirements
The All-In-One Ecommerce Logistics Platform
Equip yourself with a comprehensive solution
Inventory Management
Stock, sync, and scan.
Automatically track and sync your inventory levels
Create and send out Purchase Orders when it's time to restock
Bundle multiple SKUs into one unit for sale
Use Barcode Scanning to reduce fulfillment errors
Multi-Carrier Shipping
Your workflow, minus the work.
Enjoy heavily-discounted shipping rates via USPS
Ship via any of our integrated shipping carriers like USPS, UPS, FedEx, DHL and Canada Post
Set up your own Automation Rules and Shipping Presets
Print shipping labels in triple-digit batches or individually
Dropshipping
Truly hands-off dropshipping.
Launch a dropshipping operation in a matter of clicks
Tag any product as drop shipped and assign it to a vendor
Choose between automated or manual routing
Activate a Vendor Portal between you and your supplier
Multichannel
We're your operations hub.
Integrate and view all of your sales and supplier channels in one spot
Use our open API to hook up any third-party or custom apps
Manage every aspect of your orders
Establish Supplier Feeds for real-time, back-end communication
Barcode Generation and Scanning
Raise the bar for stocking and packing.
Create UPC barcodes for your products
Scan, set, and search UPC codes for SKUs within Ordoro
Reduce fulfillment errors with our pack and pack barcode scanning workflow
Scan received POs to automatically adjust stock levels
Don't take our word for it
Our awesome customers have shipped some really great compliments our way:
"I spent about a month thoroughly searching for the right backend fulfillment software for my eCommerce business. There were definitely some big name guys out there that I considered, but at the end of the day, I went with Ordoro and I'm so glad I did!"

Tina Yarandi
Founder/CEO of Nature's Artisan
"Ordoro continues to add immensely valuable features to an already awesome sales/warehousing/shipping platform. Using Ordoro continues to save us time and money."

Anthony Krize,
VP of GE Holiday Lighting
Amazon FBM Shipping Requirements
Running a successful online business on today's highly competitive internet means constant innovation and new partnerships. In fact, you might even be thinking about trying to sell your products and services on Amazon, since this is one of the largest online sales platforms today. While starting a storefront on Amazon can be a great way to acquire significant numbers of new customers, though, you'll also need to think carefully about how you'll get customers' orders to their doors after they order something from your Amazon storefront.
It's also worth noting that you have multiple options available here when trying to ship something that a customer has ordered on Amazon. Therefore, it is important to compare the benefits and drawbacks of each option before you decide which one might be best for you. As you do this, you may also want to take a closer look at Amazon FBM shipping requirements.
Today, it's possible to save a significant amount of time by taking advantage of Amazon automation. It is even possible for you to do this if you decide to go with fulfillment by merchant Amazon. Or, if you are a new seller and wondering, "what is FBM," keep in mind that this is an acronym for "fulfillment by merchant." Plus, if you are wondering, "how does Amazon FBM work," this mainly means that you are entirely responsible for getting your products to your customers after they order something from your company.
Even if you are trying to ship your products on your own, though, you have multiple options available. For example, you might be thinking about going with USPS or UPS. While you can certainly go with this option, though, there is also the possibility of working with a dropshipping service. This can be a great way for you to save time and money on your shipping.
So how do these processes work, and what are the options you have available? There are a few key points you should keep in mind here.
Amazon FBM Meaning
For starters, when you hear people referring to the Amazon FBM meaning, remember that this stands for "fulfillment by merchant" and just means that you are responsible for making sure that your products get to your customers on time.
Although the two may look similar, Amazon FBM is significantly different from Amazon FBA. If you are wondering, "what does FBA stand for," this means "fulfillment by Amazon." In this case, you are going to give Amazon a portion of your proceeds in exchange for them being the ones to fulfill your shipping needs.
With Amazon FBM, you may not need to handle your shipping on your own,but this option could end up costing you a lot of money. As a result, your business may have a difficult time making ends meet. With such large costs at stake, it is important to compare Amazon FBA vs FBM fees. There is a hefty fee associated with Amazon FBA. Meanwhile, if you decide to go with Amazon FBM for most orders, you can still take advantage of the Pro FBM service as needed if you want to save time.
Regardless of whether you decide to go with Amazon FBA or multi-channel fulfillment options, it is possible for you to integrate all of your channels through Ordoro. By using Ordoro, you can manage and keep track of all of your orders in one place.
For example, if you decide to go with FBA for certain Amazon orders, you can track all of your products through Ordoro and you can even break down the fulfillment speed of each specific one. This holds true in other circumstances too, so if you decide to go with multi-channel fulfillment, you can still track all of your channels in a single place. You can also connect numerous integrated sales channels with one another, routing your orders through the fulfillment process as quickly as possible.
Amazon FBM Shipping Rates
If you are trying to create more transparency when it comes to your business's overhead expenses, then you may want to take a look at the Amazon FBM fees and the Amazon FBM shipping rates. If you decide to handle all of your shipping on your own instead of using these options, then you may be able to save money; however, there is also a Pro FBM subscription service that could save some time.
In addition, if you take a look at Amazon shipping rates, you will quickly realize that Amazon seller shipping rates in particular can vary widely depending on what you are shipping, where it is going, and how quickly you want to get it there. And there are competing priorities at play here. On the one hand, it is important for you to keep your customers happy, so that they provide good ratings and return to your business for future purchases. On the other hand, you also do not want to spend too much money on shipping. You might even be thinking about building shipping into the price of your offerings.
Whichever option sounds most important to you, is important for you to think carefully about how you will handle this process. For example, you may be able to save a lot of time and money if you decide to go with Amazon dropshipping instead of handling shipping yourself.
So how does Amazon FBM dropshipping work, and what do you need to know about this whole process?
Amazon FBM Dropshipping
If you are wondering how to start dropshipping on Amazon, then it is important to review the Amazon dropshipping policy closely. Even though you can save a lot of money on Amazon dropshipping, particularly through Amazon FBM dropshipping, you need to think carefully about how you plan to go through this process.
If you want to get started with dropshipping as quickly as possible, then you should take advantage of Ordoro. Within just minutes, you can set up your products and vendors in this easy-to-use platform. You just have to fill in your supplier information, import your products, and assign them to the right vendors. Then, you can decide how you want to handle your workflow. For example, you can manually select the specific vendor you want to assign each order to. You can also take advantage of the Vendor Portal, which will provide suppliers with an account that allows them to view their active orders. Ordoro users can print their own labels, create and manage tracking information, and allow you to keep track of everything going on with their orders - all without taking up a lot of time.
Using Ordoro is thus a great way for you to get the most out of your dropshipping experience on Amazon. Its streamlined and centralized processes can help you stay a step ahead of your competitors as well.
Amazon Seller Central
Even when there is someone else who will be handling your shipping for you, it is still important for you as the business leader to keep up with everything that is taking place at all times. After all, you are still the one who is ultimately responsible for getting your products to customers on time. This is why you should be taking advantage of Amazon Seller Central.
After you go through the Amazon seller account signup process, you will get your Amazon Seller Central login. There are plenty of services on Amazon that you can access through this page. For example, you can even take advantage of an Amazon seller app, which will make it easier for you to access and handle everything regarding your company.
For example, you need to be able to keep up with your orders as they come in, so that you have an idea of your inventory needs, earnings, and shipping. That way, you can also ship orders out to your customers as quickly as possible. You can also change your prices, manage your inventory, and provide promotions from time to time. With everything this page offers, you should take a few minutes to familiarize yourself with it and the features there. Plus, if something goes wrong, then you can take a look at the messages on your account as well. This will enable you to respond to customers' concerns as quickly as possible. Customer service is an important part of keeping your business running through Amazon, and you want to do everything you can to make sure ratings and customer satisfaction are high.
Amazon FBM Sign Up
All things considered, if you are looking for ways to improve your shipping process, then you may want to go through the Amazon FBM sign up. You should also take a look at the Amazon seller shipping requirements and the Amazon FBM packaging requirements before you get started.
If you as the seller are shipping something on Amazon, then the good news is that you have almost total control regarding what you decide to include in your shipping process. For example, you pick the shipping material: you can choose envelopes, plain boxes, or branded boxes, just for starters.
At the same time, you do have to think carefully about what you put in the package. It is okay for Amazon sellers to advertise their products and services with a packing slip in the box; however, you also need to be careful that you do not encourage your customers to purchase products outside of Amazon. If you do, you could end up in a difficult situation, since Amazon does not want its sellers encouraging people to make purchases outside of Amazon. You need to make sure you stay away from this potentially risky issue.
Amazon FBM Packing Slip
When it comes to FBA packages, these usually do not include packing slips. Plus, while packing slips are supposed to be included with your FBM packages, this is usually not enforced. Therefore, the choice of whether to include an FBM packing slip is ultimately up to you. If you decide to send an Amazon order with no packing slip, then you may not get in trouble; however, you still do need to include enough information for the package to reach its destination. While there is usually no Amazon FBA packing slip, you may want to at least start by including an Amazon FBM packing slip until you become more familiar with how the process works.
Still, your Amazon packing slip is just one issue that you need to think about. It is important for you to think carefully about how you are going to get your products to your customers after they order something. For example, you may want to consider reaching out to a dropshipping company to handle all of this for you. If you do, then you may be able to save a lot of time and money when it comes to shipping your products and offerings. Furthermore, you can make sure that your orders reach your customers on time or even early, which can help you convince them to return for future purchases.